With the new trend of having smart unlocking in the mobile industry, lots of users are looking for the best mobiles with Fingerprint scanner technology. Here is a list of smartphones which offer fast Fingerprint scanner along with some of the best features like 4G LTE, Good selfie camera, and performance.
The list also includes cheapest Fingerprint scanner mobiles even below Rs 5000 or $70. The fingerprint sensor is used for privacy and security purpose and adds to ease of unlocking the mobile.
Also, we have included some of the best smartphones with the Fingerprint technology priced 15,000, 20,000, 30,000 and even beyond that.
The First Smartphone to Use a Fingerprint Scanner – Motorola Atrix
Motorola was the first company to offer fingerprint scanner in its smartphone. Way back In 2011, among all Android phones, Motorola Atrix became very popular by getting this feature. The Atrix had a fingerprint scanner at the top.
The fingerprint scanner smartphones became popular after Apple decided to put this unique feature to the iconic Apple iPhone 5s, millions of users started using the feature and then Android smartphone makers also adapted the technology.
There are two different type of Fingerprint scanner placement on most mobiles, some smartphone like the Nexus 6P comes with a fingerprint scanner at the back while others like iPhone 6s and Samsung S7 comes with a fingerprint scanner at the front with the Home button.
Fingerprint Scanner Technology and usage: There are three different technologies for fingerprint scanner in smartphones
You will have to place your finger on button and mobile gets unlocked. (as used in Apple).
You will have to place your finger and press down to unlock the mobile. (as used in Samsung S7 Edge).
In-Display Fingerprint Scanner Technology developed by Goodix and Synaptics – Mi Mix 2 , iPhone 8 (upcoming).
Apple has the luxury to place the Fingerprint scanner button on the front with the physical button but other manufacturers are limited by the space available at the bottom or the capacity touch screen buttons which make it impossible to place the sensor at front.
As per Synaptics leading organization in the field of finger print scanners – the next generation of smartphones may not have a fingerprint scanner. Your smartphone screen will act as one, hence making the physical finger print sensor a legacy.
We may see this technology getting used in the Samsung Galaxy S8 or the iPhone 7 in 2016.
I have used both and found the front button unlocking to be more convenient, however, you will also get used to unlocking the smartphone from the back button.
Now let's check some smartphones which come with a fingerprint sensor.
Moto G5 Plus Oval Shaped Front Fingerprint scanner
While the G4 had a fingerprint sensor, it was sore to many as it wasn't even a home button. The new G5 Plus has a more traditional looking oval shaped fingerprint sensor which also doubles up as a gesture pad for home, back and recent keys.
One can easily do many things – swipe right for recent apps, swipe left for back, tap for home, press and hold for Google Assistant, press for screen turn off.
Apart from a good fingerprint reader, it comes with a5.2-inch FHD AMOLED display compared to its predecessor. It is powered by Qualcomm Snapdragon 625 SOC along with 3GB/4GB RAM and 16GB/32GB of storage.
There's a sizeable 3000mAh battery pack powering the phone. The combination of SD625 chipset + near stock Android 7.1.1 + FHD AMOLED screen is a perfect recipe for a stellar battery performance. It has a very good 12 MP rear camera with f/1.7 aperture lens, Dual pixel autofocus and 5 MP front shooter for selfies. Motorola has also unveiled the Moto G5S Plus.
Key Specifications for Moto G5 Plus
5.2 inches Full HD
 AMOLED
SOC – Octa Core Qualcomm Snapdragon 625 clocked at  2.0 GHz.
Graphics – Adreno 506.
RAM: 3GB/4GB
Storage: 16GB/32GB
Camera: 12 MP rear camera with f1/7 aperture and 5 MP front selfie camera.
 3000 mAh Battery.
3G, 4G/VoLTE, WiFi, Bluetooth, GPS,GPRS
Price Rs. 14,999 / Rs 16,999 ($220)
Moving to the next smartphone which comes with class, style, and a gorgeous design.
Let's Add one of the Cheapest Smartphone You can Buy With a Fingerprint Scanner. 
Intex Cloud String HD 
Intex cloud string HD was launched in India on 25th May 2016 and is the cheapest smartphone to have a fingerprint scanner in India. The smartphone is priced at Rs. 5499 and is exclusively available on Flipkart.
The smartphone other than having a fingerprint scanner embedded at the back of the device also has 4G LTE support along with VOLTE.
Specs for Intex Cloud String HD
 1.3 GHz Quad-core Spreadtrum SC9832A  processor.
1 GB RAM
 8 Gb inbuilt storage with micro SD card support.
5.0 Inch  HD Display.
 Dual SIM- YES
 Rear Camera – 8 MP Rear Camera. Front Camera – 5 Mp
Fingerprint Scanner- YES at the back
Battery Size- 2400mAh Battery.
Intex has recently launched a new cheapest fingerprint scanner smartphone below Rs. 5,000 – Cheapest Fingerprint Scanner Phone Under 5K : Intex Aqua S2
Micromax Yu Yureka Black
The Yu Black may share a similar name of its sibling but it sure looks drastically different. It's more premium with the metal build and a shiny black finish; kind of reminiscent of iPhone 7 jet black variant.
It is one of the most stylish smartphones on a budget-priced below $160 or Rs. 10,000 and comes with a fingerprint scanner at the front.
It sports a 5-inch FHD display with 2.5D curved glass on top. It sports a fingerprint scanner up front making it easier for people to reach when kept on a flat surface. Thankfully, it also doubles up as a home button; unlike the Moto G4 series.
The phone runs on Qualcomm Snapdragon 430 SOC along with 4GB of RAM and 32GB of internal storage.
It also allows SD card expansion but due to its hybrid sim tray, it loses out on sporting 2 SIM cards at one time. It features 13MP rear camera and 8MP selfie shooter up-front.
The phone is powered by 3000mAh battery pack. It may not sound enough; especially when compared to its competition like Lenovo K6, Redmi 3S Prime, Redmi Note 3&4 sporting much higher 4000mAh battery.
Huawei Honor 6X 
The Honor  6X  is a decent mid-range smartphone and comes with a dual 12 MP + 2 MP rear camera setup.  There's a fingerprint scanner at the back, which is one of the finest sensors out there. It's much faster than the iPhone touch ID and let alone to the Samsung sensors. It also features some gestures inbuilt which would enhance the user experience overall.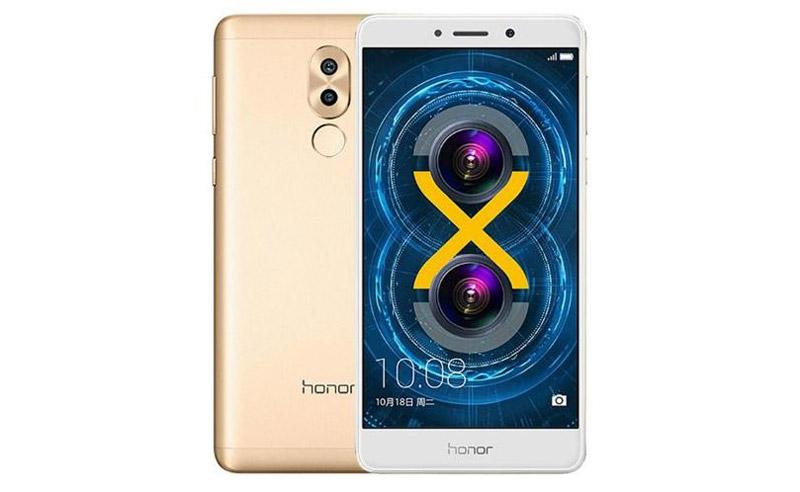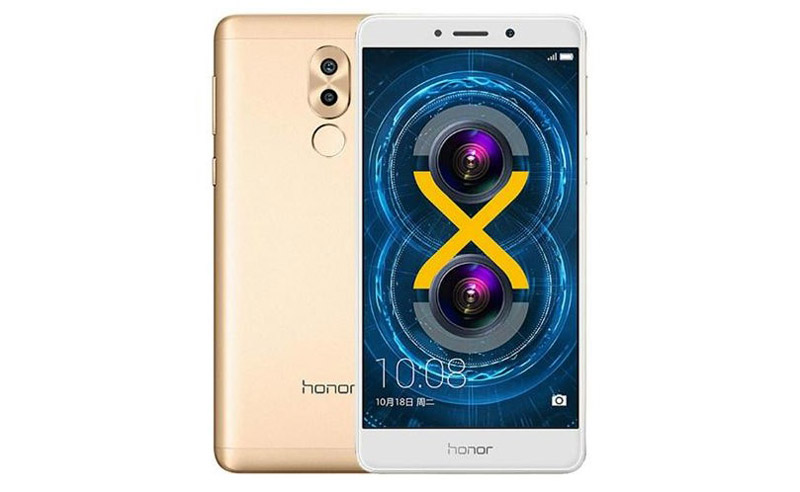 It's much faster compared to most smartphones. If you want a smartphone with fastest fingerprint scanner Honor 6X is a good contender. It also features some inbuilt gestures which enhance the user experience.
Swipe down for notifications, Double tap to clear all notifications, Tap for clicking an image, Swiping right and left to view pictures in gallery
It runs on Kirin 655 SOC and is almost as powerful and power efficient as Snapdragon 625 SOC. There's 3GB/4GB variant with 32GB/64GB storage options. Its expandable upto 256GB using micro SD cards in the hybrid SIM slot.
Powering the phone is a 3300mAh battery which gives an extraordinary battery life due to the optimisation in the chipset.
Price Rs. 10,999 or Rs. 13,999 $200
OnePlus 3T
OnePlus 3T is the most affordable flagship smartphone launched in 2016 and it is still a great value for money product. Unlike other mid-range phones, it does not compromise on anything.
The non-physical more of a touchpad fingerprint sensor is present at the front. This time it's made of ceramic which makes it more durable than even a glass fingerprint sensor found on Samsung S7 series. The fingerprint is fast and unlocks it in just 0.2 secs. It's much faster, accurate and reliable than the last generation.
Key Specs of OnePlus 3T
5.5-inch FHD AMOLED display
Qualcomm Snapdragon 821 processor
6 GB of DDR4 ram
64 GB storage
16 Mp rear camera
16 Mp front selfie camera
USB Type-C
Ultrafast fingerprint scanner
3400 mAh battery
Price Rs. 27,999
Apple iPhone 7
Apple's Touch ID was found way back in the iPhone 5S. The fingerprint sensor has evolved in years. Now alongside the sensor, even the home button has evolved.
This is a new change for the iPhone users who've been used to of a physical home button quite long. The button uses Apple's "taptic engine" found on iPhone 6S. It vibrates everytime you try to use it as a home button or when a notification arrives or even when you activate Siri. The overall feel is a bit unnatural when you try to use it initially and may take a while getting used to it.
Key Specs of iPhone 7
4.7 inch IPS LCD Retina display
Apple A10 Fusion chipset
2 GB of ram
32/128/256Gb storage
12 Mp rear camera
7 Mp front camera
Lighting port
1960 mAh battery
No 3.5mm audio jack
Huawei Honor 8 PRO
The Huawei Honor 8 PRO is one of the best build quality and design smartphone from the Chinese tech giant now available in India.  It comes with one of the best fingerprint sensors.
The fingerprint scanner on the Huawei Honor 8 is located at the back of the device. Instead, acts as a smart key which was also found in the last iteration Honor 8. One can single press, Double press, Press and hold for an app or feature they want to open. It also has Gestures inbuilt such as Pull down for notification,
It also has Gestures inbuilt such as Pull down for notification, swipes up for recent apps, left/right to swipe through pictures and much more. A true and effective implementation of the fingerprint sensor.
Key specs of Honor 8 PRO
5.7-inch Quad HD Display
Processor – Kirin 960 Processor with Mali-G71 MP8 GPU
RAM – 6 GB of ram
Internal – 128 GB storage, expandable up to 256 GB.
Dual Rear Camera setup (12 MP + 12 MP)
 8 MP front camera
4300 mAh battery
OnePlus 5
OnePlus has always been known to deliver higher-end specifications at a mid-range price. This year things have changed slightly; while it still retains the higher end set of specs; it surely has increased its price up to Rs 38,000.
The phone looks thin and premium with its smooth metallic finish. It sports a fingerprint scanner upfront which also acts as a home button. It's super fast and can easily unlock in 0.2 sec. The feature-rich Oxygen OS allows it to have up to 2 shortcuts;
Double tap for any task
Press and hold for any task/search assistant 
It's driven by Snapdragon 835 processor and a whopping 6GB/8GB of RAM with 64GB/128GB storage options.
Its highlight is the all-new dual 20MP + 16MP rear camera sensor. While the front still sports a 16MP selfie shooter.
The phone comes with 3300mAh battery pack along with super fast"Dash Charging" support though it's USB Type-C port.
Key Specifications for OnePlus 5
 5.5-inch FHD Display
Screen type: AMOLED
Snapdragon 835 & Adreno 540 GPU.
RAM: 6GB/8GB
Storage: 64 GB/128 GB
Camera: Dual Rear Cameras with a 20MP + 16MP rear lens and a 16 MP front
Battery: 3300mAh
Fingerprint Scanner – ultra-fast 0.2 seconds unlock speed.
Samsung On Max
Samsung has a huge line up of smartphones and usually carry a slight premium price tag with a premium experience.
The On Max is new to the list and offers a lot for its price. The phone sports a good looking design with a bright 5.7-inch FHD display and a 2.5D curved glass on top.
Like all the Samsung smartphones; excluding the S8 series. The On Max still retains the front fingerprint sensor which also is a home button. It's flanked between the back and recent button.
Its driven by MediaTek MTK6757V chipset along with 4 GB of RAM and 32 GB of storage. It's expandable upto 256 GB and also sports a dedicated micro SD card slot.
There's a 13MP rear and front camera set-up with f/1.7 and f/1.9 aperture and front flash as well. Overall it performs smooth and captures detailed photographs.
Key Specifications of On Max
Screen: 5.7 inch Full HD Display with
Screen type: AMOLED
Processor: MediaTek MTK6757V
RAM: 4GB
Storage: 32GB
Camera: 13 MP rear and 13 MP front selfie camera
Battery: 3300mAh
Fast Fingerprint Scanner
Connectivity: 3G, 4G/VoLTE, WiFi, Bluetooth, GPS,GPRS
Price Rs. 16,900 or $230
Google Pixel
Google is the iPhone of Android. It may not be thebest-lookingg smartphone out there. Though it comes with the best software optimization from Google.
The design overall is bland, apparently, the back is where the fun begins. It has a dial tone look with metal and glass.
Also, there's a huge fingerprint sensor at the back which comes with support for "swipe down" gesture to pull down the notification tray.
The phone sports a 5-inch FHD in Pixel cand 5.5-inch QHD display in XL. It runs on Snapdragon 821 with 4GB of RAM. Powering the phone is 2800mAh battery in Pixel and 3450 mAh in Pixel XL.
The smartphone comes with a 12 MP rear sensor which can easily win over most flagship devices. Overall its the best options to get the latest of the Android updates and security patches.
Key Specifications of Google Pixel
Screen: 5 inch FHD, 5.5 inch QHD
Screen type: AMOLED
Processor: Snapdragon 821 clocked at 2.3 GHz and Adreno 530 GPU
RAM: 4 GB
Storage: 32GB, 128GB
OS – Android Nougat 7.1 update to Android O
Camera: 12MP reae and 8MP front
Battery: 2800mAh/3450mAh
Connectivity: 3G, 4G/VoLTE, WiFi, Bluetooth, GPS,GPRS
The list is updated whenever we find a new smartphone befitting this list.  You may like to share your thoughts in comments below or if you want some advise with your purchase decision may like to share your queries.
You may want to read about latest  – Top 10 Selfie smartphones With Fantastic Front Camera or 10 Incredible Dual Camera Phones.