Improve Your Gaming Performance With These Incredible Gaming Mouse
It is not the gaming mouse, it is the gamer who makes the difference. It is true that gaming ability and skills are more important, I have meet gamers who can take superfast shots with Rs. 300 wired Dell mouse and even some with Logitech wireless mouse.
Gaming mouse helps you improve with practice and can be very handy and helpful but can't compensate for the lack of skills.
Practice, practice, and practice that will make you better. Buying a gaming mouse will help as it has improved precision, DPI, and extra buttons which will help you switch weapons with quick speed.
7). Trigger T-32 Laser Gaming Mouse Priced @ Rs. 1150
This is an entry-level gaming mouse but offers good aiming precision and remarkable speed.  It is ergonomically designed and has 5 programmable keys. It is very sturdy and fits well in hand the rubber grip makes it effortless in gaming and non-slippery.  For a low budget, it is a good starting gaming mouse. It may be written as laser but it is not a laser mouse.
It has a neat and clean look, not an oversized mouse.
Key Specs for the Trigger T-32 Laser Gaming Mouse
Ideal for laptop & desktop.
DPI – 3200 Optical Sensor.
DPI Mode – 4 Speed dpi.
Rubber Coating
Dpi settings are fixed at 800/1600/2400/3200 you can't have custom DPI.
The mouse clicks are not as silent as you may have liked.
6). Dragon War Thor Blue Gaming Mouse Priced @ Rs. 1,233
Dragon War Thor Blue is one of the most popular gaming mice and you can buy it over the Trigger gaming mouse by spending additional 100 bucks. The mouse looks stunning and sharp, every bit like a gaming gun you need to get that perfect headshot.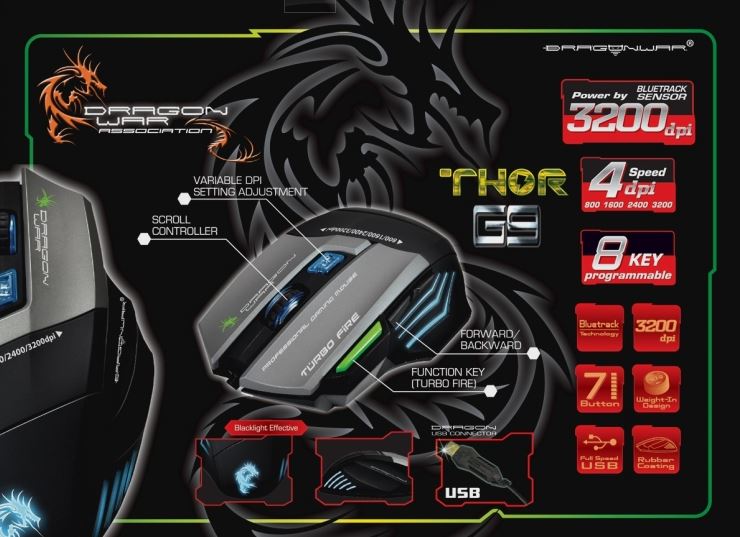 Key Specs Dragon War Thor Gaming Mouse :
Dpi Mode – 800 / 1600 / 2400 / 3200 dpi Sensor.
Max 3200 Dpi
Quite Silent while clicking.
8 Programmable Buttons.
512K Inbuilt Memory
Ergonomic design for long gaming hours.
8 Programmable Buttons.
LED light makes it look amazing in dark.
2-meter long wire, Gold Plated USB connector.
This is a great gaming mouse but the warranty given by the manufacturer is only 6 months.
5). Logitech G100  Priced at Rs. 1350.
The mouse has a simple look and a very good reliable grip.  It is a perfect machine for taking headshots and has 2500 dpi. The design is very ergonomic and makes it easy to hold.
Top Features Logitech G100
Durable Buttons
2500 dpi Optical Sensor
Durable Build
Gaming-grade Optical Sensor.
Ambidextrous Shape (Can be used with either hand).
The mouse has Dpi switch and offers deadly accuracy once your hand becomes accustomed to this gaming mean machine.
The best part is Logitech offers 3-year walk in replacement warranty on the G100 gaming mouse.  So you can get it replaced in case something happens during the three year period.  You must preserve the original bill to take advantage of the warranty.
You can also look at the G100s but I used and liked the old G100 better compared to the G100s mostly because of shape and touch of G100.
4). Logitech G300 Best Gaming Mouse for Rs. 1575
It is one of the old and most popular gaming mice by Logitech. Moreover, it is highly reliable and offers excellent options when you are configuring buttons to gain that extra edge in gaming.
Also, it is not very expensive in comparison to devices we have listed but offers the benefit such as great design, shape, and precision. It is slightly better than the G100 or G100s.
Other than gaming you can use it for photoshop, Adobe premiere, Auto Cad and other 3D design and modeling applications where precision matters most.
Key Specifications for Logitech G300
9 programmable buttons.
Logitech Gaming Software to configure Mouse.
Ambidextrous design can be used with either hand.
Strong Robust Build Quality.
Dpi switching is manual as well as automatic based on the game map.
2500 Dpi Optical Sensor.
Switch button to swap Profiles.
User-configurable lighting – Assign one of seven colors to each profile, so you can easily see which profile you're using.
Is protected by 3 years carry in Logitech Warranty.
3). Logitech G400 Priced at Rs. 2100
Logitech G400 is the successor to the old G518, it has faster DPI 3600 and feels much better than the Old G518.  The mouse has ambidextrous shape and offers great precision and accuracy in FPS games like counter strike or battlefield.
It has eight Programmable Buttons which you can use even for basic tasks like net surfing as well as in AutoCAD or other 3D design software.
It uses a special material Poly-tetra-fluoro-ethylene which makes the grip better and sweat free gameplay for long gaming hours.
For additional Rs. 600 compared to the Logitech G 300, it looks more premium and is often compared with the elegant looking Razer Deathadder.
Key Specifications for Logitech G300
9 programmable buttons
Logitech Gaming Software to configure Mouse.
Stunning sophisticated looks.
Dpi switching is manual as well as automatic based on the game map.
3200 Dpi Optical Sensor.
Switch button to swap Profiles.
3 Years Logitech warranty.
2). Razer Deathadder Priced @ Rs. 3,100
Stepping into the premium gaming mouse with Razer Deathadder with price above Rs. 3,000.  The mouse has look to kill for and offers incredible 6400 DPI sensitivity.
Further, it comes with Razer Synapse 2.0 software which is useful for tasks such as lighting, surface calibration, inter-device communication, X- and Y-axis sensitivity level and much more.
Also, it offers, Lift off tracking – once the mouse sensor has been calibrated to the surface, you can customize the cut-off height for when the mouse is lifted. This reduces on-screen rapid movements for optimal accuracy while taking that most important headshot.
The green Led lighting glows in the night and & illumination on the logo and the scroll wheel, make the gaming experience really better. The mouse is meant for gaming junkies and hardcore Gamer's to appreciate the feather touch buttons.
Key Specifications Razer Deathadder
5 programmable buttons.
Synapse Gaming Software to configure Mouse.
Stunning sophisticated looks with green LED.
6400 Dpi Optical Sensor.
Switch button to swap Profiles.
2.13 m Braided Fiber Cable.
It is an excellent purchase for the price.
1). Steel Series Sensei Raw Frost Blue Laser Gaming Mouse Priced @ Rs. 4900
The only mouse I would prefer to buy over the Razer Death adder is the original Steel series Sensei Raw Frost Blue Laser Gaming Mouse with incredible build quality precision and sophistication.
Key Specs –  Steel series Sensei Raw Frost Blue
7 programmable buttons.
True 16 bit

Ambidextrous shape.

Ergonomic Design.

Brilliant blue illumination.

Three zone lighting – Scroll Wheel, CPI Indicator, and Logo.

Counts Per Inch (CPI) – 90 to 5700.
Weight: 90 grams
Weight: 38.7 mm.
Width: 68.3 mm
Length: 125.5 mm.
Max DCPI –  11400.
Low lift-off distance.
The mouse has brilliant looks and very high CPI(counts per inch) of 5700 which you is enough for even 4K monitor gaming machines. This mouse delivers essential key points which we need for gaming and Mouse have balanced weight so that you can play for long hours without tiring your wrists. Further, the steel series offers CPI toggle for on-the-fly high/low sensitivity adjustments.
Also, like the Razer DeathAdder has a Pro-grade Laser Sensor for excellent sensitivity and adaptability to the mouse pad surface.
Beyond Rs. 5,000 range you can have some other options from Steelseries and Razer which are good, we will cover them after experimenting with some of those more expensive exclusive Gaming mouse, in next article.
Related Articles –
Check Out Our Latest Video and Subscribe to Candytech Channel!!!