Looking for an extreme performance 8GB RAM Mobile for gaming and multi-tasking this list has them all.
Even today most laptops come only with 4GB of ram, Most flagship phones have either 4GB Ram or 6GB Ram but these phones are outliers who have 8GB RAM and ultimate Processor. Most of these phones come with the Qualcomm Snapdragon 835 or 821 Processor.
Related – We have earlier written about the best mobiles with 6 GB RAM, 3 GB RAM and 4 GB RAM.
Yet there is no Mediatek powered phone running with 8 GB RAM. Also, Nokia has not launched any Nokia 8 GB RAM mobile. There are no smartphones with 5 GB, 12 GB, 16 GB Ram in the world.
Asus Zenfone AR is the first phone to come with 8GB RAM though OnePlus 5 was launched before it for general buyers.
Most of the phones in this list are either recent additions to the market or are yet to be released well within the year.
Let's Check out the Best 8GB RAM Smartphones.
1. OnePlus 5
Price $580 or Rs. 38,000
OnePlus 5 was the first smartphone to come to market with 8GB Ram, though the Zenfone AR was the first one to showcase the 8 GB RAM configuration.
The 2017 June release of One Plus 5 created a lot of Buzz among critics and tech enthusiasts when they released the 8 GB Ram version with a more affordable 6 GB RAM version of Oneplus 5.
OnePlus 5 comes with a 5.5 Inch full 1080p HD screen the OnePlus 5 stands tall, providing crystal clear imagery. The hardware is not only insane in terms of the RAM but also in terms of the processor it packs.
It comes with an Octa-Core snapdragon 835 processor clocked at 2.45 GHz which is born for multi-tasking and gaming. Graphics for games is controlled by the Adreno 540 GPU which is way faster compared to the older Adreno 530 GPU used in Snapdragon 820 series.
The smartphone boasts of 128 Gigabytes of storage. Sadly there is no external SD card slot but that pre-installed 128 GB isn't going to run out anytime soon.
The dual back camera setup is also great for high-quality pictures in any condition and comes with 16+20 MP which captures videos at 2160P along with a 16 MP front camera for bright selfies. Even with all this heavy hardware, the phone weighs in only 153 grams. Can read more about the OnePlus 5 here.
Next one on the list of best 8GB Ram smartphones is a true performance beast – ZTE Nubia Z17.
2. ZTE Nubia Z17
Price $585 or Rs. 30,000 ( expected price in India ).
Nubia Z17 – Most Powerful Phone in the World – The ZTE Nubia Z17 is considered to be the Worlds most powerful smartphone, it shares the same proessor and ram configuration as the Oneplus 5 though comes with some really nifty features.
It offers Quick Charge 4+ which is not present on any smartphone and also comes with IP 67 rating which makes it dust and waterproof.
The smartphone comes with a 5.5 Inch near bezelless display with Full HD resolution (1920*1080) with 401 PPi. The smartphone is powered by the Qualcomm Snapdragon 835 Processor clocked at 2.45 GHz and comes with the Adreno 540 GPU.
While the next Qualcomm Processor is expected to be Snapdragon 836 or the next gen will be the Snapdragon 845 which will be launched in 2018. The Snapdragon 845 will come with Cortex A75 Cores and likely Adreno 550 GPU which will be more powerful compared to the current gen of processors.
The dual camera setup of the Z17 is quite unique with a rear 12+23 MP setup, The larger telephoto lens enables to take snaps with lossless zoom upto 2X and can also record videos in 4k resolution.
The front camera is of 16 MP just like the one plus 5. Graphics include Adreno 540 which ensure smooth gameplays. The phone is quite thin at just 7.3mm which meant a smaller battery of just 3200mAH.
Next on the List of Best 8GB Ram mobiles is the Asus Zenfone AR with AR and VR capabilities.
3. Asus Zenfone AR
Price Rs. 49,990
Asus Zenfone AR was launched recently and is the most expensive phone in this list priced at $700 or Rs. 50,000. The smartphone not only boasts about 8 GB of Ram but also comes with special rear cameras for Augmented Reality.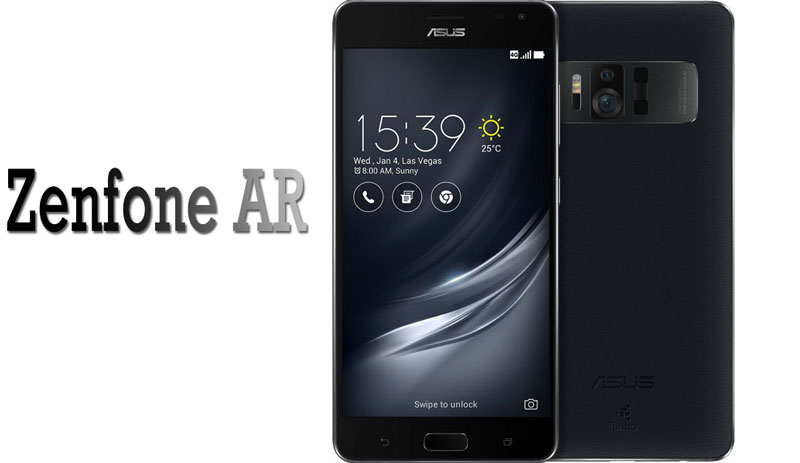 The Asus Zenfone AR comes with 8GB of RAM along with a Quad core Snapdragon 821 along with the Adreno 530 GPU. The smartphone has a 5.7 Inch screen sporting high resolution Super Amoled Display with 1440 X 2560.
The Asus Zenfone AR comes with 3 cameras at the back with main camera offering 23 Megapixel Sony IMX 318 sensor and also has EIS.  There is a 8 MP front camera for selfies.
The notable feature for the Asus Zenfone AR is support for Google Project Tango and Google Daydream Virtual Reality Zenfone AR has  3300 mAH battery ensures usage for a whole day without charging. Storage is variable as the phone comes in with 64/128/256 GB of internal storage along with a SD card slot for an extra 256GB.
The phone would weigh about 170 Grams and has a thickness of 9 mm which is quite a lot including the major camera bump.
4. Xiaomi Mi Mix 2 (Ceramic Edition)
Xiaomi Mi Mix was revolutionary, first phone to come with bezelless full display. Samsung S8 and Lg G6 adopted and created something unique with the display later on.
Xiaomi has launched the Xiaomi Mi Mix 2 which comes in a special Ceramic edition which offers 8 GB RAM.
The Xiaomi Mi Mix 2 comes with 6.0 Inch Display with 18:9 bezel less display and has (2160*1080) pixels resolution. The bezel-less phone is powered by the Octa-Core snapdragon 835 along Adreno 540 GPU for gaming and multi-tasking.
The Mi Mix 2 comes with a single 12 Megapixel rear camera while the front sefie camera (5 Megapixel) is located at the bottom side. The massive 3400 mAH battery comes with Quick Charge 3.0 support.
Mi Mix 2 ceramic edition comes with 128 GB internal memory.  It run on Android nougat 7.1.1 and come with the latest MiUi 9. The smartphone is also expected to launch in India before Diwali in October.
Related Articles –