Update 22 June 2020 – Asus has shared that the ROG Phone II is in stock now and you can purchase it from Flipkart. However, the price is increased from Rs. 37,999 to Rs. 39,999 due to the increase in GST on mobiles from existing 12% to 18%. The actual price due to the GST increase would have been 42.5k but as a special gesture for Asus fans, the brand has decided to keep it to 39,990.
Your ROG Phone is Getting a Better Gaming Experience – ASUS Republic of Gamers Announces Partnership with Unity Technologies
Update – 04-June-2020 – Game developers using the Unity real-time 3D content engine will get exclusive access to a plugin with five ROG Phone features, allowing them to easily optimize their games to take full advantage of the hardware capabilities. As a consequence, gamers will be able to enjoy a wider range of mobile games that include exciting new features optimized specially for ROG Phone offering a unique gaming experience to them.
Update Feb 2020 – Asus has shared with us that the availability of the Rog Phone II may get impacted due to the spread of the Corona Virus in China. The company may not be able to import as many units as they planned for Q1 2020. The buyers may experience a shortage of Rog Phone II in India.
---
Rog Phone 2 Detailed Review – The Ultimate Gaming Monster
Asus launched the ROG Phone II in October in India. It was another high-end gaming mobile which I was thinking will cost over 60K. The last ROG phone had a price tag of over Rs. 65,000.
The Surprise
But Asus surprised everyone when they announced the 8 GB Ram and 128 GB version will cost Rs. 37,999. And if you are not too concerned about money can buy a more luxurious 512 GB storage and 12 GB ram version for Rs. 59,999.
When you buy the 12 GB variant, you will get Aero Active Cooler II (Rs. 3999) and the 30 Watts Charger (Rs. 1999) free.
The phone is available on Flipkart and, is in high demand.
Do we really need Gaming Phones in 2020?
Ohh yes we do. Mobile gaming is superb and the recent addition of games like Fortnite, PUBG, and COD mobile has taken the experience to the next level.
But how can I carry a gaming phone to a meeting? Meetings are meant to be skipped or are a great place to play PUBG . Nevermind, you can turn off the dazzling lighting effects to make it look like a conventional notes taking handset.
Top Features Rog Phone II
Superb Performance Snapdragon 855 Plus Processor.
Insane Battery Life – 6000 mAH Battery.
Fantastic Gaming Experience.
120 Hz Super Amoled Display
Specifications – Asus ROG Phone II
| | |
| --- | --- |
| Specs | Asus ROG Phone II |
| Processor / GPU | Qualcomm Snapdragon 855 Plus Octa-Core Procesor, 2.9 GHz, Adreno 640 GPU |
| Ram | 8 GB / 12 GB DDR4X |
| Storage | 128 GB / 512 GB |
| Expandable Storage | No |
| OS | Android Pie 9.0 along with Custom Rog Skin |
| Rear Camera | 48 MP Sony IMX 586 (f/1.79 Aperture) + 13 MP Ultra-Wide |
| Front Camera | 24 MP Camera, F/2.0 Aperture |
| Design | Polycarbonate, Metal |
| Display | 6.59-inch) 19.5:9 (2340×1080) 120Hz/1ms AMOLED 10-bit HDR display, GG 6. |
| Thickness | 9.5 mm |
| Weight | 240 grams |
| Battery | 6000 mAH, With 18 Watts Fast Charger |
| Connectivity | USB Type C Port, Dual 4G VolTE, Dual Sim |
| Price (Value for Money) | Rs. 37,999 Base Variant |
| Launch Date | October 2019 |
| Candytech Rating | 9.2/10 |
| Availability | Online, Flipkart |
Unboxing
For review, I have the regular 128 GB storage and 8 GB Ram version.
The Rog Phone II comes with a rectangular black box that is similar to the Asus 6Z packaging.
Inside the box, you will find the gaming beast, a hard unusually designed polyplastic case, an 18 Watts fast charger and the USB Type C Cable.
Notably, there are no headphones supplied with this mobile.
Design and Build Quality
The Rog Phone II has a unique design, not your average Joe from a mass-market seller. The edges are metallic and offer the necessary stability and strength to the heavy phone. The backside is glossy, with the aura lighting.
The camera module is flat, no bumps. The camera assembly comes with a unique pentagonal design and dual led flash. The aura lighting which you can turn on-off from the quick pull bar settings on your mobile makes the Rog Phone II standout in the crowd.
Initially, it feels a bit unusual (less unusual than the Elon Musk Cybertruck) but as you start using it, you will appreciate the efforts done by Asus to improve finer details.
The front side has some bezels at the top and bottom to house the boom sound speakers (anyone missing the old HTC devices with Boom Sound).
Lastly, at the front, we have a surprisingly good selfie camera.
Display
The phone comes with a 6.59-inch, 19.5:9 (2340×1080) 120Hz/1ms AMOLED 10-bit HDR display. It is a super AMOLED panel protected by the latest Corning Gorilla Glass 6.
The outdoor legibility is not a problem; the display comes with 600 nits of maximum brightness.
You can change the display frequency from settings to 90Hz or 60hz if you want to save battery life.
In-Display Fingerprint Scanner
There is an in-display fingerprint scanner which is satisfactorily fast to unlock the phone.
Also, you can use the face-unlock feature that works most of the time in good light conditions. It doesn't work well at night.
User Experience & Features
The Rog Phone II boots Android 9, and you can even sign-up for the Android 10 Beta user program if you want the early access.
There is a custom ROG UI offering dark mode, special icon pack to go along with the gaming theme.
You can turn off the Dark reactor ROG skin and switch to classic Vanilla Android or even the light luminous Core skin from the settings>>themes.
There is an X-Mode, a performance mode, to ensure sustained performance when gaming. You can turn it on from the quick launch bar at the top of your screen.
There is a cool wallpaper animation when you turn it on. These little details make your experience savoring on the Rog Phone II.
Another notable feature is AirTriggers: shoulder-mounted pressure-sensitive trigger buttons that let you assign in-game touch actions.
The buttons have 20ms latency & adequate haptic feedback. You can customize the actuation force required to use triggers. These can be a nifty addition in many games that support them.
Overall, the experience is exceptional, and considering we have got the fastest processor on the market, it feels perfect.
Rog Phone II Review – Performance, Gaming, and Benchmarks
Obviously, the phone is made for gaming and performance. You can throw any game at it and it glides.
It is a superb device if you want to play the latest games such as Fortnite, COD Mobile, PUBG or the Asphalt 9 at high/ultra graphics settings.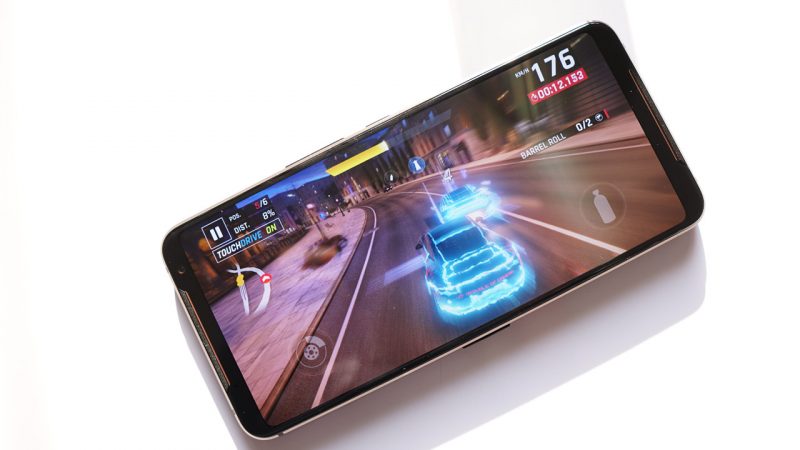 The Qualcomm Snapdragon 855 Plus and the Adreno 640 is the best combination that you can get on any Android mobile for gaming. Also, the Rog Phone 2 comes with the Liquid Cooling technology that keeps it fairly cool even when you are playing high graphics games for a prolonged time.
Further, there is a special App – the Armory Crate which shows all the games installed on the device and you can monitor and tweak some of the hardware settings. Additionally, you can check temps, core clocks, memory usage, and available storage.
Also, you can set the actuation level for AirTriggers from here, adjust the system lighting effects, and set up game profiles.
Additionally, you can try the game genie software while playing games to set the trigger points, check the realtime temperature, core clocks, and other stats.
The maximum temperatures are around 38-39 degrees Celsius while play PUBG on it.
Benchmark Scores – ROG Phone II
Antutu Benchmark – 500378
GeekBench 5 Single-Core – 762
Geek Bench 5 Multi-Core – 2702
Reference Scores of Asus 5z, running Snapdragon 845 and 6 GB RAM. Notably, the Rog Phone 2 switches the X mode to increase the benchmark scores slightly.
Antutu Benchmark – 282,347
GeekBench Single-Core – 489
Geek Bench Multi-Core – 2010
Based on the benchmark score the Snapdragon 855 Plus is nearly 80% faster in comparison to the Snapdragon 845.
Rog Phone II – Camera Review
Before testing the phone I was actually thinking that Asus would have cut corners in the camera section to save costs. But it has a surprisingly good camera.
No doubt is has a 4.7 rating on Flipkart (the highest-rated mobile).
The first thing to note is how snappy the camera is. You click an image and you don't have to wait for post-processing unless it is a portrait shot.
Out of camera images are punchy and color accurate. The amount of details, dynamic range from both front and rear cameras is excellent.
The 48 MP Sony IMX 586 is an excellent lens and coupled with the image signal processor from Snapdragon 855 Plus, the results are astonishingly good.
Moreover, the portrait mode on this phone is as good as any other best dual camera but sometimes blur the edges around the hair.
If you want to click selfies or images to post on social media, this is a superb camera.
The 24 Megapixel front selfie camera is a noticeable upgrade in comparison to the 8 MP camera on the Asus 5Z.
The camera comes with EIS and supports 4K videos upto 60 FPS. I shot some videos for testing; the stability and results were decent.
Further, you can even record 240 FPS slow motion in the FHD settings.
Check All the Detailed Images Below – Click on Image to See High-Resolution Asus Rog Phone 2 Camera Samples.
Please wait for the Album to Load.
Battery Life
Another feature in the Rog Phone's armor is the superb battery life. Thanks to the energy-efficient Qualcomm Snapdragon 855 Plus Processor and Adreno 640 GPU this phone can last long, easily 2 days with medium usage and a full day with heavy usage.
The device comes with the Quick Charge 3.0/4.0 support brick charger with USB Type C Port and can charge the mobile in about 2 hours.
The 18 Watts Supplied charge is quick, but if you want better speeds can buy a Quick Charge 4.0 charger with up to 30 Watts power.
Connectivity
The Rog Phone II comes with all the modern connectivity options including NFC support.
Also, it has a Dual Sim support but doesn't come with a micro-sd card slot.
We have Bluetooth 5.0 support, 5 GHz WIFI, in addition to the Dual 4G Volte support.
In case you want to charge a phone, you can use a reverse charging feature.
Notably, there is a secondary charging port on the left side. I find it very convinient to use when gaming as it doesn't get in the way.
Sound and Audio Quality
Most people don't care about sound, but it is one of the top features for me when buying a new phone.
The Rog Phone II is one of the few phones that come with a 3.5 mm headphone jack.
There is support for Aptx for high-quality Bluetooth sound output. Also, it has DTSX support and an Audio Wizard for customizing and improving the audio quality.
The Dual Stereo speaker at the front offers loud and immersive sound for videos and gaming.
It is loud and clear, better than most of the phones I have tested in the last 2 years.
Key Competitors
Oneplus 7T is the key rival to the Asus Rog Phone II. The Rog phone II offers a lot of things superior to the Oneplus at the current price, such as battery life, 120 Hz display, immersive sound, better cooling, and gaming-centric design and features.
On the other hand, Oneplus is a more conventional product with top of the line features and everything in balanced proportions.
Pro & Cons for Asus Rog Phone II
PROS
Ultimate Performance, Good For Gaming.
Superb Battery Life.
Decent Camera Quality.
The display is great for multimedia consumption.
Stylish Design and Looks
Incredible Sound Output
CONS
Heavy – 240 grams
NO OIS, Wireless Charging
Concluding Thoughts – Should You Buy the Rog Phone II?
Most people buy phones in the sub 20k price range. The Rog Phone II is a premium mobile considering the price.
However, in the 30k to 40k price range, we have very limited options.
For gamers, looking for an ultimate device the ROG phone 2 is unmissable.
It is a specs loaded phone that is actually impressive to use. To be frank, I was bored with the similar-looking and feeling phones, the Rog phone is refreshing.
It is unique and takes some time getting used to (it is heavy). But once you start using it daily, you will love the features.
Apart from being a gaming phone, what appeals to me most is the presence of dual front speakers, a large 6000 mAH battery and a good camera.
Also, Read: