Asus Zenfone 3 Review – Zen Camera and Zen Design
Asus launched the Asus Zenfone 3 on 17th August 2016 in the Indian market priced at Rs. 21,999. The smartphone was unveiled on 30 May 2016 in Taiwan along with the Asus Zenfone 3 Deluxe, Selfie, Zenfone 3 Max and Ultra.
The Asus Zenfone 3 comes in two variants :
5.2 Inch with 32 GB storage and 3 GB RAM Priced at Rs. 21999.
5.5 Inch with 64 GB storage and 4 GB RAM Priced at Rs. 27999.
Both the smartphones come with same design and features, but with some differences like – Storage, RAM, battery capacity, and screen size.
We have the Golden color high end 5.5 inches 64 GB storage Zenfone 3 for review today and we will deep dive into all of the aspects of the smartphone to help you better understand the device with Pros and Cons before you buy it.
Asus this year has not launched the budget smartphones which they have been doing for last many years and these are all premium smartphones like the Oppo, Gionee, HTC, Samsung, and Sony does.
Let's begin with what we get inside the box and progress to design, User experience, features, Camera, Performance, battery life and Pros and Cons.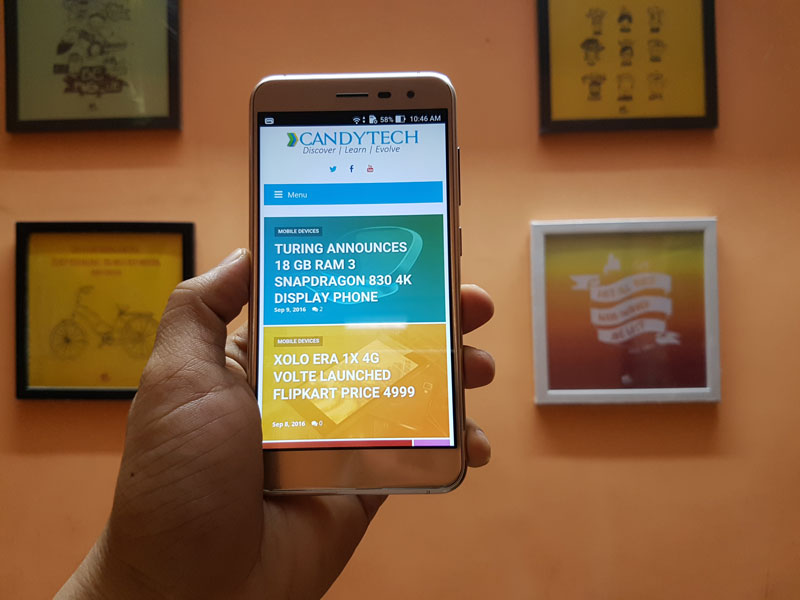 Inside the Box
Asus Zenfone 3 Review – Zenfone 3 comes in a nice dark black premium packaging and Zenfone 3 is inscribed in Golden letters on the top of the box. The Box itself looks premium, unlike many budget devices.
Inside the box, we have neatly packed Asus Zenfone 3 and in the below compartments we got –
USB Type C Reversible adapter and Charging Cable.
Earphones (with 3 pair of silicon plugs)
User Manual
A Sim ejection tool.
Yes, you get free earphones with the smartphone.
First Impressions
First Impression is probably the last as said many times. When I saw the box first time it felt as if something really classy is being given to me. As I opened the box – I felt happier to see the new Zenfone 3.
I have reviewed many devices from Asus in the past, Zenfone Laser, Zenfone Max older one and 2016 version and some more. But this is the first smartphone which really felt premium, sleek, and top notch.
The phone has a 5.5-inch display but does not feel very large, thanks to the low bezel and weight.
How does the Zenfone 3 Feel – I had a mixed feeling of picking up the Samsung S7 and the iPhone 6s when I first grabbed the Zenfone 3. (For readers note I am currently on Samsung S7 as a primary device). I will also try to compare the Moto G4 Plus with the lower variant of the Zenfone 3 a lot of readers have asked me to do it in this review.
Key Specs Asus Zenfone 3 
| | |
| --- | --- |
| Key Specs | Asus Zenfone 3 |
| Display | 5.2 /5.5 inches 1080 x 1920 pixels |
| Dimensions | 152.6 x 77.4 x 7.7 mm |
| RAM and Storage | 32 GB, 3 GB RAM or 64 GB, 4 GB RAM |
| CPU / GPU | Qualcomm Snapdragon 625, Adreno 506 |
| Optics | 16 MP rear camera and 8 mp front |
| Operating System | Android 6.0 Marshmallow |
| Battery | 2650/3000 mAh |
| Expected Price | Rs. 21,999 , Rs 27,999 |
We have the higher variant and it comes with 5.5 Inch Super AMOLED Display, 64 GB storage, and a larger 3000 mAH battery capacity.
Design and Build Quality
The Zenfone 3 looks sleek with the 7.7 mm thickness and close to 155 grams weight it is very easy to hold and use. The smartphone comes with Corning Gorilla Glass cover both at the front side and the back of the device.
The smartphone is as slippery my Samsung S7 and the glass back cover also attract fingerprints but were not too visible on my Golden variant.
The edges are made of finely polished metal and the 2.5 D curve glass merges seamlessly in the side edges.
The Zenfone 3 comes with concealed Antenna lines. The Antenna lines are just visible on the top of the smartphone and at the bottom, very similar to the Samsung S7 edge.
Display
The Asus Zenfone 3 comes with incredible 77.3% Screen-to-body Ratio, Brightness: 600 nits, Bluelight Filter for Eye Care.  The 5.5-inch display has Full HD resolution with 401 PPI and Corning Gorilla Glass protection.
The display comes with very thin 2.1 mm bezel to ensure the device display looks best. There is 2.5 D curve glass which makes the display even more delightful to use.
Overall a very good display with good sunlight legibility and easy to read in bright light owing to 600 nits of brightness. I found the display better than the Moto G4 Plus full HD display and the colors and contrast on the Zenfone 3 screen is much better compared to the G4 Plus.
The G4 Plus comes with a very good Full HD display but the Zenfone 3 display is better in terms of color reproduction, vibrancy, and quality.
It is one of the best display with richer colors compared to a more faded color tone on most IPS LCD screen. It is the next best thing to Super AMOLED.
User Experience and Interface
The Asus Zenfone 3 comes with the Android Marshmallow 6.0 along with the Asus Zen UI 3.0.   
The Zen UI is neat and is somewhat similar to the Samsung Touch Wiz and the stock Android experience.  The easy access menu bar from the top has more greenish and blue icons with grey tones, colors used are not bold but subtle by Asus.
I have used the ZenUI on the Android Lollipop previously and the Marshmallow version is much better and smoother as per my experience.
Asus Keyboard – I don't like the Asus Keyboard much, though it comes with many different skin colors and a very handy resize option which I have not seen elsewhere. You can actually resize the keyboard to make it larger or smaller.
Themes – There are themes which you can download from the Asus Store for your Zenfone 3. There are paid themes for $1.99 no Indian pricing though and there are also themes which are available for free to use.
The highlight of the Zenfone UI is the Asus Mobile Manager and the inbuilt Apps some of which are gimmicky and not of my use but others most users will find useful.
The Asus Mobile Manager  – This is the central control APP which does a lot of things in the Zen UI and is also quite useful.
Key Features in the Mobile Manager :
Power Saver Mode
Auto Start
Data Usage Monitoring
RAM management and Usage
Notifications Manager (Block Notifications)
Virus Scanning
It is a pretty handy App by Asus to make sure you have everything in one place and no need to have several Apps to manage the phone better.
There are several pre-installed Apps in the Asus Zenfone 3 Like:
Gallary, File manager, Mini Movie ( I liked it very cool App)., Photo Collage, DO it, Weather, Share Link, Web storage, Puffin, Amazon Kindle, Instagram, Zen Circle, Trip Advisor, Zen talk and Zenfone Care.
Some of these are helpful and other I would like to remove as soon as I set my google account.
Will talk about Collage, Video editing and other Apps in the Camera review section.
Sound Quality & Videos
Asus Zenfone 3 Review – Asus is yet to kill the 3.5 mm jack and become more courageous and The Asus Zenfone 3 comes with Sonic sound technology in the Zenfone 3 which they use in the Zenbook laptops with 5 magnet speakers to have studio-grade 24-bit/192kHz playback audio quality.
There is a single speaker at the bottom of the smartphone which does produce rich sound but it is not very loud. It is louder than the Samsung S7 speaker but nothing like the Lenovo K4 Note or HTC One M9.
There is a pair of in-canal earphones which are provided which offers decent treble as well offers clear voice communication. These lack Bass.
I used my Sennheiser PX 80 headphones with the Asus Zenfone 3 to get some real sound output from the smartphone and these sound as good as on my Samsung S7 or other smartphones, nothing bad or nothing extraordinary.
Performance
Asus Zenfone 3 Review – Asus has used the new Qualcomm Snapdragon 625 Processor in the Asus Zenfone 3. The SD 625 is an Octa-Core processor clocked at 2.0 GHz and is manufactured with 14 Nm process and is very energy efficient.
The processor best can be described as a mid-range offering, as the Qualcomm Snapdragon 650 processor is almost 40% more powerful and the Snapdragon 820 is almost 100% more powerful than the SD 625.
There is Adreno 506 which is excellent for gaming and otherwise, we will see that in the Gaming review of the Zenfone 3 below.
Gaming Performance and Review
Benchmark Performance
Asus Zenfone 3 Scored 61250 score on the Antutu benchmark which is a mid-range score much better than the Lenovo K4 Note but slower to a Snapdragon 650 used in Redmi Note 3 or a Snapdragon 820 used in OnePlus 3.
Geekbench Score – Asus Zenfone 3 Single Core score is 839 and the Multicore score comes as 4070.
Gaming Performance and Heating
Game Play was smooth we played 3 games on the Zenfone 3  – Asphalt 8, Nova 3 and the Modern Combat 5.
I was not expecting the Asus Zenfone 3 powered by the Adreno 506 to perform too well but it surprised me with smooth gameplay.
The temperature was also not too high and the smartphone didn't get too hot even after 30 minutes of gaming.
A gaming review video is coming soon.
Camera Quality
The One Major reason to buy the Zenfone 3 is its camera quality. While the rear camera on the smartphone comes with a 16 MP Lens and has tri-focus (PDAF, Laser included). How does it perform in real life scenario?
Opening the camera App and focusing on any object is faster compared to the Moto G4 Plus and many mid-range devices.
To create a bit perspective we will share some of the images taken with the Moto G4 Plus too along with the Zenfone 3.
Rear Camera Images Quality
Though the image size is around 3-4 MB, I have compressed the images with the Adobe Photoshop before upload and images will utmost details as originally shot.
A close shot of artificial light by Asus Zenfone 3 rear camera in Auto Mode.  Scratches and minor deformities are quite visible on the Watch. Well, detailed image.
Rear Camera Image in Broad Day light.
The Bokeh Effect for a close shot of the leaves.
Let's Check out some of the Low Light Shots from the rear camera – it was taken in an almost dark room with very little light.
Night Shot Out Doors 
Ganesha in Mumbai – Pretty Good Looking. 
Front Camera Selfie Quality
Pardon my sleepy looks, just got up and thought to test the Zenfone 3 camera :).  The image was shot in a well-lit area with light coming from the front. Skin tone and Colors appear a bit over-saturated in the image, otherwise a good click. The noise level in the background is also a bit high.
Here is a Selfie Taken from Moto G4 Plus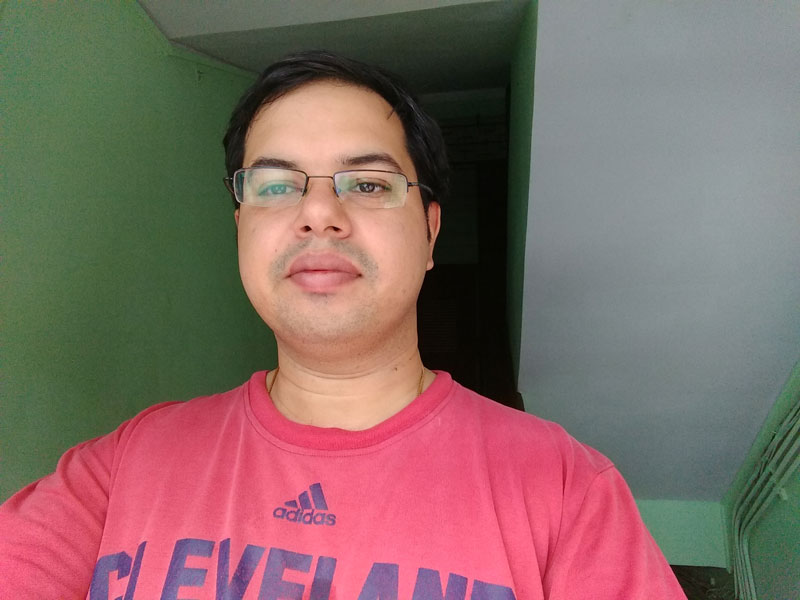 Video Sample for Asus Zenfone 3 (4K and 1080P Recorded Video)

Battery Life and USB Type C
The battery life on the 5.5-inch Zenfone is great and I found it to last 2 hours more in comparison to my Samsung S7.  In fact, Zenfone uses Snapdragon 625s (low energy consumption), FHD Display, in comparison to the SD 820 (on Samsung S7) and the Quad-HD display.
The 3000 mAH battery capacity, works all day easily with 5 hours of screen-on-time, mixed data and Voice calling usage. I was happy with the battery optimization on the Zenfone 3.
The USB TYPE C reversible port works fast to copy files to and from the device and is the modern standard of communication and as it is getting common I think is a good addition by Asus.
Connectivity Options and Call Quality
The Zenfone 3 comes with the Micro Sim support and you can use the second sim slot either as a Micro-sd card slot or as a second sim.
So far in my testing, I was using a single sim in the smartphone and tested the micro-sd port also it worked easily. We used an Airtel 4G LTE sim to use data and voice calls which both worked flawlessly.
Concluding Thoughts
Before using the Zenfone 3, my opinion was that the Zenfone 3 is more expensive in comparison to the Specs offered by Asus. Especially when compared to the Moto G4 Plus which I have as a secondary smartphone currently.
The G4 Plus is a good smartphone but there are things where Zenfone Scores much higher. The design and looks are one of the major reasons the Zenfone looks as premium and refined like the Samsung S7 and iPhone 6s. G4, on the other hand, has very bland looks.
The other major area where Zenfone 3 stand out from the crowd is its display, I think it is one of the more refined IPS LCD display on any Android smartphone in this price range. Very good text readability and color reproduction and vibrancy is outstanding.
The Camera – The front 8 Megapixel camera is really good and takes images with vivid colors and good clarity in well-lit conditions.
Also, the rear camera is good and can click images quickly with fast laser auto-focus in the daytime. Night time images do come with grain and are at par with the Moto G4.
The 4K video was very clear and impressive for the smartphone, had much more details compared to the 1080P.
The Major Cons
I think, Asus could have used a more powerful chipset like a Snapdragon 652 and it would have been more than perfect.
Should You Buy the Asus Zenfone 3
I think it is again a matter of choice if you value a head turner design, sleek looks, immaculate build, better display, and camera, you can consider the Zenfone 3 as your next smartphone.
Pricing is again a tough terrain when a device comes with a premium build. When we are purely comparing specs it is very easy to say it is over-priced. But if we are considering the style statement and craftsmanship it is difficult to measure everything on the same scale. An iPhone 7 and a Samsung S7 Edge may be expensive to many but they appeal to other fans and enthusiasts and so does the new Zenfone 3.
Here is a detailed Video Review for the Asus Zenfone 3 With Additional Insights : 
You May Like to Read : 
Asus Zenfone Max With 3 GB RAM Price 12999 Launched (Full Review)