Due to the Coronavirus spread, it has become essential to sanitize products at home or office. The solution is to either use an alcohol-based solution or use a UV Sterilizer (or also called UV Sanitizer). Gadgets like phones and electronic car keys can get damaged due to the fluid-based Sanitizers hence necessitating the use of UV Sterilizers.
The portable UV Sterilizers are excellent for quick cleaning of mobile phones, keys, masks, earpods, and other electronic gadgets.
And therefore, the requirement of UV sterilizers has gained huge significance.
According to several studies, mobile phones have emerged as one of the dirtiest objects that may harbor nearly 20,000 different bacteria and viruses.
How Does UV sterilizer Work & Why To buy it?
A UV sterilizer functions by using specific bulbs to produce an adequate amount of UV (Ultra Violet)-C light required for destroying bacteria on surfaces.
The reason why UV light has become so significant is that it can effectively damage the DNA of bacteria along with the DNA or RNA of viruses.
It is worth mentioning that if you destroy the DNA of bacteria, it will die, and if you kill the nucleic acid of viruses, it will lose its power of infecting others.
UV-C lights remain most effective on smooth and flat surfaces. UV-C sanitizers may not function at the optimum level if you use them on objects with uneven surfaces.
You should also ensure that you wipe down the object you plan to clean before using a UV-C sanitizer.
UV sterilizers are quite convenient to use, and no chemicals will be required during the cleaning process. Therefore, you will not be leaving any dangerous chemical residue behind after using a UV sterilizer. They have the potential of killing all types of microorganisms that may also include drug-resistant bacteria.
Types of UV sterilizers
UV sterilizers can be divided into three different types with declining wavelengths and surging energy levels.
You will come across mainly three types of UV sterilizers, namely.
UVA
UVB
UVC.
However, for UV sterilization, only UVC (100 to 280 nm) is equipped with adequate energy to destroy micro-organisms effectively. If you are scouting for the Best UV sterilization product for your home or office, you must ensure that its wavelength falls in the range of UVC (100 to 280 nm).
The market has been inundated with several UV sterilizers, thus leaving you confused about which one to buy.
We have listed the top 5 UV sterilizers that you can buy Online:
1. House of Quirk UV LED Sanitizer
The multi-purpose UV LED sanitizer can disinfect by producing UV light with a wavelength of 253.7 nm via 2 UV-C bulbs. It just takes barely 3 minutes to destroy up to 99% of germs and bacteria hidden in crevices.
It can make disinfection easier and quicker, thus leaving you and your family members protected and safe from lethal bacteria. To disinfect your mobile phone, you need to put it into the sterilizer box and plug switch. Now press the coating button.
The device will begin coating and sterilizing, and after 3 minutes, the disinfection process will get completed. It has emerged as a must-have gadget for those who are concerned about hygiene. You can buy it for Rs 1399.
Key features
It will be equipped with 1 ultraviolet disinfection box, 1 USB charging cable, and a user manual.
The device is sleek in appearance and ergonomically designed.
The UV disinfection box measures 7.8 x 4.0 x 1.4 inch.
It allows you to disinfect your smartphone, earphone, mask, keys, jewelry, and glasses.
It emits a wavelength of 253.7nm via 2 UV-C bulbs.
You can power it using a laptop, desktop, and power bank.
It helps you create a pure and germ-free environment for your family.
2. RAEGR Arc 1500 SGS Tested UV Sterilizer
Kill all the deadly viruses and bacteria with this stunning UV sanitizer. It will offer you three modes of fast wireless charging, i.e., 10W, 7.5 W, and 5 W.
The sterilizer offers compatibility with all Qi-enabled smartphones. The sterilizer uses ultraviolet LED tubs to terminate 99.9% of germs, viruses, and bacteria sans using harmful chemicals. It can perform several functions of charges along with the disinfecting process.
The sterilizer is light in weight and quite portable, thus making it travel-friendly. You can use it in your home or office without any hassle. If you dislike the odor, you may add 5-6 aroma drops to the hole.
Key features
It can deep clean in just 8 minutes.
Available for Rs 3,999.
Can clean masks, smartphones, and other personal items.
It comes with an aroma diffuser for a pleasant smell.
You will get a spacious compartment.
The device weighs 349 grams offers compatibility for all smartphones.
UV Pure Handheld Sterilizer
The UV sanitizer has emerged to kill bacteria and viruses from smartphones, toothbrushes, face masks, and makeup tools, among others. It has got the capacity to destroy other pathogens by killing their DNA and RNA.
It is available in the shape of a portable UV stick that you can carry inside your pocket effortlessly. The device helps in keeping your family safe and secure from several deadly bacteria.
It is easy to use, and you need to wave the UV stick on any object for approximately 5 to 10 seconds to destroy viruses and bacteria. The product is equipped with a gravity sensing device that can automatically cut off the power supply when the light shines upward to prevent eye damage.
Key features
It weighs 500 g and measures 16x3x2.5 inches.
It is manufactured from stainless steel.
The light in the UVC wavelength can also be used to disinfect water, sterilize surfaces, and destroy micro-organisms in food products.
The product runs on AC and is available with a 2.5-meter long electrical cord.
It is priced at Rs 2,999.
The UV sanitizer weight is 998 grams, and the package dimension is 30 x 10 x 5 cm.
4. LYFRO Beam Pocket-Sized Handheld UVC LED Disinfectant Wand
The disinfectant wand has a stunning appearance. The white color wand is equipped with 3-speed modes, i.e., the 30s, 60s, and 180s. It has the potential of sanitizing the bigger items of everyday use, devices, and surfaces with great ease.
It has a dual safety lock for the safety of children. It also offers dual activation of front and side buttons to switch on the device and prevent accidental activation. You can use it non-stop for 3 hours with 500mAh capacity and swift 10W USB-C recharging. It weighs only 109 grams and measures 21 x 12 x 5 cm.
Key features
The price of the product is Rs 2999.
It is easy to use and light in weight.
Lyfro uses tri-speed ultra UV sanitization.
It can kill up to 99.9 bacteria and viruses to keep you safe and healthy.
The 3X wide UV-C LED design can extend its reach for the larger sanitizing area.
5. IFITech ABS Portable Handheld UV-C Light Wand Sterilizer
The UV-C light wand sterilizer has the capacity to kill 99.9% of microorganisms. All you have to do is use the ultraviolet light's sterilization power and swipe and destroy germs on the objects you and your family touch.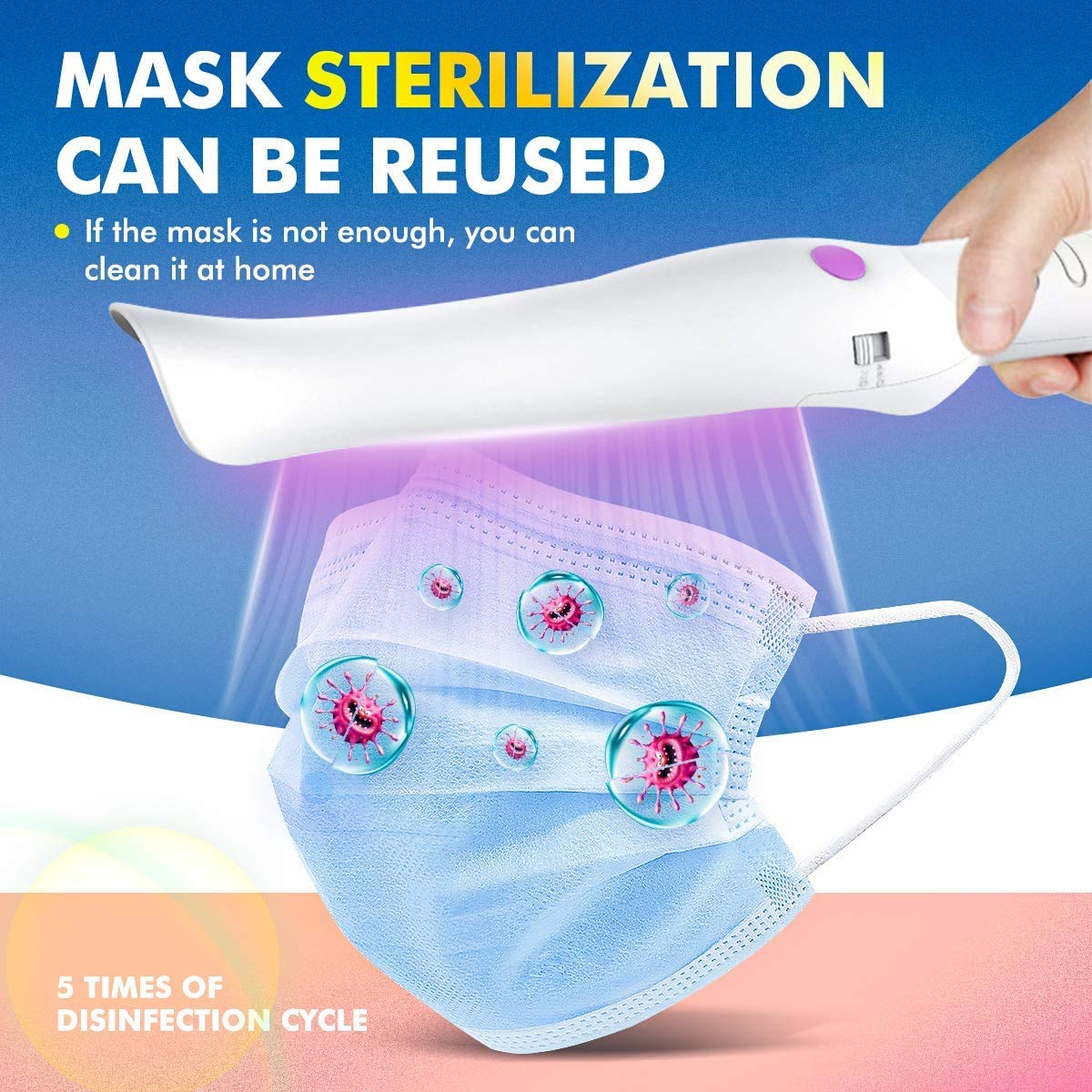 The handheld device offers stronger light and a better sterilization effect. It is compatible with the USB Type-C charging interface. The UV-C can destroy fungi, molds, etc. on the surface of personal items.
It offers simple operation and easy to press on/off button. It allows you to disinfect mobile phones, laptops, tabs, money, currency, spoons, dishes, telephone receivers, bathrooms, public places, and cars, among others. The device is scientifically proven to protect you and your family members against microscopic organisms.
Key features:
It can disinfect in just 10 seconds.
It offers a wavelength of 260-280 nm.
You can buy it for Rs 1350.
The device is portable and easy to carry anywhere as It can fit easily in a bag or purse.
The UV-C light is effective in keeping germs at bay.
You will get Long Lasting Rechargeable Lithium-Ion Battery.
6). Amtidy U99 UV Portable Sterilizer
The Amtidy UV sterilizer is made to kill the micro-organism hidden in the gap of your devices.
The sterilizer uses ultraviolet light instead of liquid, chemical, or heat, which will disinfect the bacteria effectively. It is available for purchase for a price tag of Rs. 2599.
This portable sterilizer comfortably fits almost all phones from iPhone X to Galaxy Note 8.
Also, it can be used to sanitize your jewelry, watch, makeup kit, car keys, knives, toothbrush, glasses, credit/debit cards, etc.
The Amtidy sanitizer comes with a built-in charging port. It can charge and sanitize simultaneously.
The box will stop emitting UV radiation as soon as the cover is open, which prevents eyes and skin from any exposure.
It emits the lights at the wavelength of 250 nm to 280 nm via two long UVC and sanitizes in just 5 minutes.
Key Features:
Disinfects quickly and safely in 5 minutes
Emits UV light at 254 nm wavelength
360-degree disinfection
Large sanitizing space
Suitable for - Phones, glasses, keys, and personal care
One button control design
Price - ₹ 2,599
Weight - 800 grams
7). ShiUV GermiWand Handheld Sterilizer
The GermiWand handheld sterilizer is pretty convenient to use due to its ergonomic design. It can sanitize multiple products altogether simultaneously as the light covers a large area.
This made-in-India UV sanitizer uses no harmful chemicals or residues. It sanitizes your belongings by emitting UV light. The device is available for Rs. 2499 online.
The handheld sanitizer starts working as soon as you switch on the button after plugging it into the socket. You have to point the UV bulb towards the object that needs to sanitize.
Further, it can sanitize everything from personal items to courier to vegetables, even baby products, fabrics, furniture, and everything that you need to sanitize.
Key Features:
Universal power input capability
NABL certified
Light-weight and durable
Shock-proof with a special polymer body
Sanitizes multiple products together
Sanitizes quickly
Price - ₹ 2,500
Dimensions - 585*91*70 mm
Weight - 350 grams
8). Cello All In One Portable Sanitizer
The all-in-one UV portable UV sanitizer can be used to sanitize wallets, phones, keys, and anything that fits. It keeps you safe from unwanted bacteria/viruses and germs.
The UV sterilizer from Cello (a known brand) is available for an affordable price tag of Rs. 1299.
It cleanses the surface of the object that you put in within 5 minutes by emitting the UV light. It works efficiently and fast without any secondary pollution.
Moreover, the device is handy and easy to use. You just have to power on the button and can sanitize the things. It comes with a timer display that makes it easy to use as it shows you the disinfecting time.
Key Features:
UV lamp disinfects efficiently and quickly
Easy to use
Display with timer
Used for phones, keys, jewelry, etc.
Price - ₹ 1,299
Dimensions - 225*45*125 mm
Weight - 2.9 kg
Therefore, we may conclude here that UV sterilization has emerged quite effective for deadly bacteria and viruses. It is worth noting that microorganisms come in different sizes and shapes.
UV disinfection works by rupturing specific chemical bonds and scrambling the shape of DNA, RNA, and proteins, thus causing the microorganism to remain unable to multiply.
When microorganisms cannot multiply, they are believed to be dead as they cannot reproduce within a host and remain infectious. You may purchase the UV sterilizer that meets your requirement in the best possible way and remain within your budget.
Written By - Renu Baliyan
Also, Check Out
10 Work From Home Essentials (Gadgets and Accessories)
8 Best Affordable Long Range WiFi Routers for Home