Upcoming – BlackBerry had officially announced their tie-up with a Chinese manufacturer named TCL months ago. Since they're a new venture, it's clear that BlackBerry won't be manufacturing smartphones from now. It'll be TCL who'll be, manufacturing, distributing and providing customer support for the BlackBerry smartphone users.
Under the terms of the agreement, TCL will "design, manufacture, sell, and provide customer support for BlackBerry-branded mobile devices," while BlackBerry will help with the software and services.
Soon after the announcement, they've successfully released two smartphones. The Dtek 50 for ₹21,900 being the mid-range and Dtek 60 for ₹46,990 being the Flagship offering.
Blackberry DTEK 70 (Mercury)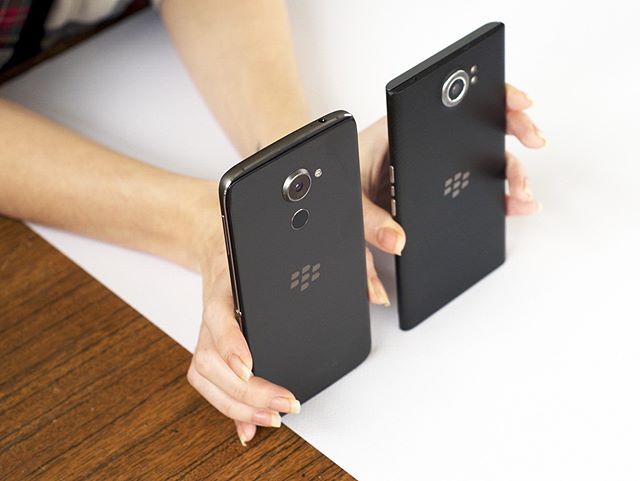 There are strong rumors, that blackberry is working on a new smartphone with enhanced security features. The alleged Dtek70/Mercury is in works, and shall soon release at CES 2017 event, which will be held, in Las Vegas. Judging by the leaks, it's actually going to be a high-end smartphone but not a flagship.
Apparently, it's going to be the "last smartphone" manufactured by BlackBerry before TCL takes over. The smartphone will come with a Qwerty keyboard with no sliding mechanism (unlike the Blackberry Priv).
The Blackberry Dtek 70 will have a fingerprint sensor integrated under the "Spacebar" button, an unusual but interesting place for the sensor. The phone will sport a 4.5-inch display with 1920*1080 pixels.
It'll be powered by Qualcomm's power efficient Snapdragon 625 chipset. Which is also found in Moto Z play, Huawei Nova, Asus Zenfone 3 and many more devices.
Since the SD 625 is a 14 Nm chipset it offers great power efficiency. There is 3400 mAH battery, that might be able to offer exceptional battery life. Furthermore, One can also expect negligible heat dissipation from Dtek 70.
The processor will be coupled with 3 GB of RAM. It'll sport 32 GB of internal storage along with an expansion option. As far as the optics are concerned, it'll is expected to come with 18 MP rear camera and there is an 8 MP selfie camera upfront.
This Dtek 70 is the last smartphone made by Blackberry for the hard-core BlackBerry fans. After Dtek 70, Next phones released under BlackBerry branding will be manufactured by TCL.
All the information about the spec sheet and the release date is yet to be confirmed by BlackBerry, so one must take this information with a grain of salt.
BlackBerry Priv May Cost a Whooping Rs 50000 or More
Blackberry's latest smartphone was out and available in the US and UK. Blackberry India unveiled the smartphone on 28 January 2016 @ 11 am at an event in New Delhi.
We expected that the Blackberry smartphone would cost around Rs. 50,000, but it actually costs Rs. 63,000. The price is a bit of a shocker as it costs even more than the iPhone 6s.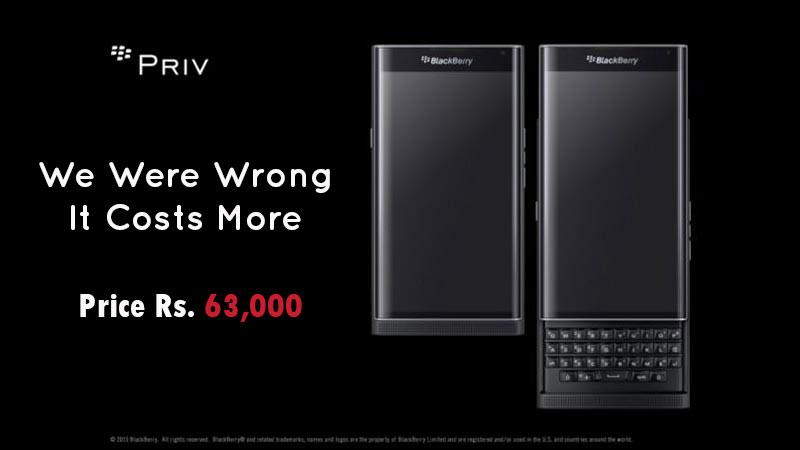 Blackberry priced the smartphone at $699 in the US while in the UK it is available for £559.  We can expect the smartphone to be priced between Rs. 44,000 to Rs. 50,000 in the Indian market. If not 5oK it is going to be pretty close to that number.
I met with the Blackberry promotion team in Mumbai and checked out the new Blackberry Priv.
The smartphone feels really good in the hand and is easy to use. The sliding screen reveals the Keyboard below it, and I was tempted to use it. I had used the Blackberry Curve Javelin 8900 (cost me a fortune back then Rs. 19,000) before I jumped to the Samsung Galaxy S2. In those days Blackberry was the uber cool gadget in the corporate world.
I still don't remember who was not with blackberry, it was the greatest thing to write emails, and BBM was revolutionary, and Whatsapp was not born.
Checking the new Blackberry Priv bring back some good old memories. Using the touch keyboard was not as smooth as I thought, not because there is anything wrong with the keyboard, but I am too used to using the touchscreen now that it felt weird.
But the keyboard is intuitive, it gives word suggestions at the top, and you can just swipe on the keys to pick up the suggested word.
Blackberry may still find some takers, CEO's, CXO's and corporate executives who all loved the blackberry 3-4 years back. Back in 2011 if you didn't have a blackberry smartphone, you were not considered the coolest high flying executive in the corporate world.
With the evolution of Android and Samsung, Blackberry was considered outdated and boring a year later. Blackberry never recovered from the Android and Apple tornado.
But here we have a new start from Blackberry using the Android platform and looking forward to making a comeback. Android users who dearly missed the physical keyboard, may finally have something to look forward to with the BlackBerry Priv.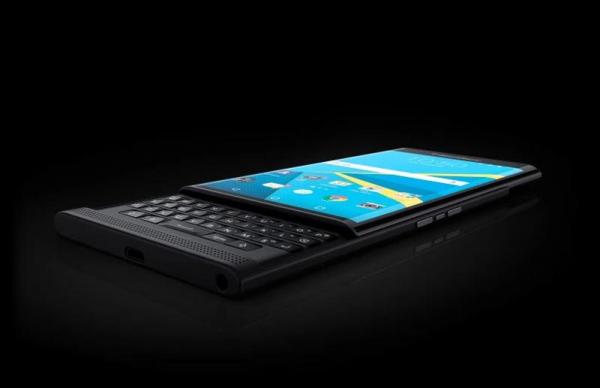 BlackBerry has announced its latest Android-powered handset the BlackBerry Priv which is available for pre-order and starts shipping early November in some countries so far.
According to Blackberry, this is "The World's First Blackberry Secure Smartphone Powered by Android."
The device is now listed on the BlackBerry official website and is available for pre-order starting at $699 and will ship from 6 November in the US. The Priv comes with added security to let you know when your data could be at risk, so you can take action to improve it.
The Priv has a 5.4-inch OLED touchscreen with 2560-by-1440 resolution, and is powered by a 64-bit Qualcomm Snapdragon 808 processor; comes with 3 GB of RAM.
It includes 32 GB of inbuilt storage and has a MicroSD slot that supports up to 2 TB of additional memory.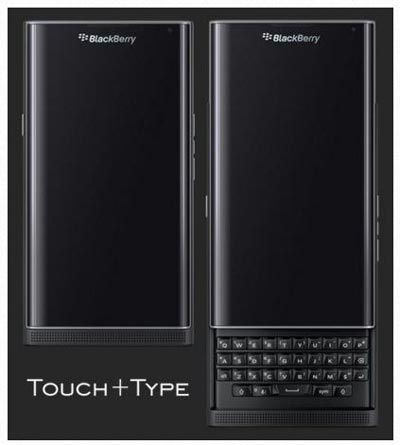 An 18-megapixel rear camera has optical image stabilization and f/2.2 aperture, and there's a 2-megapixel f/2.8 camera up front. The front camera is disappointing with just 2 Mega Pixel resolution.
BlackBerry advertises up to 22.5 hours of "mixed usage." NFC support is also included, and the phone charges via MicroUSB.
Blackberry Priv's USP is enhanced security –
"Priv has the authentic BlackBerry keyboard, legendary security, streamlined communications, and productivity, combined with the wide world of Google Play™ store apps. It has been engineered with the world's finest technology, and packaged in an ultra-thin, ergonomically perfect device with a keyboard hidden by SmartSlide technology."
It also adds "PRIV also introduces the exclusive DTEK™ by BlackBerry warning system app to provide you with the power of privacy."
Key specs of Blackberry Priv
– Stunning 5.4" dual-curved screen
– Long lasting 3410 mAh battery
– Both touch and physical keyboards
– 18 Mega Pixel Schneider-Kreuznach® certified camera
– Extraordinary audio quality
Security has been a constant problem with the Android operating system. More recently, it was reported that nearly 1 billion Android devices were vulnerable to the Stagefright exploit. The Stagefright bug lets an attacker remotely execute code using multimedia text messages, and in most cases, the users don't even see the message.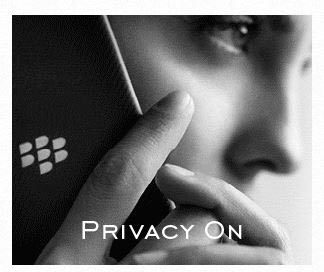 Given the popularity of the Android operating system, and the need for the highest levels of security by establishment, governments and enterprise customers, BlackBerry is using the security feature for positioning its new smartphone.
Target Audience for the smartphone is high-end users and corporate executives looking for a secured communication platform. How secure it is compared to iOS and Android it is difficult to say.
This might be Blackberry's last chance to come back to the big game or a new beginning for the Canadian conglomerate. If you are planning to buy it, I would say wait for 1-2 months and let the price get corrected and then buy it. I think it should come down to 40 to 45K pretty soon.
Also, Read about the Latest Blackberry Motion
---
Blackberry Motion Offers Premium Design and Advanced Security Features
Chinese TV and Display manufacturer TCL signed an agreement with Canadian Tech Giant Blackberry couple of months back. According to the agreement, Blackberry will focus on the software while TCL will manufacture the hardware.
TCL specializes in the manufacturing of gadgets, TVs, and displays.
Blackberry Motion With 4000 mAH Battery and Full Touch Display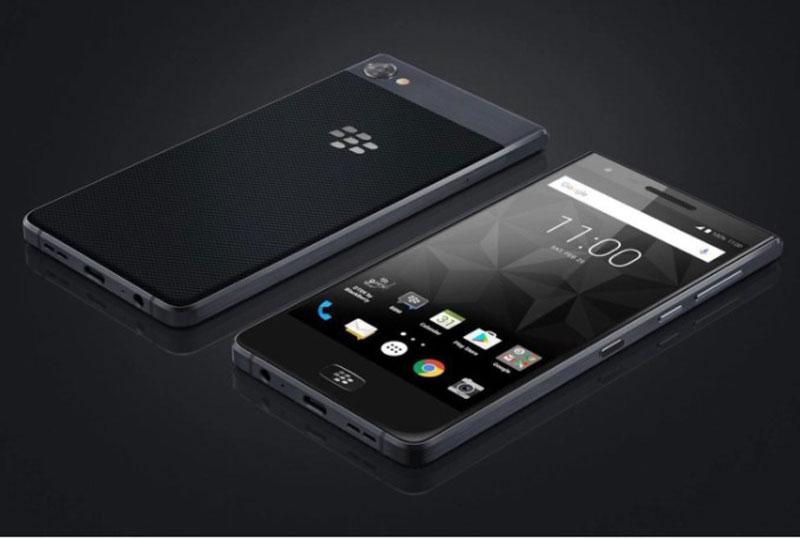 The first-ever product of this deal was Blackberry Keyone, the first ever Android smartphone by Blackberry. 
The new Blackberry Motion was launched at the GITEX tech trade show held in Dubai. It is the first full display smartphone lacking the iconic blackberry keyboard.
The pre-orders for this device starts at USD 469 and will go on sale in UAE soon. There is no confirmation about India launch, though we can expect it to be priced over Rs. 30,000.
Hardware Specifications and Features: Blackberry Motion
Design – The Blackberry Motion comes with a premium build and is made of high-quality aluminum. The rear panel is covered with a carbon fiber with a Blackberry logo on it. There is a single large camera present at the back, and the front side has a home button which has the blackberry logo on it. A fingerprint sensor is also integrated into this home button.
On the bottom, a Type C port and a traditional 3.5 mm audio jack are included.
Display – The device flaunts a 5.5-inch FHD LCD display with 16:9 display and has bezels on all sides. 
Apart from these, there is also a convenience key made available on the right side. This key can be set to do one specific function like bringing up the camera or starting GPS etc. 
Performance – Coming to the hardware, Blackberry Motion is powered by an Octa-core Qualcomm Snapdragon 625 Soc, clocked at 2.0 GHz. There are 4 GB RAM and a massive 4000 mAh battery. 
OS – The device runs on Android V 7.1, Nougat out of the box. 
Features – The Blackberry Motion also has an IP67 rating that means the device can survive a water submersion up to a depth of 1 meter for  30 minutes.
Also, Blackberry claims that the display is covered with a nanodiamond coating which allegedly offers 25% more protection than the usual Corning Gorilla Glass.
Apart from these, there are also the other Blackberry berry features like The Blackberry Hub, Blackberry Keyboard.
Locked Area – One more interesting feature is the locked area. You can hide snaps, docs and more in this area and protect with a passcode or any other Security Measure.
For example, when you use the home button to shoot a photo, the image will directly be saved into the locked area. It is part of the advanced device security feature that blackberry is offering its users.
Camera – There is a 12 MP Rear Camera that is similar to that of the Blackberry Keyone. Since the software optimization is always significant in  Blackberry mobiles, the camera is expected to do good. Although, it should not be compared to the flagships like S8.
Although there is nothing, much new being offered in the Blackberry Motion, the Blackberry line up always stands out for the impeccable security and privacy. The brand value and nostalgia of Blackberry will help them to sell some of these units.
But to state the obvious truth, the smartphone market has changed, and Blackberry or TCL need to accept the changed reality before it is too late..
Blackberry Classic Best QWERTY Keyboard 4G Smartphone