The game is developed by the game Studio Treyarch, and is expected to release on November 6, 2015. The game looks promising with a window to future combat reaching to an all new level.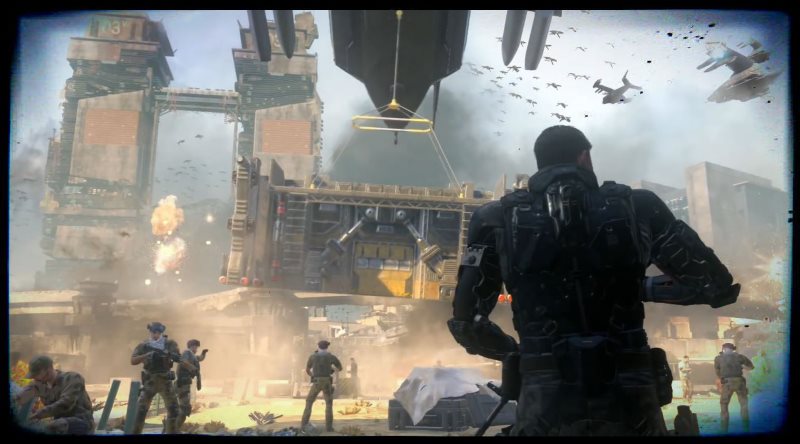 The players are powered by nano suit like exoskeleton suits, provide them super human capabilities. The War is on between the much advanced Robots and brave human warriors.  The scene takes place in far future with, drones flying and bombarding the human race with lethal weapons.
The massive maps make sure you have all the fun competing online with the foes.  Advanced weapons with thermal sensing and under water combat ability makes the game play more gripping.
The game developer Treyarch is planning to release a beta version for the Gamers who are going to pre-order the game and they can have early access to some of the maps in open world multi player maps and enjoy the game in advance.
Call of Duty series has usually an annual release of the new version and this year also they are planning to make it big with the New Call of Duty Black Ops III.
The game will be released on PlayStation 4 (PS4), Xbox One, and PC.  There is no word yet out about the prospects of the game being released on the PS3 and XBox 360. We may or may not see it releasing on the older consoles.
Treyarch studio head Mark Lamia said"  We will be releasing the beta version for PS4, Xbox One and PC, we are really excited to offer the game prior to it's final release to enthusiast Gamers." Gamers will be able to download and play the Beta version soon.
Weapons Don't have instincts, Weapons Don't have loyalty, Weapons Don't have judgement, Soldiers DO.
Minimum PC Requirements for the Call of Duty Black OPS 3
Operating System: Windows 7 64-Bit / Windows 8 64-Bit / Windows 8.1 64-Bit
Processor Required : Intel Core i3-530 @ 2.93GHz / AMD Phenom II X4 810 @ 2.60GHz
System RAM : 6 GB RAM
Graphics Card Required : NVIDIA GeForce GTX 470 @ 1GB / ATI Radeon HD 6970 @ 1 GB
DirectX : Version 11
Sound Card: DirectX Compatible
You will also need a working broad band connection to run and update the game. It is good to see the game supports DX 11 graphics cards fully and the processor and Graphics card requirement are bare minimum.
The only thing is Treyarch has not mentioned anything about the resolution at which the game will be supported with these hardware specs.  I don't think so it will run on 1080P using these specs, may be 720P or even lower with low settings.
Gaming PC Requirements have always been confusing and I believe game studios should reveal more about the PC Game requirements. You can check out this article on How Minimum PC Game Requirements Should Be released and do they make any sense.
The last Call of Duty Advance Warfare was a Flipkart Exclusive launch in India, I don't think that will happen this year. Flipkart or WS Retail exited the Games business some time back and Flipkart will continue to sell games but only as a market place.
The games will be sold by other retailers on Flipkart but not by WS retail which is owned by Flipkart.
The Price for the Call of Duty Black OPS 3 is very steep with PS4 and Xbox one at Rs. 4,299 and for PC also it is more expensive than the battlefield hardline or GTA 5. The PC Black Ops 3 will cost Rs. 3,799, a large price to pay for Indian Gamers.
While it is much easier for developed countries to afford such opulent games, Indian Gamers can't afford it, and resort to getting torrent downloads. I strongly believe if there is a cheaper access of Games in developing countries, along with cheaper PC Gaming Hardware we can see expansion of PC gaming in countries like India, Pakistan, Sri Lanka, Bangladesh and other South east asian nations.
Related – Best Laptop for Playing Hardcore PC Games in India