Corsair has launched 2 new gaming pc cabinets for PC Gamers in the Indian market.  Corsair Carbide 400Q and 400C Gaming PC Cabinets will be available from retail stores as well as online on large e-retailers.
Corsair Carbide 400Q
Corsair Carbide 400Q and 400C Gaming PC Cabinets are mid tower cabinets are intended for Gamers looking for good looks as well sturdy build quality.  These are not the full tower cabinets though you can easily use it with a ATX or Micro ATX motherboard a full Size graphics card like the GTX 970 or GTX 960 , AMD 390 or AMD R9 380.
The Corsair Carbide 400C cabinet comes with the Full Size transparent Windowed side panel to give it a distinct look. The Corsair Carbide 400Q does not come with a windowed side panel.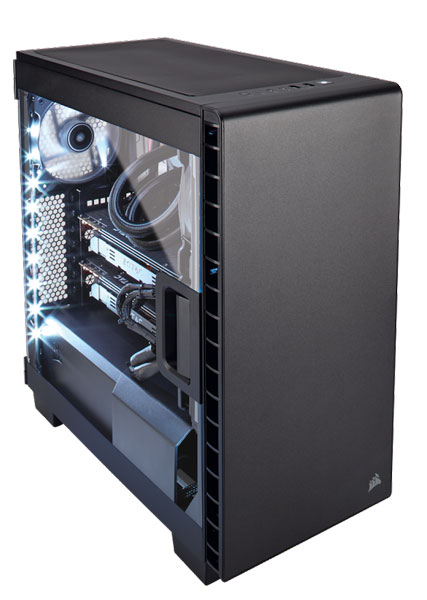 Corsair Carbide C400
Both the cabinet are made from good quality steel and coated with special sound dampening material to minimize the fan and other noise from the cabinet.
It is easy to clean the cabinet and if you plan to use water cooling with it the cabinet ensures that it is easy to fit the parts. The cabinet comes with two 120 mm fans and there is a cover of the 3.5 inch bay as well as the PSU.
The cabinet offers good design and has been designed to ensure maximum airflow to the Processor and graphics card. You can easily fit 2 120 mm fans at the front 1 at the back and 2 fans at the top of the cabinet to ensure maximum Airflow.
The cabinet comes with silent side panels and ensures that no squeaking sound comes even under load operations. Both the cabinets have a MRP of 8,999, though you will be able to buy them much cheaper in the retail stores or online.
The cabinet will be available for purchase in February 2016.
You may Like to Read
7 Best Gaming PC Cabinets for Your Next Gaming Rig.
9 Best Processors to Buy for Gaming PC Build.
4 Best Gaming PC build for Rs. 50000.