Flipkart New Office (Latest Images and Details)
Did you ever dreamed of working in an office like this, I sure did. Flipkart shared some of the pictures of their new outlandish office which makes me feel like packing my bags and go work for Sachin Bansal. Flipkart has just moved to a magnificently designed, exquisitely Architect-ed new office in Cessna Business Park on Sarjapur Road, Bangalore.
The pictures were shared by the Flipkart team on their Facebook Page. In fact, the office looks premium as well as modern an ideal place for Gen-X. The stunning insides of the office and theme would make it a delight for people working in the office.
For starters, the entrance of the office has magnanimous hoarding which has some of the greatest contributors from technology, Literature, Art, Science, history advertising, and music.
Notably, there are large posters of legends like Steve Jobs, Pablo Picasso, John Lenon, Mark Twain and Albert Einstein grace the entrance lobby.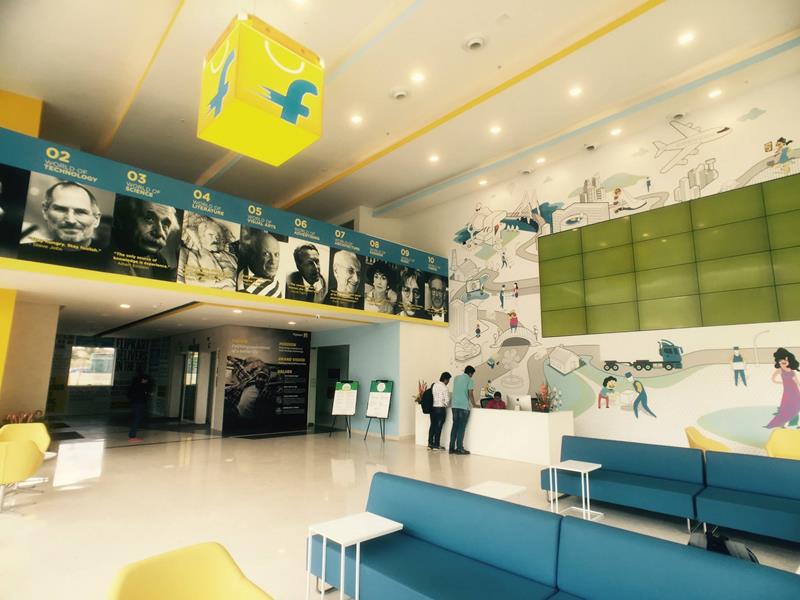 The Flipkart's Vision statement " Fulfilling Aspirations for a better life". 
Besides, the two million square feet office utilizes 11 floors, and each floor has a different theme. This more modern layout enables employees to ideate and creates future of the technology conglomerate.
Also, employees can indulge in indoor sports and read a book if the boredom catches, or play little golf in the indoor golf room. The cubicles in the modern office are common site nothing new, but the interiors and pasting of gigantic books on the ceiling make the ambiance stand out.
Probably, this was the vision of Sachin and Binny Bansal which has now become a reality. With this new world-class office, they are poised to touch the new milestones. The new office premise may give a boost to the environment and mood of employees making Flipkart of the great company Offices to Work In.
Nevertheless, are you applying to Flipkart for the Job opening, You Bet I am doing it Right Now…
Related
Flipkart Vs Amazon Vs Snapdeal – Better Service to Win.