Huawei is all set to join the 18:9 ratio, Full View display bandwagon with its upcoming Flagship Phone – Mate 10. Although, before they could launch the flagship; they've released a mid-ranger aka Nova 2i with an "Entire View" display. And interestingly the smartphone comes with 4 cameras. 
Huawei's Nova series have always created a hype, either with the design resemblance to an existing flagship or by being the first smartphone to run new Qualcomm chipsets.
Nova 2i is similar to Huawei Maimang 6.
The Nova 2i is the same phone which was recently launched in China called the Maimang 6. Anyways, it probably now belongs to the Nova lineup and gets a global brand name. 
Design wise the phone looks very stylish and premium with its metallic back cover and 2.5D curved glass front. It is one of the first Huawei smartphones to come with a bezel-less display. The bezel-less display is becoming more common in 2017, and most likely your next phone will also have it unless you already own a bezel-less phone.  
The Nova 2i flaunts a 5.99 inch, Full HD+ (2160*1440) pixels, 18:9 ratio display. Which offers minimal bezels on all sides. 
While the top bezel is justified with the presence of an earpiece, front cameras, proximity sensors. The bottom bezel could have been even thinner if they removed the Huawei logo and designed it like a Samsung S8.
The Nova 2i shares the design with the Maimang 6 and upcoming Mate series.
Huawei Nova 2i Comes with 4 Camera Setup – 2 at the front and 2 at the back.
The highlight of the smartphone is; hands down the 4 camera set-up. While many phones come with the dual camera set-up either at the back or the front.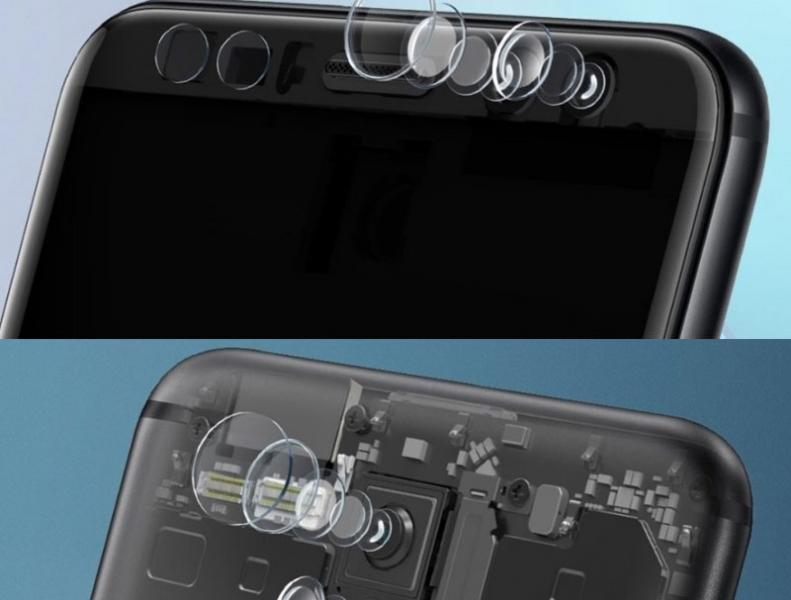 Huawei has managed to cramp in dual camera set-up at both the sides. 
At the front, the Huawei Nova 2i comes with a 2 MP camera (depth sensor) paired with primary 13 MP front facing primary sensor.
The back side has a 16 MP primary camera paired with a 2 Megapixel depth-sensing camera to enable the bokeh effect on the images.
Huawei promises a huge change in the results because of the presence of these 2 MP sensors compared to their earlier phones which came with 2 same size sensors – one monochrome and other RGB.
A New Processor – Kirin 659
The Huawei Nova 2i is driven by their in-house Kirin 659 SOC paired with 4 GB of RAM and 64 GB of internal storage. It is powered by a large 3340 mAh battery which can easily last all day.
It runs on Android 7.0 with EMUI v5.1 out of the box. It's somewhat of a let down since it's the last quarter of 2017, where devices should at least be running Android v7.1.1 out of the box.
Gesture-based UI has always been Huawei's high point. Even the past EMUI iterations were loaded with gestures, be it on screen or the fingerprint sensor. This time they've included new gestures such as, " Drawing S with your knuckle will capture a long screenshot."
There are few more features like tapping twice with 2 fingers to start screen recording, which is quite handy.
There are no details on the pricing / global launch yet, but we do know that the Nova 2i will be up for grabs in Blue, Black and Gold color variants. We will keep you posted if Huawei plans to bring the 4 camera mobile to Indian shores. 
Also, Huawei has launched the Mate 10 and Mate 10 Pro smartphone.