With Reliance JIO offering of unlimited Voice calling and 1 Gb/ day data packs, rival telecom operators are matching the offering with aggressive packs to keep the customers happy and on their network.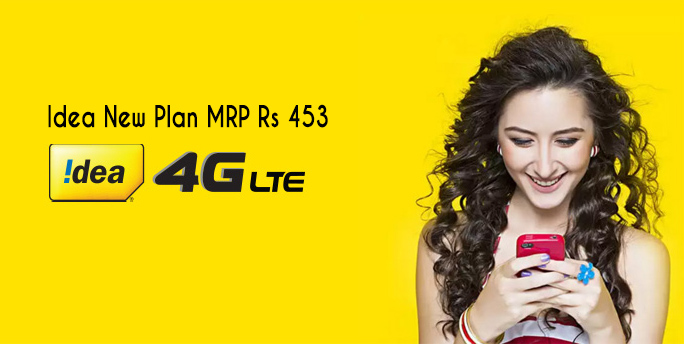 Idea Cellular launched a new Rs. 453 pack for 84 days(3 months pack). Telecom operators tend to reduce the validity by 2 days on a 30 days pack to reduce the cycle date and gain more revenues, hence the packs are usually for 28 days instead of 30 days. The 3-month variants are 84 days instead of usual 90 days.
The above mentioned 453 pack is meant for new subscribers and not for the existing base.
Coming to the Rs 453 pack it offers 1 GB / day data free for 84 days, hence users will get 84 GB of data.There is an unlimited voice calling benefit (all local and std calls) though there is a capping of 300 mins per day and 1200 minutes per week and in case you exceed the capping amount you will be charged at 30p/minute for the calls.
The data per day usage limit is 1 GB per day and if you exceed that limit you will be charged at 4p per 10Kb. The 4 paisa per 10 KB translates to Rs 4000 per GB which is exorbitant pricing by telecos and need to be revised lower for the benefit of the consumers and for consumer protection.
Aircel also has launched a similar plan for Rs 348 and will offer 1 GB/day of data and unlimited voice calling for 84 days with the pack. Reliance JIO last week announced the new JIO Dhan Dhana Dhan offer which offers 84 days of unlimited calling and data for Rs. 399 while there is also a pack for Rs 309 which offers the benefit for 56 days.
With Reliance JIO calling the shots for telecom pricing the data prices has crashed from Rs. 250 for 1 GB to Rs 309 for daily 1 GB. Voice tariff also used to be 1p/second and higher earlier now unlimited tariff cards are the flavour of the season.
All in all, consumers are up for a treat with Reliance Jio launch in India, while telecos are bleeding with high debt and spectrum costs.
Read More on the New JIO Revised Prepaid Plans