First Look at the Low-Cost JIO Phone
The JIO 4G phone is in news for many days, and here is the first look at the upcoming Reliance Jio 4G VOLTE phone. The images are leaked from several sources today, and the phone is alleged to be priced at Rs. 1299.
For starters, it is not a smartphone but a feature phone with data as well as HD voice call support.  Moreover, Reliance JIO plans to bridge the gap for people who can't afford a 4G Volte smartphone. But want to use the JIO network primarily for voice calling and also use data.
A flood of cheap 4G Volte phones is coming to India, we recently wrote about several cheap and Best Volte phones you can buy.
JIO Phone First Look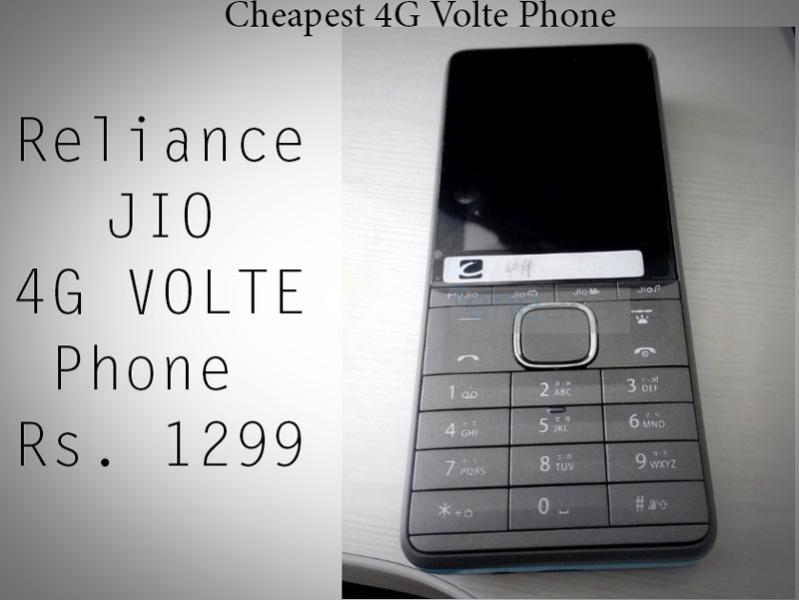 Most of the 4G VOLTE smartphones are currently priced around Rs. 4000 or higher, barring few exceptions. The entry barrier is still high for the rural customers who may want to use this feature phone.
As the above image suggests the phone comes with direct access buttons(below the display) for MyJio, Jio Live TV, Jio video and Jio Music. These buttons can be handy to access the internet services that otherwise, users may find difficult to access without a touch interface.
Related – 10 Best 4G LTE Smartphone Below Rs 10000 India
In fact, the phone does not come with a touch display, fingerprint scanner or even the front camera. It might have a back camera but not visible in the image. Although, the Jio budget phone has T9 keypad and D-pad in the center like most of the budget feature phones.
In an earlier article, there were some details which we shared about JIO in talks with the processor manufacturers like Spreadtrum, MediaTek, and Qualcomm to enable the 4G VOLTE calling feature in some of the low-cost chipset. It is likely the processor is from Spreadtrum and has an inbuilt modem for 4G HD call connectivity.
Furthermore, Reliance JIO is also said to launch some cheaper smartphones even below Rs. 1,000 in 2018 to help them add more subscribers. It will be intriguing to see is how good is the battery back for these phones on a 4G network? The 4G network is a big battery drainer.
Contrastingly, most feature phones are 2G compatible only and have very long battery life. We will have to wait for some real life tests on the battery life of 4G Volte feature phones.
Lastly, Reliance JIO as per the latest report has acquired 74.2 Million users and is on track of acquiring 100 Million customers by the end of Happy New Year offer, which will end on 31st March 2017.
You May Like to Read: 
JIO 4G Offer Last Date Extended Till 31 March 2017