JIO PHONE 2 – India Ka Smartphone 
Update 16/August/2018
Jio Phone 2 will go on sale for the first time in India today on the official JIO Website. There are no exchange offers, you will have to buy the mobile by paying Rs. 3,000 online. The flash sale will start at 12:00 pm today and going by the demand of the mobile it will end in a couple of seconds.
We will update more about the flash sale details soon. Buy Link for Jio Phone 2.
Booking Experience in First Flash Sale for Jio Phone 2
First, the Website became unresponsive and by the time we were able to add the phone to the cart and was paying for it, the phone went out of stock. However, it was in stock for a few minutes and some of the users may have got it. You can share your experience with me in the comments below.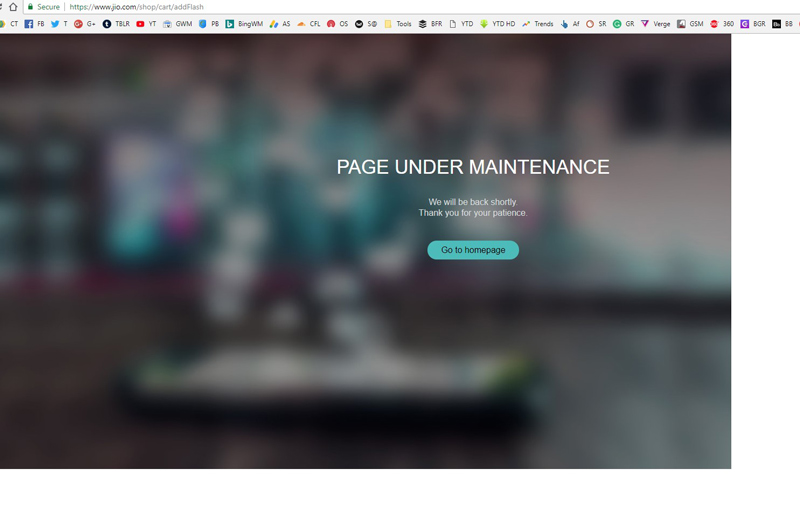 Next Flash Sale for JIO Phone 2 – We are yet not sure about the exact date and time for the JIO Phone 2 but once JIO shares any official schedule we will update this article about the sale date.
Update – 5th July 2018
In August of 2017, Reliance Jio introduced the Jio Phone to the masses. It is a feature phone that came with 4G VoLTE support.
The Reliance JioPhone was launched for a price of Rs. 1,499. Not shockingly, the fan following of Jio moniker along with intense promotions through advertisements led to great sales.
The Jio Phone within a span of over 6 months, outnumbered the device sales figure of other brands, including the market leaders Samsung and Nokia. So far more than 25 million Jio phones are sold by the company.
Today at the Reliance AGM Mr. Mukesh Ambani announced the JIO GigaFiber and JIO Phone 2.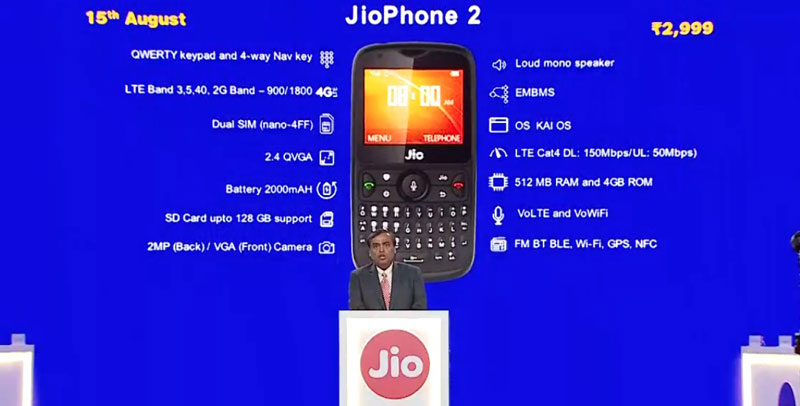 The new JIO Phone is available for Rs. 2,999 and the older JIO phone will continue to exist.
Watch the detailed Video on JIO Phone 2 – Also, we have shared detailed clarifications on the JIO Monsoon Hungama Offer of Rs. 501.
JIO Phone 2 Specs
The new JIO phone 2 looks a lot like the old Nokia E series phones or the Blackberry phones from yesteryears.
The mobile comes with a Qwerty Keypad and has 4-way navigation key. Also, at the center, there is a voice command button to launch the Google Assistant to do a voice search. As per JIO, there are more than 20 Crore voice search queries done by the JIO phone users and is a very important feature for the device.
The phone comes with Dual Sim Support and has 2G/4G LTE as well as VOLTE support to make HD calls and use data. Also, there is VOWIFI (voice over WIFI) support that allows you to make calls over the Wifi Network.
The display is a 2.4 Inch QVGA (320*240) pixels resolution (it is a pretty low-resolution display.) Also, the display does not have a touch interface which is more common in Android phones.
The key reason that the company states for the launch of JIO phone are to offer a bigger display and better experience to the users.
Like its predecessor, it comes with the KaiOS and will have support for the important Apps such as Youtube, Facebook, and WhatsApp. Notably, there is no Android Go which was rumored earlier for the JIO Phone 2.
JIO has not shared the processor details on the JIO phone 2, but it comes with 4GB of internal storage that is expandable up to 128 GB using the micro-sd card. Also, there is 512 MB Ram which is sufficient to run the device.
There is a 2000 mAH capacity battery that seems sufficient and may easily work all day with ease. The phone comes with a basic 2 MP rear camera and there is a 0.3 MP VGA front camera.
Additionally, there is support for FM, WIFI and NFC for payments and connecting to other devices.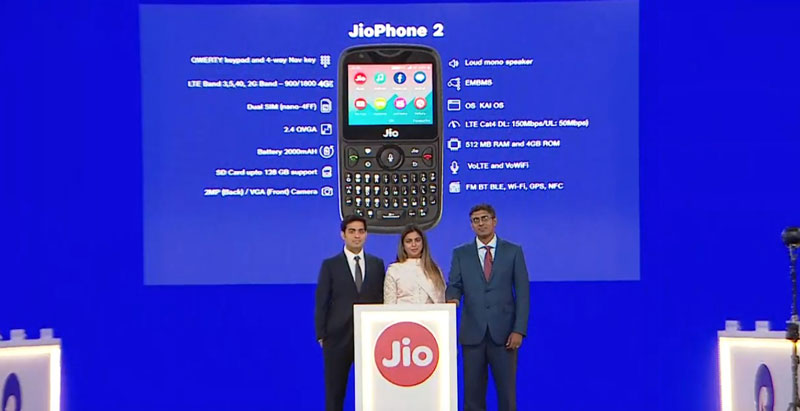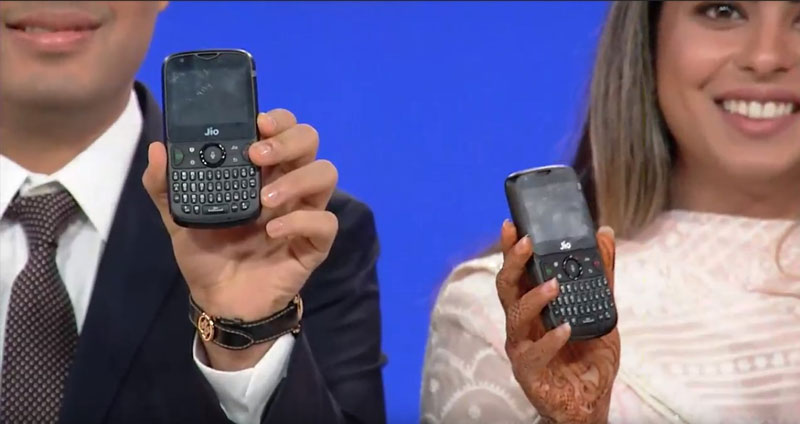 Not to mention, the Jio Phone 2 has Jio apps suite and customized Google apps preinstalled on it. Also, will come with the JIO TV to offer a great mobile TV experience for the buyers.
Moreover, it also has the Google Assistant onboard and supports both Hindi and English languages.
Furthermore, it features the 3.5 mm headphone jack and a microSD card for expansion of memory. Other specs are loudspeaker and FM Radio.
JIO Phone 2  PRICE
As stated above the JIO Phone 2 costs Rs. 2999 or $50 in India and will be available for purchase from Reliance Digitial stores and JIO customer touch points starting 15th August 2018.
Also, you can order it from the official JIO website and MyJIO APP.
The price looks a bit higher, considering it is still a feature phone and people can buy decent Android phones for Rs. 4000. Also, the lack of Android and a touch screen is a big miss for the Jio Phone 2 in our opinion.
This could have been a great product at Rs. 2,000 but for 3k price a lot of buyers will want to get an Android device.
Current Jio Phone Sales Figures
For Q1 in 2018, Reliance Jio sits on top as it occupies nearly 15% shipment market share. Interesting, this data shows that Jio is sitting higher than Nokia, which has 14% share in this segment.
All in all, the Jio Phone sale are soaring high. Although a lot of people opt for smartphones instead of feature phones, Jio Phone excels in a different dimension.
Let's take a look at where JioPhone 2 stand with its specs, against the original JioPhone.
JioPhone 1 vs JioPhone 2
Key Specs
JioPhone 1
JioPhone 2
Design
Plastic
Plastic
Display
2.40 inch TFT (240 x 320 pixels)
2.4 inch TFT (240 x 320 pixels)
Processor
SPRD 9820A/QC8905
1.2 GHz Dual-Core processor
RAM
512 MB
512 MB
Storage
4 GB Internal storage
4 GB Internal storage
OS
Kai OS
Kai OS
Rear Camera
2 MP
2 MP
Front Camera
0.3 MP
0.3 MP
Battery Capacity
2000 mAh
2000 mAh
Fast Charging Support
No
No
Water and dustproof
No
No
IR Blaster
No
No
USB Type C Port
No
No
Bluetooth
Yes
Yes
NFC
Yes
Yes
Fingerprint Scanner
No
No
Thickness
15 mm
…
Weight
109 grams
…
Price
Rs. 1499
Rs. 2,999
However, a large number of people buy Jio Phone to enjoy unlimited calling functionality that comes at a minimal price for a month.
Lastly, with a subscriber base of over 215 (20 Crores), Jio's popularity is at an all-time high.
Also, Read: