New Meziu Flagship Phones – Pro 7 and Pro 7 Plus
11, April 2018 – The Meizu Pro 7 and Pro 7 plus are available in China since August 2017. Now the company has launched the Meizu Pro 7 in India and is available to purchase from Amazon.
Notably, the company has set the price as Rs. 22,999 but the current listing on Amazon is for Rs. 36,500. We are not sure and have reached to Meizu for an explanation why there is a significant increase in price on Amazon.
Also, it is worth noting that the brand has launched only the lower variant in the country and skipped the PRO 7 Plus.
Let's check the detailed features and Specs for the Meizu Pro 7 and Pro 7 Plus.
You would not have seen anything like this phone from Meizu. A delight for selfie lovers with a second display at the back.
Meizu is steadily creating a strong brand name and cult following, at least in China. The company has many achievements including the innovative design for concealing the Antenna bands.
That was later on adopted by Apple in the iPhone 7.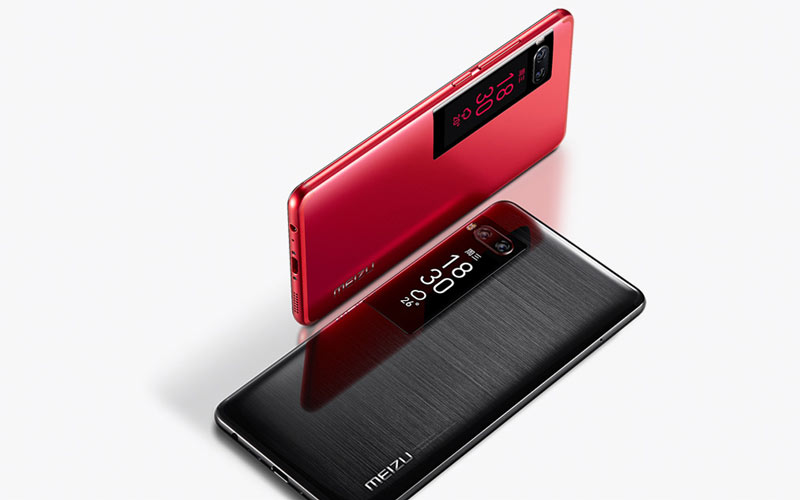 What's more, all Meizu phones use fingerprint/home button gestures to navigate, instead of dedicated navigation keys.
At first, it seemed odd, but now OEMs like Huawei and Moto are adopting this innovation too.
This time, Meizu has come up with all new secondary AMOLED display at the back of Pro 7 and Pro 7 Plus.
It is an Always-On-Display that can show notifications, time, music controls.  Moreover,  you can see yourself while clicking selfies.
The standard version (PRO 7) sports a 5.2-inch FHD AMOLED display. it comes with a 2.5D curved glass on top, giving it a premium look.
Powering the phone is a MediaTek Helio P25; paired with 4 GB of RAM and 64 GB of UFS 2.1 storage.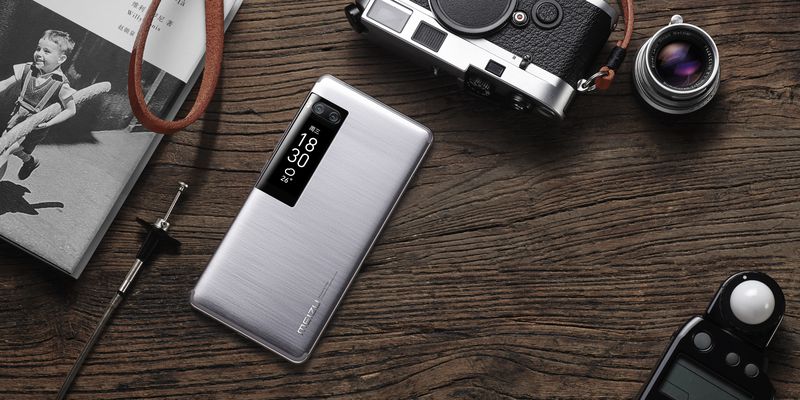 For Selfies, the front carries a 16MP sensor with  "four-in-one" algorithm for brighter selfies in dark environments.
At the back, Meizu has gone with the Huawei like dual sensor setup. It uses impeccable Sony's IMX386 lens. One 12MP sensor is Monochrome, however, the other 12MP sensor is RGB.
We have a 3000 mAh battery that can fuel the phone for a full day. Regardless of which model you buy, all the phones will feature Meizu's Flyme OS v6.0 based on Android Nougat and m.Charge 4.0 fast charging technology.
As far as pricing and availability are concerned. Meizu Pro 7 retails for $430 (approx Rs. 27,000).
Meizu has also launched the Meizu Pro 7 Plus along with the Pro 7.
Key Specifications for Pro 7
Screen: 5.2-inch FHD AMOLED.
Secondary display: 2 inch AMOLED.
Processor: MediaTek Helio P25.
RAM: 4GB
Storage: 64GB.
Camera: Dual 12MP + 12MP rear sensor, 16MP front sensor.
Battery: 3000mAh
Fast charging: YES
Fingerprint scanner: YES.
Connectivity: 4G/VoLTE, Wi-Fi, Bluetooth, GPS.
Also, You can Read More about the Meizu Pro 7 Plus that is yet not launched in India.
Meizu PRO 7 Plus 6 GB RAM, Helio X30, Secondary Selfie Display $530
Meizu has launched a "PRO" version along with the standard variant Meizu Pro 7.
Both mobiles come with a secondary display at the back of the device. This type of dual display implementation is the first in the world.
Notably, LG and HTC have come with a smaller ticker secondary display at the front. Moreover, the Yota phone has a different type of Dual displays but this type of implementation is unique.
The rear display comes with features like notifications, time, music controls. Moreover, it can be used to take selfies with the dual rear camera set-up.
Notably, you can't take selfies using the front camera with this display, if you wish to use the dual rear camera to click selfies it can be a handy option. The display allows you to align yourself properly and take a better picture.
Meizu Pro 7 With Dual Display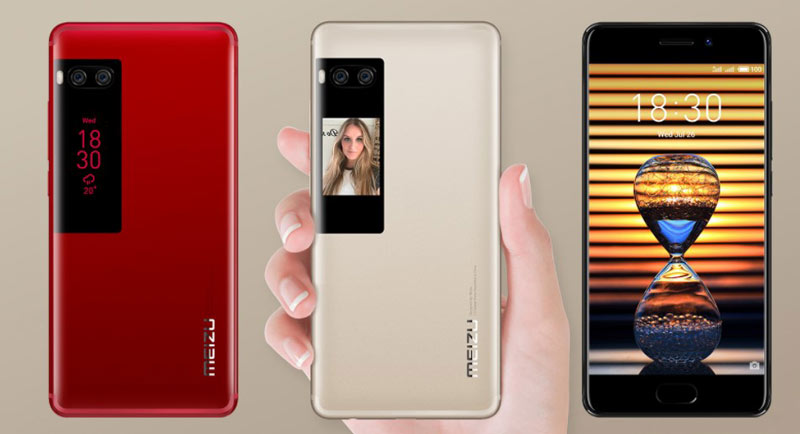 The Pro 7 Plus is a more powerful version in comparison to the Meizu Pro 7. It is ideal for the spec hungry and heavy media users.
Key Specs and Details
For starters, it sports a 5.7-inch QHD AMOLED display. Additionally, has a 2.5D curved glass to enhance the looks of the device.
Powering the phone is the cutting edge Deca-Core MediaTek Helio X30 processor. The processor is based on 10nm structure, similar to that of Snapdragon 835 chipsets. However, the Helio X30 comes with a 10 Core architecture and the faster Cores are clocked at 2.6 GHz.
In comparison to the Helio X20, the Helio X30 offers 35% more performance and is 50% more power efficient. Moreover, it comes with the new IMG PowerVR 7XTP-MT4 @ 850MHz Graphics processor that offers 2.4 times the performance of the GPU used in the Helio X20.
Furthermore, we have 6 GB of LPDDR4X RAM and 64 GB/128 GB of faster UFS 2.1 storage. The home button houses a blazing fast fingerprint scanner for rapid unlocking.
For imaging, it uses a Sony's IMX386 lens based dual camera. One 12 MP sensor is Monochrome, whereas the other 12 MP sensor is RGB. The image signal processor combines the images from both cameras to get the final image. The camera setup is similar to several phones from Huawei and other brands.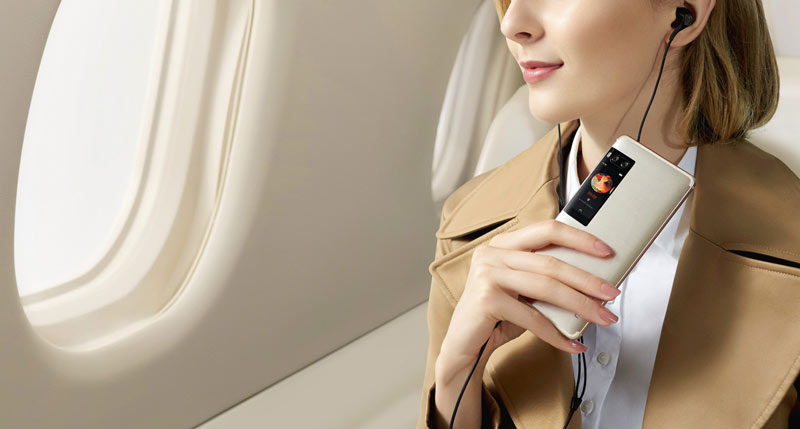 Powering the 7 Plus is a 3500mAh battery that is sufficient for all day work. Also, Meizu has included the fast charging support – mCharge 4.0. It offers butter smooth user experience running on the Meizu's Flyme OS v6.0 along with the Android Nougat 7.0.
As far as pricing and availability are concerned, the Plus variant costs $530(approx Rs 34,000).
Also, both the Pro and standard version will be available in 17 markets.
However, Meizu has not launched any high-end smartphone in India barring one or two early releases. The chances of Meizu Pro 7 or Pro 7 Plus getting launched in India are bleak.
Notably, another Meizu PRO 7 Plus version will come with slightly higher clocked Helio X30 SOC and 128 GB of internal storage.
Key Specifications of Pro 7 Plus
Screen: 5.7 – inch QHD AMOLED.
Secondary display: 2 inch AMOLED.
Processor: MediaTek Helio X30
RAM: 6 GB
Storage: 64 GB/128 GB
Camera: Dual 12 MP + 12 MP rear and 16MP front.
Battery: 3500 mAh capacity battery with fast charging support.
Fast charging: YES
Fingerprint scanner: YES
Connectivity: 4G/VoLTE, Wi-Fi, Bluetooth, GPS.
Related Posts
Meizu M5 Note Powered By Helio P10 launch 6 Dec 2016
Meizu Pro 6S Offers Fantastic 12 MP Camera and 3D Touch