In this article, let's check out the latest and upcoming smartwatches launching in India. We have also written about the best smartwatches for men or best watches for women that you can buy.
Fitness, tracking, and improving fitness is a major goal for a lot of people and it is essential to maintain good health even for doing regular work.
Fitness bands and the latest Smartwatches are excellent for measuring daily exercise routines and essential to keep you motivated to work on improving your health and do regular exercise.
That said, let's have a look at some of the latest smartwatches that are recently launched in India.
Noise ColorFit Qube Smartwatch
10th July 2021 – NoiseColorFit Qube smartwatch – is a new budget wearable launched in India. The smartwatch has a 1.4 inches touch screen TFT LCD display with 240*240p resolution.  Besides,  It has a square design like the Apple Watch.

You can personalize your watch face with a plethora of customizable and cloud-based designs.
The watch is rated with IP68 for dust and water resistivity. It supports Bluetooth 5.1 for connectivity and has a range of 10 meters.
Additionally, the device monitors your heart rate 24/7. Also, it tracks your sleep patterns.
The wearable has 8 sports modes that include climbing, cycling, hiking, running, spinning, treadmill, yoga, and walking. Your workout data can be accessed from the NoiseFit Tracking application.
The smartwatch allows notifications from calls(can also reject the call from your wrist), reminders, alarms, weather forecasts, and much more. It features remote music control and walks reminder.
The newly launched smartwatch is available online with a price tag of INR 2,499. It will soon be on sale from Amazon India. It is available in Beige gold and charcoal grey colors.
 Key Specification:
1.4 inches touch TFT-LCD display

Resolution – 240*240p

IP68 dust and water-resistant 

24/7 heart rate monitoring and sleep tracking

8 active sports mode

Comes with 6 watch faces

Allows notification from the call, reminder, weather forecast, emails, and text

Bluetooth 5.1 support

Bluetooth range – 10m

Weight – 32 grams

180 mAh battery capacity

7 days battery backup

Price – Rs 2,499

 Pros:
Good battery life

Decent Display

24/7 heart-rate monitoring

Waterproof and dustproof

 Cons:
No always-on display

No SpO2 monitoring
Boat Xplorer smartwatch – Price Rs. 2,999
BoAt has launched a new smartwatch in India – Boat Explorer with a price tag of INR 2,999. This affordable and stylish smartwatch comes with some exciting features.
The watch has a 1.3 inches (33 mm) touch 2.5D curved IPS display. Besides, the watch has 5 ATM water resistance so that you can take it swimming.
The device has a silicone strap and comes with personalized cloud watch faces. 
Health Tracking – The new Boat smartwatch tracks the heart rate 24/7, and it also owns a daily activity tracker. It also holds breathing modes and can track menstrual cycles.
It has 8 active sports modes to choose from outdoor/indoor run, outdoor/indoor cycling, pool/open water swim, and fitness. 
It comes with a built-in GPS. This technology will help you to track and measure routes and distances while exercising.
Notably, it has a built-in smart activity tracker that records your daily burnt calories and steps/distance count. 
The weather forecast provides real-time data for the next 3 days. It can control music playback. The watch allows notifications alerts and reminders along with Find My Phone feature.
The Boat Explorer smartwatch will be available soon from e-commerce websites in India.
Key Specification:
1.3 inches display, 240*240p resolution

24*7 heart rate tracker

Built-in GPS

5 ATM water-resistant

Up to 7 days battery life

Multiple sports modes

10 m operating range

4.2 Bluetooth connectivity

Allows notification from the phone

1-year warranty

 Pros:
Affordable

Great features

Decent battery life

Cons:
Noise Color Fit Pro 3
Noise makes affordable audio gear and smartwatches and the latest addition to their portfolio is Noise Color Fit Pro 3 launching on 10th Feb 2021 in India.
The smartwatch is already listed on Amazon and their official website with all the details and will go on sale on the 10th.
The Fitness Watch can track – Calories Burnt, distance traveled, steps are taken, Sleep Monitor, Female Health tracking and reminder, Sleep tracking, and more. 
The Watch also offers a sedentary reminder,  vibration alert for calls, weather forecast, hand wash reminder, find my phone, and music controls.
The watch comes with an MRP of Rs. 5999 and will be available for purchase at an introductory price of Rs. 3999 on Amazon for today.
The watch is available in Black, Blue, Smoke Grey, Smoke Green, Pink, and Red colors.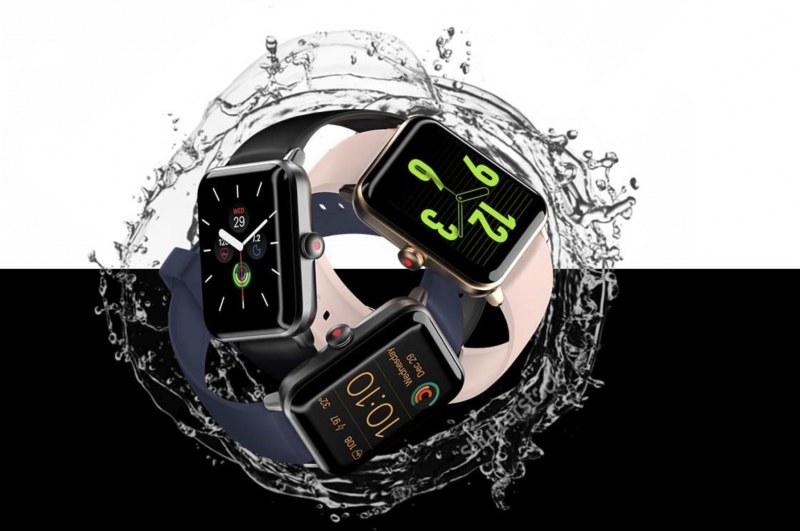 Key Specs and Features for Noise Color Fit Pro 3
Screen size: 1.55-inch touchscreen display
500 Nits of Brightness
320*360 resolution
SPO2 Monitoring, 24/7 heart rate tracking
Stress Monitoring, Sleep Tracking
Noisefit App for more details
Water Resistant Up to 50m
Connectivity – Bluetooth 5.0
Compatible with iOS 9+ or Android 4.4+ devices
Customizable Straps and Watch Faces (Cloud Based)
Dimensions: 43.2×36.3mm; Weight: 35g
Price: INR 3999 (USD 50)
+ Pros:
Affordable With Plenty of Functions
Good Looking and a decent display and design
– Cons:-
No 3rd party app support.
Titan Smartwatches
Next, we have three new smartwatches that are launched by Titan, one of the most trusted brands when it comes to making traditional watches.
Titan is yet to taste success in making smartwatches. The Company has launched 3 new watches in India – Titan Traq Lite, Titan TraQ Cardio, Titan TraQ Triathalon. Both the Triathalon and Cardio are very similar in features and specs.
Let's have a look at these watches, starting with the most affordable watch from the brand:
Titan TraQ Lite
The Titan TraQ Lite is available for purchase for a starting price of Rs. 3,999 and competes with several watches from Indian and Chinese manufactures in the sub 5k price range.
It is a basic watch that doesn't have too many functionalities that we can find in the rival watches. The smartwatch comes with different colored straps – yellow, orange, red, and green. The watch can track 25 different workouts and has a step counter.
Key Specifications
Heart Rate Monitoring using a Chest strap 

Dual Time

Pacer 8 Lap stopwatch with split time

BMI Calculations

Countdown Timer 25 instances of fitness activities
The watch lacks a lot of basic functions like SPO2 tracking or a nice colored display but can last long. Overall it is a very basic offering from the brand in a segment that is overcrowded by other players offering better value for money products.
Titan TraQ Triathlon Digital Clear Dial Unisex Watch
Next, we have the more premium Titan TraQ Triathlon Digital Watch that offers a lot more functions and also looks like a proper watch.
The TraQ Triathlon is available for purchase for a starting price of Rs. 17,999 and comes with an in-built GPS tracker that doesn't need your phone for tracking.
Also, the watch comes with continuous heart rate monitoring, 5 ATM water resistance, sleep tracking, and a 290 mAH battery that can easily last more than a week with standard usage.
Key Specs Titan Traq Triathalon
Screen size: 1.34-inch touchscreen display, transflective screen
320*360 resolution
24/7 heart rate tracking
Stress Monitoring, Sleep Tracking
Onboard GPS Tracker
Water Resistant Up to 50m
Mud Resistant
Music Controls, Notifications, Weather updates
7 Days of Battery Life on Standard usage
Customizable Straps and Watch Faces (Cloud Based)
Compatibility: Android 4.4+ and iOS8+
Price: INR 17,999(USD 250)
CONS – 
Lacks SPO2 Monitoring
Third-party App support and Watch Faces
That's All for Now – Can Check out:
10 Best Fitness Bands in India – Improve Your Health Now
Top 10 Best Smartwatches for Men – Improve Your Health