Good days are over for binge-watchers as the new Telecom tariffs are announced by Vodafone-Idea, making data and voice calls expensive.
These new recharges will be applicable from 3rd December and if you want to recharge now with a yearly or quarterly time it is best to do it. Save some money and go-ahead to do a quarterly recharge as the old tariffs are applicable till 2nd December mid-night (00:00 Hours, 3rd December 2019).
Update: Airtel has Increased Price by Upto 40% from 3rd December.
The new tariffs are about 24% to 50% more expensive than the existing vouchers. For e.g the popular 84 days recharge from Vodafone-Idea (available for Rs 399 on official My Idea App) that offers 1.5 GB data per day for 84 days will now cost Rs. 599, a 50% increase in price. Also, the free unlimited calling is not available now, instead you will get 1000 minutes/month (3000 total minutes) of free calling to other network numbers.
After 3000 minutes, you will be charged with 6p/min (similar to JIO) for calls to other operators. Calls made to Vodafone-Idea will remain free.
The below-revised plans from Vodafone-Idea were shared by ET, HT, and several other reliable publications. This is likely an early press release from the company.
New Vodafone Idea Prepaid Recharges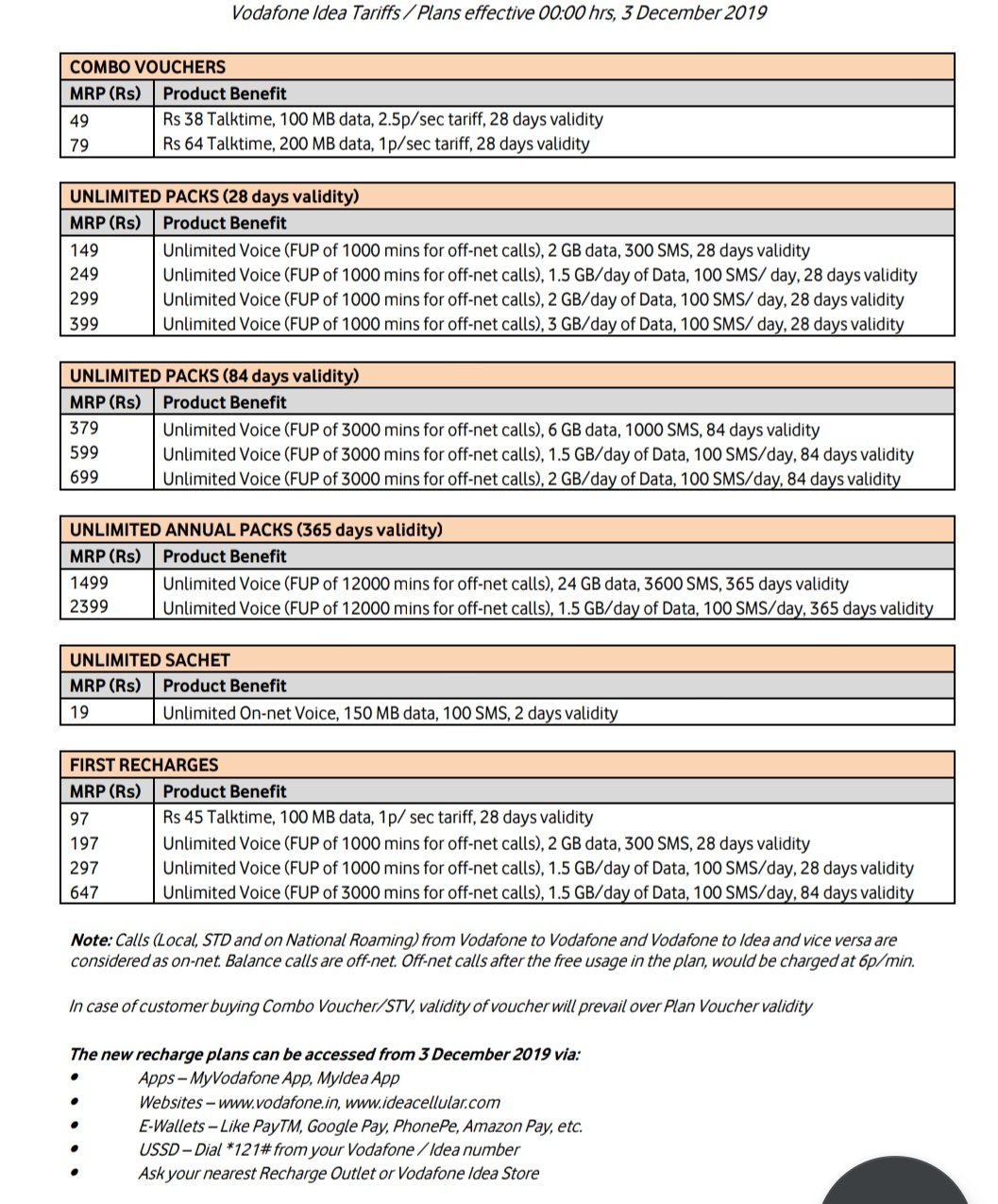 The 1-year plan which was available for Rs. 1699 will cost Rs. 2399, an increase of 41% by the telecom operator.
So, if you are a Candytech reader, I will suggest you do recharge and accumulate the validity before the prices are increased.
I tried the MyIdea, but it was not working. So, we have done recharges using Paytm for the annual validity pack (Rs. 1699).
Also, be cautious that Vodafone-Idea is in the worst financial health. Only do a long validity recharge if you plan to stick with the company.
If you are planning to port to JIO, it is the time as JIO is also planning to increase tariff soon. (Update – JIO is increasing up to 40% tariff from 6th December 2019).
Notably, Airtel has also increased the rates to match Vodafone and Idea.
Also Read:
Vodafone Idea – Will the Company Shut Down.
Vodafone Idea – Gets 2 Year Relief from Massive AGR Dues.
More From Candytech