Micromax Yu Yureka is one of the hot selling smartphones currently in the Indian market with great configuration and unbeatable price. The only issue in buying it is the limited stock and flash sale.  I recently bought one of the Micromax Yu Yureka in one of the amazon flash sales.
Before we begin with the review if you wish to know how to Buy Micromax Yureka Successfully you can read the article.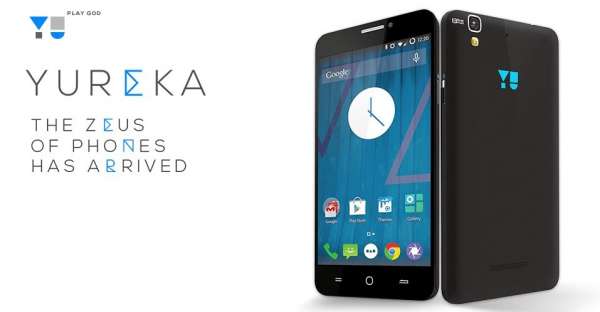 Key Specs of Micromax Yu Yureka
Processor – (1.5 GHz Quad Core + 1 GHz Quad Core (Both Cortex-A53) Octa Core Qualcomm Snapdragon 615 64-Bit Processor.
GPU – Adreno 405 GPU.
Ram Size – 2 GB.
Screen – 5.5 -inch IPS display ,HD resolution (1280 x 720 pixels) – 267 PPI.
Protection – Corning Gorilla glass 3.
Camera – 13-Megapixel Rear Camera & 5 Megapixel front. 
Connectivity – 3G & 4G LTE support.
16 GB internal memory, expandable upto 32 GB using micro SD card.
Android v4.4.4 (KitKat) moded with Cyanogen MOD. Android Lollipop Likely.
You can read more about the technical details in the Article – Micromax Yu Yureka Launched.
Packaging and Unboxing
Here are some of the packaging and unboxing Pics – The box is light brown and is flat square shaped with good material.
The smartphone has Yureka Symbol at the back along with speaker and 13 MP Camera on one side.
It has both the dual sim slots as a micro sim and also has the memory card slot near the Sim 1 slot. Opening the back cover is rather easy if you are able to spot the groove on one bottom corner of the smartphone.
After opening the smartphone I fixed the battery and Sim in slot 1 and started the Smartphone.  It shows Android and Yu symbol at the start and then the Cyanogen MOD symbol as shown above.
The phone boots up fast in less than a minute and then standard account configuration is done choosing Gmail account. The auto sync restore the contacts and calendar and emails in few minutes.
Now coming to how is the experience with Micromax Yu Yureka.
If you are upgrading from a old generation smartphone you may have different views than me. I use a Nexus 5 mostly and my views may reflect that as well though will try to be as neutral as possible.
Size and Built Quality
The smartphone looks good, it does not show any hints of a build quality for a budget smartphone. The back cover to the side bezel all is made of good quality.
The smartphone does not feel heavy in hand and matte finish on the back improves the grip.  The round ring touch key at the bottom of the screen makes it look distinguishing.  The battery is 2500 mAh and looks huge but surprisingly is quite light and thin. The smartphone also looks made of adequate thickness for the screen size, it is not very thick.
I rate the build quality as very good for the price it is offered.
Display, Performance & Experience – Display is big with 5.5 inch screen size and felt to me a little oversaturated after using Google Nexus 5 whose screen appears less color saturated. Compare it to any AMOLED display smartphone from Samsung like S4 or S5 it appears every bit normal. Reading text on the 5.5 inch screen is delight with 720p resolution letters appear clear and crisp.
Performance – Played casual games like Candy crush and temple run without any issues , just a little warm which happens with most smartphones nothing to worry. Otherwise watching videos, opening and closing multiple apps, browser performance all is good, almost no lag. Youtube video play back looks good on screen with 720p rendering on 3G.
I was not able to use the 4G on the smartphone yet and did not pushed it yet with some graphics intensive games like Need for Speed Most wanted and Asphalt 8. Will update that soon. Some forums users have complained of high temperatures on Micromax Yu Yureka, I also experienced some heating issues on Yureka while gaming.  If it is too hot to hold then certainly is a concern else it is normal for smartphones to get heated.
The user experience is smooth on the cyanogen mod Android Kitkat , awaiting to get the Android Lollipop update to see how much better it makes the Micromax Yu Yureka.
Battery Life – So far no complaints with moderate usage I was able to sail through the day with some adjustments, keep the data off when not using and location, WIFI always off along with screen brightness up to 40%.
Click Next Below to check Camera Quality Comparison