Microsoft introduced the Lumia 535 Dual SIM on November 12, 2014. The first smartphone that carried the Microsoft branding after the transition from Nokia. Microsoft's takeover of Nokia's handset business had the immediate effect of speeding up the go to market strategy for the Lumia devices. The Lumia 540 Dual SIM phone successor of Lumia 535 Dual SIM in India went sale on May 18, 2015.
The main highlights of Lumia 540 Dual SIM are
1.2 GHz Qualcomm Snapdragon 200 Quad Core Processor
1 GB RAM
 5 Inch HD IPS LCD Touch Screen Display
Dual Micro SIM
8  MP Rear Camera With LED Flash
5 MP Front Camera
Bluetooth 4.0
Microsoft Lumia 540 Dual Sim Long Term Review: Microsoft Lumia 540 launch price was Rs 10,199 but it is currently available on Flipkart for Rs. 8499. Microsoft Lumia 540 Dual SIM comes with a 5-inch HD display and runs on Windows Phone 8.1 which is up-gradeable to Windows 10 Mobile. The windows 10 for mobile is expected to bring enhanced user experience and support for many apps which are currently available for iOS and Android.
The Lumia 540 dual SIM is powered by the Qualcomm Snapdragon 200 quad-core processor, clocked at 1.2 GHz. It is paired with 1 GB of RAM. There is 8GB of storage which is expandable to 128GB via a Micro-SD card.
It has an 8MP with 1/4 inch sensor and f/2.2 aperture camera and a 5MP wide-angle front-facing camera for the selfie enthusiasts. Under the back panel lies two SIM card slots and a 2200mAh battery will be powering the device.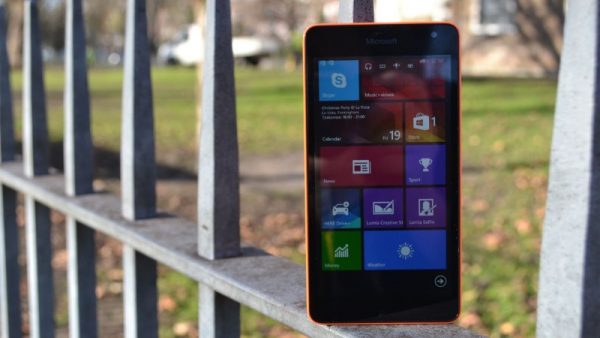 Microsoft Devices has made many important improvements in the recently launched Lumia 540 including offering a sturdy back cover. It also offers a choice between glossy finish (orange, blue and white colours), and matte (black). The edges are sharp and along with the glossy finish, it makes the phone a bit slippery but thank goodness to its slim profile (8.6 mm, weight 152 grams), it fits nicely in palm.
The power and volume buttons are made of plastic and are located in the right hand side, making them easily accessible. An audio jack is at the top while the micro USB port is located at the bottom.
The Microsoft Lumia 540 has a 5 inch IPS display with the HD resolution (1280×720 pixels). The display has been made with Clear Black technology that further improves the quality of the display. Reading text and watching videos on the Lumia 540 is a much better experience compared to some of the cheap rivals.
Smart phones these days tend to all look alike, and not many manage to really stand out. The Lumia 540 Dual SIM is one of those few, thanks to its highly unusual translucent rear shell.
Microsoft Lumia 540 Dual Sim Long Term Review: The unit we got for review was a very attractive electric blue with a slightly darker band around the sides reminiscent of the dual-shot layer effect on previous models.
The phone is also available in orange or white with the same effect, and matte black for those who would prefer something plainer. We used the unit for almost 3 weeks before writing the review.
The Lumia 540 runs Windows Phone 8.1 with Update 2 out of the box, the latest iteration of the Windows Phone operating system with the Lumia Denim firmware. There's an updated and enhanced Settings app, ability to connect a Bluetooth keyboard, and App Permissions setting.
The 8 megapixel Camera of Lumia 540 reproduces superb images. The rear camera produces natural colors and offers a lot of detail. The camera app at times is a bit slow to load but focus is quick and easy.
Shots taken in daylight came out crisp and clear, with vibrant colours and very little loss of detail even for distant objects.
Even at night, the camera handled things accurately and light output which is a bit grainy is still better than most smartphones at this price range. Focusing was slow and objects in motion came out blurry more often than not, but noise was always under control and colours were well defined.
  The 5 megapixel is equally great for selfies and shots usually come good with the front camera even in artificial light.
The Microsoft Lumia 540 has a 2200 mAh removable battery. For a 5 inch device with a quad core smartphone isn't anything great. However, unlike many Android smartphones, the Lumia 540 has great battery life which doesn't seem apparent from the size of its battery. I managed to run it complete days without need for second charge and at times a charge required towards the end of a busy day.
The 540 is a Dual SIM smartphone with support for 2G and 3G networks. Other features include Wi-Fi 802.11 b/g/n, DLNA, Wi-Fi Hotspot and low-energy Bluetooth 4.0. However, it may not support any Bluetooth health devices.
Of course lack of 4G might disappoint many who are looking forward to enjoy the 4G LTE data fast speeds. I found the Lumia 540 Dual SIM adequate for everyday usage. Some apps, such as the camera, did take a few seconds too long to load and some transitions and animations stuttered slightly on occasion. These things took away from the usually slick Windows Phone experience.
AnTuTu for Windows Phone gave us a score of 11,600, while the WPBench result was also decent at a score of 230.
Microsoft Lumia 540 Dual Sim Long Term Review: The Lumia 540 is a decent budget-to-mid-range device with a quality Windows Phone experience packaged in a well-built device, although the Lumia 640 sits right next to it with similar specs. The new Microsoft Lumia Dual SIM feels like a definite step up from the Lumia 535 Dual SIM in terms of its appearance and display.
It just feels better to hold and use, and yes, even to show off. Even so, most people would choose the Lumia 540 Dual-SIM when shown both options side by side. If money isn't your primary concern, you'll definitely feel better about owning this phone rather than its predecessor.  
 Detailed  Specifications for Microsoft Lumia 540:
Processor

CPU : Qualcomm Snapdragon™ 200 Quad-Core 1.2 Ghz.

Battery

Battery capacity: 2200 mAh replaceable.

Memory

Internal Storage : 8 GB.
RAM: 1 GB
Max 128 GB micro-sd card supported

Display

Display size: 5 Inch HD(1280*720) True Colour IPS LCD.
Pixel density: 294 ppi.

Size & weight

Height*Width* Thickness: 144 mm*74mm* 9.4 mm
Weight: 152 grams

Operating System

Software release: Windows Phone 8.1 with Lumia Denim

Connectivity

Dual Micro Sim card Supported

Connectivity

2G / 3G / WIFI and Bluetooth

Camera

Main camera: 8.0 MP, Auto focus , F/2.2. LED Flash.
Front Facing 5.0 mega-pixel camera

Video recording

Main camera video resolution: FWVGA (848 x 480) @ 30 FPS.
You May Also Like: 
Dazen 1 Review Specs and Verdict.