Update – Microsoft Lumia 650 got unveiled back in February and now the smartphone has gone on sale in India.
For starters, the Microsoft Lumia 650 Dual Sim is available now on Amazon India for a price of Rs. 15,999. Price is a bit higher in comparison to the global price of $199.
Microsoft Lumia 650 Windows 10 Mobile Available Now
Microsoft calls the new Lumia 650 as the work phone you always wanted. Moreover, it offers deeper integration of Microsoft office and one drive running apart from running on the Windows 10 Mobile platform.
Further, the design looks impressive with the Windows 10 logo at the back and the metal edge around the surface periphery.
Besides, there are very few choices when it comes to shopping for the latest Windows smartphone, unlike Android mobiles.
Notably, the Lumia has a thickness of 6.9 mm and weighs just 122 grams.
Noticeably, it offers some of the intuitive work features that Microsoft is really good at. It runs office flawlessly but misses on the functionalities like Continuum, supported by the flagship Lumia 950 and the 950 XL.
Windows 10 Offers a Unique Experience
Furthermore, the Lumia 650 comes with some hardware updates compared to the Microsoft Lumia 550 that went on sale in India on 30 December 2015.
firstly, it comes with a bigger screen size of 5.0 inches with HD resolution(1280*720)  and 293 PPI. Notably, the Lumia 650 screen is an OLED display of the Samsung phones.
For imaging, it has an 8 Megapixel Rear Camera along with a Dual Tone LED Flash.  Also, there is a 5 Mega Pixel selfie camera at the front to take some good clear shots with this Lumia device. Both the camera can do only HD video recording, Full HD video recording support is not there.
It is a good improvement in terms of the camera if we compare it to the Lumia 550 which has an unimpressive 5 MP rear camera and a 2 MP front camera.
Powering the phone is the Qualcomm Snapdragon 212 Quad-Core SOC clocked at 1.3 GHz. It is not the fastest of processors in this price range. Nevertheless, it is accompanied by 1 GB RAM similar to the Lumia 550.
Additionally, the phone comes with 2000 mAH battery capacity that again is not much to talk home about. The mobile will have a single nano sim variant and a Dual Sim variant too with same specs and design.
Notably, Microsoft Lumia 650 offers support for 4G LTE along with 3G and 2G data connectivity.
To sum up, it is a welcome upgrade when compared to the Lumia 550.
Early Leaks and Details of Lumia 650
Microsoft is planning to add up more mid-range Lumia devices to push the Windows 10 mobile platform. Recent leaks from Windows central show an elegant looking render of the Lumia 650 smartphone which is due early 2016.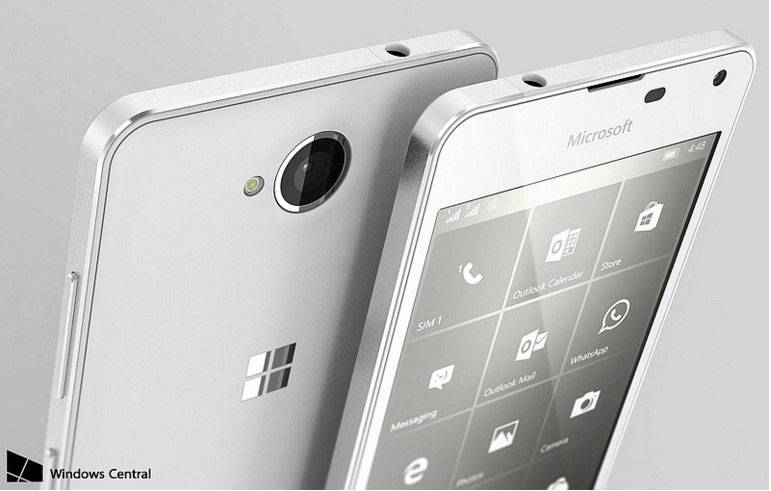 As per the reports, the Lumia 650 will get launched in Feb/March 2016 to add on to the portfolio of the new Lumia devices. A new image got leaked by venture beats and shows a clearer copy of the Lumia 650.
Key Specs and Features Lumia 650 (Expected)
Microsoft recently launched the Lumia 950 and 950 XL as the high-end flagship devices and also launched the starting range Lumia 550 priced at Rs. 9399 running Windows 10 OS.
As per the news, it will have the Quad-Core Snapdragon 212 processor. Moreover, it will have the Adreno 304 GPU for gaming and multimedia tasks.
Also, it is reported to come with a 5.0-inch screen with HD (1280*720) pixel resolution with 293 PPI.
Furthermore, the mobile will have 1 GB RAM and will run on the Windows 10 for Mobile.
For photography, Lumia 650 will come with 8 Mega Pixel rear camera and a 5 Mega Pixel front shooter to entice the selfie lovers.
The smartphone will have Dual Sim support with 4G LTE connectivity along with the native support for 3G/ 2G /Wifi and Bluetooth 4.1. Moreover, there can be 8 GB inbuilt storage, expandable using the micro SD card support up to 128 GB.
As per the recent report, from AdDuplex the Windows 10 device now have an 8.8% share in the Windows eco-system. However, a majority of Windows devices, more than 77%, run on the Windows 8.1.
Microsoft Lumia 550 is already listed on the major e-retailer Amazon but has got a lukewarm response due to a large price tag.
7 Best Camera Smartphones within Rs 10000 India.
Check Out Our Latest Video and Subscribe to Candytech Channel!!!