CES (Consumer Electric Show) is the largest extravaganza for the technology on earth and it is happening in Las Vegas on 5th , 6th and 7th Jan 2016.  All the major tech companies bee line at the expo to share the latest gadgets, future products and make some large announcements.
It is the most exciting time of the year for tech enthusiasts like me and others all over the world, the holy period of 3 days bring several new technology updates. Here are the 20 cool updates I am sharing with you from the CES 2016.
1). Lenovo Y 900 Razer Edition PC
20 Mind Blowing Announcements From CES 2016 – A special stunning looking Gaming PC for gamers with custom Razer lighting effects and mechanical keyboard and razer mouse powered by the Intel 6th Gen i7 processor. The PC comes with a badass 144 Ghz Lenovo monitor with Nvidia G Sync technology and is accompanied by 32 GB DDR4 RAM , Nvidia GTX 970 in SLI. Lenovo Y900 RE comes at an exhilarating price of 2299 USD.
2).  Qualcomm Snapdragon 820 to Debut on Le Max Pro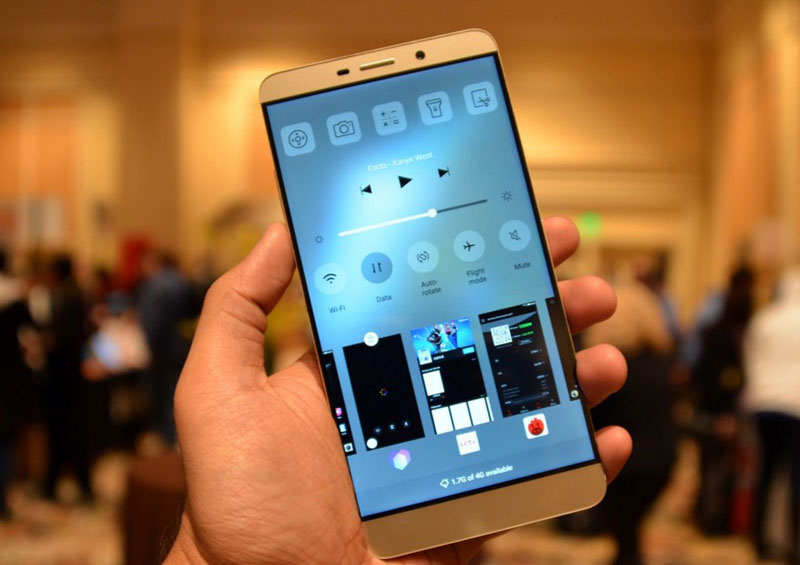 Qualcomm Snapdragon 820 is a big deal when it comes to next gen of smartphone processors.  It is 100% faster compared to the Qualcomm Snapdragon 810 used in the OnePlus 2. The first smartphone to get the processor is Le Max Pro which will debut in March/April  2016.
3) Dell Wireless Monitor to Charge your Smartphone Wirelessly
Dell has announced a new monitor which can wirelessly charge your smartphone if it is placed at the base of the Monitor. Your smartphone however need to support the Qi or PMA wireless charging technology like the Samsung S6 or the Google Nexus devices. The monitor is also capable of casting videos on screen using your Android or Windows smartphone. Monitors are getting smarter.
4) Nikon D5 New Flagship 4K 360 Camera
Nikon has just refreshed the top of the line Camera and has launched the new D5 which is capable of shooting 360 degree videos in 4K resolution. The camera obviously has got lenses at the front and at the back to cover the entire view. It is shockproof as well as water proof upto  30 meters. It is the first ever action camera by Nikon and competes with the like of Go Pro, an amazing action camera.
5).  Nikon D500 a $2000 Camera
Nikon has just refreshed the 500 series of camera's with the new Nikon D500 which comes with 20.9 Mega Pixel resolution and ability to shoot 4K videos with utmost clarity. The camera comes with a heavy price tag of $1999. It also features the Nikon's Snapbridge technology which lets you transfer the images from the Camera to other devices using the Bluettoth technology.
6) LG's Incredible 8K 98 Inch TV
Forget 2k and 4k here is a new flagship TV launched by LG with a stunning 8K display and it comes with a mammoth size of 98 inchs, try fitting that in your living room. The model is named as UH9800 and LG says it is a Super Ultra High Definition TV and it is the largest 8K tv out there. The expected price for the TV is whooping 150,000 dollars or Rs. 90 lakh, yes you read it right J.
7) LG GRAM 15 – A MacBook Clone in Gold
LG has unveiled a new Laptop known as the Gram 15 which is quite a clone of the Apple's MacBook 2015. The gold shade used on the laptop is also similar to the one used on the Apple's MacBook. The LG Gram 15 comes with 15 inch display and Intel Skylake processor and Windows 10 OS. Those looking to have the classy Apple like hardware and Windows 10 can drool over this new LG laptop. Ohh and this laptop has just 15 mm thickness, thinner than most laptops and weighs just 0.97 KG.
8). FitBit's New Fitness Watch Blaze
20 Mind Blowing Announcements From CES 2016 – Fitbit has done a lot of work and innovation in the fitness band market but now they are coming with the new smart watch known as Blaze. Wearable's and fitness are the trending gadgets which tech companies want to get into. The Blaze watch is a mid range wearable with price tag of $200. It tracks steps, sleep , calories burnt and other 15 exercise. It can share the data with your Android, iOS and Windows smartphone and even with the PC and laptop.
9).  Altec lansing's DJ Headphones Comes with Built In Live Streaming Camera
Need some innovation in the headphones club them with a camera. The Altec Lansing's DJ Go Pro camera is mounted on the left ear cap and is capable of recording 1080P videos which can be either stored in the 8 GB internal memory card or can be live streamed to YouTube using WIFI. It is something ideal DJ's and people looking to live stream the events. The headphones come with 40mm driver and will be priced at $199.
10). BMW's Smart Helmet with Heads Up Display
20 Mind Blowing Announcements From CES 2016 – BMW is going to make a Helmet which is still a work in progress and will see a commercial launch in 2017-18. Unlike a conventional helmet it comes with a heads up display which can show the rider information like Fuel left , Speed , road sign recognition and may be traffic details. A true accessory for smart riders of future.
20 Mind Blowing Announcements From CES 2016
11). BMW i8 Spyder a Super Car of Future
BMW i8 Spyder sets wings to the imagination with the futuristic design and features. The highlight of the car is a 21 inch touch control panel with support for gestures. Everything from Music , calls , vehicle information will be controlled from the display. The future car will be capable to run on the Autopilot as well as can be manually driven.
12). Nvidia's Super Computer for Self Driving Cars.
20 Mind Blowing Announcements From CES 2016 – From Google to Apple everyone is envisioning self driving cars and there has been lot of testing experiments done to make sure the self driving cars become a reality in near future. Nvidia just showcased a new CPU which has more power than 150 MacBook Pros put together to ensure that the self driving cars can process  high volume of real time information. The biggest challenge for the self driving cars is passenger safety.
13). Fossils QLine of Smartwatch
Who is capable of making gorgeous smart-watch, somebody who has been in the business for long. Fossil's Q54 comes with Intel processor to offer basic notification to your smartphone and track activity.
Q 54 will be available in mid 2016 and will cost around $200. The watch is capable to pair with the Android or iOS devices.
14). Razer Blade UltraBook With an External Graphics Card
This is the only ultra-book in the world which can let you play all the PC games at max settings with a 2K or UHD display. It is a novel concept which Razer is going to bring to the mainstream. You can connect the Laptop to a small graphics card enclosure which can house any Nvidia or AMD GPU. Connect the laptop with the GPU using the thunderbolt USB type C port and enjoy desktop class graphics on this light weight laptop. Innovative yes, Want it yes…
15). Budd-e Revolutionary Volkswagen Electric Van
Clean and green energy is something mankind is looking for in future, fossil fuels are going to be extinct believes Volkswagen. The new electric vehicle is all about design and green energy. The Budd-e understand the voice commands and comes with voice recognition, even knows which passenger is speaking. The large dashboard display brings in all sorts of information like smartphone notifications, emails, weather condition and travel route. Budd-e uses infrared sensors to understand when passengers are approaching and can stop and open doors.
16). Samsung Galaxy Tab Pro S
Samsung has launched the new Tab Pro S with Windows 10 OS. It is more like the Microsoft's Surface 4 tablet –laptop 2-in-1 device. The Samsung Galaxy Tab ProS comes with a 2K display made with Super AMOLED technology. The tablet is powered by the Intel Core M processor and comes with 4 GB RAM and 128 GB storage. There is a detachable keyboard and mouse which can be used with the device to convert the table to a laptop.
17). Samsung Notebook 9 – Slim & Uber Cool
Samsung has launched new series of Windows 10 laptop Samsung Notebook 9. The 13.3 inch variant weighs just 0.87 Kg and the 15 inch laptop weighs 1.2 Kg. The higher end variant of the Samsung Notebook 9 comes with Intel Core i7 U series of processor and 8 GB of Ram with 256 GB SSD. The laptop comes with 1080 P display without touch screen but does support fast charging and a USB Type C Port.
18). LG's Mindblowing Rollable Display
LG showcased the rollable display something which smartphone manufacturers are considering for future devices but yet is not cracked to work properly with other components. LG has tried to use the technology in the LG G Flex smartphones, but these rollable displays are a step ahead of the flex displays. The major issue with the Roll –able displays is that it is still very delicate and a commercial application is still not possible.
19). Sony Re-invents the Walkman with A26
Every one has owned and used a Sony Walkman before the iPods became a rage. Sony is trying to re-invent the series with the new A26 at the CES 2016. The Walkman comes with digital noise cancellation earphones and will be available in 6 colors. The Walkman will provide high definition listening experience and will be available in 32 GB variant with option to expand to 128 GB.
20). Samsung Gear S2 Watches Updated
Samsung will have 2 new version of the Samsung Galaxy Gear S2 in rose gold and platinum finishes. Samsung has decided to move away from it's Tizen OS and these watches will have support for the Android as well iOS operating system. Samsung watches are going to be compatible with other Android devices and not just Samsung mobiles announced VP Allana Cotton at CES 2016.
Check Out Our Latest Video and Subscribe to Candytech Channel!!!