Sharp Aquos S2 is a Bezel less Phone I Don't Want To Buy – Sharp has today unveiled a new unique smartphone with Bezel less display and it also comes with a top camera notch like the Andy Rubins Essential Phone.
If you have not seen or heard about who Andy Rubin is or what is an essential phone, I may suggest you read – Andy Rubin's Essential Phone Comes With Uncanny Front Camera Placement.
Coming to the Sharp Aquos S2 – it comes with a 5.5 Inch FHD+ display with 2040*1080 pixels resolution, that is slightly more than the Full HD resolution. If you observe the image shared below, the smartphone display is trimmed, there are cuts at the top right and left corner which looks weird.  I told you it is unique, in a good or bad way, that you have to decide.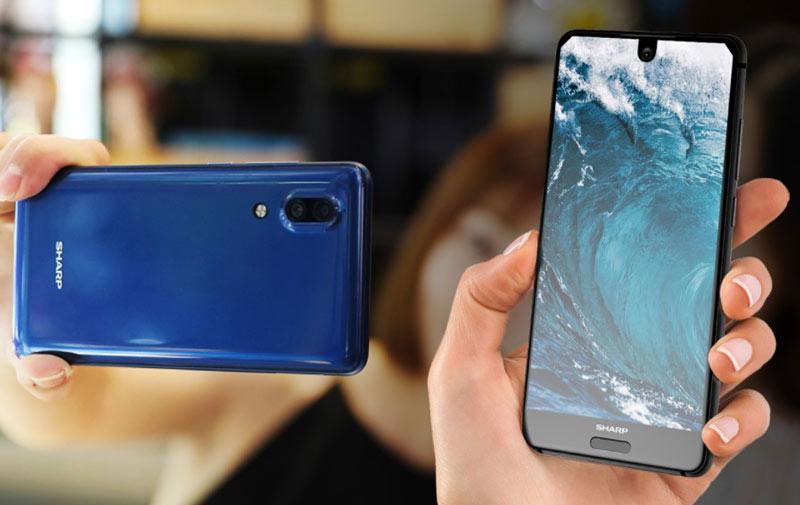 The odd camera groove at the top was enough to make me think of not buying this phone, but the hurriedly cut display edges from the top are also a big let down. Though the back side looks much better and like the flagship HTC U11.
Sharp says they have used a new 3D glass cover for the back and it is made of single piece construction without any joints. It fits seamlessly into the metallic edged frame to ensure durability. The four edges of the smartphone at rear side are curved and the camera bump is also part of the single glass back cover assembly. All this makes it look more elegant at least from the rear side.
To make things better, sharp claims it is one of the most beautiful displays which they have made and comes with 135% sRGB colour gamut and a very high 550 nits brightness. The display is definitely going to be vivid and bright.
Sharp specializes in making display panels for mobiles and makes it for other OEMs, and this time they are using one of their best creation in their own Sharp Aquos S2. The smartphone comes with insane 87.5% screen to the body and the 5.5 Inch smartphone actually looks like a 4.9-inch device due to the larger display fitted in a small body.
The Sharp Aquos S2 comes in two variants :
Sharp Aquos S2 With Qualcomm Snapdragon 660 and 6 GB RAM, 128 GB storage – Price 3499 Yuan, $520 or Rs. 35000
Sharp Aquos S2 with Qualcomm Snapdragon 630 and 4 GB RAM, 64 GB storage – Price 2499 Yuan, $370 or Rs. 25000
Notably, the smartphone is one of the earliest devices to come with the latest 14 Nm, Qualcomm Snapdragon 630 and 660 processors clocked at 2.2 GHz. The Qualcomm Snapdragon 630 is the successor to the more commonly used Snapdragon 625 SOC and the Snapdragon 660 is the successor to the Snapdragon 653.
The Sharp Aquos S2 also boasts of a Dual camera at the back which comes with a 12 MP lens + an 8 MP lens with f/1.75 aperture and with 1.4um pixels. The front camera is also an 8 Megapixel shooter and comes with 1.4um pixels lens with f/2.0 aperture.
The smartphone runs on the Android Nougat 7.0 and comes with USB Type C port for charging as well as listening to music. It ditches the 3.5 mm headphone jack. The smartphone weighs 140 grams and has 7.9 mm thickness.
It comes with 3020 mAH capacity battery with fast charging support from Qualcomm. There is also NFC and Bluetooth 5.0 support for the Sharp Aquos S2.
The smartphone as mentioned above comes in two variants with different processors. The Sharp Aquos S2  will go up for pre-orders in China and availability outside the dragon land is yet not known.
P.S – If those weird display cuts at the top were not there, I would have still thought of buying it.