Xiaomi along with the launch of the massive 6.44-inch display mobile Mi Max introduced us to the all-new MIUI 8.0. The MIUI 8.0 brings in some more cool exciting features which you will enjoy not on the new Xiaomi phones but older models will also get updated to the MIUI 8.0.
As Hardware War is reaching the summit the next war is going to be of the software enhancement and digital content which Mobile manufacturers are getting ready for.
There is increased focus to develop the custom User interface and bundle digital content to keep buyers attracted to the eco-system. It is something Apple has been doing for years, and probably the best in Industry.
Xiaomi at the launch event declared that there are 200 million users of MIUI across the world. Various features are introduced in the new design upgrade of MIUI.
MIUI 8 is based latest Android OS and provides more features than Stock Android. With all these features, MIUI 8 improves how you use and experience Mi devices.
1). Reading Experience
MIUI 8 has a great user-friendly interface. MIUI 8 has new Chinese font which improves the mobile reading experience.
2). Lock Screen features
There is a Wallpaper Carousel which will send you beautiful images to your Lock Screen daily. You can select from 12 categories for your Lockscreen images from over 50 media partners.
3). Improved Gallery
There is a new gallery which is 90% more efficient, where things can be quickly shared by just swiping and one can change filters with a single tap.
There is a feature for multiple photo selection. MIUI 8 offers enhanced video editing tools like while editing videos, you can add filters, you can crop, you can add captions and even you can add music. One can also doodle on drawings and can add stickers.
4). Take Beautiful Notes
There are a passcode and fingerprint security for Notes. In Notes, you can perform advanced calculations and conversions. One can also use beautiful Note Templates for sharing. You can also arrange Notes in grid view for better navigation.
5). Scanner
The scanner can generate Quick QR Codes for Wechat and AliPay. One can buy things online by just scanning barcodes. You can also take a picture and shop for similar products available online. You can scan High School Chinese Maths problems and it will provide you step by step solution.
6). Power Saving             
There is a power saving mode which freezes background app activity, updates, and background tasks.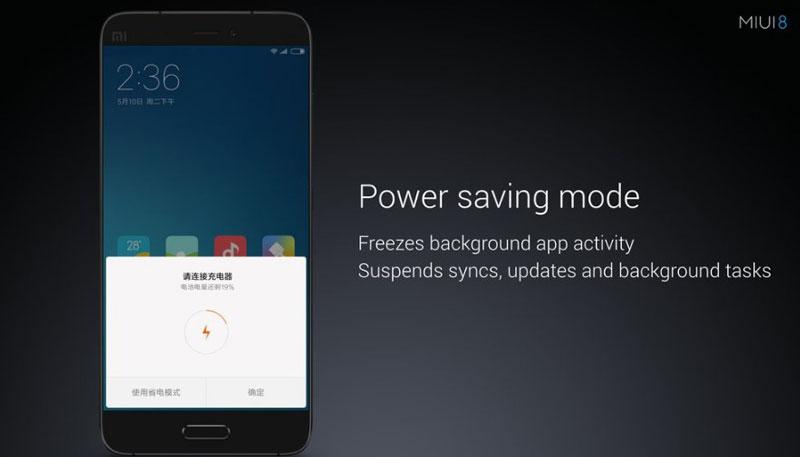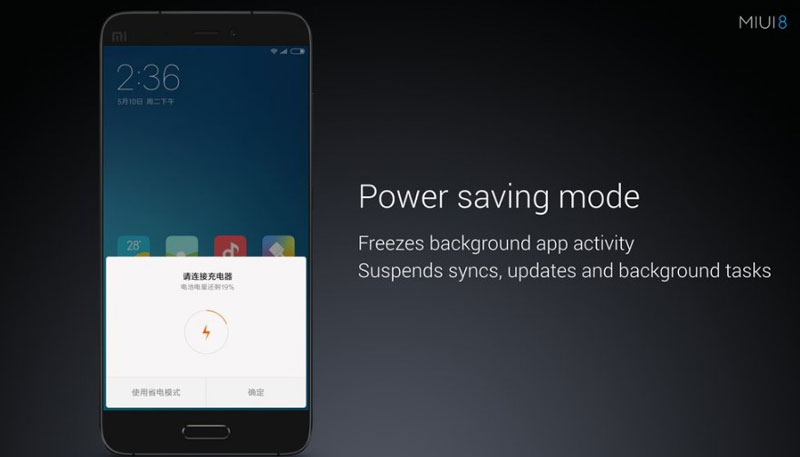 7). Multi Window Management
Multi Windows Management for better multi-tasking. Also, prevents unnecessary apps from starting up and hence reduces lags and power consumption. MIUI 8 also detects Fraud and Scam Messages.
8) Enhanced Video Editing Option
There is an advanced video editing option now available which allow you to crop your videos , apply filters , add captions and add music to the videos.
9) Detect Spam Messages 
If you are tired of spam messages, then you can use the inbuilt fraud and spam detection system to block such messages.
10) Quick Share Controls
There is plenty of easy shortcuts that Xiaomi is bringing to the new MIUI 8.0 ROM. You can tap to apply a filter or swipe to share an image on your favorite social media Application.
Devices Supported MIUI 8 & Availability
You can get early access to the MIUI 8.0 ROM with 11 July set as public Beta in India and on 16 August Xiaomi will roll out the stable version of the OS.
Xiaomi will release MIUI 8 for mobiles Xiaomi Mi 5, Mi 4, Mi 4i, 4, 3, 2  and the new mobile 'Mi Max'. The MIUI 8.0 will also be available for the Redmi Note series as well as the Redmi range of smartphones.
The MIUI 8.0 bring a lot of advancements and real features which can help make the user experience superior on the Mi platform.
You May Like to Read : 
Check Out Our Latest Video and Subscribe to Candytech Channel!!!