Date – 08-October-2020
Update – 10 Jan 2021 – AMD Ryzen Processors have gone on sale in India starting 5th November 2020.
AMD has launched 4 new processors at an event that was broadcast live. AMD CEO Dr. Lisa Su took the stage to showcase and launch the new AMD Ryzen Zen 3 processors.
AMD announced the new Zen 3 processors with improved IPC (instructions per cycle) performance, better energy efficiency, and higher clock speeds.
AMD claims the highest single-threaded performance of any "desktop gaming processor" in addition to having higher cores and better multi-core performance.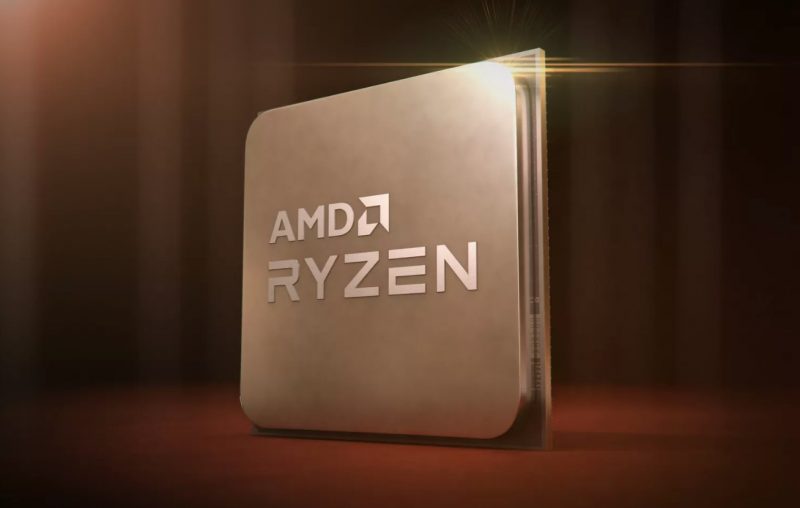 The whole presentation by AMD focused on the increase in the Single-Core Performance by the new processors.
It is the first time that AMD can reach the performance of Intel processors for Single-core.
These new processors are also compatible with the 500 series motherboards, and buyers will not need to purchase any new motherboards to use these. OEMs will likely offer a BIOS update to make the transition smooth.
The processors will work with the B450, X470 boards but it will be better to get the B550 or X570 motherboard.
AMD has a significant lead over Intel in multi-core performance, but the journey to better Intel in the Single-Core performance has taken them long.
Thanks to the more efficient 7 Nm manufacturing process, AMD can now achieve better results than Intel.
On the other hand, Intel is still stuck on the 14 Nm process for desktop processors and is likely to launch the 11th Gen desktop processors in March 2021.
AMD has launched 4 new processors this – Ryzen 5950X, 5900X, 5800X, 5600X.
The top of the line Ryzen 5950X is a monster and comes with 16 Cores and 32 threads with a boost clock speed of 4.9 GHz and 72 MB Cache.
The processor will be available for $799, along with the remaining line-up starting 5th November 2020.
The four biggest improvements that AMD showcased were:
A 19% increase in the IPC (instructions per clock).
24% increase in performance per watt.
Upto 26% increase in the gaming performance vs. last Gen AMD.
A new Cache design to unlock faster performance and reduce latency.
Let's have a quick look at the new AMD Ryzen processors; then we will check some of AMD's benchmarks. Of course, there will be many independent benchmarks to put these claims to test.
Specs Comparison Ryzen 5950X, 5900X, 5800X, 5600X.
| | | | | | |
| --- | --- | --- | --- | --- | --- |
| Processor | Cores/ Threads | Base / Boost Clock | Cache (MB) | Price | Price in India |
| Ryzen 9 5950X | 16C/32T | 3.4 Ghz / 4.9 GHz | 72 MB | $799 | Rs. 71,990 |
| Ryzen 9 5900X | 12C/24T | 3.7 GHz / 4.8 GHz | 70 MB | $549 | Rs. 49,499 |
| Ryzen 7 5800X | 8C/16T | 3.8 GHz / 4.7 GHz | 36 MB | $449 | Rs. 40,699 |
| Ryzen 5 5600X | 6C/12T | 3.7 GHz / 4.6 GHz | 35 MB | $299 | Rs. 27,128 |
* Price in India is inclusive of GST and based on the current market price.
The price in India without GST as shared by AMD India are :
AMD Ryzen 5950X – 60,990
AMD Ryzen 5900X – 41,900
AMD Ryzen 5800X – 34,490
AMD Ryzen 5600X -22,990
The prices in India are the same as in the US, however, we have to pay 18% GST over the US prices, making the price of processors eye-watering high for Indian gamers and content creators.
The prices are higher in comparison to the launch price for the last-gen and may give Intel some breather.
Notably, AMD has dropped the successor to the 3700X – the Ryzen 5700X as it would have been very similar to the 5800X.
While the Ryzen 9 and the Ryzen 7 models come with 105 Watts TDP, the Ryzen 5 5600X comes with just 65 Watts TDP.
Intel Core i9-10900K can boost up to 5.3 GHz and has a 125 Watts TDP. The clock for the Ryzen 3950X was 4.7 Ghz and came with a similar 105 Watts TDP.
AMD also claims that the Ryzen 5950X has 2.8X the power efficiency of the Intel 10900K.
The biggest highlight for these processors is single-core performance and improvement in gaming FPS.
Based on the benchmarks shared by AMD, the Ryzen 5900X is faster than Intel's fastest processor – Core i9 – 10900K at 1080P Gaming. It is odd why AMD has not shared results on the higher resolution, such as 2K or 4K.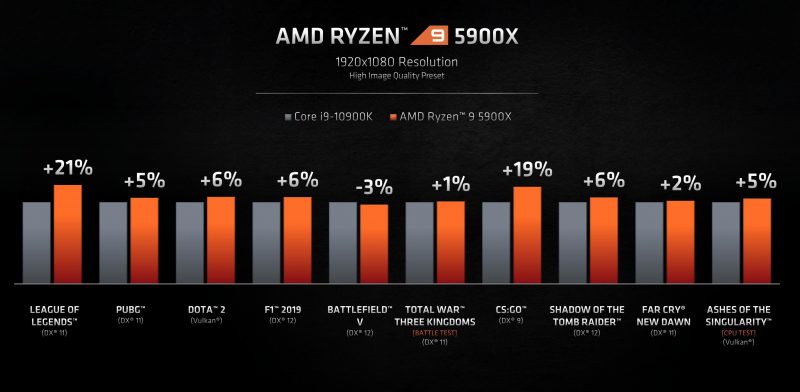 Even if the new Ryzen Chips are fast as Intel, these are still great offerings, if not better.
They have lower TDP, hence generate less heat, and offer much better multi-core performance than the Intel processors.
AMD CEO Dr. Lisa Su also showcased the new "Big Navi" Radeon 6000 graphics card. The company is launching on 28th October and promised that it would offer incredible performance in the latest gaming titles.
Another good news for the AMD processor buyers is that they will get a free copy of the Far Cry 6 game if they purchase the new Ryzen 7 or Ryzen 9 models between 20 October and 31 December 2020. ( This offer is also applicable for some previous-gen processors as well.)