With 2.9 Billion active gaming players worldwide, there is no surprise that the growing trend of playing online games has caught you too. In this post we will share with you the top 10 browser games worth playing in 2022 along with the link to the gaming websites.
You find these games as the best source to utilize free time, kill boredom, and sharpen cognitive abilities.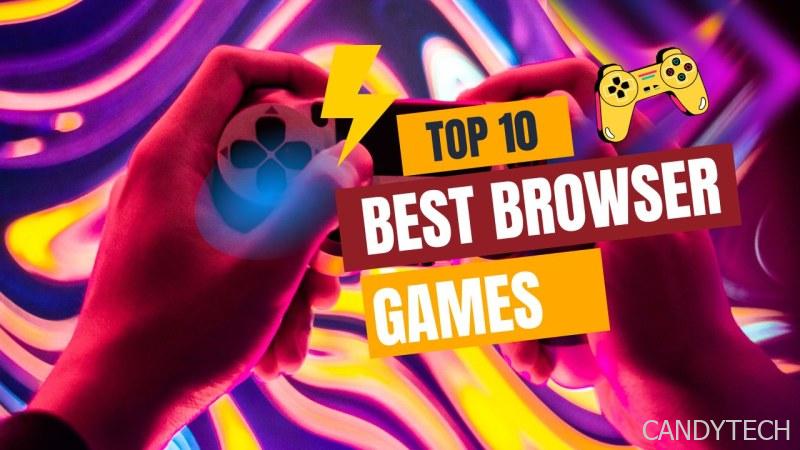 However, playing the same games over and over again has somehow made you fed up, and you want to bring some variety and change to your list of games. Right? Don't worry! The good thing is that getting variety is so easy!
With the growing love for games, the number of gaming sites is also increasing tremendously.
Some gaming sites offer only a particular signature game; others provide different variations of a specific category, while others offer various options to satisfy the needs of different users.
However, with so many available options, it becomes challenging to make the correct choice, having an exciting blend of different games, unique features, and fascinating stuff. That's where we can help you.
In this article, we have given the ten best gaming sites that you must try:
Solitaire Bliss
Solitaire Bliss is the best option for card game lovers as it has more than 30+ card games. This site is a beautiful blend of classic and new solitaire games with pleasing graphics and unique features.
Its features, such as statistics tracking, solvable-only game mode, background and card customization options, and board zoom-in and out mode, make this site the best for card players.
I'm-a-Puzzle
Do you remember your childhood when buying a puzzle was a must ritual while visiting a toy shop? Why not recall childhood with I'm-a-Puzzle and dive into the world of jigsaw puzzles?
This site has around a thousand puzzles you can play without spending a single dime. Moreover, you can get a puzzle of almost everything with so many categories, including yourself.
Yes, you can upload any picture and convert it into a jigsaw puzzle to take the fun to another level.
Pogo
Pogo is the ultimate site for young gamers, where they can find many opportunities to play different games.
The site has an easy-to-use interface and vibrant colors, giving it a game-like feel that intrigues gamers' gaming instincts. Its excellent graphics and animations are like a cherry on top that makes all games oh-so-addictive, from Sudoku, Mahjong, Poppit, and Bejeweled Stars to Aces Up.
Beamdog
Beamdog was launched in 2010, and after more than a decade, it still holds a firm position in the list of the best sites to play games.
The reason is their unique approach towards making games; they are doing what no one else is doing in their league.
"They are bringing renowned titles to new life." Besides giving a new touch to the idea of games, they have also provided a virtual life to every game through their high-class graphics and animation skills.
So, no matter whether you play Axis & Allies, Baldur's Gate, and Ice Wind to MythForce, you will feel like facing all these incidents in real life, which gives you sensational feelings while playing.
Crazy Games
Crazy Games is a gaming platform that seems to be on a mission to bring people together through games.
It was founded in 2014, and since then, it has become one of the favorite sites of gamers where they can unleash their gaming mania like no other. So, no wonder the platform has around 20 million daily visitors who come to go crazy while playing crazy games.
You can also invite a partner to plunge into the adrenaline rush of competitiveness. So, whether you play action games and shooting games or arcade games and featured games, you will not regret your decision to select this site for fun.
Poki
Poki is another gaming site that is all about games, games, and a bit more games. With 1000+ game titles in the pocket, Poki rocks like a boss in the gaming world. With so many games, it becomes hard to decide your pick once you enter Poki's world.
So, you can begin with well-articulated gaming categories if you still need to choose where to start. Another best thing? All these games are free, and you can play online or download them so that you can play them anytime, anywhere.
Little Games
If you think this site is for kids by name, then you are wrong. Little Games is the best site for playing games, irrespective of age. You can find around 84 games with a mix of crazy and new games.
Start playing games, from Crazy Alien Dog, Cut it Puzzles, Stickman Ninja Warriors, Crashy Cat, and Speedy Snake to Crazy Stack, and you will feel immersed in the crazy games that are hard to find anywhere else. So, if you want to play quirky and fun games, Little Games is the way to go.
Cool Maths Games
Don't just go with the name and dump this site because the word Maths is in it. This game is way more than a gaming site that is made to teach Maths to children.
Cool Math Games is an all-inclusive gaming site where you can find various types of games, all made to make your life more entertaining.
Multiple categories include Spot the Difference, Curve Ball 3D, Swing Monkey, and much more. So, once you enter Cool Maths Games, there is no room for boredom because every new game takes you to an altogether new world of fun that's thrilling.
Kizi
You need to update your knowledge about gaming sites if you have yet to hear about Kizi. It is one of the most popular gaming sites on the internet, with 10 million app downloads, and figures show that the popularity level of this site is enormous.
And why not? This site's outstanding graphics, animations, and various games combine to make this site one of the happening options for game lovers. Once you are here, you can find the kind of game that triggers your aesthetics, mood, and liking.
Addicting Games
Addicting Games unapologetically captures your heart when you land here. It is free to download and play online – yes, its number of categories is more than you can imagine, such as funny games, shooting games, arcade games, strategy games, puzzle games, classic games, top pick games, and much more.
You can read their published blogs if you don't know where to start; these blogs are an excellent start to making informed decisions.
Conclusion – Top 10 Browswer Games for 2022
Games have always been a great source of fun, mental well-being, communication, and cognitive development.
However, with technological advancement, modes of games have changed, but the love for games is getting more robust than ever.
So, whether you play online, offline, or physical games, make sure they are worth spending time and add some value to your life.