Updated On 03/Jan/2019 – Latest smartphone market share is out for Q3 2018 (July-August-Sept) and as per counterpoint research, Xiaomi is still the number 1 mobile brand in India with 27% Market Share.
Followed by Samsung, Vivo which have 23% and 10% market share respectively. Oddly, Micromax is shown as number 4 with 9% market share in Q3 2018.
As we know that Micromax has lost the top 5 spots long back to the Chinese rivals this is a strange update. However, the report mentions that Micromax along with Reliance JIO has got an order from Chattisgargh government under which the company will supply 50 lakh mobiles to women and students in the state. Sounds odd, yes it is.

At No. 5 is Oppo which is seeing a good growth in sales from several models including Oppo F9 and the F9 Pro. Other brands including Apple, Lenovo, Motorola, LG, Google continue to have less than 5% market share in India.
One important thing to note is that the above report inaccurately leaves out a couple of Million phones sold by the Oppo Realme brand. The brand even announced they have sold 1 million RealMe2 phones recently on twitter.
Some Interesting Facts About Indian Mobile Market
India is the second largest mobile market, ahead of the US with over 400 million smartphone users whereas China leads in terms of the number of users.
As per counterpoint research, about 33% of phones sold are in Rs. 11,000 to Rs. 18,000 price range, and is the fastest growing segment.
In the Q3 shipments have grown by 24% over Q2 and in comparison to the same period last year the shipments are up by 5%.
The Indian mobile market is growing rapidly and thanks to huge online discounts and aggressive launches the brands are able to sell huge volumes.
The Chinese smartphone manufacturers have over 60% market share in the Indian market while rest is taken by Samsung, Asus, Apple, and Google.
Biggest Smartphone Brands in India and Success Drivers for Top Brands:
Xiaomi – The Redmi Note 5 Pro is a killer phone for Xiaomi and even the affordable Xiaomi Redmi 5A (sold more than 5 million units is a growth driver. In the recent quarter, there is POCO F1, Mi A2 and the Redmi 6 Series which is fueling the growth of the brand in India.
Samsung – Samsung has models like the J6, J8 and the J2 Core which is selling well in the entry and mid-range segment. While the Note 9 and the S9/ S9+ are top sellers in the higher segment.
Vivo – Vivo also is playing strong in the mid-range market with several models such as the V11, V11 Pro, Y83, Y83 Pro.
Oppo – Though the report says that Oppo has 8% market share and lags behind Vivo but I think the data is not accurate especially the exclusion of Realme numbers. Oppo is most likely ahead of Vivo in the market with top sellers such as F9 and F9 Pro, A3s and OnePlus 6 in addition to the RealMe 1, Realme 2 and the RealMe 2 Pro.
Top 5 Smartphone Brands in India Q3 2018: 
Xiaomi – Market Share – 27%
Samsung – Market Share – 23%
Vivo – Market Share – 10%
Micromax – Market Share – 9%
Oppo – Market Share – 8%
Others (Apple, LG, Huawei, Asus, Google, Lenovo etc) – Market Share – 23%
About 45% market share is taken by Chinese vendors Xiaomi, Oppo and Vivo which are expanding presence both online as well as offline.
Another noticeable thing is Huawei the number 2 brand in the world is doing poorly in the Indian market. Despite the company has launched a plethora of devices like the Honor Play and Huawei P20 Pro.
Nokia is also doing well as per the counterpoint research with the latest phones like the Nokia 5.1 plus, Nokia 6.1 Plus, and Nokia 3.1 plus.
Asus is also making a strong comeback in the market with the launch of the Zenfone Max Pro M1 and the Zenfone 5Z.
The only brand which is having a lukewarm response in the Indian market is Apple, due to the absurdly high prices for the new Xs and the Xs Max.
The report doesn't share Apple market share in India but as per previous data, it should be less than 3%.
OnePlus and Apple Market Share in India
Apple has close to 3% market share in India and OnePlus has about 1.5% share in the overall Indian market.
Premium Market Share – OnePlus Vs Apple Vs Samsung
Also, the counterpoint research says that in the premium mobile segment (Greater than Rs. 30,000 or $400) Oneplus has 30% market share, Followed by Samsung 28% and Apple has 25% market Share.
Collectively all the three brands put together have 83% share of the market. Rest of the players like Google, LG, Sony, Huawei, Vivo accounts for the 17% share.
The top selling phones are OnePlus 6 (30%), Samsung Galaxy Note (14%), Samsung Galaxy A8 Star(5%).
Below data is based on the counterpoint research… have not considered IDC or other research numbers. 
Smartphone Market Share in India 2017 and 2018 (All Quarters)
| | | | | | | | |
| --- | --- | --- | --- | --- | --- | --- | --- |
| India Smartphone Market Share 2017-18 | 2017-Q1 | 2017-Q2 | 2017-Q3 | 2017-Q4 | 2018-Q1 | 2018-Q2 | 2018-Q3 |
| Xiaomi | 13% | 16% | 22% | 25% | 31% | 28% | 27% |
| Samsung | 26% | 24% | 23% | 23% | 26% | 28% | 23% |
| Vivo | 12% | 13% | 8% | 6% | 6% | 12% | 10% |
| Oppo | 10% | 10% | 8% | 6% | 6% | 9% | 8% |
| Huawei | 1% | 1% | 1% | 1% | 3% | 3% | 3% |
| Others | 38% | 36% | 38% | 39% | 28% | 20% | 23% |
*Oppo doesn't include the RealME sales but has OnePlus sales.
Smartphone Market Share in India 2016 (Quarter-Wise)
| | | | | |
| --- | --- | --- | --- | --- |
| Smartphone Market Share India 2016 | 2016-Q1 | 2016-Q2 | 2016-Q3 | 2016-Q4 |
| Xiaomi | 4% | 4% | 6% | 9% |
| Samsung | 28% | 25% | 23% | 24% |
| Lenovo* | 8% | 8% | 9% | 9% |
| Vivo | 1% | 4% | 5% | 10% |
| Oppo | 3% | 3% | 4% | 8% |
| Micromax | 16% | 14% | 10% | 5% |
| Others | 40% | 41% | 43% | 35% |
*LENOVO includes Lenovo and Motorola shipments.
Below is an article we wrote in October 2014 and you can see how the Indian mobile market has changed since then. Some of the leading Indian brands like Lava, Karbonn and Micromax have lost the race.
Sources NDTV Gadgets, 91mobiles.Counterpoint Research
---
Global Smartphone Market Share – 2017
The below table tells the story of how global smartphone shipments have moved in 2017 Vs. 2016 – Q1. Oppo is the Fastest growing smartphone brand with 29.8% Year over Year growth.
Top Five Smartphone Vendors, Worldwide Shipments, Market Share, and Year-Over-Year Growth, Q1 2017 Preliminary Data (Shipments in Millions)
Vendor
Q1-17 Shipment Volume
Q1-17 Market Share
Q1-16 Shipment Volume
Q1-16 Market Share
Year-Over-Year Change
1. Samsung
79.2
22.80%
79.2
23.80%
0.00%
2. Apple
51.6
14.90%
51.2
15.40%
0.80%
3. Huawei
34.2
9.80%
28.1
8.40%
21.70%
4. OPPO
25.6
7.40%
19.7
5.90%
29.80%
5. Vivo
18.1
5.20%
14.6
4.40%
23.60%
Others
138.7
39.90%
140
42.10%
-1.00%
Total
347.4
100.00%
332.9
100.00%
4.30%
Source: IDC Quarterly Mobile Phone Tracker, April 27, 2017
The market share had also grown by 1.5% for Oppo Vs. last year.
Vivo is a close second with 23.6% growth and a rise of 0.8% market share.
Third Chinese conglomerate to join the growth bandwagon is Huawei which have seen 21.7% growth in shipments and a 1.4% growth in the market share.
Global Leader, Samsung, on the other hand, has flat 79.2 million units shipped with a drop in market share from 23.8% to 22.8%. Apple is also flat as far as smartphone shipments are concerned and have even dropped marginally in market share from 15.4% last year to 14.9% this year.
Notably, the global smartphone market is expanding, and smartphone shipments increased from 332.9 million units to 347.4 million units, a growth of 4.3%.
Most likely the growth is coming from developing economies like India and China where there is still massive potential for smartphone vendors.
Oppo and Vivo in India have banked on the Selfie smartphones with the target segment as the young crowd to add up to the success story. Both the brands are very aggressive in the retail market in India with overwhelming in-shop / outdoor promotions adding to the crowd pull.
Xiaomi has slipped out of the top 5 smartphone vendors in the global share of shipments.
---
Historical Smartphone Market Share 4 years back in October 2014
Samsung had a market share of above 30% a few quarters back with the recent aggression by many companies like Motorola, Micromax, Karbonn it has got reduced to 29% as per a report from IDC(International Data Corporation) for Q2(Apr-Jun) and same has been drastically reduced in the Q3(July-Sept'14). According to IDC the entire smartphone market expanded by 27% in Q3 Vs  Q2 in 2014.
The total Shipment of Smartphones and Feature Phones give us a fair Idea of the Market penetration of Smartphones.
The total phone market stood at 72.5 million units shipped (23.3 million smartphones and 49.2 million feature phones) in Q3 2014.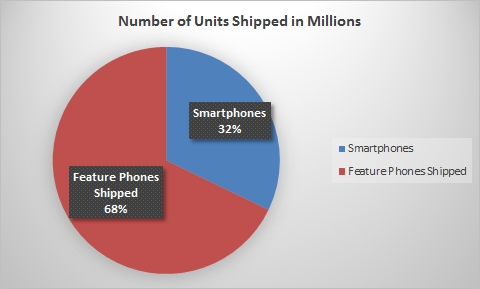 Motorola India on Monday announced that it has sold 2.5 million smartphones in India this year. The company announced the news on Twitter and said, "#MotoFans, thanks for choosing us! To celebrate 2.5M customers, we have some cool offers in store!".
Motorola, Xiomi, Lava, Micromax all have been eating into the market share of Samsung in India which once had a close to 34% share.
Is Samsung headed the Nokia way?
According to the Last IDC report based Smartphone Market Share in Q2 2014(Apr-Jun'14).
Samsung had 29% Market Share, followed by Micromax with 20% market share, Lava having 6%, Karbonn 8%, Motorola 5%, and others had a 34% market Share.
The Latest Report By IDC for Q3(July- Sept) Suggest Samsung has lost Massive Market Share by 5% in the Indian Market. 
As Per Latest IDC report Samsung has 24% market Share, followed By Micromax at 20 %, Lava 8%, Karbonn 8%, Motorola 5%, and others 35%.
Key Highlights
Lava has been a clear winner with 2% increase in Market share.
Micromax has also been doing great with a similar increase of 2% market share in Q3.
Others – This may be Gionee, Xiaomi and other brands like Spice and Intex eating into Samsung's market share.
Motorola and Karbonn have been able to hold on to their share in Q3 Vs Q2.
Samsung had its share of troubles from not getting the latest updates from Google when Kitkat came and predatory pricing from the rivals like Xiaomi and Motorola. Now with Google and Motorola devices has moved to the Android Lollipop it is even more difficult for Samsung to have any kind of differentiation.
Samsung is going to struggle more in coming years if Google does not allow it to offer the latest OS updates as fast as they are rolled out on the Nexus and Motorola Devices.
When we have cheap Chinese hardware available why would a consumer buy Samsung for premium with an old operating system? Is Samsung situation "FUBAR" (you may have to Google what is FUBAR) we may see that in coming months. While Apple with its own iOS operating system is not living on Google's mercy, the vision of Steve Jobs has made Apple a formidable organization.
With Entry of Xiaomi and online crazy sales deals offers and the infamous Billion day, Mi3 and Redmi has sold more than 8 lakh handsets in the country as per recent reports and it is every bit possible that Xiaomi will be able to sell 1 million smartphones by end of 2014 in the Indian market. With other Manufactures like Intex, Spice, Gionee also becoming aggressive with new smartphone launches it is yet to be seen how does the market share for Samsung gets impacted by the end of December 2014.
Also, check out the best smartphones under Rs. 25000.
---
Smartphone Market Share in India August 2014
Samsung had a market share of above 30% fa ew quarters back with the recent aggression by many companies like Motorola, Micromax, Karbonn have reduced it to 29% as per the report from IDC(International Data Corporation). Samsung had its share of troubles from not getting the latest updates from Google when Kitkat came and predatory pricing from the rivals.
Motorola and Flipkart managed to sell huge volumes greater than 1 million handsets of Motorola Moto E, Moto X and Moto G. This has impacted Samsung in the budget smartphones, mid-range and high-end smartphone sales. The success of Nexus 5 ensured a dent in Galaxy S4 and Galaxy S5 sales in India and globally.
The second biggest challenge is Google partnering with Micromax, Spice & Karbonn for the Android One budget handsets which Google sees as an initiative to"take India Online".
With Entry of Xiaomi and online crazy sales deals offers and the infamous Billion day, Mi3 and Redmi has sold more than 5 lakh handsets in the country which offer great value for money for the buyers. Still, the buyers are queuing for the handsets who have not been able to secure them online.
All this adds up to the market share erosion for Samsung. Micromax, Lava, and Karbonn the home fighters have also faced the heat with extreme predatory pricing by Xiaomi. They are also forced to set very competitive prices for Android One handsets.
Smartphone Market Share Samsung Motorola Micromax Karbonn India For Aug 2014  
With the increased competition we may see a decline in Samsung market share to 27-28% for the month of October 2014 and November 2014.
There has also been issues in sales and distribution for Samsung. Channel partners for Samsung India have openly accused Samsung for letting online retailers sell handsets at discounted prices which has impacted their physical retail sales volume.
 On Motorola & it's Expansion Plans
With Motorola's taken over by Lenovo, there has been an increased focus by Lenovo to increase market share. We are expecting to close the acquisition by the end of the calendar year, which we believe makes us the third-largest smartphone player in the Indian market," Amar Babu, Managing Director at Lenovo India, told economic times in an interview.
Recently Motorola reduced prices of its highest selling handsets Moto G and Moto E which are available now for Rs. 9,999 & Rs. 6,299 on Flipkart. Lenovo plans to take surge ahead of Karbon and Lava to become the third largest smartphone seller India in the coming months.
Amar Babu said Lenovo's smartphone business has tripled year on year, much faster than the pace of growth in the market. Motorola is currently the fifth-largest seller of smartphones in the country. Smartphone sales in India are expected to surpass 80 million devices in 2014  compared with 44 million in 2013.
Shipments grew 84% year-on-year to 18.42 million smartphones in the April-June quarter, according to IDC.
"Motorola is such a strong brand. We will invest and make sure that we leverage it," Babu said. Lenovo will get 3,500 engineers from Motorola Mobility, which should give the company a great level of design capability for its entire smartphone play globally.
Motorola smartphones are available only online in India and their sales crossed the 1 million mark within five months of launch, according to IDC. Lenovo is positive about setting up a manufacturing unit in the country, given the 'Make in India' initiative by the government. The company is hoping for certain incentives, Amar Babu said. We are seeing a positive trend with the make in India initiative from PM Narendra Modi and it is great for the country to attract investment and create more jobs in the Indian market.