iOS Vs. Android Share in India and The US – Apple does not have a significant market share in the Indian market but dominates the US market.
Let's find out more details about why there is a staggering difference in both markets.
iOS Vs. Android Share in India
The number of users will be less than 5%, while Android smartphones account for over 95% of the share.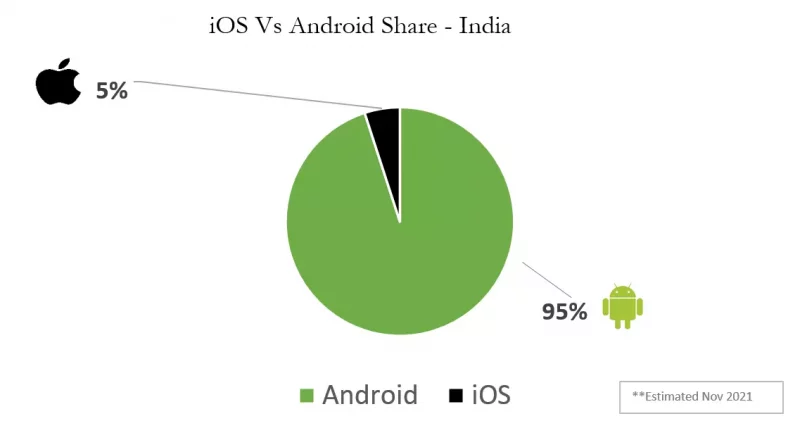 The Indian mobile market is dominated by Android Smartphone Manufacturers – Xiaomi leads with 22% share, followed by Samsung 19%, Vivo 15%, Realme 14%, and Oppo 10%.
Apple has less than 5% market share in India, and the hyper-competitive market is dominated by low-cost Android phones.
| | |
| --- | --- |
| Mobile Brand | Q3- 2021 (Smartphone Market Share) |
| Xiaomi | 22% |
| Samsung | 19% |
| Vivo | 15% |
| Oppo | 10% |
| Realme | 14% |
| Others | 20% |
iOS Vs. Android Share in the US
On the other side, the US has close to 53% share of iOS (iPhones) and about 47% of Android mobiles.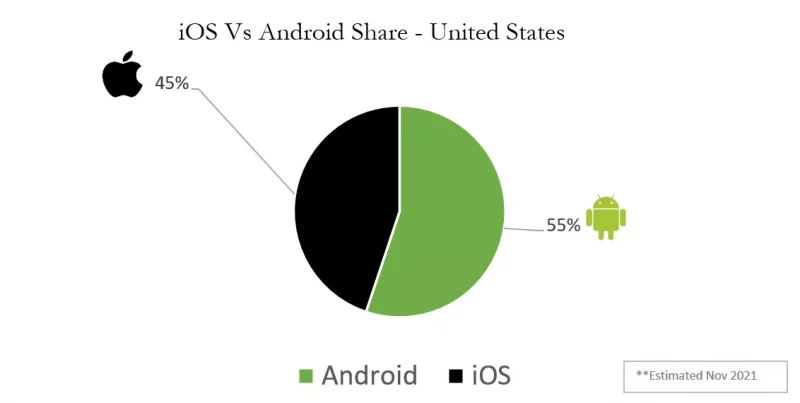 | | |
| --- | --- |
| Top Brands | 2021-Q2 (Mobile Market Share US) |
| Apple | 53% |
| Samsung | 26% |
| Motorola | 12% |
| LG | 3% |
| Others | 6% |
The above data is based on the latest counterpoint research report.
Apart from Apple, Samsung is the leading brand in the US with a 26% market share. Followed by Lenovo-owned Motorola that has close to a 12% market share and then LG with a 3% market share.
Top-selling mobiles in the US are iPhone 12, iPhone 13, iPhone 12 Pro, Samsung S21, S21 Plus, and S21 Ultra. All of these are premium phones and cost above $500.
Also another notable difference between the US and Indian markets is the absence of dominant Chinese brands in the US. Xiaomi, Vivo, and Oppo are not present, and consumers have fewer choices.
iPhones Are Affordable in the US and Expensive in India
Indian love the iPhone, which is more than just a phone for many Indian buyers. It is a status symbol or a style icon that is part of the extended personality of the person.
People judge you by your clothes, shoes, the car you drive, the phone you carry, and lifestyle. If you have the latest iPhone Pro or Pro Max – you have arrived in life. Not everyone judges people by material possessions but a majority do.
iPhones are eye-watering expensive in India.
For instance, the iPhone 13 is available in the US for $799 (or 74*799 = Rs. 59,126), and in India, you have to pay a staggering Rs. 79,990. It is expensive by Rs. 20,000 in India Vs. US price.
For comparison, the Oneplus nine is available in the US for $729 (729*74=53,946), whereas in India, it is available for just Rs. 46,990.
Apple iPhone 13 Pro Max Price Comparison in Different Countries
The above data clearly shows that iPhones are way more expensive in India than in the US. The iPhone 13 Pro Max is 59% more costly in India Vs. the US.
Also, the per Capita income in the US is manifold more than in India, and we can understand why Indians opt for affordable Android Smartphones than an iPhone.
Opting for Old iPhones is a Compromise
The price for old iPhones became affordable as Apple introduced new models in the market. For instance, the iPhone XR is available for Rs. 33,900, and the iPhone 11 is available for Rs. 40,999.
However, these phones lack 5G support and have painfully slow charging speeds. On the other hand, you can easily buy Android smartphones in the sub 30K price range with AMOLED displays, crazy-fast charging, and blazing 5G speeds. I was joking; there is no 5G in India yet, but it will launch in 1-2 years.
Manufacturers have lowered the prices for phones and opted for Made in India mobiles to reduce the tax burden that Apple has failed.
Oppo has set up a Mega Factory in Noida, India, and other Chinese OEMs have also set up manufacturing facilities in India. Apple has a manufacturing facility in India, but it still imports a majority of mobiles from China.
Imported smartphones attract a higher customs duty than the GST (tax), making iPhones expensive in India.
India is one of the fastest-growing economies globally, and Apple should focus more on the market to expand rather than keep higher profits.