Apple last week unveiled the new iPhone 13 series, iPad and iPad Mini, and Apple Watch Series 7 during a virtual event held in California and hosted by CEO Mr. Tim Cook.
The iPhone 13 lineup includes – iPhone 13 Pro, iPhone 13 Pro Max, iPhone 13, and iPhone 13 Mini. In this article, we will check out the detailed specs and features of the new iPhones and share our recommendations to help you choose the best iPhone for you.
The iPhone price in India is exorbitant, and the advice you may get from US content creators will be different than what we are recommending.
Key Highlights For iPhone 13 Series
The iPhone 13 series has 4 new models with a new and faster Apple A15 Bionic Processor, better cameras, and a slightly smaller notch.
Notably, phones are available in India in the first wave for the first time.
The iPad series has a new entry-level model, and a 5G enabled iPad mini with an upgraded design and advanced performance.
Finally, the Apple Watch Series 7 arrives with a flat Always-On Retina display with breakthrough health innovations.
Here we have all the details about specifications, features, availability, and India price.
iPhone 13 Series – All Details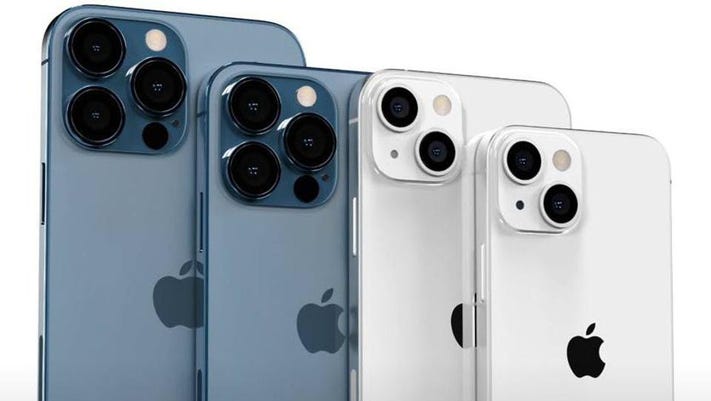 Let's start with some of the commonalities, and then we will look at specific models.
All new iPhones have a flat-edge design, and the front notch is reduced.
The TrueDepth camera enables the phones for facial recognition.
Powering the new iPhones is the next-gen Apple A15 Bionic processor. The A15 Bionic chip has 6 Core CPUs (2 performance and four efficiency cores), and it has five core GPU and 16 Neural core engines for AI and ML.
The only change in the chip for iPhone 13 and 13 Mini is that they have four core GP instead of 5 Core GPUs in the iPhone 13 and 13 Pro Max.
The battery capacity and RAM configurations are unclear, and Apple doesn't share these details.
Besides, all the newly arrived phones include a USB Type-C port, OLED screen, MagSafe support, and broader 5G bands support.
The phones are IP68 rated for splash, water, and dust resistance.
The pre-order for all the phones will begin on September 17 and be available from September 24 in India.
Prices for All the iPhone Models are As follows:
| | | | | |
| --- | --- | --- | --- | --- |
| Storage | iPhone 13 Pro | iPhone 13 Pro Max | iPhone 13 | iPhone 13 Mini |
| 128 GB | Rs. 1,19,900 | Rs. 1,29,900 | Rs. 79,900 | Rs. 69,900 |
| 256 GB | Rs. 1,29,990 | Rs. 1,39,900 | Rs. 89,900 | Rs. 79,900 |
| 512 GB | Rs. 1,49,900 | Rs. 1,59,900 | Rs. 1,09,900 | Rs. 99,900 |
| 1 TB | Rs. 1,69,900 | Rs. 1,79,900 | – | – |
iPhone 13 Pro and iPhone 13 Pro Max:
The premium phones will be available in Graphite, Gold, Silver, and Sierra Blue color.
The phone has a ceramic shield screen protection, textured matt glass back, and a stainless steel body.
Both the phones have a Super Retina HDR display with ProMotion technology and a 120 Hz refresh rate. They have a True Tone, Wide color, and haptic touch.
Moreover, the built-in lithium-ion battery supports MagSafe wireless charging up to 15W and Qi charging up to 7.5 W. The rapid charging technology helps fuel the mobile up to 50% in around 30 minutes.
The most notable feature of the iPhone 13 Pro and Pro Max is the powerful camera system which offers a Cinematic video recording mode!
The Cinematic Mode allows you to do a background blur in videos mimicking the capabilities of an actual DSLR video. The 4K 60 FPS videos can look a lot better when shot using the cinematic mode, and many people will love to shoot videos with this new feature.
For imaging, we have triple rear cameras with 12 MP resolution (Telephoto- f/2.8, Wide- f/1.5, and Ultra Wide – f/1.8). The telephoto and wide-angle lens provide dual optical image stabilization.
The front selfie camera comes with a 12 MP lens with an f/2.2 aperture.
The all-new cinematic mode records the video with a shallow depth of the field when it comes to recording videos. This feature works on a machine learning algorithm that automates the focus when recording video.
Apple iPhone 13 Pro Specifications: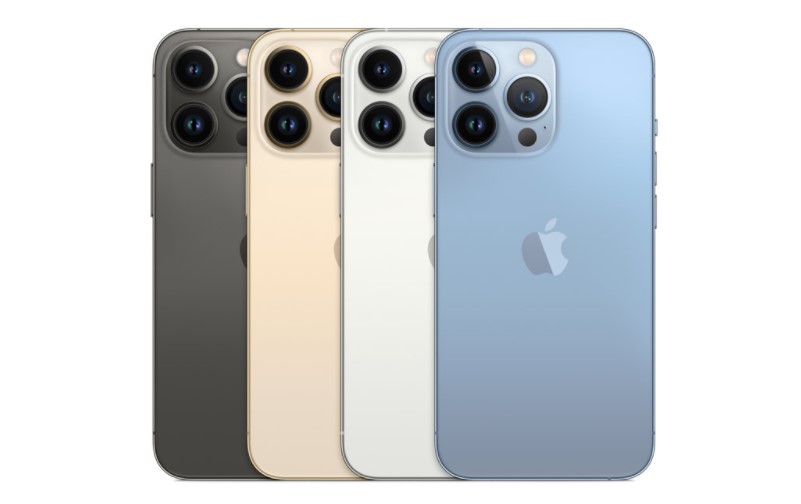 iPhone 13 Pro comes with a 6.1 inches (diagonal) all-screen OLED display.
It has a 2532*1170 pixel resolution with 460 PPI.
The Pro weighs 203 grams and measures a dimension of 146.7*71.5*7.65 mm (H*W*D).
The battery backup is up to 22 hours for video playback, up to 20 hours for video playback, and up to 75 hours for audio playback.
Recommendation – The iPhone 13 Pro starts at Rs. 1,19,990 is pretty steep to pay for a smartphone that will last just 3-4 years.
Considering the price is just $999 in the US it is pretty expensive due to taxes and import duties. However, if you are not too concerned about the price but want to get the best iPhone on the market, it is a good choice.
iPhone 13 Pro Max Specifications: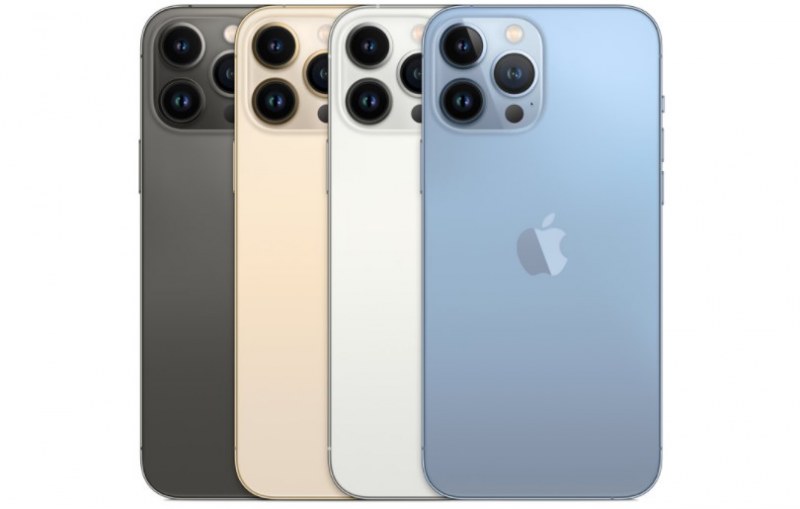 The biggest phone in the newly launched series is the iPhone 13 Pro Max with 6.7 inches diagonal OLED display. It has 2778*1284 pixel resolution and 458 PPI.
The phone weighs 238 grams and has 160.8*78.1*7.65 mm dimensions.
Max offers a bit more battery backup compared to Pro. It has up to 28 hours for video playback, up to 25 hours for video playback, and up to 95 hours for audio playback.
Recommendation – The iPhone 13 Pro Max is a pretty big phone and now everyone wants a bulky mobile. It is also expensive and costs 1,29,990 for the 128 GB storage version. Overall go for it if you are not concerned about the price and want a large display phone with massive battery life.
iPhone 13 And iPhone 13 Mini:
The iPhone 13 and iPhone 13 Mini comes in beautiful shades offering Red, Starlight, Midnight, Blue, and Pink.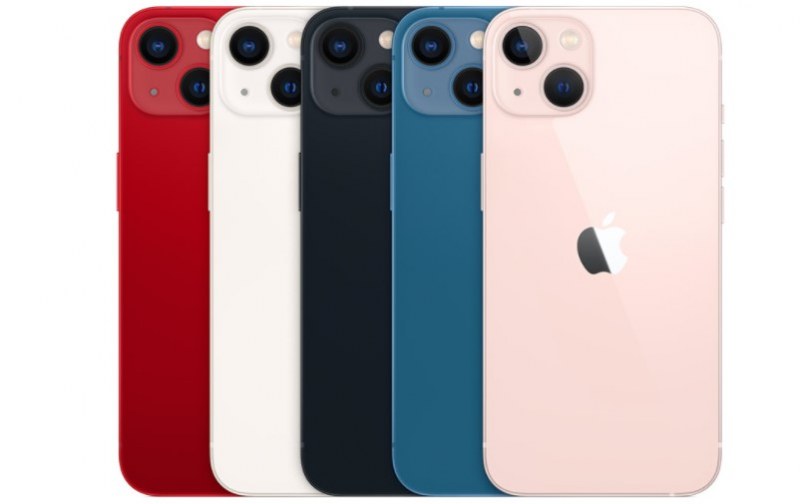 Here, the screen is protected with a ceramic shield, has a glass back finish, and has an aluminum design.
These phones have a 12 MP dual-camera system that includes Wide (f/1.6) and Ultra Wide (f/2.4).
It also supports cinematic mode for video recording. The front TrueDepth camera has a 12 MB resolution with an f/2.2 aperture.
iPhone 13 Specifications:
iPhone 13 has a similar display configuration as the iPhone 13 Pro. It also has 6.1 inches OLED Retina display with 2532*1170 pixels resolution (460 PPI).
The phone weighs 173 grams and measures a dimension of 146.7*71.5*7.65 mm.
Moreover, it has up to 19 hours of backup on video playback and up to 75 hours on audio playback.
Recommendation – The iPhone 13 is a sensible choice if you are buying an iPhone. It is considerably cheaper than the Pro models but offers a similar experience barring some additional features. Considering the price it is a goto iPhone for most buyers.
iPhone 13 Mini Specifications: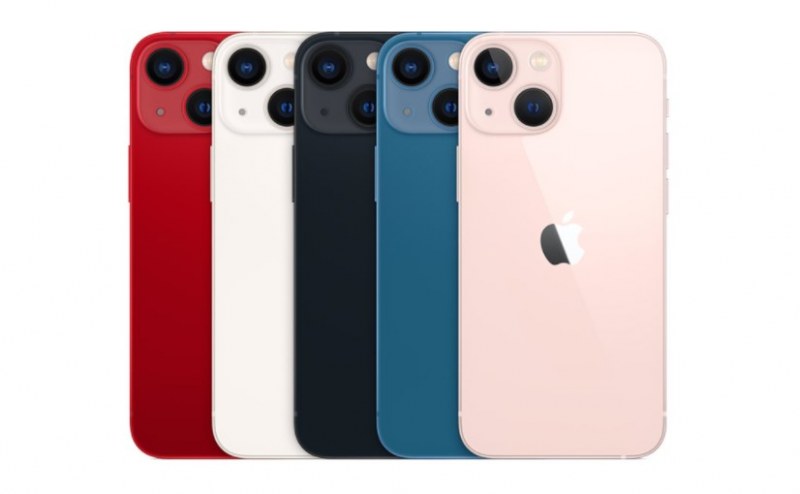 The smallest phone in the lineup, iPhone 13 Mini, comes with 5.4 inches Super Retina XDR OLED display. It has 2340*1080 pixels resolution at 476 PPI.
The lightest iPhone 13 mini measures 140 grams of weight and 131.5*64.2*7.65 mm in dimension.
In terms of battery, it offers up to 17 hours of video playback and up to 55 hours of audio playback.
Recommendation – The iPhone 13 Mini is the most affordable phone in the series, but its tiny screen size is the problem. The display is too small to watch videos or web series or even read for many users. If you are looking for a small phone that is easy to carry and use, the iPhone Mini can be an ideal choice.