We continue to read on social media to buy smartphones made in India or made by Indian brands like Xolo, Lava, Micromax or Intex. Or let's buy from Samsung or Apple and ban the Chinese brands like Lenovo, Huawei, Oppo, Vivo or Xiaomi.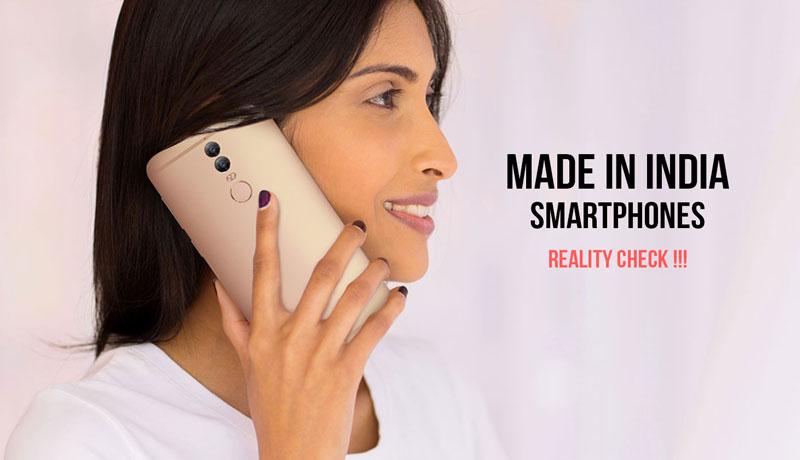 But the questions I continue to ask myself is Do we have a 100% made in India smartphone? Or is the expectation of having 100% made in India smartphone not correct? What is the difference between a Made in India smartphone or Assembled in India smartphone?  
Or Are Indian brands like Micromax, Xolo or Lava Made in India smartphones, really made in India? Let's try to answer some of these questions.
Made in India Smartphones By Indian Mobile Brands – How Things Work
As per a report by Hindustan Times, there is a 373% increase in the value of smartphones made in India from just Rs. 19,000 crore in 2014-15 to Rs. 90,000 crore in 2016-17. A tremendous growth and Flextronics ( the company which makes phones for Huawei, Lenovo, Motorola) at Chennai based plant can make 10 million smartphones a month at the 100 Acre campus in Chennai.
Let's talk about Indian brands first, Micromax launched a smartphone called as Micromax Dual 5 in India couple of months back which is a copy of Qiku 360 Q5 a Chinese mobile.  They recently launched another phone called Yu Yureka black which is also a copy of Wiko U Feel Prime a Chinese mobile.
Now what does Micromax or Intex or Karbonn does – they either they assemble phones in India by importing most parts or they simply buy the phones in bulk from China, rebrand them with their own logo and sell in India at a higher rate. The design is Chinese, the material is Chinese but the brand name is Indian.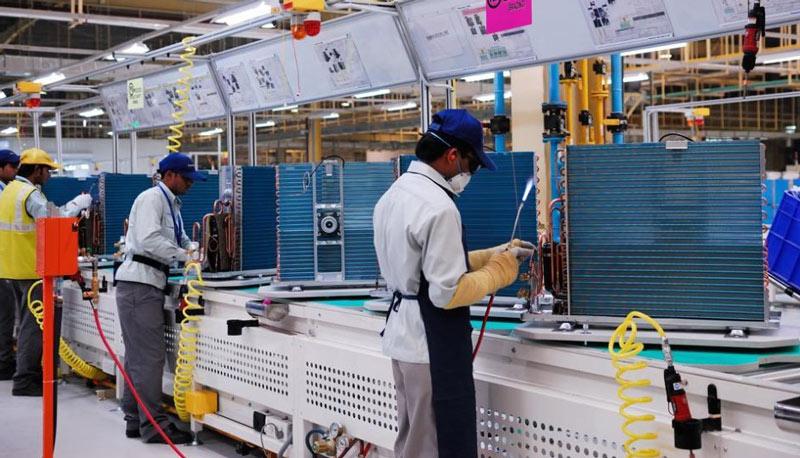 There are lots of ODMs in China, Original designer and Manufacturing companies which make smartphones at their factories and give them to brands to relabel it and sell it.
Recently a new Chinese ODM which used to make phones for Micromax in the past is entering India. The brand is called Topwise and will be launching the Comio S1 phone in India soon.
Now Topwise will not make phones for Micromax which they used to sell in India but top wise will sell the smartphones directly.
Micromax was number 2 smartphone brand in India with 18% market share in 2014, here is an article I wrote about it – Smartphone Market Share Samsung Motorola Micromax LAVA India 2014. Now Micromax share in the smartphone market is less than 7% and Samsung, Xiaomi and Oppo are top 3 players in the market. 
Can Read More – 5 Most Popular Phones in India in 2017 – Xiaomi and Samsung Rules
The business was simple, get the Chinese phones at a low price in bulk, sell them in India and keep the margin. Then lots of Chinese brands invaded India and Micromax now is not even in the top 5 brands in India. 
According to a report by Business Standard published in May 2017 – Only 2% of the Value addition is done in India with regards to Mobile manufacturing. Under the Phased Manufacturing Program by the Ministry of Electronics they want to raise this number in the next 10 years. 
China was benefitting then also with Micromax importing smartphones. Micromax was keeping a margin for itself and sales and distributors and cost of the phones were paid to Chinese vendors.
Why Assemble or Make Phones in India?
Intex, Xolo, Lava, Micromax and Karbonn who all followed the same business model and earned profits in the past are now struggling as Chinese are selling the same phones directly to the Indian buyers than going through these brands. It is more like cutting the middle man.    
Now they mostly assemble phones in India, I did not say they make phones in India, but it is mostly an assembly of imported parts from China and other countries like Taiwan. Notably, China was always benefitting and is still with the sale of parts and whole phone units.
Also, You need to pay an import duty of 12.5% when you import a full smartphone from China on the other hand if you set up an assembly plant in a SEZ (special economic zone) you get tax soaps from the Indian government and pay 1% tax for the smartphone also it is considered as part of Make in India. So most Indian and Chinese brands have setup an Assembly unit in India, including Xiaomi, Vivo and Oppo. 
Vivo has a huge facility in Greater Noida to Assemble (Make) Smartphones in India.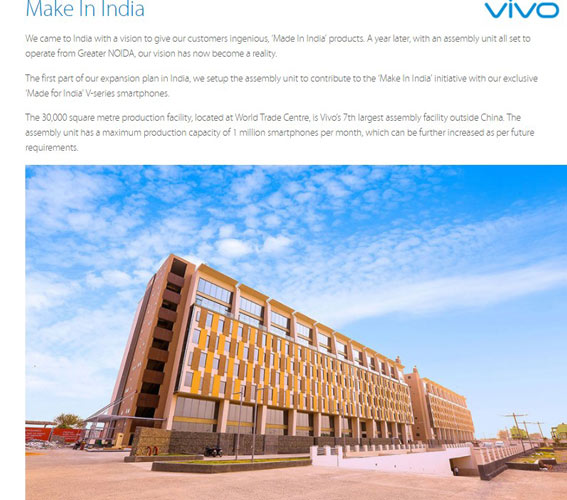 Even the iPhone and Samsung phones are not made in India the iPhone SE is assembled in Bangalore and Samsung has a factory in Noida to assemble phones but certainly, there are many components which are imported from China and other countries.
It is also good for the economy as there is employment generation in the country and also helps the Indian economy.
But the bottom line still is same the parts are imported from China, Taiwan, Korea or other countries where there are manufacturing plants for processors, display panels, motherboards, Ram and other components.
100% Made in India Smartphones?
We can't make a Qualcomm Snapdragon or MediaTek processor in India the investment required for such a plant is huge and also to manufacture motherboard parts there is also a requirement of mineral elements which may not be available in India in abundant quantities. 
No Smartron is also not 100% made in India. 
Also, there are huge semiconductor manufacturing units in China and Taiwan with cutting edge R&D which is difficult to replicate. Several other parts like the display panels and motherboards are made in other countries and are imported from there.
So if we think there is a 100% made in India smartphone then we are not being serious. It is also not going to be possible in the near future. But there are many assembled in India smartphones which are sold in the market and some of the parts for these are also made in India. 
Additionally, India also has R&D and Design labs for creating the blueprints for new mobiles.
Jio Phones Dongles and other Equipment From China
JIO phone – Some days back JIO phone was in news and since it is really cheap the units are also imported from China and they may assemble it here in India as well but again the processor and other parts will need to be imported.
Dongles for Airtel, Vodafone and Idea are mostly made by Huawei and ZTE which are both Chinese and these are sold under the brand name of the Indian telecom operators.
There are so many examples of products which come from China either fully assembled from there or are assembled here.
Concluding Thoughts – Made in India Smartphones
As per an NDTV report, 37 Mobile companies are setting up the manufacturing units in India and it will lead to 1.65 lakh direct and indirect jobs.
Though Made in India initiative has helped India a lot in terms of purely importing the smartphones from China to India and selling them to assembling the devices in India. Creating more jobs and helped the economy.
We can't expect 100% in house manufacturing of a technology driven industry to happen over night. It is a positive step by the centre and state governments and with time there is bound to be more progress and more allied industries will also come to India. As India is one of the largest mobile markets in the world.
"Make in India" is a good initiative and will help the Indian economy in the long run. But for now, the reality is what I have stated above.