Shouts to Ban the Chinese Products are growing across the globe. Especially in India, after the Chinese' recent killing of Indian soldiers in Galawan valley. Sentiments To Boycott Made in China, products, Apps, and services are gaining steam.
On 29th June 2020, the Government of India banned 59 Chinese Apps citing concern for the safety and the sovereignty of Indian cyberspace. However, the media is labeling it as a Digital Surgical Strike by the Indian Government.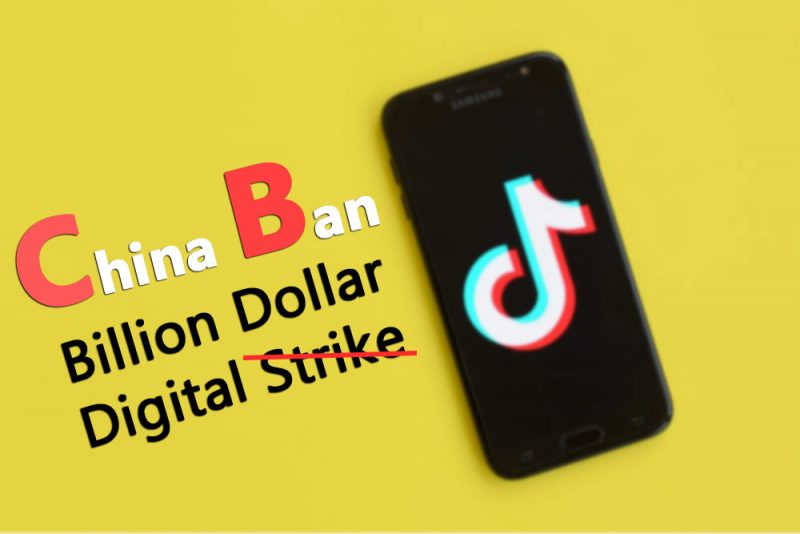 It is a bold move and will not go down well with the Chinese dictators whose official spokesperson( Zhao Lijian) has already cited concerns over it.
But can we afford to do ban Chinese Companies and Products? Let's explore if we can, and will it be prudent to do so?
But first, let's understand why Indians want the GovernmentGovernment to ban Chinese products and why there is so much anguish expressed on social media?
Note – You can freely use the article for case studies or group discussion, but please mention the source as Candytech.in. It takes a lot of time and effort to write these detailed articles.
Why do People Want Governments To Ban Chinese Products?
Firstly, People are angry about the cover-up of the Corona Virus by the Chinese GovernmentGovernment. For not being transparent about the information, Human rights violations, and muting the whistleblowers.
China stopped the spread of the Virus in their own country by sealing the epicenter (Wuhan). But they never stopped International flights from Wuhan to prevent the global spread, even knowing that the Virus can spread from person to person and is an airborne disease.
Twitter has several hashtags like #ChinaLiedAndPeopleDied #AnywherebutChina #BoycottChineseProducts #CCPLiedPeopleDied #BoycottChina with several 1000 Tweets.
Global Chinese companies now face the brunt of anger for the deeds of the CCP (Chinese Communist Party).
#BanChineseGoods – People support this movement, and many oppose the ban on Chinese products and Apps.
But the movement is not thought or planned. It is a knee-jerk reaction to the CoronaVirus pandemic and the aggression on the border.
A considerable number of Chinese hardware and software companies have come under fire from the supporters of the movement.
Undeniably, Chinese people are hardworking, tenacious, and adaptable; they have created world-class companies, products, Apps, and services. The problem has been the CCP for which there is a lot of criticism, even inside China.
There are several reasons why people want to ban Chinese products – one of the biggest is to help boost local manufacturing and enable native companies to make money and provide employment.
However, the Indian government has failed to protect the local manufacturing companies. They were sleeping when China was making in-roads and destroying our Industries.
Why do Indians Want the Government To Ban Chinese Products?
For India, there are several reasons to hate China – they have killed the local manufacturing. Everything Indians are currently buying comes from China. It's making the nation dependent and in turn, empowering CCP.
Another primary reason is China helps Pakistan at every global forum and takes a stand against India. It supplies arms, ammunition, technology, and machinery and offers financial aid to keep the pressure on India. Consequently, it fuels the war in Kashmir and the death of Indian soldiers and citizens.
Moreover, there have been several stand-offs between India and China at the border.
Further, China supported Pakistan on the abrogation of Article 370 in Jammu and Kashmir at the UNSC. To oppose the move, the trader's body of India, CAIT, called for the Boycott of Chinese products and revision of import duty to 500%.
Additionally, China has been stonewalling India at the UN to become a permanent member for years. Also previously, China has opposed India's appeal in the UN to ban Jaish-e-Mohammed chief Masood Azhar. Several other reasons make a lot of Indian nationals dislike China.
More importantly, the recent killing of 20 Indian soldiers in Ladakh has angered a lot of Indians who don't want to support China anymore.
China's stupidity in the Galavan valley has done irreparable damage that will resonate for years. It doesn't matter for many patriots what China has to offer. Nothing is above the lives of our soldiers.
On one side, China wants to access the world's biggest consumer market (India) for trade. On the other hand, it wants to threaten our sovereignty and isolate us by conniving with Pakistan and Nepal.
Dear China, you want to do business, you need to be polite.
Why Do People Buy Made in China Products?
Chinese products are cheap and offer a lot of value for the money. Indians are bargain hunters, and the Chinese products are a perfect fit for most low-income buyers. Nearly 70% of the phones sold in India are from Chinese brands like Xiaomi, Oppo, Vivo, Realme, Oneplus, Poco, etc.
To make matters worse, Chinese companies are also accused of gathering user information and spying on people.
Ban on TikTok (59 Chinese Apps banned By Indian Government)
On 29th June, the Indian GovernmentGovernment banned 59 popular Chinese Apps, including TitTok, in India, and you will not be able to access them on Android and iPhone. Several Indian Apps like Mitron, Chingari, and Fireworks can replace TikTok in the country in the coming days.
Also, the Top Apps banned include Helo, Likee, Vigo, Shareit, Xender, Cm browser, UC browser, Du Recorder, CamScanner, Vigo Video, Mi Video Call, and Mi Community by Xiaomi, Clash of Kings, and e-commerce platforms from China such as Club Factory, and Shein.
Here is the complete list of 59 Chinese Apps that are banned by the Indian Government:
In addition to the above, the US may ban the popular video App TikTok on government work phones citing security concerns.
Sen. Josh Hawley said, "As many of our federal agencies have already recognized, TikTok is a major security risk to the United States, and it has no place on government devices. Also, Apple recently shared that TikTok was snooping on users data. "
Bytedance, the developer for TikTok, has successfully captured a vast market in India in the last two years. There are over 1.5 Billion global users for the App, and nearly 44% of the users are from India.
Also, Chinese Apps are not spotless; privacy concerns have been raised previously. Popular document scanning App CamScanner was banned on play store due to security concerns. Also, Apple has found that TikTok was gathering user information, which they are not supposed to.
Apps ban is easy, but what about the products?
Can We Ban Chinese Products in India?
China is the big factory of the world that makes goods for everyone. We may like it or not, but they take care of global production.
China has a colossal GDP of close to 15 Trillion dollars Vs. less than 3 Trillion dollars for India. The incredible amount of resources and technological advancements give them the edge and power to dominate the world.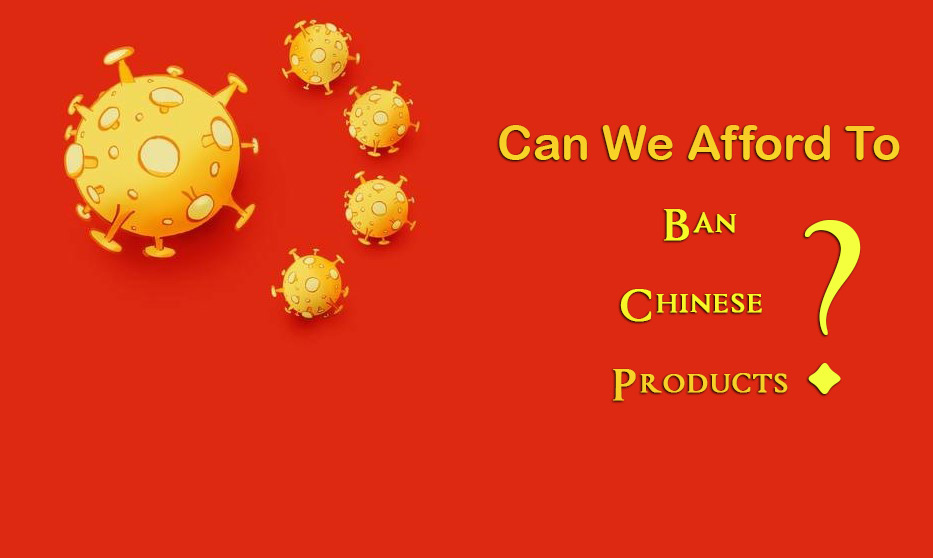 Banning Chinese products is not prudent, viable, and currently possible without severe consequences. International laws and regulations from the World Trade Organization prevent countries from taking such steps.
However, India can cite national security concerns for certain products and can ban them, similar to what the US has done with Huawei. India is also scrutinizing the stock investments by the Chinese to prevent them from taking control of the Indian companies.
China is the fourth largest export destination for India and the most significant import destination. Undoubtedly, China is the biggest trade partner of India, and the Indian Government can't ban Chinese Products easily.
Chinese exports to India are nearly $70 billion, and China imports about $17 billion of goods from India.
The major commodities imported by India are:
Electronic Equipment (Gadgets, Phones, Electrical Machinery, etc.)
Industrial Machines, engines, pumps
Chemicals, Pharmaceuticals, and Fertilizers
Iron, steel, Plastics
Gems, precious metals
Ships, boats
Medical, technical equipment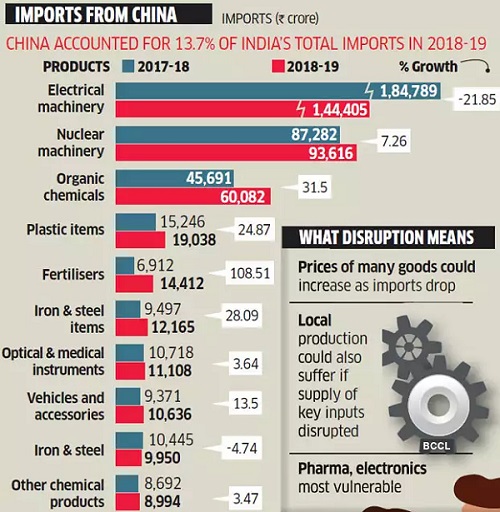 Indian consumers want affordable products, and the Chinese can make them due to economies of scale. For instance, the toy market in India has more than 80% share of the Chinese companies, whereas Indian companies only make 20% of the toys sold.
A study by ASSOCHAM suggests that 40% of the toy manufacturing companies are closed in India due to predatory pricing by the Chinese, and 20% more are on the verge of shutting down.
Death of Local Manufacturing
There were 100s of Bicycle manufacturing units in Punjab, but more than 200 units are shut down due to importing cheaper parts via China. China is even using other countries like Bangladesh and Sri-lanka to set proxy manufacturing units and using these SAFTA countries, dodging the customs charges to import the parts in India.
Another example is the Sports goods manufacturing in Punjab and especially near Jalandhar, where football, volleyball, cricket gear, and several other sports goods were once manufactured. But now the industry has shrunk.
Notably, more than 50% of the manufacturing units are either shut down or are running at less capacity due to the cheaper imports from China. India even supplied soccer balls during the 1990 Fifa World Cup, but now there is nothing to speak home about.
Moreover, these are some of the examples, How made in China has killed the Made in India dream in the last two decades. Thousands of small units have vanished, and the workers have become jobless due to the influx of cheaper Chinese products.
Ban on Chinese Products – By Indian Government
The Government can't do a blanket ban on Chinese products.
However, boycotting products is in the hands of people. If people have good alternate choices from local manufacturers at competitive rates, there will only be an impact.
Also, even if a hypothetical ban is put on all Chinese products, currently, it will be detrimental to the Indian economy. The cost of goods will rise, resulting in increased inflation. It can hurt consumer spending and increase the risk of economic recession.
Already, the economy is struggling with the jolt due to the Coronavirus, and this can be devastating.
How Can India Ban and Boycott Chinese Products?
If India wants to reduce its reliance on Chinese products, it needs to be done in a phased manner and with meticulous planning.
Rather than banning Chinese products, we should increase the import duty on such products to the extent that local products become cheaper than the imported ones.
Also, products like decoration lights, shoes, clothes, toys, and other low-tech products/ gadgets should have a very high import duty to discourage imports and boost local manufacturing.
Moreover, most of these Chinese products (– shoes, clothes, toys, etc.) selling in the market without Bill. Moreover, this is a significant loss for the Government as there is no tax revenue from such products. There should be a strong crackdown on such sales and illegal imports from China.
Further, India needs to build its ecosystem and provide global investors with the right environment, ease of doing the business, less red tape, and infrastructure to boost local manufacturing and IT.
It is not happening in India; look at how the Department of Telecom, the Government, and the courts have choked the infallible Vodafone Idea. This is not the environment in which businesses will survive, and the past is even dark, considering several Global MNCs have lost money (Sistema from Russia, Telenor (Norway), and so many more.
The snail-paced judicial system and corruption in the government will not create an environment needed to bolster the economy and stand up to China. Realities are harsh, and we must not have rosy dreams of replicating China's success without building the infrastructure and systems to help entrepreneurs.
Banning Chinese Products Alone Will Not Help
Banning Chinese products alone is not going to help. However, strengthening the "Make in India" initiative to serve global consumers will go a long way.
On the positive side, India has an untapped opportunity for attracting IT projects, gaming development, and large-scale Apps and software development due to a large talent pool.
The growing voices to move the manufacturing away from China can help India if the government and local businesses help global MNCs set up production units in India.
As the global industries are looking for a new destination to move the investment out of China, India can play a crucial role.
Even our freedom fighters started the Swadeshi Movement to weaken British rule economically. The growing influence and power of CCP have threatened the world, and probably deep down, world leaders want a balancing act.
Can US/Other Countries Ban Chinese Products?
US President Donald Trump is furious with China for the spread of CoronaVirus and lack of transparency. He has already said that the US is looking for more trade tariffs to punish China for the wrongdoing.
Further, the US has a considerable reliance on China for imports. The total trade between the two nations was 737.1 Billion Dollars in 2018 (Source). The US imports 558 billion dollars of services and goods from China and exports 179 Billion Dollars of goods and services. It is enormous, even in comparison to India.
Major US companies like Apple manufacture all products in China due to lower operational costs and have made considerable investments in the country.
Considering the above, it is not likely the US can ban trade with China, but Coronavirus will have consequences.
Other major countries such as Japan, Australia, and Germany are also furious with China and may like to reduce the dependence on Chinese trade in the coming months and years.
Government Mandates E-Retailers To Mention Country of Origin
The Indian Government is in no mood to forget about the killing of 20 Indian soldiers in the Galwan Valley.
Based on the latest report By ET, E-Commerce websites like Flipkart and Amazon are asked by the Indian authorities to display "Country of Origin" on the new products listed on their platform by all sellers, starting from 1st August 2020.
Also, gadgets assembled in India using a majority of Chinese parts will get a made in India label which defeats the purpose in this use case.
Can We Trust Chinese Tech Products? Are they Safe?
There was a recent article that was published in Forbes. The report accuses Xiaomi of spying on its users. It is titled "Exclusive: Warning Over Chinese Mobile Giant Xiaomi Recording Millions Of People's 'Private' Web And Phone Use."
The article raises several concerns about the user privacy of Xiaomi smartphones and how the company is sending data back to China.
It goes on to say that Xiaomi tracks which websites the user is visiting, search queries (things you type in Google search), items viewed on Xiaomi's news feed. All of this is tracked even when you are in "incognito" (private) mode.
Further, this data is not anonymous, and the company can attribute it to a user. Typically, major tech giants like Google and Apple tracking ensure that the data is anonymous and used to better the user experience.
Nevertheless, Xiaomi India CEO, Mr. Manu Kumar Jain, has ridiculed the report by calling it fake news.
The problem is Andrew Tierney, the security consultant who analyzed for Forbes, has got it on video showing how Xiaomi tracks data. It is hard evidence and difficult to refute.
Global Co-operations is Essential
Without Global Cooperation, it is wishful thinking to Ban Chinese products and makes India "AatamNirbhar" in all sectors. Several countries like the UK, the US, Japan, Australia, India, Canada, Taiwan, and Hong Kong do not favor the expansion of China and the CCP.
However, on the other side, Europe and Russia are mute even after China's new Security Law for Hongkong (Impacting the fundamental rights of citizens). There is little to no condemnation by the political parties of several countries that also proves Chinese dominance and influence on those countries.
India can't fight alone this pandemic until unless there is global cooperation to pressure China. Even then, it will be extremely difficult to castigate China and make them respect the national integrity of other countries.