Apple Watch Buying Guide – Which One To Choose?
Apple Watch is the best-selling smartwatch globally, and Apple has about a 40% share of smartwatch shipments. Followed by Samsung, which has about a 10% share, and other key companies, Huawei, Fitbit, and BBK electronics.
In fact, Apple sells more smartwatches (Over 35 Million annually) than the entire Swiss Watch Industry (Rolex, Swatch, and TAG Heuer), etc.
Apple recently(Oct'21) launched the Apple Watch Series 7 and discontinued the Series 5. So, there are different Apple Watches available in the market.
The Series 3 is the most affordable, and it was launched a couple of years back but still offers excellent features.
The Series 7 is the latest from Cupertino Tech Giant and comes with some nifty modern features.
Everyone loves Apple Watch for its elegance, brand value, functionality, and underlying technology. It is ideal for men and women.
Let's check out the details for each watch and decide which is best suited for you.
Apple Watch Series 3: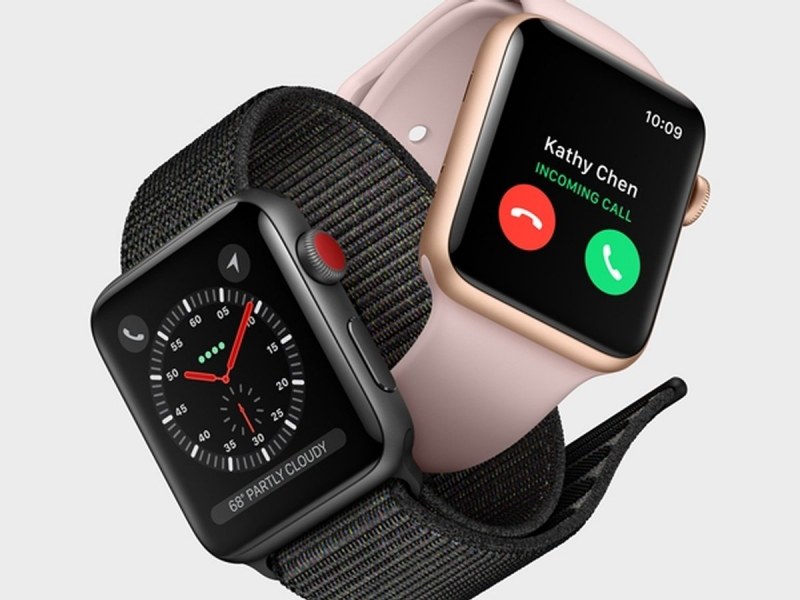 Apple Watch Series 3 comes with a Retina OLED screen Sapphire crystal glass protection. It has a 3D touch display and runs on the WatchOS 4.0.
Moreover, it is available in two different case sizes of 38 mm and 42 mm. The starting price for 38 mm is INR 20,900, and for 42 mm, it is INR 23,900. You can buy it in 3 color options – Space Black and Silver.
The Apple smartwatch can measure calories burnt, step count, distance, sleep quality, and active minutes. Above all, it keeps you healthy.
Lastly, it allows receiving/making calls, texts, and social media notifications. It supports voice control.
Series 3 notifies for high or low heart rate notifications and abnormal rhythm. It has an optical heart sensor and Emergency SOS.
The watch doesn't have a fall detection or blood oxygen (SPO2) measurement feature.
It has an aluminum case offering durability, sturdiness and making it is lightweight.
Additionally, the wearable is swim-proof with 5 meters depth.
It has a battery backup of up to 18 hours and supports wireless charging.
Apple Watch SE: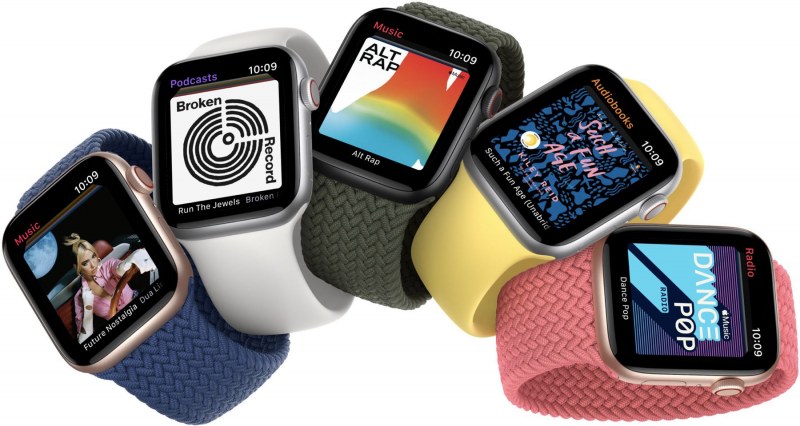 Apple Watch SE comes in a size of 40 mm and 44 mm. It is available in only GPS and GPS+Cellular models.
The starting price for the GPS variant is INR 29,900, while GPS+Cellular is INR 33,900.
In addition, it is available in Gold, Silver, and Space Gray case with sports bands and loops.
The Apple Watch SE comes with a large Retina OLED display. The display is the same as series 6 and 30% larger than Series 3 due to lesser bezels. The larger and brighter display allows you to see the information clearly in daylight.
The Watch SE has a 2x faster processor than Apple Watch Series 3, making it more snappy to use.
Further, Watch SE lets you share the watch faces with your friends and family by discovering them online or in the App store.
It is made from Aluminum and is lightweight. It has fall detection, and Emergency SOS features that are missing on the Series 3.
Like other Apple watches, SE also gives high and low heart rate and irregular heart rhythm notifications.
Besides, the fitness wearable precisely tracks all your daily activities: running, walking, cycling, yoga, swimming, and dance. You can view your activity report in Fitness App available on iPhone.
The watch has a waterproof design and can track swimming workouts. It has a built-in compass to get you direction and real-time elevation readings.
Therefore, the cellular model lets you get calls, texts, and talk to Siri directly from the wrist without your smartphone.
The sleep app sets sleep goals every night to get a comfortable sleep improving your productivity.
The Apple Watch SE lacks ECG and SPO2 features that you will find in Series 6 and Series 7, along with some more advancements.
Apple Watch Series 6: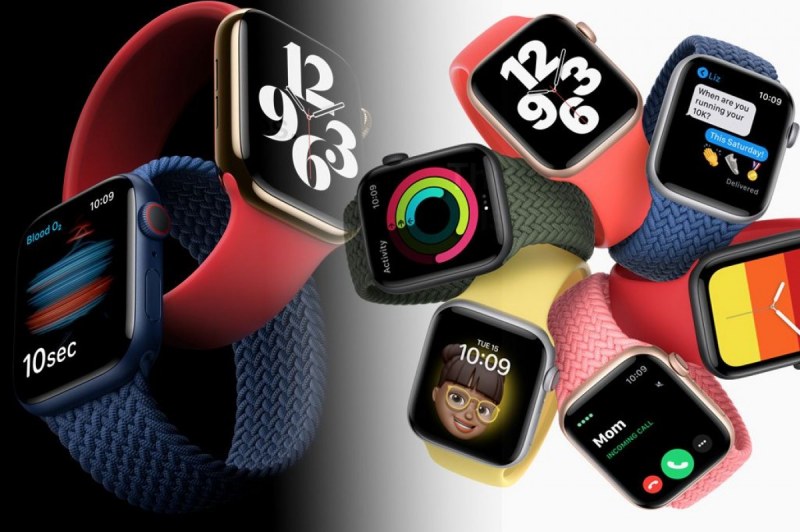 Apple Watch Series 6 comes with lots of enhanced fitness features compared to SE or the Series 3.
Firstly, the Series 6 comes with a new S6 SiP (System-in-Package) and a blood oxygen sensor. It has some minor refinements.
Also, it is available in both GPS and GPS+Cellular models in India. It comes in 40 mm and 44 mm case sizes.
The GPS model costs INR 40,900, whereas GPS+Cellular has a price tag of INR 44,900. The device is built from stainless steel and Aluminum, so the pricing is accordingly.
Secondly, the fitness watch has an Always-On Retina display. It is 2.5 times brighter outdoors when the wrist is down so that the watch face can be seen easily without waking up the screen. It comes with new and trendy customizable watch faces.
Further, the wearable comes with an ECG app that allows taking a cardiogram from your wrist right away and anywhere.
The blood oxygen measure comes with the all-new revolutionary sensor and the Blood Oxygen app (SPO2 Tracking)so that you get precise health data.
You can track workouts such as – running, swimming, yoga, cycling, dance, and almost all-day activities.
Moreover, the watch with cellular configuration allows you to answer calls and texts right from your wrist.
It gives notification on fluctuation in heartbeats. Further, it features fall detection.
The connectivity options include 5GHz WiFi and U1 Ultra Wideband for secure connectivity.
The straps are interchangeable so that the user can find the right look for the right moment.
Additionally, it offers a solo loop (soft silicone stretchable rubber) and braided solo loop (interwoven silicon threads)
Apple Watch Series 7: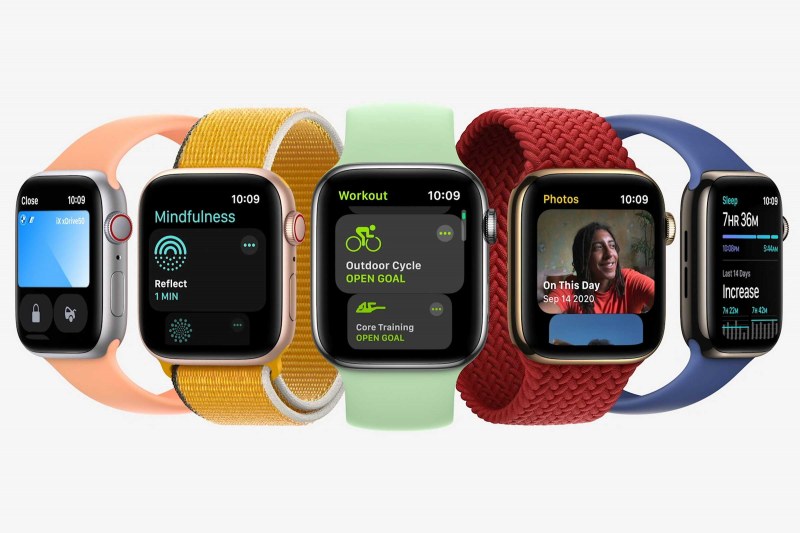 Apple Watch Series 7 comes with a larger display and a more redefined design. It was launched alongside the iPad and iPhone 13.
Indeed, Apple brings an all-new display and long-lasting battery life.
The watch can measure blood oxygen levels with a revolutionary sensor. Also, the other notable features comprise mindfulness and sleep tracking that keep you healthy.
It is more durable with a crack-resistant display so that it can withstand any wear and tear. Besides, the watch is rated IP6X dust resistance and WR50 water resistance.
Furthermore, the watch is powered by the latest watchOS 8. It comes with a 41 mm Always-On OLED Retina display, indeed. It has a rectangular full-screen dial.
The watch includes fitness functions such as – step count, calorie count, heart rate monitoring, reminder, and date & time display. Thus, it allows tracking all-day basic activities.
According to reports, Series 7 has a more seamless design with reduced bezels by 40%. Next, the display is 20% larger than Series 6 and Watch SE, whereas 50% larger than Series 3.
It is available in Silver, Grey, Gold, Blue, and Red color. The Series 7 price starts at Rs. 41,990 for the GPS version, whereas the GPS+Cellular version costs Rs. 50,990.
Key Specification comparison table – Apple Watch Series 3, SE, Series 6, and Series 7:
Features
Apple Watch Series 3
Apple Watch SE
Apple Watch Series 6
Apple Watch Series 7
Display
1.65" Retina OLED, 1000 nits brightness
1.78" Retina LTPO OLED, 1000 nits brightness
1.78" Retina LTPO OLED, 1000 nits brightness – Always-On display
Retina LTPO OLED, 1000 nits brightness

– Always-On display

Case Size
38/42 mm
40/44 mm
40/44 mm
41 mm
Operating System
Watch OS 4.0
WatchOS 7.0
WatchOS 7.0
WatchOS 8.0
Chipset
Dual-Core S3 SiP
Dual-Core S5 SiP
Dual-Core S6 SiP
Dual-Core S7 SiP
Onboard-Memory
16 GB
32 GB
32 GB
32 GB
Connectivity
WiFi & Bluetooth 4.2
WiFi & Bluetooth 5.0
WiFi & Bluetooth 5.0
WiFi & Bluetooth 5.0
Battery
Up to 18 hours
Up to 18 hours
Up to 18 hours
Up to 18 hours
Blood Oxygen App & ECG
–
–
Yes
Yes
Heart Sensor
Optical
2nd Gen optical
3rd Gen optical
4thGen optical
Crown
Digital
Digital Crown with haptic feedback
Digital Crown with haptic feedback
Digital Crown with haptic feedback
Fall detection
–
–
Yes
Yes
Noise monitoring
–
Yes
Yes
Yes
Cellular connectivity
–
Yes
Yes
Yes
Compass
–
Yes
Yes
Yes
Altimeter
Yes
Always-On
Always-On
Always-On
Case Material
Aluminum
Aluminum
Aluminum, Stainless Steel, & Titanium
Unspecified
Pricing Comparison Apple Watch:
The price table below has the cost of Apple series smartwatches based on their case size.
| | | | | |
| --- | --- | --- | --- | --- |
| Features | Apple Watch Series 3 | Apple Watch SE | Apple Watch Series 6 | Apple Watch Series 7 |
| GPS | 38 mm – 20,900 | 40 mm-29,900 | 40 mm-40,900 | 40,990 |
| GPS | 42 mm -23,900 | 44 mm -32,900 | 44 mm – 41,490 | 40,990 |
| GPS + Cellular | – | 40 mm – 33,900 | 40 mm-49,900 | 50,990 |
| GPS + Cellular | | 44 mm – 36,900 | 44 mm – 50,900 | 50,990 |
Concluding Thoughts:
All the Watches, as mentioned earlier, are excellent. The Apple Watch SE is the best value for money with a large display and offers almost all essential features. The display on Series 3 has larger bezels, and I would personally spend a little extra and get the Apple Watch SE.
If you have a higher budget, the latest Series 7 is an excellent choice with features like ECG, SPO2, and always on display – it is the best a man or woman can buy.
So, that's all from our side; please ask in the comments below if you have any questions.
We also recently wrote about the best watches for men or the best smartwatches for women.
Information Source and further reading – Apple Official Website