Smartwatches tell you more than conventional functions like time and date. These are wearable computers offering rich information to help you improve health and productivity.
Smartwatches are now used to track fitness and health. Active monitoring is helping millions of people to improve their general health.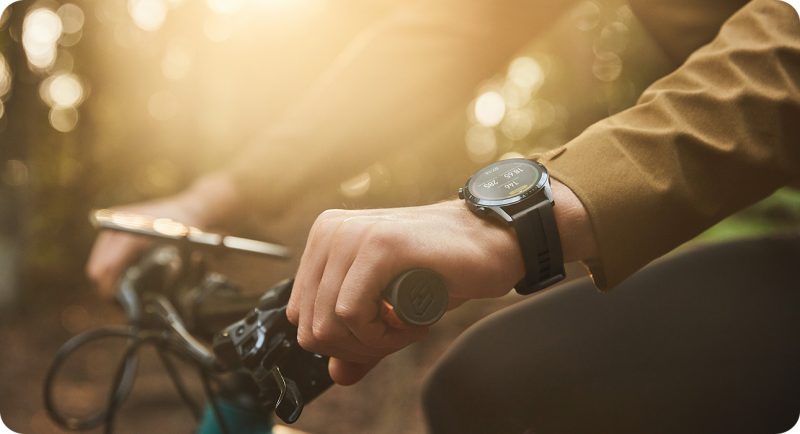 You can effortlessly monitor heart rate, and everyday workouts and get alerts, alarms, and reminders.
In this article, you will find the latest Android and iOS compatible watches for men that you can use with most smartphones.
I have added specs, features, and some of the Pros and Cons. Choose the watch that you like and that fits into your budget.
Also, We recently wrote about the Best smartwatches for Women and the Top 10 Fitness bands that you may like to explore.
Top 20 Smartwatches for Men 2022
Let's start with one of the most feature-loaded smartwatches.
Noise ColorFit Ultra Bezel-Less Smart Watch - Price Rs. 3,499
The Noise ColorFit Ultra bezel-less smartwatch has an extensive and bright 1.75 inches TruView touch-enabled display. The watch is available in India with a price tag of INR 3,499. Also, it is available in Cloud Grey, Gunmetal Grey, and Space Blue colors.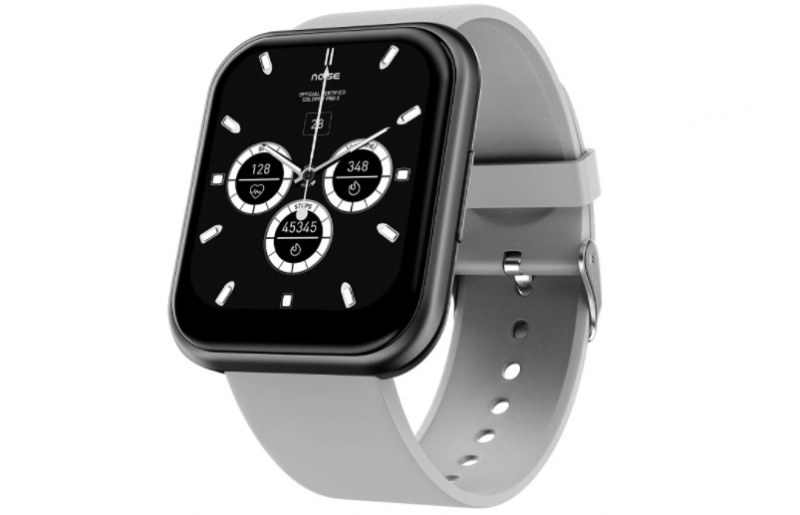 In addition, it is your best personal health assistant with excellent health and fitness features and specifications. This trait includes Blood Oxygen level, heart rate, sleep patterns, and stress level.

It has up to 9 days of battery backup on a single charge. Further, it allows call notification and replying to texts.
Key Specification:
1.75" TruView touch screen display
320*385p resolution
Up to 9 days of battery backup
IP68 water resistivity
60 sports modes
Tracks SpO2, heart rate, stress level, and sleep monitoring
100+ watch faces
Weight - 47 gram
Bluetooth 5.0
Compatible - Android 6.0 or above & iOS 8 or above
Price - ₹ 3,499
PROS:
Decent battery life
Allows texts and call notification
Lightweight with a professional look
CONS:
Lacks quick reply feature
Fire-Boltt Ring Bluetooth Calling Smartwatch - Price Rs. 4,999
The intelligent Ring Fire-Boltt wearable comes with the smart Bluetooth calling function. The watch is available for INR 4,999 on Amazon India and in White, Beige, Black, Blue, and Red color.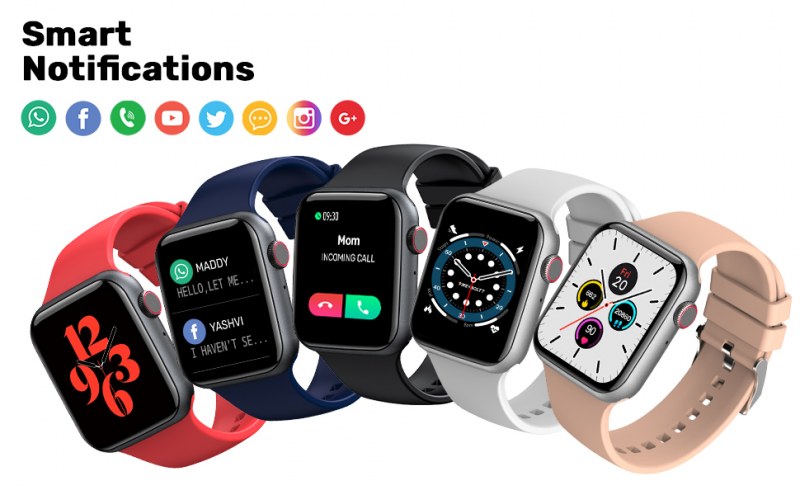 Moreover, the device measures real-time Blood oxygen (SpO2) and continuously tracks the heart rate. Also, it has sleep and fitness trackers.
The industry-leading HD display comes with a massive 1.7 inches. It has a sleek and metallic body with one-click control and a honeycomb menu.
Further, the battery comes with up to 8 days of battery life (without Bluetooth calling) whereas 24 hours with Bluetooth calling.
Key Specification:
1.7" HD touchscreen display
Up to 8 days of battery backup
Supports Bluetooth calling
Metallic body with honeycomb menu
Continuous heart rate and SpO2 level monitoring
Inbuilt speaker
Allows text messages
Sports and fitness tracking
Multiple watch face and smart controls
Weight - 57 gram
Bluetooth 5.0
Compatible - Android 6.0 or above & iOS 8 or above
Price - ₹ 4,999
PROS:
Calling function and receives texts
Great display quality
Classic look with metallic body
Realme Watch S - Price Rs. 4999
Realme makes the most affordable smartphones, and now the brand has ventured into wearables. Recently, they launched the Realme Watch S which comes with an attractive design and decent build quality.
The Realme Watch S comes with a premium look, and it is highly durable because of Corning Gorilla Glass 3 protection.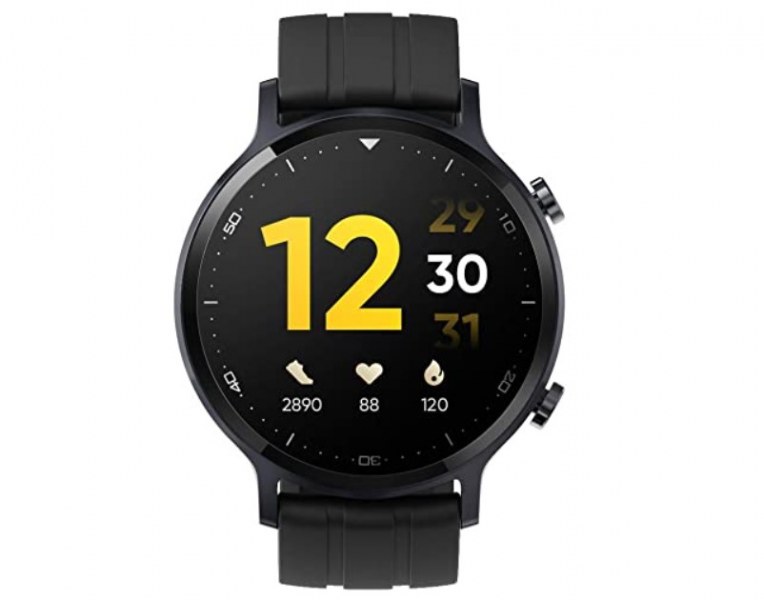 The smartwatch has a 1.3 inch TFT LCD touch screen display and a 360*360 pixels resolution and 600nits brightness.
It comes with various health monitor sensors like an SPO2 monitor that tracks the oxygen level in your body and a 24/7 heart rate tracker. Additionally, it has 100+ stylish watch faces to customize the watch display and IP68 certification that makes it water-resistant.
Besides, the watch displays incoming call alerts and other notifications and has 16 dedicated sports modes to track health and fitness activities.
The Realme smartwatch is fueled with a 390mAH battery that offers 15 days of working time for long-lasting usage.
KEY SPECIFICATION:
1.3 inch TFT LCD touch screen display. 360*360 pixels resolution.
IP68 water-resistant.
Offers 16 dedicated sports modes.
390mAH battery capacity.
Charging time - 2 hours.
15 days of working time.
Weight – 48 grams.
Bluetooth 5.0 support.
Compatibility – Android 5.0 or more.
Price – ₹ 4,999.
Pros:
Water-resistant.
Massive battery life.
Cons:
Lacks iOS support.
Lacks Amoled Display.
Amazfit Bip U Pro - Price Rs 4,999
The Amazfit Bip U Pro was launched in April 2021 in India for a price tag of INR 4,999. It comes with excellent features for the price.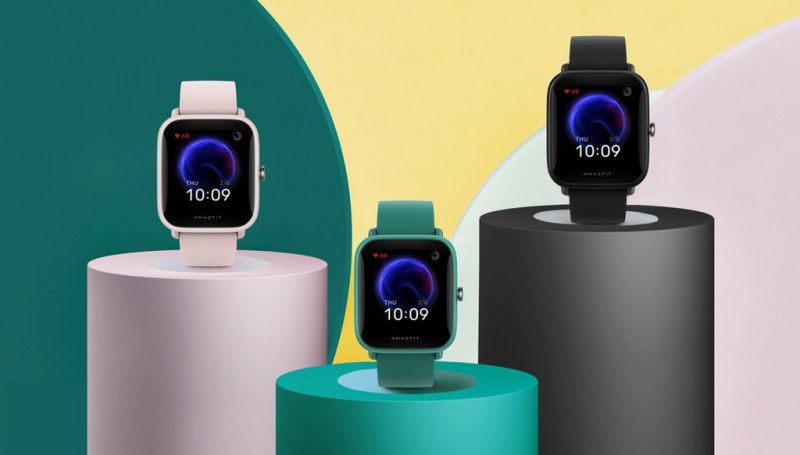 The new smartwatch from Aamzfit is available in three different colors of Black, Green, and pink on Amazon India.
The smartwatch has 1.43 inches IPS LCD color display shielded by 2.5D curved glass and an anti-fingerprint coating. The watch is feather-light and weighs just 31 grams.
It sports features like a 24/7 heart rate sensor, SpO2 sensor, sleep & stress monitoring, and menstrual cycle tracking. The PAI health assessment system will compile the vital health data into an understandable and straightforward score.
It supports Alexa. It has 60+ sports modes with high precision GPS. The 230 mAh runs for nine days on typical use, whereas it has a lifespan of 5 days on heavy usage.
It allows text notifications and alerts of reminders & events. Lastly, it has Alexa for taking voice commands, like setting the alarm or reminders, etc.
Key Specification:
1.43" IPS LCD color display (320*302 pixels resolution)
Weight - 31 grams (with strap)
5 ATM water resistance
Polycarbonate manufacturing
2.5D curved glass
9 days battery life
60+ sports modes
PAI health assessment
Built-in GPS
Bluetooth 5.0
Compatibility - Android 5.0, iOS 10.0 & above
Pros:
Bigger display
Great Performance
Accurate
Cons:
Also, Read - Top 10 Smartwatches Under Rs 5000 (Price - 2K to 5K)
MI Watch Revolve Midnight Black - Rs. 6,999
It is one of the most exciting products that Xiaomi launched in 2020. The watch was available for Rs. 10,999, but now after a recent price cut, it is available for Rs. 6,999.
The MI watch revolves smartwatch has a premium metallic finishing with a 46 mm stainless steel frame and always-ON vivid AMOLED display. The screen is protected with Corning Gorilla Glass 3 with anti-scratch-coating.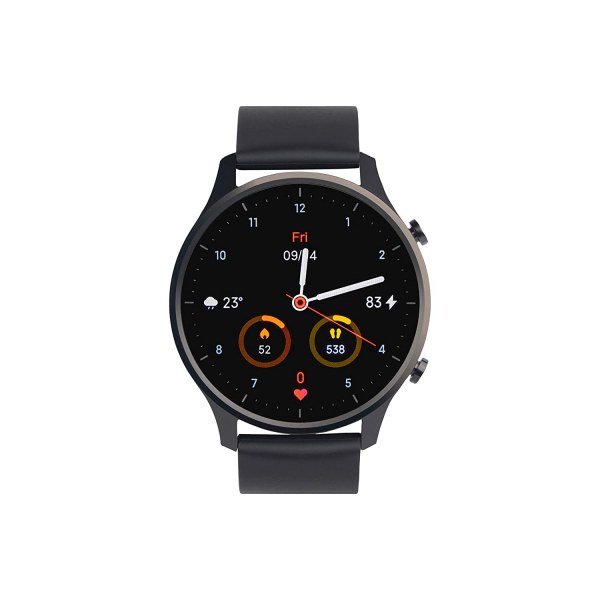 It works on the FirstBeat algorithm, which can track workouts with accuracy and help improve your health.
The watch offers ten professional sports modes. It tracks heart rate 24/7 and measures VO2 max that shows cardio-respiratory well-being. It tracks stress, sleep, and body energy level to enhance health. It comes with an in-built GPS and barometer sensor for distance tracking. Also, the watch comes with an AMOLED display that has superb sunlight legibility.
The smart features include app notifications, music control, calls, weather forecast, alarm, idle alert, locate your phone, and torch. Notably, the Mi Watch Revolve comes with a Xiaomi-made custom Os but not with Google's WearOS.
Xiaomi claims that the watch can work for 14 days with a single charge. If you enable the 24/7 heart rate monitor, it may work for 7 to 8 days. It has 110+ watch faces to customize according to moods.
Key specifications:
Weight: 46 g
Screen: 1.39 inches Vivid AMOLED display
Resolution: 454 * 454 p
Water-Resistant: 5 ATM
Compatibility: Android and iOS
Price: ₹ 10,999
Pros:
24/7 heart rate monitoring.
Good connectivity.
Brighter display.
Great features.
VO2 tracks your fitness.
Cons:
Managing Blood Pressure with a BP Machine and blood glucose with a Glucometer should be part of your fitness regime if you are diagnosed with any of these chronic diseases.
Amazfit GTR 2e - Price Rs. 7,999
Amazfit launched GTR 2e smartwatch in India with mind-blowing features at a reasonable price.
The watch has a round dial with a 2.5D curved 1.39 inches (454*454 p, 326 PPI) AMOLED borderless display. Protecting display is tempered glass with an anti-fingerprint coating. It has two buttons on the right side.
It has a massive 471 mAh battery that lasts up to 24 days on a single charge with regular use, 45 days - for basic use, and 12 days -for heavy use.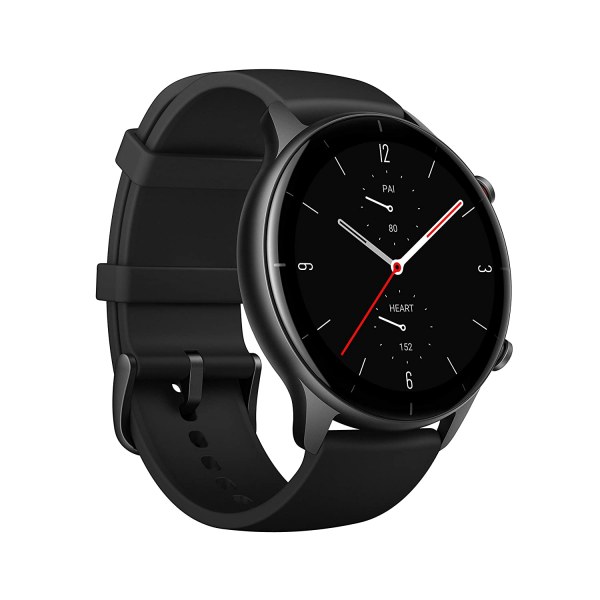 The watch has multiple excellent smart features that include 90 built-in sports modes with smart recognition, SO2 measurement - BioTracker 2 PPG, 24/7 heart rate & stress monitoring, PAI health assessment system, and tracks sleep patterns.
It allows offline voice assistance and incoming call notifications. It works with the Zepp app. Sleep Monitoring tracks sleep stages and naps. It improves your sleep quality. The smartwatch has 40+ watch faces to choose from according to your mood. GTR 2e is available in Matcha Green, Obsidian Black, and Slate Gray colors.
Key specifications:
Weight: 32 g
Screen: 1.39 inches, Always On AMOLED display
5 ATM water resistivity.
Built-in GPS, BlueTooth 5.0 connectivity
Compatibility: Android 5.0 and iOS 10.0 and higher.
Silicone Strap of 22 mm
Price: ₹ 7,999
Pros:
90 sports modes
Long-lasting battery life.
Records sleep and stress level
Measures oxygen level in blood.
Cons:
No Support for third-party watch faces.
Mi Watch Revolve Active - Rs. 9,999
The Mi Watch Revolve Active is recently launched in India and is now available for a discounted price of Rs. 9,999. It has an always-on 1.38 inches AMOLED display.
The watch offers superb battery life - 14 days on typical use, 22 days on normal mode, and 50 hours in outdoor sports mode. You can customize your watch face or can choose from over 110+ watch faces.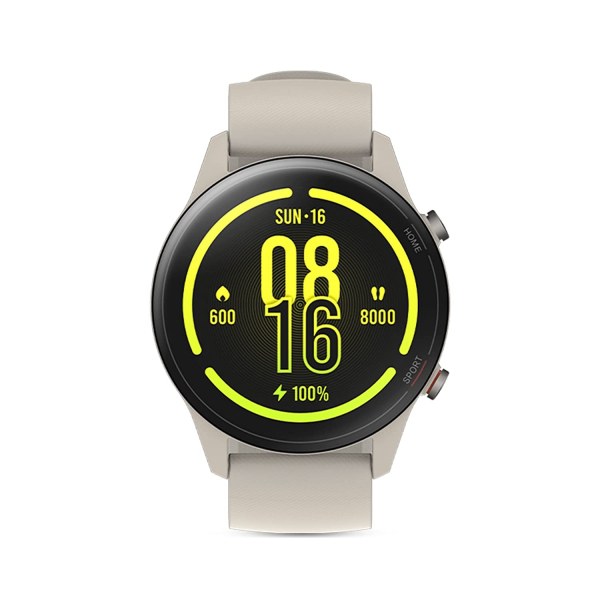 Additionally, you can ask Alexa to set timers and alarms, inquire about weather, control other smart devices, and view your to-do list.
This watch allows having notifications from incoming calls, texts, and reminders but can't reply to them. The new generation multi-channel PPG bio-sensors accurately monitor heart rate 24/7. It saves your resting heart rate curve from the last 30 days to gain your fitness data.
It also measures cardiorespiratory health and overall fitness, and sleep patterns. All thanks to its LifeQ health algorithm for such monitoring. To relieve physical and mental stress, it gives you breathing exercises for 1-5 minutes. The Vital sign monitoring will analyze the physical condition and avoid injuries from exercising when fatigued.
It has 17 professional modes and 100 extended workout modes, and a built-in GPS tracker. The automatic workout detection will recognize and monitor workouts and record data when you tap on the sport mode.
Key Specification:
1.38", 326 PPI, Always-ON AMOLED display
14 days battery life
12 nm built-in GPS Chip
Built-in Amazon Alexa, Flashlight
Automatic workout detection,117 sports mode
Monitors SpO2, stress, heart rate, and sleep
5 ATM water resistivity
Weight - 32 grams
Magnetic Charging Dock
Price Rs. 8,999
Pros:
Always-On AMOLED display, Good Design
In-Built GPS, Accurate Tracking
Great battery life
Cons:
Cannot Reply to text messages.
Huami Amazfit GTR (47mm) - Price Rs. 11,499
Huami Amazfit is an advanced running smartwatch with multisport features and long battery life. It offers up to 24 days of battery life. The battery lasts for seven days with a continuous heart rate monitor and is always on display.
The smartwatch is the best companion for mountain climbing and open-water swimming.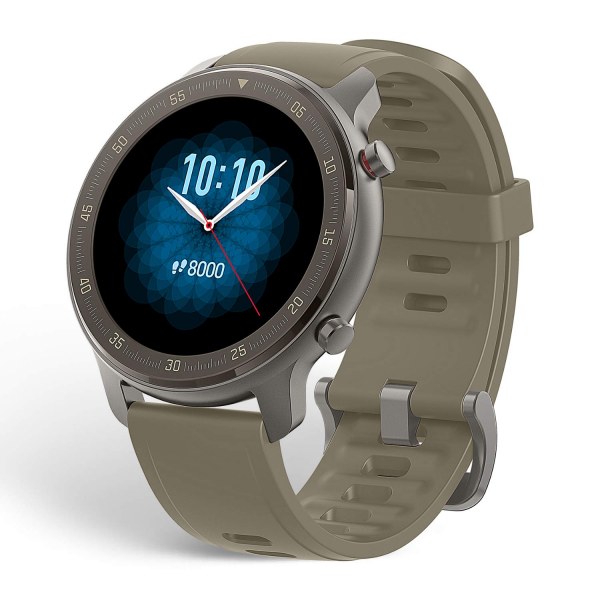 The display has a 326 PPI AMOLED screen with attractive watch faces with a convenient viewing experience. It has up to 5 ATM water resistivity and high exactness built-in GPS.
It allows tracking for running, treadmill, walking, indoor/outdoor cycling, swimming, climbing, skiing, elliptical trainer, and exercise. It has 12 sports modes. The watch is designed with a dual crown and a circular watch face. The titanium material makes it light, classic, and sturdy.
It is integrated with Bio tracker PPG, which provides 24/7 highly precise heart rate monitoring. It alerts users with a vibrating notification when observing any change in heart rate. Smart features include weather forecast, call reminder, alarm clock, app notifications, event reminder, find my phone, and sedentary reminder.
Key specifications:
Weight: 48 g
Screen: 1.39 inches, 326 PPI AMOLED display
Resolution: 454*454
5 ATM water resistivity.
Compatibility: Android and iOS.
Price: ₹ 8,499
Pros:
Lightweight smartwatch with a built-in GPS.
Battery life is good.
Supports multi-sport modes and 24/7 heart rate monitoring.
Premium design with handy UI.
Cons:
Sometimes performance can be a bit sluggish.
Amazfit GTR 2 Smart Watch -Rs. 13,499
Amazfit GTR 2 smartwatch comes with 1.39 inches AMOLED high-definition display. In addition, it has 326 PPI for clear and vivid vision with an always-on display.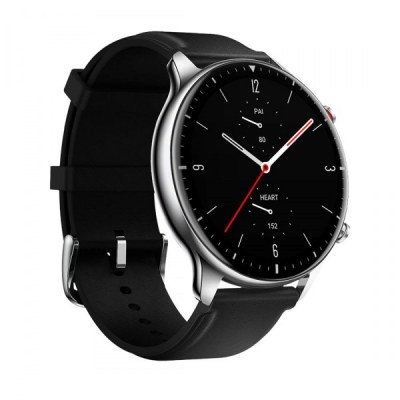 Additionally, it supports a 5.0 Bluetooth connection and allows calls and message notifications. Also, the wearable has 4 GB standalone storage that holds up to 500 songs.
It comes with 110+ workout types with 5 ATm+IP68 water-resistant. Also, it has automatic detections for jogging, running, and swimming. Further, it supports wrap charging, giving a day power in just 5 minutes. Also, it has up to 14 days of battery life span with typical use.
The watch measures health data on One app with SpO2, heart rate, sleep, stress, sedentary reminder, and step counts. Also, it can seamlessly connect the OnePlus TV and turn off the television after detecting that you fall asleep after 30 minutes.
KEY SPECIFICATION:
1.39" inch AMOLED display 454*454 pixels resolution
5 ATM + IP68 water-resistant
110+ workout mode
Health monitoring
4GB standalone storage
14 days battery life
7 days charge for 20 minutes
Weight – 76 grams
Bluetooth 5.0 support
Compatibility – Android 5.0 or more
Price – ₹ 14,999
Pros:
Stylish with advanced features
Good battery life
Decent performance
Cons:
Doesn't support Google Wear OS
Oppo Watch - Price Rs. 17,990
Oppo has recently launched its smartwatch in the Indian market with a sleek design, and it looks a lot like the Apple Watch. The watch is available in two size variations of 41mm and 46mm dial with a Dual curved display.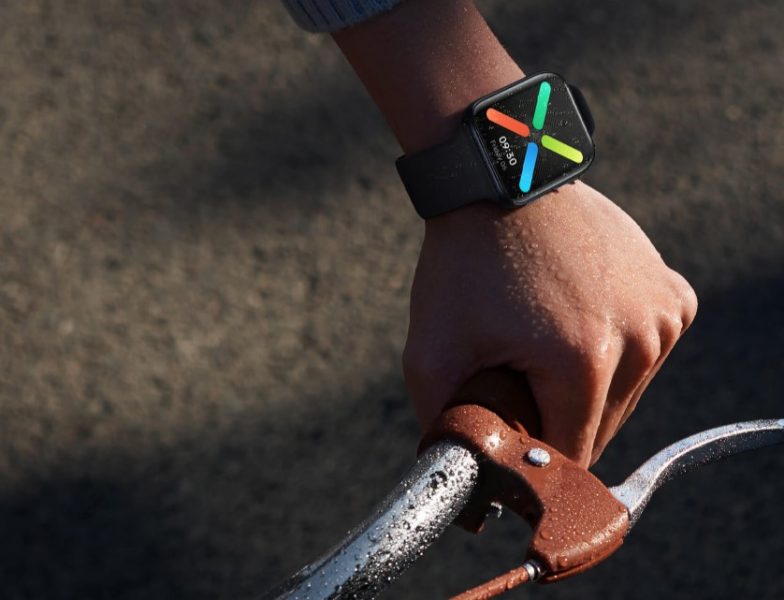 It runs on the Wear OS by Google, allowing you to explore hundreds of apps. Also, the watch allows you to create your watch face to match your outfits.
The 5 exercise sensors track daily activities like running, swimming, bike ride, walks, etc. Further, it can track 5-min workouts; fitness runs, fat burn runs, outdoor walks, outdoor cycling, and swimming.
The optical sensors accurately measure the heart-rate 24/7 with a warning alarm if any fluctuation is recorded. The watch can track breathing & sleep patterns. Notably, it is compatible with all Android phones.
This beautiful watch includes a google assistant and a built-in GPS. You can get notifications for weather updates, reminders, translations, text, calls, and much more.
The smartwatch allows you to control music. Lastly, It enables payment directly from the watch. For a starting price of Rs. 14,990 the Oppo Watch is an excellent purchase and offers incredible features.
Key Specification:
| | | |
| --- | --- | --- |
| Specification | 46mm | 41mm |
| Weight | 40.8g | 31.8g |
| Display | 1.9", curved | 1.6", flat |
| Battery | 21 days | 14 days |
| Water-Resistance | 5 ATM | 3 ATM |
| Price | 19,990 | 14,990 |
Pros :
Lightweight and easy to connect.
Better AMOLED Display.
Awesome own watch faces.
Accurate.
Cons:
Low Battery backup.
not compatible with iOS.
Samsung Galaxy Watch 3 - Price Rs. 16,999
Samsung offers incredible tech and some noticeable upgrades in the new Galaxy Watch 3. The smartwatch arrives with a myriad of useful features and specifications.
Firstly, the watch has 1.4 an inches Super AMOLED display with a 45 mm diameter, and it costs INR 28,350. Additionally, it is available in the following color - Mystic Silver, Mystic Black, and Mystic Gold.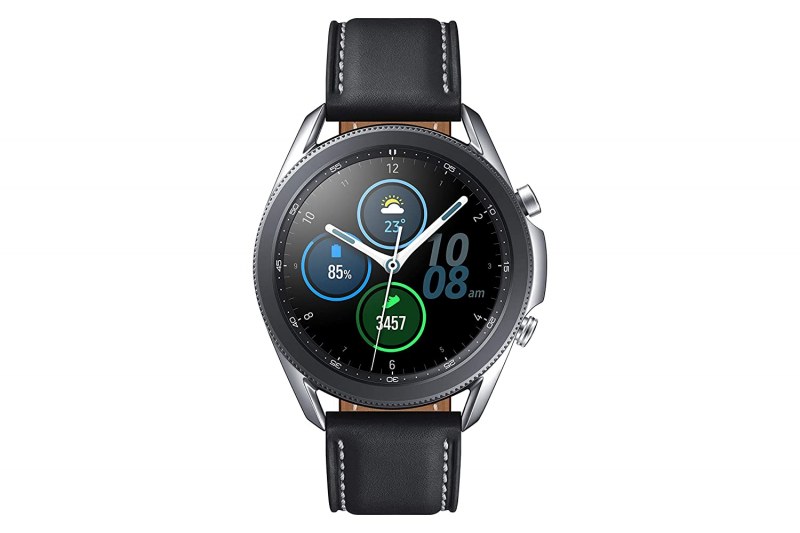 It is the only smartwatch with a physical precision rotating dial for app navigation. Though the display is larger, the device is lighter and slimmer, whereas the strap is made from polished leather.
It measuresSpO2 levels in the bloodstream, detects hard fall with the accelerometer - SOS emergency, and records sleep patterns that help to improve your sleep.
The Galaxy Watch 3 allows notification and can answer calls and reply to text messages. Moreover, you can play Spotify to listen to your favorite songs whenever required. It features find my phone, gallery, and reminders list.
Key Specification:
1.4 inches display Super AMOLED display
360 * 360p resolution
Weight - 54 grams
Rotating bezel
Fall detection
5 ATM water resistivity
340 mAh battery capacity (lasts for 56 hours)
Bluetooth v5.0
120 home-workout programs
Advanced health monitoring
Built-in 4G connectivity
GPS Tracking
Compatibility - Android 5.0, iOS 9.0, and above
Price Rs. 16,999
Pros:
Good battery backup
Supports WiFi
Premium built quality
Large display
Cons:
No ECG
No always-on display
Amazfit GTR 3 Pro Smart Watch-Rs. 18,990
Amazfit GTR3 Pro smartwatch comes with Alexa, GPS, and WiFi supports. The watch is available with a price tag of Rs. 18,990 on Amazon India.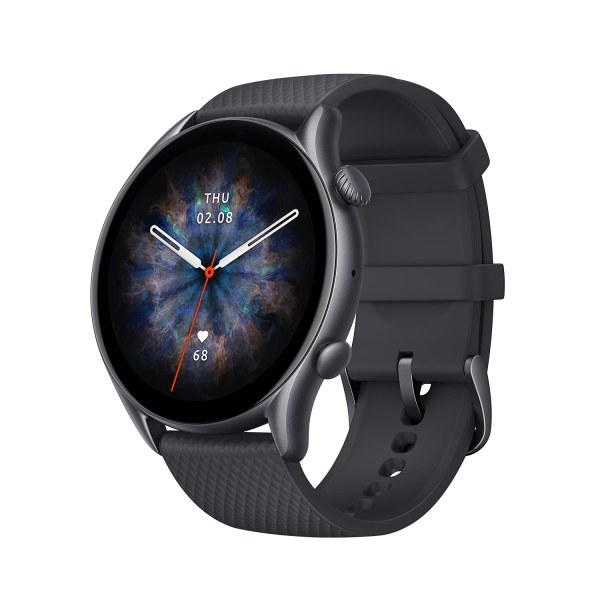 In addition, the wearable has a large 1.45 inches ultra HD AMOLED display with a 70.6% screen-to-body ratio. It has 331 PPI. Also, It supports Alexa and offline voice assistants.
It supports 150+ sports modes. Also, it measures tracks heartbeats, calories burned, blood-oxygen saturation, stress level, and breathing.
Now, you can set the alarm easily via commanding your watch. It can receive Bluetooth calls. Also, you can maintain your music playlist with ease.
Further, the smartwatch has up to 12 days of working time on a single charge with typical use. It arrives with 5 ATM water resistivity.
KEY SPECIFICATION :
1.45" ultra UHD AMOLED display with 331 PPI
5 ATM water-resistant
Measures heart rate, breathing, and blood oxygen saturation level
150+ sports mode
12 days of battery life
Weight – 57 grams
Alexa and Offline Voice Assistant
Bluetooth 5.0 support
Compatibility – Android 5.0 or more and iOS
Price – ₹ 18,990
Pros:
Decent screen size with good quality display
Adequate battery life
Supports Bluetooth calling
Cons:
No streaming music app support
Fossil Generation 5 - Rs. 18,990
Fossil Gen-5 smartwatch arrives with a big screen and a polished and rich look. There is deep Google Android Wear integration allowing you to do many things that are missing on several other competing devices.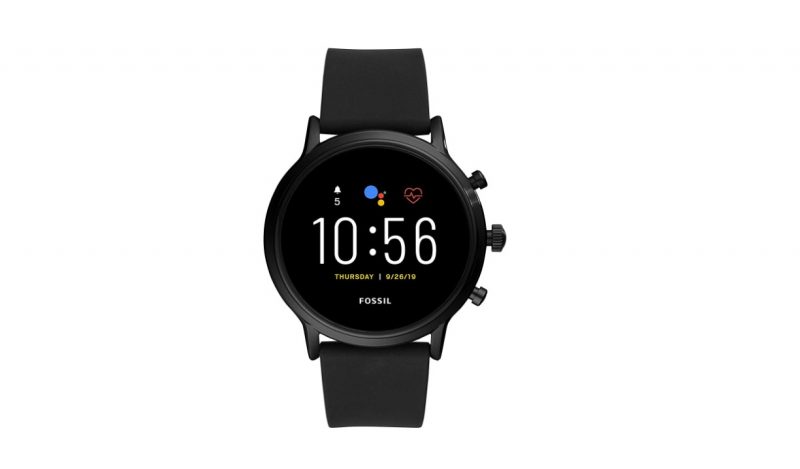 This beautiful watch can read the text and even do translations. The Google Assistant allows us to answer calls. Further, Google Pay authorizes paying or purchasing with a tap on the watch.
You can even access google maps on this watch. Google fit's active health function counts steps and continuously tracks heart rate. It conveys notifications for calls, messages, reminders, and alarm clocks.
It offers 3 battery modes :
Daily mode (1-day battery life)
Extended mode (2 -3 days battery life)
Custom mode ( up to 1-week battery life)
The 8 GB storage allows installing apps directly on the watch. The smart sleep features monitors sleep modes precisely. Further, it has a GPS and water-resistant capacity of up to 3 ATMs. The processor used by this smartwatch is Qualcomm Snapdragon Wear 3100.
The watch comes with three physical buttons. The crown button is used as a scroller, and it's a shortcut to activate the assistant. The remaining two buttons are used for quick access to selected apps.
Key Specifications:
Weight: 80 g
Screen: 1.28" touchscreen
Compatibility: Android 6.0+ and iOS 10.0+
Case thickness: 12 mm
Price: INR 18,995 (USD 302)
Pros:
Various battery modes.
Fitness apps work precisely.
Install apps directly on the watch.
Comfortable to wear all day.
Cons:
Voice quality is average.
Garmin Forerunner 245 - Price Rs. 25,999
Garmin forerunner 245 allows you to store about 500 songs. It can be synchronized with Spotify easily play your favorite music without any worry.
This watch comes with50 meters of water resistance, precisely track heart rates, and measures blood oxygen level. It does measures sleep patterns and gives you the guidance that can improve your sleep.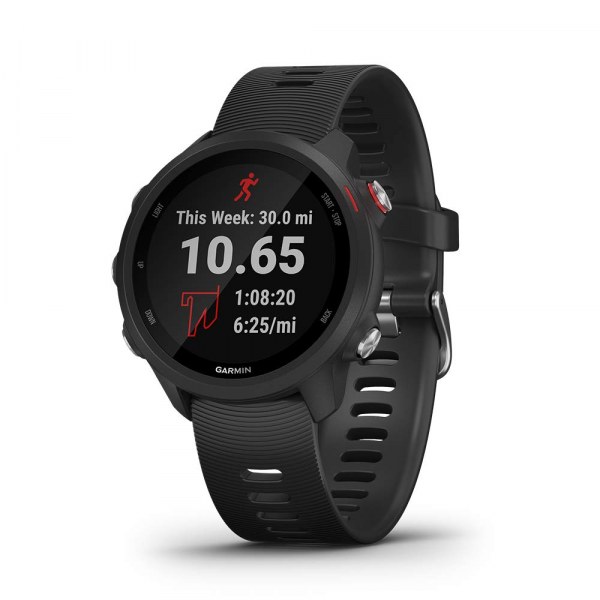 Further, the watch provides advanced running dynamics that comprise ground contact time balance, stride length, and vertical ratio. The device is capable estimate the current training status that indicates if the training is under or overdoing.
Now you can create your custom workouts by connecting online fitness community. Further, it also offers free adaptive training plans from Garmin coaches.
The watch is undoubtedly accurate and can track your sessions well. Also, the Garmin App has a better UI and information showcase than a lot of other Apps.
The massive battery runs for 7 days in smartwatch mode and up to6 hours in GPS mode with music.
Samsung Galaxy Watch 4-Rs. 26,999
Samsung Galaxy Watch 4 comes with a 1.4 inches color AMOLED display with 450*450p resolution. Also, it has a 44 mm circular dial, and the always-on display protects corning gorilla glass DX+.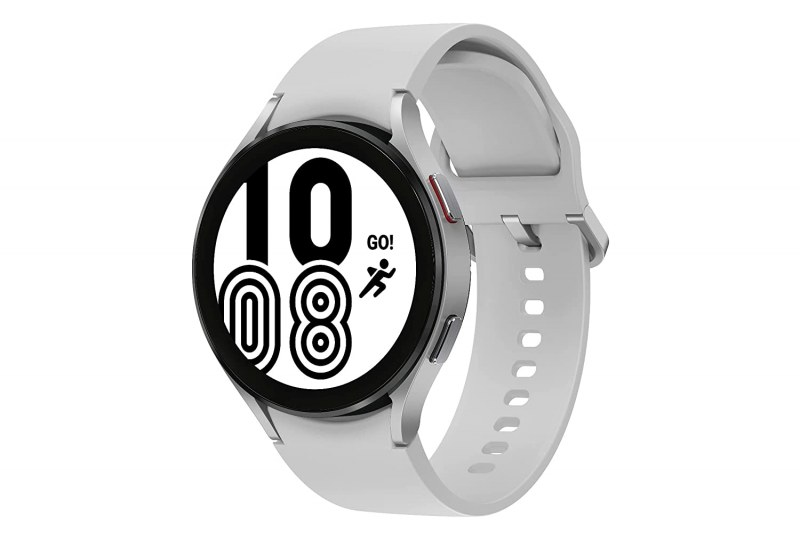 It has 1.5 GB RAM and 16 GB of internal memory to store music and data. Moreover, it runs the Exynos dual-core processor, and however, it's only compatible with Android smartphones.
The Samsung smartwatch has BIA measurements that analyze body fat percentage and skeletal muscle. It tracks sleep patterns and snoring patterns. Furthermore, the device measures blood oxygen levels.
Also, it keeps track of step counts and calories. Moreover, you can make this fun competition through a live message board with your friends.
Lastly, the Wear OS by Samsung offers you seamless access to the applications directly on your wrist. The watch is IP678 rated
KEY SPECIFICATION:
1.4" Full-color AMOLED display with 450*450 pixels resolution.
5ATM+ IP68 water-resistant
90+ workout modes
Advanced sleep analysis and women's health
Optical heart rate sensor
361 mAh battery
Weight – 30 grams
Bluetooth 5.0 support and Wi-Fi 802.11
Compatibility – Android 5.0 or more
Runs on Wear OS powered by Samsung
Price – ₹ 26,999
Pros:
Multiple health tracking functionalities
Sleek and classy design
Can easily manage notifications
Cons:
New Apple Watch SE - Rs. 31,900
Apple Watch SE has a 44 mm dial size with in-built GPS. In addition, the smartwatch has a large Retina OLED display, the same as the size of the Series 6 watch.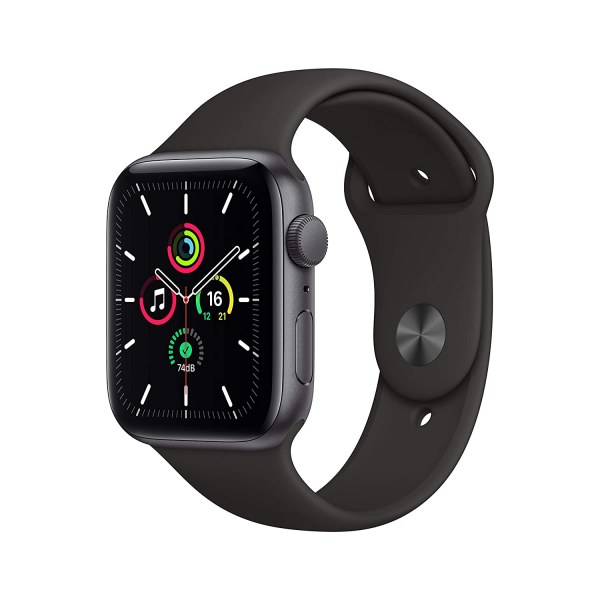 Additionally, it monitors your heart health. The device notifies you of high/low heart rate or irregular rhythm. The sleep app allows you to set a goal for a good night's sleep so that you can have a healthier and happier day.
The emergency SOS technology used in Apple watches is immersive. In addition, fall detection, along with SOS, helps when you need emergency services. Further, the intelligent wearable tracks all the daily activities precisely and measures your favorite workouts.
Also, the Bluetooth connection allows seamless connectivity for calls and texts. Can listen to music and use Siri right from your wrist.
KEY SPECIFICATION:
Large Retina OLED display
Always-on Altimeter
Digital Crown with haptic feedback
64-bit dual-core S5 processor
Fall detection
Notifies on irregular heartbeats
Swim-proof design
Built-in compass and real-time elevation
Weight – 360 grams
Bluetooth 5.0 support
Compatibility – iOS
Price – ₹ 31,900
Pros:
Large display with a sleek design
Pro-active health monitoring features
Decent storage capacity
Cons:
Lacks Always-On display
Average battery life-span
Concluding Thoughts
If you want my advice, I suggest going with Huami if you seek a value for money watch without breaking the bank.
If you are using an Android Phone - the Huawei Watch, Oppo Watch, Huami Amazfit, and the Samsung Active, Garmin Forerunner are excellent choices. Fossil or Garmin if you are looking for something unique and stylish.
For iPhone Users - Apple Watch SE or the Apple Watch 7 is the ideal choice. So which is the best smartwatch for you? Let me know in the comments below.
Also, check out the new Oneplus Watch that is recently launched in India.
Written By - Heena Makwana
Don't Forget to Check out:
Top 7 Smartwatches Under Rs 5000 (3K to 5K)
Top 10 Smartwatches for Women (Excellent Gift for Her)
Comparing Affordable Fitness Watches - Noise Color Fit Pro 3, Pro 2, Fit Nav, and BIP- U
Top 10 Fitness Bands for Tracking Health and Fitness.