In this post, let's check out the Best Fitness Bands in India for men and women. I have been using fitness bands for almost two years, and based on my experience; I will guide you to pick the best health band.
If you are trying to get fit and improve your health, you are not alone. Millions of people want to do regular exercise to improve health and fitness.
The article will help you pick the best and latest fitness band on the market for a budget of Rs. 1500 to Rs. 5000+. These fitness bands offer features like a step counter, tracking for workouts, SPO2, body temperature, heart rate, menstrual cycle, sleep patterns, and a lot more.
Also, Smart bands can pair with your Android or Apple phone to track the live data (using Apps). Fitness bands or smartwatches can motivate you to go for a walk/run, I have experienced it when we track our daily workouts, it helps to form a habit.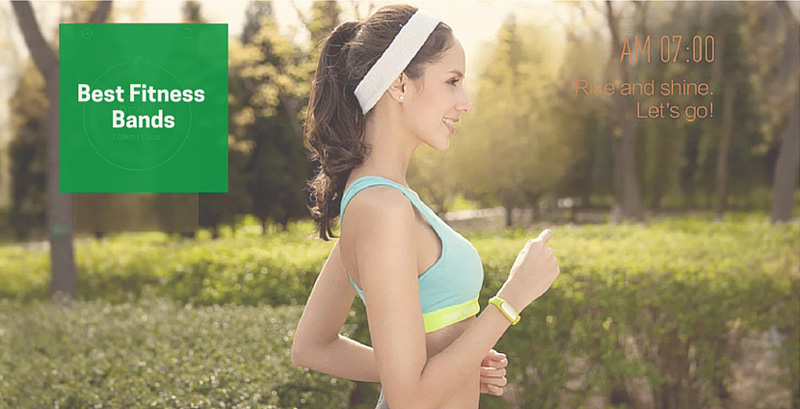 Being a reviewer, I have used some of these bands like Mi Band 5, Mi Band 6, Oppo Band, and Fitbit Inspire 2. Here are some of my favorite bands that you can purchase based on your budget.
Let's Check out the 10 Best Fitness Bands in India 2022:
One Plus Band - Price Rs. 1699 (Best Affordable Band)
One Plus has jumped into the fitness business by launching the all-new One Plus band with a heart rate monitor, Spo2 sensor, sleep tracking, and 14 days of battery life.
The band is available online and offline. It arrives with 1.1 inches AMOLED touch display that is easy to read even in sunlight. The recent price reduction makes it an excellent purchase for budget buyers.
You can style the band wallpaper according to your mood and choose from multiple watch faces.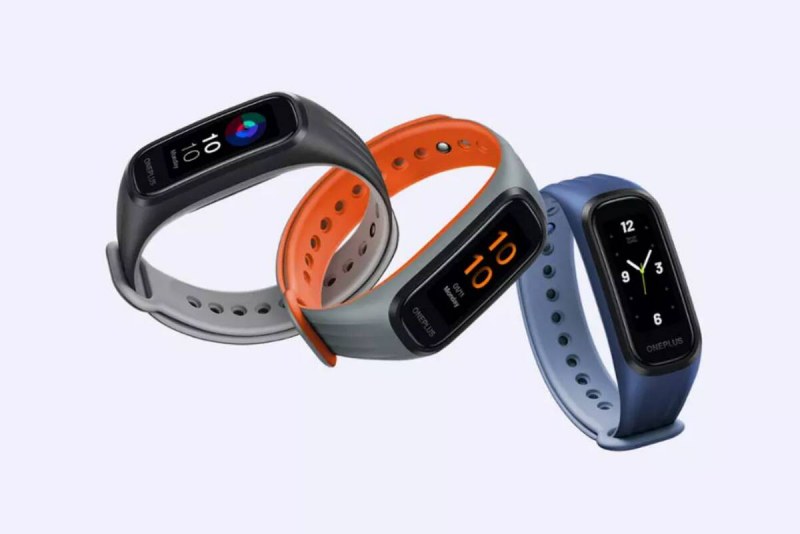 The fitness band has 14 days of battery life and is certified with IP68 with 5 ATM water resistance.
The 13 dedicated exercise modes include Yoga, cricket, running, fat burning, and much more. It measures heart rate 24*7, tracks sleep patterns, and marks the blood oxygen level.
It gives you quick access to music control, camera shutter, Zen Mode, and Find my phone. The OnePlus band comes in three color options - Black, Navy Blue, and Tangerine Gray with orange on the inside.
Overall for a price of Rs. 1699 is a good addition. We think with software updates; it will get better over time.
Key Specs For the OnePlus Band
1.1 inches AMOLED display
SpO2 tracker and 24*7 heart rate monitoring
13 sports mode
Sleep Analysis and Sleep Tracking
Bluetooth 5.0 connectivity
Price Rs. 1,699
PROS
Great design with amazing features at an affordable rate
Supports fluid navigation
Lightweight
CONS
UI could be more impressive
Average battery life
Also, Read - 10 Best Smartwatches for Men or 10 Best Smartwatches for Women.
GOQii Vital 3.0 - Price Rs. 1499
The GOQii fitness band has been approved by the Central drugs and Standard Control Organization and gets the basic tracking right. It is accurate but not as accurate as an Apple watch.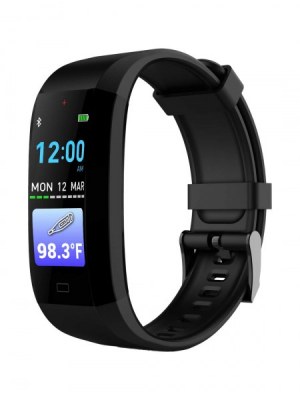 Like most of the Smart bands, it also focuses on tracking your "Calories burned, Activity-inactivity, distance traveled, sleep quality, heart rate (24*7), step counter, and measures body temperature & blood pressure." It comes with multiple exercise modes.
The Smart-band can show third-party notifications, calls, social media apps, and messages. The GOQii Family Care plan gets you a personal doctor with 3 months subscription time.
You can enjoy wearing the band continuously for up to 7 days on a single charge. It has an integrated USB charger that can connect it to the USB port on a laptop, power bank, or any charger.
Key Specs For GOQii Vital 3.0
25.2 grams
24*7 Heart Rate Monitor
Calories & Sleep Monitoring
Measures body temperature and blood pressure
1-year warranty
Compatible with Android and iOS
7 days of battery life
Price Rs. 1499
PROS
Uses human coach to help in setting goals
Excellent OLED display
Long-lasting battery life
CONS
Lacks water & dust resistivity feature
Fastrack Reflex 3.0 Unisex Fitness Band - Price Rs. 2045
Fastrack reflex 3.0 unisex fitness band offers more than ten sports modes: running, walking, treadmill, cycling, etc.
It has 20 unique and attractive band faces that you can choose from according to your mood. The Fastrack activity tracker is available with a price tag of Rs. 2,245.
The wearable comes with a full-touch display and weighs 24 grams. It is IP68 water and sweat-resistant.
The onboard sleep tracker provides a perfect sleeping pattern. It has breathing guidance. Moreover, the fitness device can measure your heartbeats accurately 24/7.
The band will allow notifications from calls, text, apps, and social media.
Key Specs For Fastrack Reflex 3.0:
Four dual-tone designs
Full touch color display
20 unique band faces
24/7 heart rate monitoring
Sleep tracker and phone finder
10+ sports modes
Up to 10 days of battery life
IP68 water resistance
Weight - 24 grams
1-year warranty
PROS
Excellent battery life with magnetic charging support
Accurate tracking with great features
Can control music and camera from the band
CONS
Touch response should be a bit smooth
Lacks SpO2 monitoring
Mi Smart Band 6 - Price Rs. 3499 (Excellent Overall)
Mi Smart band 6 was launched in India at an event recently. The band has a bigger display than its predecessor Mi Smart Band 5.
The wearable is available for INR 3,499 and you can buy it online or offline starting 30th August. It has Black, Blue, Light Green, Maroon, and Orange colors wrist straps.
Key Features And Specifications
The 1.56 inches AMOLED touch-screen display has 450 nits peak brightness and 326 PPI. It has a bigger display than the Mi Band 5.
The company claims that the wearable has up to 14 days of battery backup on a single charge. It has a magnetic port for quick clip-on and clip-off charging. It has 5 ATM water resistance, so can wear during intense exercise.
The band offers a list of themes and over 80 customizable watch faces. Moreover, it has 30 workout types: stretching, cricket, gymnastic, and activities like Zumba.
The band uses an array of sensors to track heart rate monitoring and sleeping patterns. It also tracks oxygen levels in the blood. Also, it will guide you for deep breathing function and female health tracking.
Additionally, the Mi Band 5 missed the SPO2 tracking. However, the Mi Band 6 offers it.
Mi Band 6 notifies for calls and messages. It controls music and the camera remote shutter. It is compatible with Android and iOS.
Key Specs For Mi Smart Band 6
1.56" AMOLED display
450 nits peak brightness and 326 PPI
80 customizable watch face
Female health tracking, SpO2, and stress monitoring
14 days battery life
5 ATM water-resistivity
Weight - 12.8 grams
PROS
Details are easily readable due to a bigger display
Amazing battery backup with all features being activated
Numbers of workout modes
CONS
Lacks always-on display
Build quality could be much better
Related - Top 7 Smartwatches Under Rs 5000 (Budget - 3K to 5K)
Huawei Honor Band 6 - Price Rs. 3999 (Great Display)
The Honor Band 6 is one of the best sellers in the affordable smart fitness bands category, rivaling the Mi Band 6.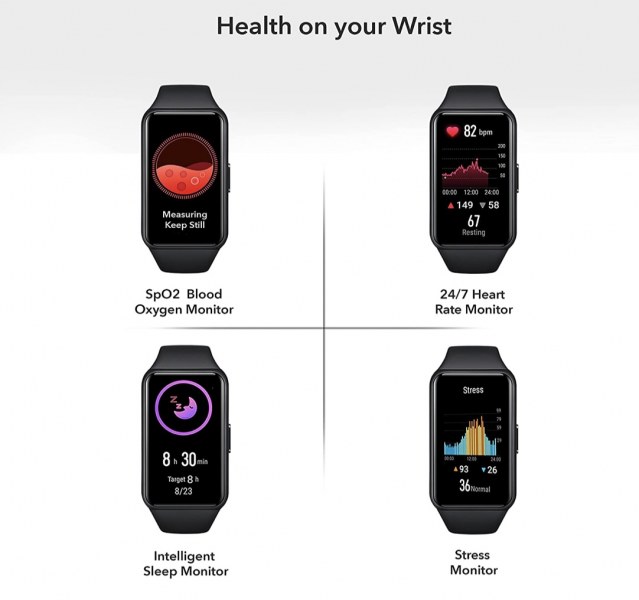 This fitness band comes with many new and fantastic features for a price tag of Rs. 3999. The beautiful band comes with large 1.47 inches AMOLED touchscreen display and adjustable screen brightness.
It has a smartwatch-like design and looks better than most fitness bands. The band is compatible with Android 4.4+ and iOS 9.0+ and Bluetooth 4.2 connectivity.
It offers a long battery life of almost 14 days. Further, It allows you to control music with a single touch. The TruScan monitors the heart rate 24/7 and is accurate too. Also, it gives warnings when the heart rate count is unusual.
The band comes with 10 professional workout modes like walking, running, jogging, cycling, swimming, etc. TruSleep monitors sleep patterns by examining the collected sleep data. The SpO2 monitors trace the oxygen levels in the bloodstream. It offers multiple watch faces.
The band has a special feature of remote control camera (only works with Huawei and Honor devices). Notifies for various reminders and social media apps.
The band supports various sports modes likewise, including running, walking, cycling, pool swimming, and several exercises. It possesses water resistance of 5 ATMs with swimming posture identification which records speed, distance, number of turns, burnt calories, and SWOLF.
Key Specifications :
Smartwatch-Like Design, Large Display
14 days of battery life.
All-day tracking of step count, burnt calories, and distance.
5 ATM water-resistant.
Accurate in heart rate counting.
Low budget band with various alluring and effective features.
PROS
Fabulous large AMOLED display
Battery backup is just awesome
Gives accurate health data
CONS
It would be more attractive if straps are changeable
Humble Advice - Don't buy those cheap fitness bands below Rs. 1000. They have bad user experience, in-accurate tracking, poor after-sales support, and even worse battery life.
Oppo Band Style - Price Rs. 2799
Oppo has forayed into the fitness segment with the Oppo Watch and now the company has launched an affordable Fitness band - Oppo Band Style.
The fitness band comes with a new metal buckle design along with two stylish band straps - vanilla white and black.
You can easily switch between them according to your choice. The design is different than other bands and some people may like and others may loathe it.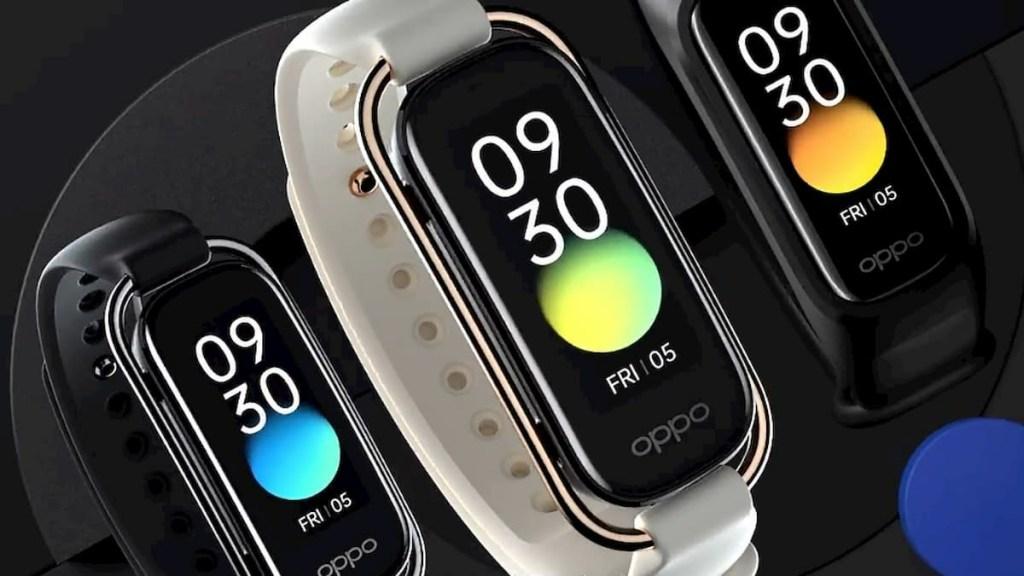 Let's talk about its other specs: Let's talk about the fitness features: It comes with a real-time heart rate (24x7), a SpO2 oxygen level monitor, and even tracks your sleep.
The band offers a 1.1-inch Full-color AMOLED display for a clear & bright view outdoors. Additionally, it also offers 40 unique display faces so that you have plenty of choices to adjust based on the mood.
Furthermore, it comes with 12 dedicated workout modes to track different fitness activities (Running, Walking, Cricket, Yoga, Cycling, Swimming, Badminton, and more).
The band has water resistance up to 50m. Additionally, we have got basic features such as notifications for messages, calls, Timer/Stopwatch Weather Report, Music & camera Controls, Find My Phone, sedentary reminder, and Breathing exercises.
Oppo is promising a battery life of up to 12 days. The Oppo band is available for purchase starting at Rs 2,799.
PROS
Excellent touch display with premium build
5 ATM water-resistivity allows to wear it at gym sessions
Controls music and camera
CONS
Notification functionality can be improved
Inaccurate tracking of sleep
Mi Smart Band 5 - Price Rs. 1,999 (Great Battery Life)
Xiaomi's Mi Band 5 in India is available to purchase from Amazon India as well as Mi official website. The new Mi Band 5 comes with several improvements over the Mi Band 3.
The new Smart Band offers features that are usually present in high-end health bands at an affordable rate.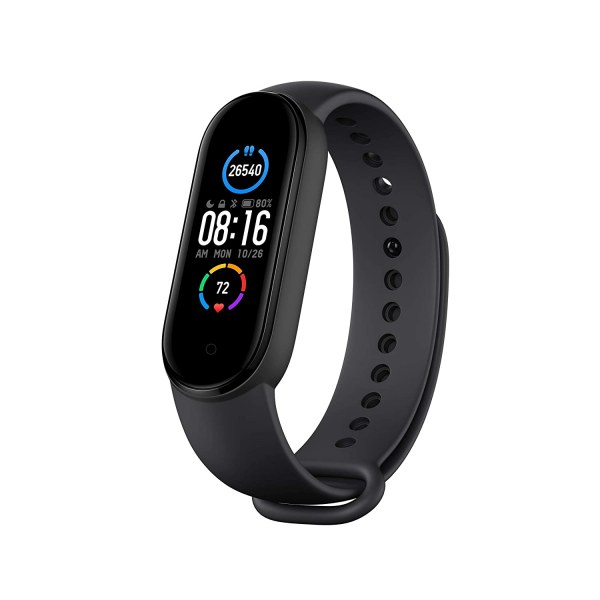 The Mi Band 5 comes with a 1.1 inches AMOLED color display. It has 14 days battery life on normal mode whereas, on the power-saving mode the band works for about 3 weeks.
It supports magnetic charging. You can use the Mi Band 5 with any smartphone, having Android version 5.0 or iOS 9 or higher. Moreover, you don't need a Xiaomi phone to use the band, phones from all other brands work seamlessly with the fitness band.
The highlighting feature is Heart Rate Monitor, apart from having a step counter, sleep monitor, Idle Alert, and calorie counter. It automatically detects running and walking. Furthermore, the Mi Band 5 can show time, weather forecast, Goals, Messages, and notifications.
Lastly, it is water (5 ATM) and dustproof and you can go swimming with it without any worries. The 11 sports modes include professional sports exercises along with yoga and rope skipping.
The all-new women's health tracking records the menstrual cycle and gives helpful suggestions beforehand.
Key Specs For Xiaomi Mi Band 5
1.1 inches AMOLED display
Up to 50 meters water-resistant.
Compatible with both iPhone and Android phones.
Battery Life up to 14 days.
Weight - 12 grams
Can Measure - Steps, Calories, Sleep tracking, heart rate, women's health data
Price Rs. 1,999
PROS
Tracks women's health and PAI
Great battery life with magnetic charging
Larger display with excellent brightness
Redmi SmartBand Pro - Price Rs. 3499 (Large AMOLED Display)
Xiaomi has introduced the most exotic smart band (Sports Watch) that can compete with many smartwatches in the sub 5k price range.
The Smartband Pro looks more like a smartwatch with the large 3.78 cm, Always On AMOLED display.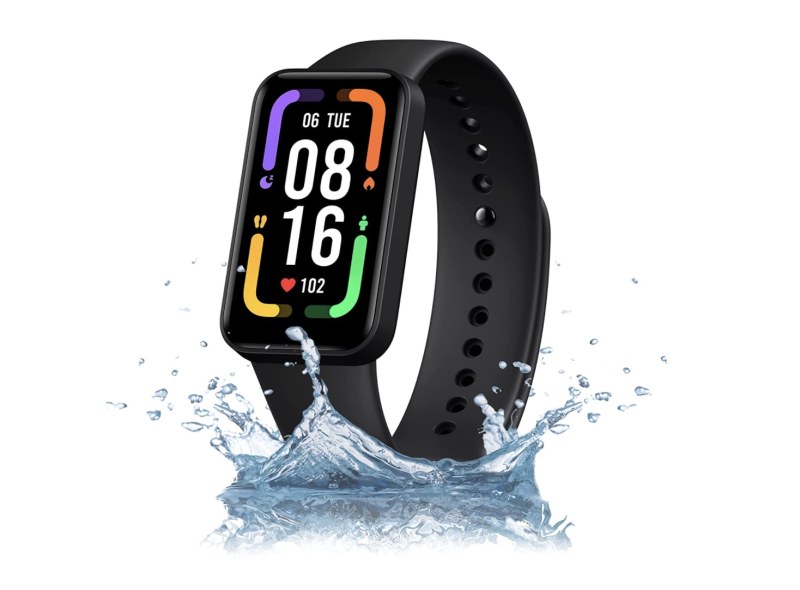 The display has automatic brightness control depending on ambient light that most other bands lack. The display is accurate and offers a 100% NTSC color gamut with a 238 PPI pixel density.
For health tracking, the band comes with 110 sports modes, SPO2 tracker, stress measurement, 24/7 heart rate tracking, and women's menstrual health tracking. You can also track your sleep and improve sleep quality with this health band.
The band comes with a magnetic charger, and fast charging support, and the brand claims it can last 14 days on a single charge. Further, the SmartBand Pro has 5 ATM water resistance and a LiFEQ Health algorithm.
Lastly, the Band is available for Rs. 3499, and considering the price, it is an amazing offering by the brand.
Key Specs For Redmi SmartBand Pro
1.47 inches Large AMOLED display
Auto-Brightness
5ATM Water Resistant
110 Sports Modes
Battery Life up to 14 days.
Can Measure - Steps, Calories, Sleep tracking, SPO2, heart rate, women's health data
Price Rs. 3499
PROS
Lightweight with comfortable wear
Bigger display than Mi Band 6
Easy to use music control with a one swipe
CONS
Connectivity issues with iPhone
Notably, the Xiaomi Mi band 6 is also available for a similar price and has almost the same features but a smaller display.
Fitbit Inspire (Black) - Price Rs. 4,999
The Fitbit Inspire fitness band tracks your all-day activities efficiently. It can track step count, distance, hourly activity, active minutes, and calories burned.
It automatically records walking, swimming, and bike ride data. The 7 days of detailed data have been saved and last for 30 days.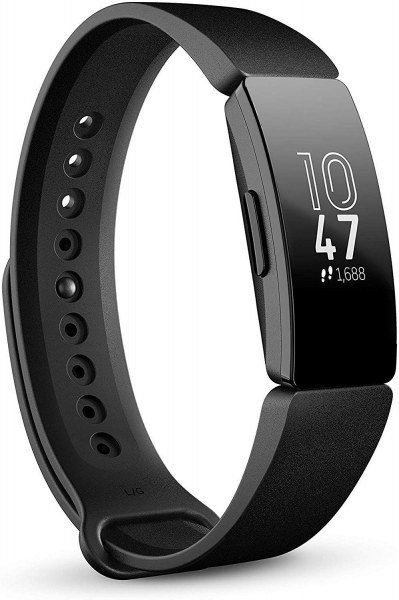 With this band, one can trace their sleep pattern and can also set up a wake-up alarm. Moreover, it allows receiving calls and notifications from SMS, calendar, and smartphone apps.
On a single charge, it will run up to 5 days. The 5 ATM water resistivity makes it swim-proof and, one can shower wearing the band.
The device weighs 98 grams and is compatible with iPhone 4S, Android 5, Windows 10, iPad 3rd gen, and later OS updates.
It is available in black color on Amazon India at a discounted price.
Key Specs For Fitbit Inspire Health And Fitness Tracker
Good User Interface and User Experience
It is mostly Accurate
Better Build Quality
All-day Fitness tracking
Sleep Analysis
Up to 6 m range
Bluetooth 4.0V connectivity
Price Rs. 4999
PROS
The band has water resistivity; very less Fitbit bands are water resistance
Long-lasting battery life
Touchscreen display with a brighter screen
Fitness bands can help you keep track of your daily exercise, and when you track something, you tend to improve it over time.
Fitbit Inspire 2 (Health Band) - Price Rs. 6499 (Best Premium Band)
The Fitbit Inspire 2 fitness is one of the most premium health bands that you can purchase. In fact, it is more expensive than many smartwatches.
It comes with personalized guidance, insights, and motivation which helps to achieve goals via the Fitbit Premium 1-year trial. This free-trial service should be activated within 60 days of device activation.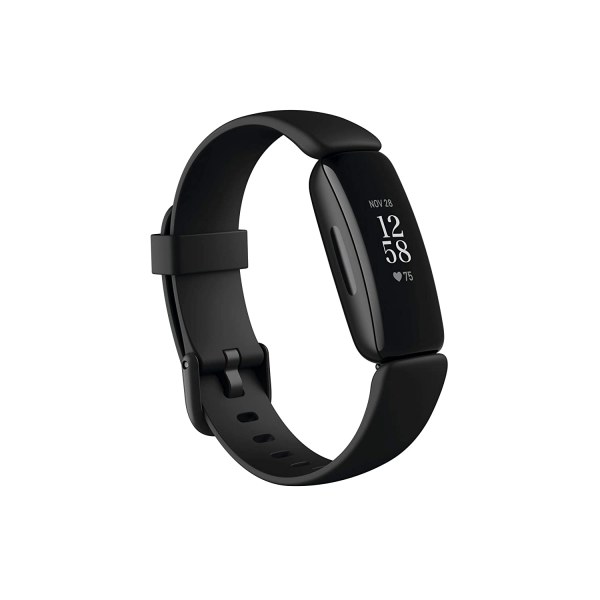 The smart band has 20+ exercise modes (more than any other band) to track activities like distance, calories burned, steps count, etc. It monitors heart rate 24*7.
The band tracks your time in light, deep, and REM sleep to get a sleep score to understand sleep quality every night.
The 10 days of battery life provides you with constant enjoyable all-day wear. You can take shower or swim with your band on your wrist as it features 5 ATM water resistivity. It allows notifications from calls, texts, calendars, and mobile apps.
Key Specs For Fitbit Inspire 2
Walking, Running, Swimming, and Workout Tracking
Live Heart Rate Tracking (24*7)
Very Comfortable to Wear
5 ATM water resistance
Track all-day activity
Sleep pattern analysis.
Menstrual Cycle Tracking
Compatible with Android 5 or iOS 9 or higher.
15 days battery back up.
Durable and Robustly built
Price - Rs. 6499
PROS
Slim and classic look for all-day wear
Accurately tracks heart rate and sleep
Give daily move reminders
CONS
Lacks built-in GPS and altimeter
Fitbit Charge 4 (Premium) - Price Rs. 7999
The Fitbit Charge 4 fitness activity tracker has built-in GPS that enables you to view pace and distance on screen.
Additionally, the fitness band has up to 7 days of battery backup on a single charge and up to 5 hours when GPS is enabled.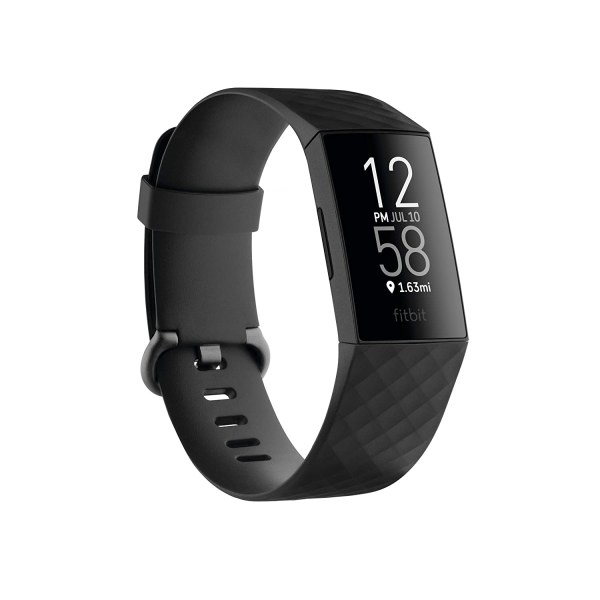 The Active Zone Minute gives alerts on the personalized fat burn, cardio, and peak heart rates. The wearable measures the heart rate continuously which is 24/7.
It tracks sleep patterns and provides a review of in-app Sleep scores so that you can track your sleep easily.
Further, the band allows notifications from calls, texts, and smartphone apps. Also, you can quickly reply to texts from the band. The Fitbit Charge 4 activity tracker and fitness band cost Rs. 7999.
Key Specs For Fitbit Charge 4:
24/7 heart rate monitoring
Active Zone minutes
Workout intensity map
Built-in GPS
Tracks Sleep patterns
Allows notifications from text and calls
Up to 7 days of battery backup
Weight - 100 grams
PROS
Sleep tracking is extraordinary
Built-in GPS to track distance
A newly added feature, the intensity map can show a heart map of activities
Fitbit Charge 5 - Price Rs. 14,999 (With GPS Tracking)
Fitbit Charge 5 has been launched globally with a sleek design and brighter Always-On display. It has a long seven days battery backup.
The newly revealed fitness band will be available in India starting this fall (after September), and the price starts at INR 14,999.
The pricing of the band in the USA is $ 179.5 (roughly INR 13,300), in Europe - EUR 179.95 (roughly INR 15,600), and in Australia - AUD 269.95 (roughly INR 14,500).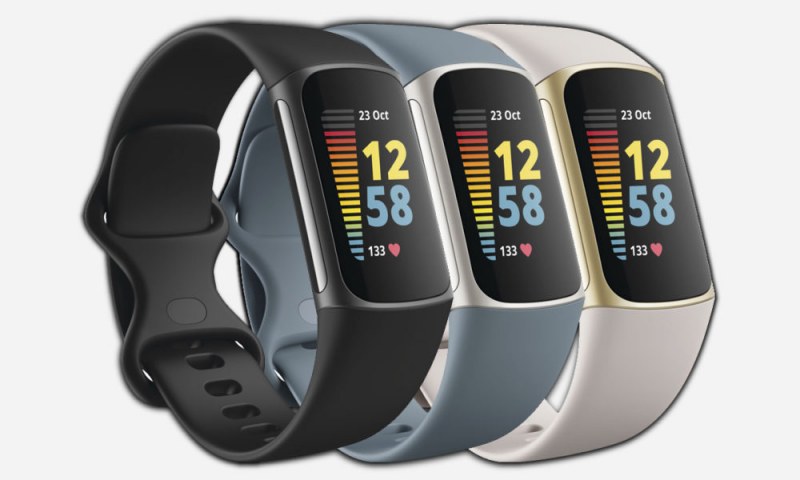 It will be available in colors of Graphite/Black, Platinum/Steel Blue, and Soft Gold/Lunar White. Further, the band has 1.04 inches color AMOLED touchscreen display with 450 nits brightness and no buttons.
As per the company, Fitbit 5 is 10% thinner and 2X brighter than its predecessor. Moreover, it sports 20 attractive colorful watch faces. It has a built-in GPS+GLONASS, SpO2 sensor, skin temperature sensor, NFC, and an optical heart rate monitor.
The seven days long battery backup charges up fully in 2 hours. It has up to 5 meters of water resistance. Also, the wearable notifies for calls and emails, and you can quickly reply (this feature is limited to Android users). It features Do not disturb mode, a Smart Wake alarm, and Fitbit contactless payments.
The company has introduced a new and advanced feature - Daily Readiness Score (only for Fitbit Premium users).
This trait will help to know, whether you require to focus on recovery or has to do an intense workout. The data is measured for three days of sleep, level of activity, and heart rate variation.
It includes - 20 goal-setting exercise modes, a real-time active zone, automatic exercise recognition, and sleep monitoring.
Key Specs For Fitbit Charge 5
1.04 inches screen
Always-On AMOLED display
450 nits peak brightness
up to 7 days battery life
Built-in GPS
Skin temperature sensor
5 ATM water resistivity
Compatibility - Android 8.0 or iOS 1.2 and above
Pros
Always-on color OLED touch display
Built-in GPS for accurate pace and distance tracking
Monitors skin temperature variations
CONS
Company should improve the band with the altimeter to elevate the tracking
Concluding Thoughts - Best Fitness Trackers
Here is a final list of the best Smart bands you can choose from based on your need and the features you want.
We will add more Fitness bands to the list after careful analyses.
If you think the fitness tracker will help you improve your health, it is a worthy investment. Also, if you are finding it difficult to form the habit of regular exercise, I will suggest you read the book Atomic Habits; it has helped me a lot.
Also, you can read about the 10 Best Earphones to purchase in India.
8 Best Smartwatches For Girls (Women) in India
Top 10 Best Smartwatches for Men – Improve Your Health
8 Best Wireless Headphones For Running and WorkOuts