Updated – 06/March/2021 – If you are trying to get fit and improve your health, you are not alone. There are millions of people who are stuck at home due to covid and want to do regular exercise to improve health and fitness. 
Fitness bands or smartwatches may not give you the motivation to go to the park for the run but I have experienced that when we track the daily workouts it helps in forming a habit.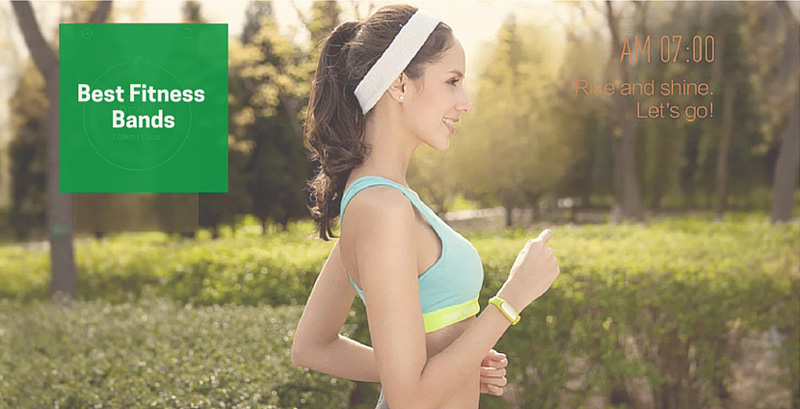 Fitness bands can help you keep track of the amount of exercise you are doing and when you track something you tend to improve over time. 
If you think the fitness tracker will help you to improve your health even a little, then it is a worthy investment. Also, if you are finding it difficult to form the habit of regular exercise, I will suggest you read the book Atomic Habits, it has helped me a lot. 
The article will help you pick the best and latest fitness band on the market for a budget of Rs. 1000 to Rs. 5000. 
Also, Read – 10 Best Smartwatches for Men or 10 Best Smartwatches for Women.
Also, Smart bands can pair with your Android or Apple phone to track the live data (using Apps) and help you take corrective action to improve your health. These fitness bands are unisex (suitable for both men and women).
Let's Check out the 10 Best Fitness Bands in India.
Lenovo HX06 Active Smartband 
Starting with one of the most affordable fitness bands that is available in the market. If you have a budget close to Rs. 1000 this can be a good deal for you.
Lenovo has launched its HX06 Active Smartband available on Amazon at a price of Rs. 1,299.
Talking about its features, the new fitness band features a 0.87-inch OLED display with 128 x 32 pixels resolution.
It is important to note that the Lenovo HX06 is IP67 certified water-resistant, which is a great feature at this price range.
The smart band is compatible with the iOS device running on iOS 8.0 and above, and Android device running on Android 4.4 and above.
Also, it has Bluetooth 4.2 and weighs 20 grams.
The band has a sedentary reminder feature. It helps the user to get up and be physically active, once a set time is reached.
Further, the band comes displays notifications and phone calls by vibrating gently. The Lenovo HX06 even has an alarm clock featuring five different types of alarms.
Another cool feature is anti-sleep mode and a sleep monitor. Anti-sleep mode makes the band vibrate during night shifts or late night drives in order to keep the user stay focused.
Whereas, the sleep monitor keeps track of sleep quality and helps in improving the quality of sleep.
For charging the Lenovo HX06 band, micro-USB Direct Charging makes use of the standard in-built USB port to directly connect the band to a USB charger or a computer.
Notably, this fitness band supports the Lenovo Smart Bracelet app. The app can be used by registering as a new user, or log in through third-party apps like Facebook, Twitter, WeChat, and other apps to share the fitness data with friends.
Key Specs for Lenovo HX06
.87 inch (128 x 32 pixels) OLED display
Supports Android 4.4 and iOS 8 devices
IP67 Certified Water resistant
Sleep tracking
Steps, distance, and calorie tracking
Gyro sensor, pedometer
Call notifications
Activity tracking
8 days of battery life
Related – Top 7 Smartwatches Under Rs 5000 (Budget – 3K to 5K)
Noise Color Fit 2 Price Rs. 1699
Noice colorfit2 is a new age smart wear band that keeps track of all your activities and much more and flaunts a large rectangular display.
The display is composed of a 0.96″ colored LCD making it easy to monitor the activities. It comes in Midnight Black, Dust Pink, and Twilight Blue colors.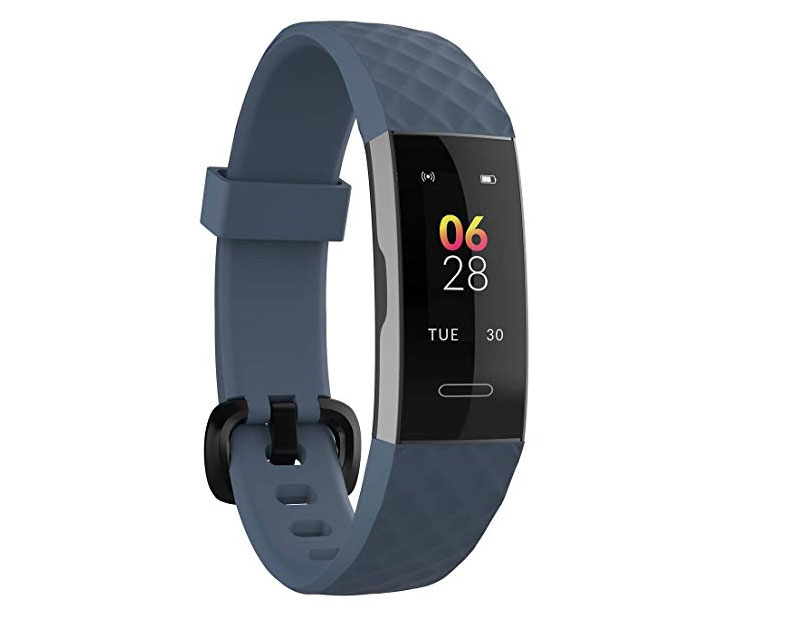 The Noise trace can be controlled by double-tapping the screen, moving through info requires tapping the screen multiple times.
Along with tracking your heart rate, sleep patterns, calorie intake, distance, yoga, bike rides, etc, it also gives an optional inbuilt period tracker for women. 
You can choose 3 out of 14 sports modes at a given time. The device uses a 3 Axis accelerometer as a tracking sensor; it also comes with several useful features like a ring alarm when the smartphone goes out of Bluetooth coverage, camera control, call on smartphone alert, etc. The Noise Trace fitness band is priced at Rs. 1699
Supported Functions Noise Trace
Find My Device for the smartphone.

Built-in USB Charge Port.

Call, SMS notification.

Sleep time recording.

Pedometer.

Calorie count.

IP68 Water-Resistant

Compatible With Android and IOS.

27.2 grams of weight

5 days of battery life.

1-year Warranty.
Honor Band 5
The Honor Band 5 is one of the best sellers in the affordable smart fitness bands category; rivaling the Mi Band. 
This low-cost band comes with many new and fantastic features for a low price tag of Rs. 1999.
The beautiful band comes with 0.95 inches  AMOLED touchscreen display and adjustable screen brightness. The band is compatible with Android 4.4+ and iOS 9.0+ and the Bluetooth 4.2 connectivity. It offers a long battery life of almost 14 days.
Further, It allows you to control music with a single touch. The TruScan monitors the heart rate 24/7 and is accurate too. Also, it gives warnings when the heart rate count is unusual. 
The TruSleep monitors the sleep patterns by examining the collected sleep data. The SpO2 monitors trace the oxygen levels in the bloodstream.
It offers multiple watch faces. The band has a special feature of remote control camera (only works with Huawei and Honor devices). Notifies for various reminders and social media apps.
The band supports various sports modes likewise, running, walking, cycling, pool swimming, and several exercises. It possesses water resistance of 5 ATM with swimming posture identification which records speed, distance, number of turns, burnt calories, and SWOLF.
Key Specifications :
14 days of battery life.
All-day tracking of step count, burnt calories, and distance.
5 ATM water-resistant.
Accurate in heart rate counting.
Low budget band with various alluring and effective features.
Xiaomi Mi Band 4 – Price Rs. 2299
Xiaomi Mi Band 4 comes with a brand new design and has a colored AMOLED touch display, where you can view call, text, and App notifications.
The Mi Band 3 is probably one of the highest sold fitness bands, and the Mi Band 4 makes things even better.
The fitness band is not yet available in India, but will likely launch in July 2019 for a price tag of Rs. 1999. Now the price is increased to Rs. 2299.
The biggest upgrade in comparison to the Mi Band 3 is the AMOLED display with 2.5D curved glass. Also, it is less prone to scratches than the previous iteration.
The Mi Band 4 can track fitness work out, running, swimming, cycling, quality of your sleep, and measures heart rate at all times.
You can sync the Mi Band 4 with the Mi-Fit App to know more about your health and fitness.
Also, there is an improved pedometer algorithm in the Mi Band 4 which measures the steps more accurately and filter out the unnecessary movements.
It comes with a 3-axis accelerometer and even has a 3-axis gyroscope to ensure better movement tracking.
One of the highlight features of the Mi Band 4 is the long battery life of about 20 days.  You can check the time, steps, and heart rate on the OLED Display of the fitness band.
Further, the Mi-Fit APP is used to display all the information on your smartphone and is paired with the Mi band using Bluetooth.
The tracker module is rated IP67 allowing you to monitor your calories while swimming. Also, you don't need to worry about the water damage to the MI Band 4.
The band strap is claimed to be made of, an antimicrobial material, ensuring hygiene and suits well for allergic skin.
Overall, it is one of the best fitness bands in the price range and a solid deal for the price.
 Supported Function and Specs for Xiaomi MI BAND 4
0.95 Inch AMOLED Display With 120 x 240 RGB.
2.5D Curved Glass and anti-fingerprint coating.
Maximum Brightness – 400 Nits
Heart Rate Monitor.
Steps Counter.
Sleep pattern Analysis.
Vibration alert.
DND Mode.
Alarm
The codeless phone unlock.
IP 67 certified.
Compatible with Android 4.4 and iPhone 9 and above.
20 days battery back up.
Charging time – 1 hour and 55 minutes
Weighs 22.1 grams.
Humble Advise – Don't but those cheap fitness bands below Rs. 1000. They have bad user experience, in-accurate tracking, poor after sales support and even worse battery life. 
Also, Read: – Mi Band 5 Vs Honor Band 5 Vs Mi Band 4 – Detailed Comparison
Samsung Gear Fit 2 Pro
Recently, Samsung has launched the new premium fitness band – Samsung Gear Fit 2 Pro, in the market. The band arrives with a 1.5  inch AMOLED (216*432) display. 
This smart band tracks your fitness data along with all-day activity accurately. Furthermore, it can measure calorie burnt, continuous heart rate monitoring, and steps.
You can use the band underwater up to 50meters as it has a water-resistant capacity of 5ATM allowing you to wear it while swimming. 
You can download music and play it using it. 
Furthermore, you can set alarms and reminders. Also, the notifications from social media apps, text messages, incoming calls, and weather are available.
The band is compatible with iOS and Android and it comes in black color.
Key Specifications
5 days of battery life.
Continuous heart rate monitoring.
Tracks all-day activity.  
5ATM water-resistant.
Weighs nearly 34g.
AMOLED touch display with a rectangular curved shape.
Available on Amazon at a price of INR 12,625.
Samsung Galaxy Fit 2
Samsung Galaxy Fit 2 Smartband is one of the popular fitness trackers that you can find in the market.
It is slightly more expensive than Mi Band 5 or the Honor Band but has its perks.
It offers standard features like sleep & stress tracking and a breath guide.
The Galaxy Fit 2 is slimmer and comfortable than Samsung Fit-E with 11.1 mm thickness. You get over 70 watch faces that can be customized according to your mood and style.
It has an Auto workout trait that helps to detect 6+ exercise routines such as walking, running, elliptical, rowing, and dynamic workout.
Also, the Samsung health app is one of the best and more refined apps in the industry.  The App receives activity tracker information and measures your fitness activity level and has a decent UI and UX. 
Furthermore, the fitness tracker allows notification and you can reply to it too.
It comes in Black and Red colors with an AMOLED Display protected with 3D glass.
It is featherweight (21 grams) and yet is backed up by an efficient battery to keep your activities going on without any hindrance.
Don't bother rain or a swim session as it comes with 5ATM water resistance. Samsung claims 21 days of battery life but can expect around 14 days. 
Key Specs for Samsung Galaxy Fit 2
Better Display

Calorie and activity tracking.

21 days of battery life.

Auto Workout Feature.

Sleep tracking, Heart Rate Monitor, 

AMOLED display, slim design with 11.1 thickness.

5ATM Water-resistant

Sleep and Stress tracking

Price Rs. 3499

 Buy from Amazon
GOQii Vital 3.0
The GOQii fitness band has been approved by the Central drugs and Standard Control Organization and gets the basic tracking right. It is accurate but not as accurate as an Apple watch. 
Like most of the Smart bands, it also focuses on tracking your "Calories burned, Activity-inactivity, distance traveled, sleep quality, heart rate (24*7), step counter, and measures body temperature & blood pressure." It comes with multiple exercise modes.
The Smart-band can show third-party notifications, calls, social media apps, and messages. 
The GOQii Family Care plan gets you a personal doctor with the 3 months subscription time. 
You can enjoy wearing the band continuously for up to 7 days on a single charge.
It has an integrated USB charger that can connect it to the USB port on a laptop, power bank, or any charger.

Key Specs for GOQii Vital 3.0
25.2 grams

24*7 Heart Rate Monitor

Calories & Sleep Monitoring

Measures body temperature and blood pressure 

1-year warranty

Compatible with Android and iOS 

7 days of battery life

Price Rs. 3999

 Check the price: Buy from Amazon
Mi Smart Band 5:
Xiaomi's' Mi Band 5 in India is available to purchase from Amazon India as well as Mi official website.
The new Mi Band 5 comes with several improvements over the Mi Band 3.
The new Smart Band offers features that are usually present in high-end health bands at an affordable rate.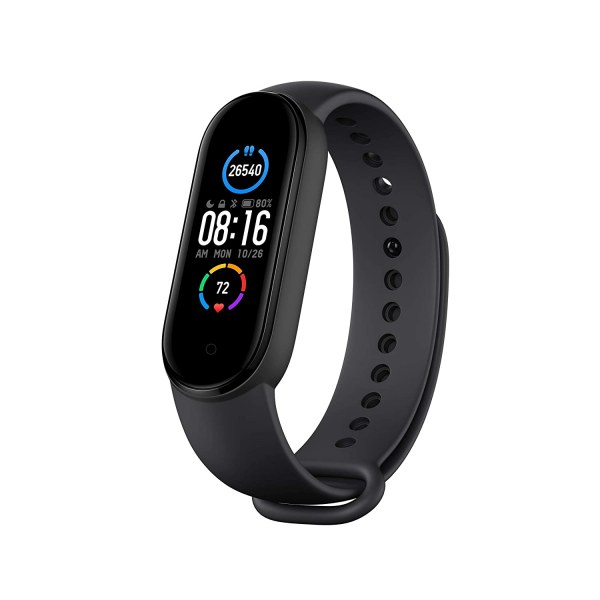 The Mi Band 5 comes with a 1.1 inches AMOLED color display. It has 14 days battery life on normal mode whereas, on the power-saving mode the band works for about 3 weeks. It supports magnetic charging.
You can use the Mi Band 5 with any smartphone, having Android version 5.0 or iOS 9 or higher. Moreover, you don't need a Xiaomi phone to use the band, phones from all other brands work seamlessly with the fitness band.
The highlighting feature is Heart Rate Monitor, apart from having a step counter, sleep monitor, Idle Alert, and calorie counter. It automatically detects running and walking.
Furthermore, the Mi Band 5 can show time, weather forecast, Goals, Messages, and notifications. Lastly, it is water (5 ATM) and dustproof and you can go swimming with it without any worries.
The 11 sports modes include professional sport exercises along with yoga and rope skipping. The all-new women's health tracking records the menstrual cycle and gives helpful suggestions beforehand.
Key Specs for Xiaomi Mi Band 5
1.1 inches AMOLED display

Up to 50 meters water-resistant.

Compatible with both iPhone and Android phones.

Battery Life up to 14 days.

Weight – 12 grams

Can Measure – Steps, Calories, Sleep tracking, heart rate, women health data

Price Rs. 2499

  Buy from Amazon
Fitbit Inspire Health and Fitness Tracker (Black)
The Fitbit Inspire fitness band tracks your all-day activities efficiently. It can track step count, distance, hourly activity, active minutes, and calories burned.
It automatically records walking, swimming, and bike ride data.
The 7 days of detailed data have been saved and last for 30 days.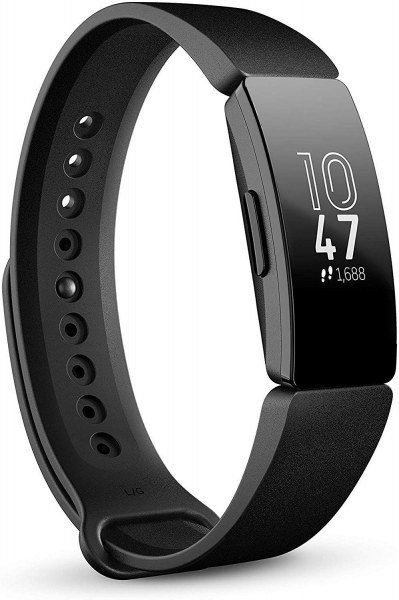 With this band, one can trace their sleep pattern and can also set up a wake-up alarm. 
Moreover, it allows receiving calls and notifications from SMS, calendar, and smartphone apps.
On a single charge, it will run up to 5 days.
The 5 ATM water resistivity makes it swim-proof and, one can shower wearing the band.
The device weighs 98 grams and is compatible with iPhone 4S, Android 5, Windows 10, iPad 3rd gen, and later OS updates.
It is available in black color on Amazon India at a discounted price.
Key Specs For Fitbit Inspire Health and Fitness Tracker
Good User Interface and User Experience

It is mostly Accurate

Better Build Quality

All-day Fitness tracking

Sleep Analysis

Up to 6 m range

Bluetooth 4.0V connectivity

Price Rs. 5999

Buy from Amazon
Fitbit Inspire 2 Health & Fitness Tracker : 
The Fitbit Inspire 2 fitness is one of the most premium health bands that you can purchase. In fact, it is more expensive than many smartwatches.
It comes with personalized guidance, insights, and motivation which helps to achieve goals via Fitbit Premium 1-year trial.
This free-trial service should be activated within 60 days of device activation.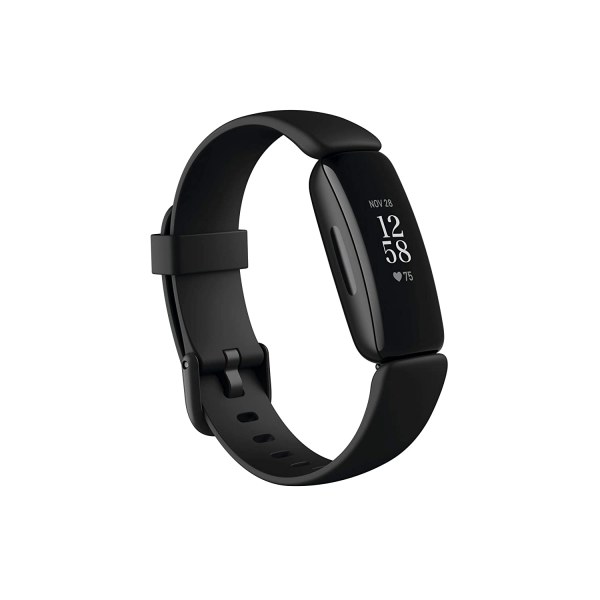 The smart band has 20+ exercise modes (more than any other band) to track activities like distance, calories burned, steps count, and many more.
It monitors heart rate 24*7.
The band tracks your time in light, deep, and REM sleep to get a sleep score to understand sleep quality every night. 
The 10 days of battery life provides you constant enjoyable all-day wear. You can take shower or swim with your band on your wrist as it features 5 ATM water resistivity.
It allows notification from calls, texts, calendar, and mobile apps. 
Key Specs for Fitbit Inspire 2
Walking, Running, Swimming and Workout Tracking

Live Heart Rate Tracking (24*7)

Very Comfortable to Wear

5 ATM water resistance

Track all-day activity

Sleep pattern analysis.

Menstrual Cycle Tracking

Compatible with Android 5 or iOS 9 or higher.

15 days battery back up.

Durable and Robustly built
Price – Rs. 9099

 Check Price: Buy from Amazon
Oppo Band Style 
Oppo has forayed into the fitness segment with the Oppo Watch and now the company has launched an affordable Fitness band – Oppo Band Style.
The fitness band comes with a new metal buckle design along with two stylish band straps – vanilla white and black. You can easily switch between them according to your choice.
The design is different than other bands and some people may like and others may loathe it.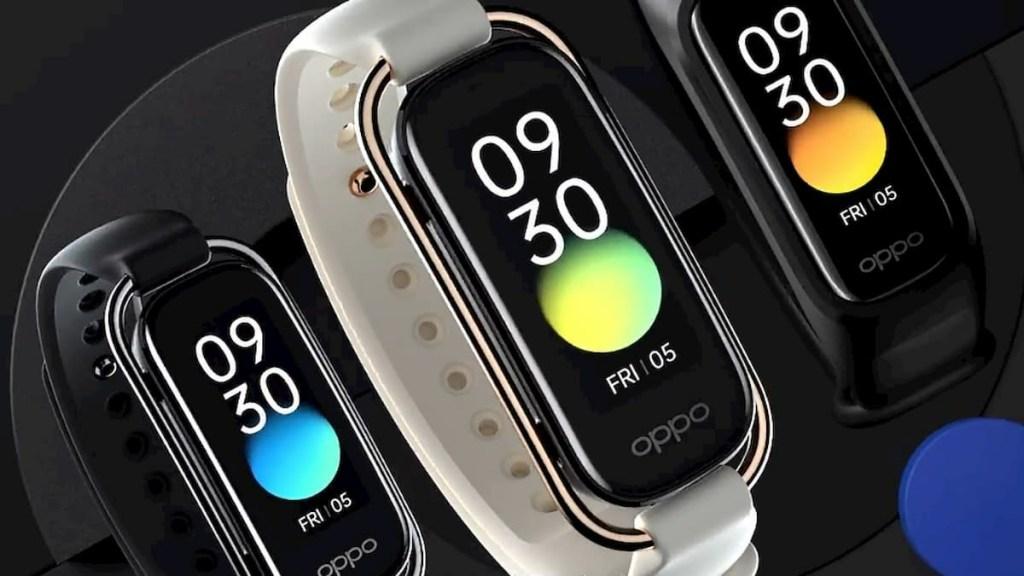 Let's talk  about its other specs:
Let's talk about the fitness features:  It comes with a real-time heart rate (24×7), a SpO2 oxygen level monitor, and even tracks your sleep.
The band offers a 1.1-inch Full-color AMOLED display for a clear & bright view outdoors.
Additionally, it also offers 40 unique display faces so that you have plenty of choices to adjust these based on the mood. 
Furthermore, it comes with 12 dedicated workout modes to track different fitness activities (Running, Walking, Cricket, Yoga, Cycling, Swimming, Badminton, and more).
The band has water-resistance up to 50m.
Additionally, we have got basic features such as notifications for messages, calls, Timer/Stopwatch Weather Report, Music & camera Controls, Find My Phone, sedentary reminder, and Breathing Exercise.
Oppo is promising a battery life of up to 12 days. 
Currently, the band is available on Amazon for purchase at a discounted price of Rs 2,499.
But after 23rd March, the price of the band will shift to its official price which is Rs 2,799.
Here is an initial list of the best Smart bands that you can choose from based on your need and the features you want.
We will add more Fitness bands to the list post some more careful analysis. If you wish to add your experience in the comments below, please feel free to do so.
Also, you can read about the 10 Best Earphones to purchase in India.
Also, Read:
8 Best Smartwatches For Girls (Women) India 2020
Top 10 Best Smartwatches for Men – Improve Your Health