Updated – 05/Jul/2019 – Health and Fitness is something which everyone is looking forward to work on in 2019. Smartphones and Fitness bands are a new rage, and everyone wants to get one.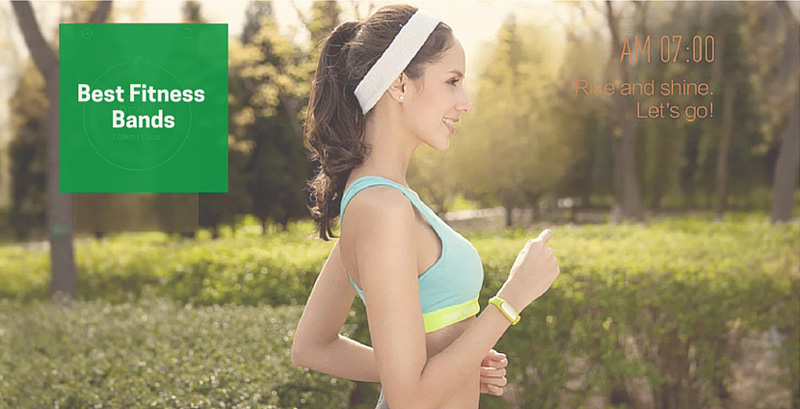 From people who want to be serious about their fitness regime and others who want to count calories.
Fitness bands can help you keep track of the amount of exercise you are doing.
Also, Smart bands can pair with your Android or Apple smartphone to track the live data (using Apps) and help you take corrective action to improve health.
Let's Check out 10 Best Fitness Bands in India.
Xiaomi Mi Band 3 (Affordable & Best)
Xiaomi has recently launched the Mi Band 3 in India, and it is available to purchase from Amazon India as well as Mi official website.
The new Mi Band 3 comes with several improvements over the Mi Band 2. The new Smart Band costs Rs. 1999 or $30 and offers features which are usually present in high-end health bands.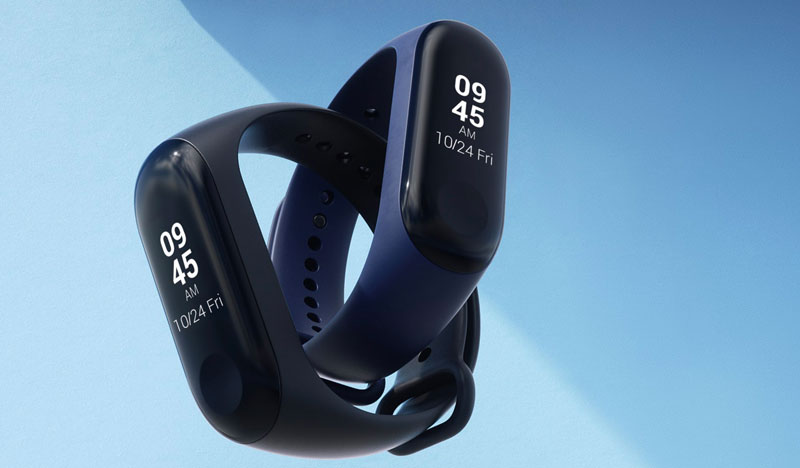 The Mi Band 3 comes with 0.78 Inch display with 128*80 pixels. It is made of polyplastic and comes with 110 mAH capacity battery that has an astonishing battery life of 20 days.
You can use the Mi Band 3 with any smartphone, having Android version 5.0 or iOS 9 or higher. Moreover, you don't need a Xiaomi phone to use the Mi Band 3, phones from all other brands work seamlessly with the fitness band.
The highlight feature is Heart Rate Monitor, apart from having a step counter, sleep monitor, Idle Alert, and calorie counter.
Furthermore, the Mi Band 3 can show time, weather forecast, Goals, Messages and notifications. Lastly, the Mi Band 3 is water and dustproof and you can go swimming with it without any worries.
Key Specs for Xiaomi Mi Band 3
Display – 0.78 Inch With 128*80 pixels
Upto 50 meters water resistant.
Compatible with both iPhone and Android phones.
Battery Life up to 20 days.
Weight – 20 grams
Find My Phone Feature, Can ring your phone.
Can Measure – Steps, Calories, Sleep tracking, heart rate
Excellent Value for Money
Price Rs. 1999
Lenovo HX06 Active Snartband (New Addition)
Lenovo has launched its HX06 Active Smartband exclusively on Flipkart at a price of Rs. 1,299 on 2nd July 2018.
Talking about its features, the new fitness band features a 0.87-inch OLED display with 128 x 32 pixels resolution.
It is important to note that the Lenovo HX06 is IP67 certified water-resistant, which is a great feature at this price range.
The smart band is compatible with the iOS device running on iOS 8.0 and above, and Android device running on Android 4.4 and above.
Also, it has Bluetooth 4.2 and weighs 20 grams.
Also, the band has a sedentary reminder feature. This feature makes the fitness band remind the user to get up and be physically active, once a set time is reached.
Further, the band comes displays notifications and phone calls by vibrating gently. The Lenovo HX06 even has an alarm clock featuring five different types of alarms.
The fitness band is equipped with anti-sleep mode as well as a sleep monitor. Anti-sleep mode makes the band vibrate during night shifts or late night drives in order to keep the user stay focused.
Whereas, the sleep monitor keeps track of sleep quality and helps in improving the quality of sleep.
For charging the Lenovo HX06 band, USB Direct Charging makes use of the standard in-built USB port to directly connect the band to a USB charger or a computer.
Notably, this fitness band supports the Lenovo Smart Bracelet app. The app can be used by registering as a new user, or log in through third-party apps like Facebook, Twitter, WeChat and other apps to share the fitness data with friends.
Key Specs for Lenovo HX06
.87 inch (128 x 32 pixels) OLED display
Supports Android 4.4 and iOS 8 devices
IP67 Certified Water resistant
Sleep tracking
Steps, distance, and calorie tracking
Gyro sensor, pedometer
Call notifications
Activity tracking
8 days of battery life
Xiaomi Mi Band 4
Xiaomi Mi Band 4 comes with brand new design and has colored AMOLED touch display, where you can view call, text and App notifications.
The Mi Band 3 is probably one of the highest sold fitness band, and the Mi Band 4 makes things even better.
The fitness band is not yet available in India, but will likely launch in July 2019 for a price tag of Rs. 1999.
The biggest upgrade in comparison to the Mi Band 3 is the AMOLED display with 2.5D curved glass. Also, it is less prone to scratches than the previous iteration.
The Mi Band 4 can track fitness work out, running, swimming, cycling, quality of your sleep, and measures heart rate at all times.
You can sync the Mi Band 4 with the Mi-Fit App to know more about your health and fitness.
Also, there is an improved pedometer algorithm in the Mi Band 4 which measures the steps more accurately and filter out the unnecessary movements.
It comes with 3-axis accelerometer and even has the 3-axis gyroscope to ensure better movement tracking.
One of the highlight features of the Mi Band 4 is the long battery life of about 20 days.  You can check time, steps and heart rate on the OLED Display of the fitness band.
Further, the Mi-Fit APP which is used to display all the information on your smartphone and is paired with the Mi band using Bluetooth.
The tracker module is rated IP67 allowing to monitor your calories while swimming. Also, you don't need to worry about the water damage to the MI Band 4.
The band strap is claimed to be made of, an antimicrobial material, ensuring hygiene and suits well for allergic skin.
Overall, it is one of the best fitness bands in the price range and a solid deal for the price.
 Supported Function and Specs for Xiaomi MI BAND 4
0.95 Inch AMOLED Display With 120 x 240 RGB.
2.5D Curved Glass and anti-fingerprint coating.
Maximum Brightness – 400 Nits
Heart Rate Monitor.
Steps Counter.
Sleep pattern Analysis.
Vibration alert.
DND Mode.
Alarm
The codeless phone unlock.
IP 67 certified.
Compatible with Android 4.4 and iPhone 9 and above.
20 days battery back up.
Charging time – 1 hour and 55 minutes
Weighs 22.1 grams.
Also, Note Xiaomi has recently launched the Xiaomi Mi Band 3 (on June 1, 2018. However, it is only available in China currently, we will update as soon as it gets launched in India.
Xiaomi Mi Band HRX Edition Price Rs. 1299
Mi Band HRX edition Specs and Key Features
The new Mi Band comes with an OLED display, shows time, steps walked, calories burnt and distance covered.
Furthermore, the fitness band comes with improved accuracy when counting steps and also alerts you when you have been sitting idle for a long time. Also, it reminds taking short walks and drink water regularly.
There is a splash-proof design but it is not waterproof so you actually can't take it swimming. For connectivity, it has Bluetooth 4.0 and can easily pair with any Android phone.
It can even show notifications on your mobile.
Notably, the Xiaomi Mi Band HRX Edition comes with 23 days of rated battery life. However, we can easily expect it to work for more than 2 weeks with ease.
It is similar to the Xiaomi Mi Band 2 that is available for Rs. 1,999. But One important feature, the heart rate sensor is missing in the HRX edition.
2). Intex FitRiSt Pulzz Price Rs 1799
It's one of the first wearables from the Indian smartphone vendor Intex.  The Intex FitRiSt Pulzz is priced at an attractive Rs 1799 and is a top-selling fitness band in India.  A tiny display adds little value to the Intex FitRiSt Pulzz; it seems like a better option than MI band. The band is available for purchase on Flipkart India.
The Intex FitRiSt Pulzz band works with the Intex App which is quite intuitive and comes with lots of features and visual graphs to check your daily progress and sleep patterns. The app is available on Google play store for free and can be used with any smartphone. The Battery life is about 5 to 7 days, and it takes 2 hours to charge the Fitness Band.
There were some inaccuracies as reported by the users, but the app has a feature which can help you calibrate it more accurately by using the Fitrist Pulzz Application and adding details like Weight, height in user profile precisely. Secondly can also Set the Stride accurate in the user profile to get more accurate data.
Supported Functions Intex FitRiSt Pulzz
Step Count and Calorie Count
Distance Covered, Running
Heart Rate Monitoring
Sleep Monitor
OLED Display
Compatibility- Android and iOS
Water protection – IP 67 Rating
Built material – Silicon
weighs 28.6 grams
6 Months Warranty
3). Lenovo Smart Band Cardio 2 (New Addition)
Lenovo has launched the new Lenovo Smart Band Cardio 2 on 4th July 2019 in India for a price tag of Rs.1499. The key high light of the band is 20 days battery life and continuous heart rate monitoring.
Notably, the Smart Band Cardio 2 is offering almost the same features as the Mi Band 3 for Rs. 500 less. The Cardio 2 is already available for purchase on Amazon India for above-mentioned price.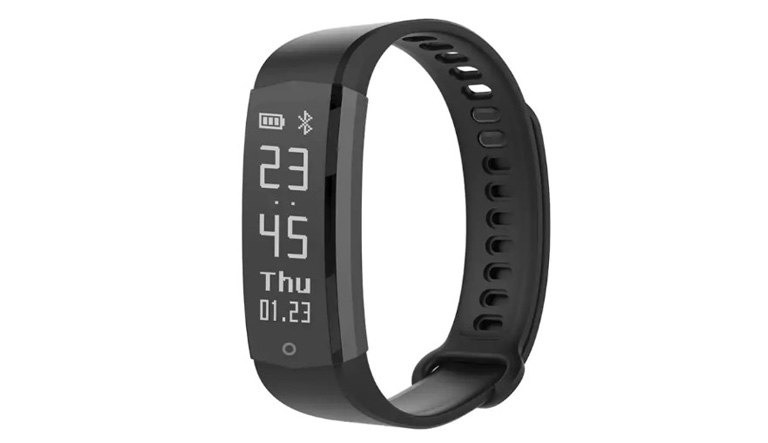 The band comes with a rectangular display, with 0.87 Inch screen. The Fit band comes with water resistance upto 50m and you can take it swimming and need not worry about the water damage.
Furthermore, it can count steps, workout, running, swimming, calories and walking distance. Also, there is a sedentary alarm which reminds you to move if you have been sitting for very long.
Also, it analyzes sleep pattern and provides data about sleep quality.
The fitness band has a USB charging port and you can pair it with any mobile running on iOS 9 or Android 5.0 or higher.  Lastly, there is a Lenovo Life App which you can download to check long term workout and fitness trends.
Supported Functions Lenovo Smart Band Cardio 2 
Rectangular 0.8 OLED Inch display.
Walking, Running, Swimming and Workout Tracking
Live Heart Rate Tracking
Sedentary Alarm
Sleep pattern analysis.
1-year Warranty.
Compatible with Android 5 or iOS 9 or higher.
20 days battery back up.
Affordable Price of Rs. 1499.
 4). Noise Trace (Decent Design and Looks)
Noice trace looks a lot like a traditional watch with a large circular display. The display is composed of 128*128 LED pixels making it easy to monitor the activities.
The Noise trace can be controlled by double tapping the screen, moving through info requires tapping the screen multiple times.
The device uses 3 Axis accelerometer as a tracking sensor; it also comes with several useful features like ring alarm when the smartphone goes out of Bluetooth coverage, call on smartphone alert, etc. The Noise Trace fitness band is priced at RS 1499
Supported Functions Noise Trace
Anti-lost alarm for the smartphone.
Call, SMS notification.
Sleep time recording.
Pedometer.
Calorie count.
Water Resistant
 Compatible With Android and IOS.
24 grams weight
6 Days battery life.
6 Months Warranty.
5. Lenovo HW01 Fitness Band (Newly Added)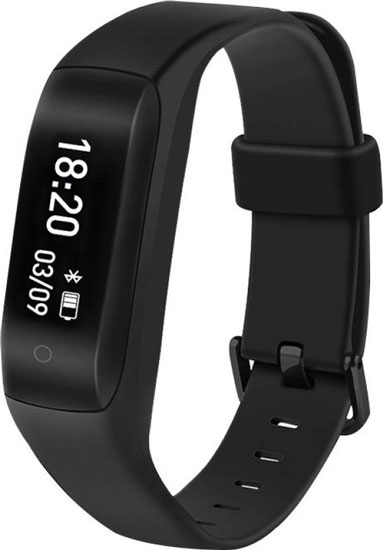 10 Best Fitness Band India 2019 – Lenovo's HW01 is competing with the likes of Mi Band, Fitbit, and Intex fitness tracker and is priced at Rs. 1,999 available to purchase from Flipkart. 
It looks modern with a rectangular curved shape and comes with a black silicone band for more breathability while working out. It manages to fit in a 0.9 inch OLED touch display and come with the Bluetooth v4.2 support. Also, it has accelerometer and pedometer.
Ruggedness is kept in mind as it does retain the IP65 rating and is also dust resistant. It's compatible with Android v4.4 KitKat and higher and even with iOS.The Lenovo HW01 comes with 90 mAh battery endurance up to 5-7 days.
Like most of the Smart bands, it also focuses on tracking your, "Calories burned, Activity-inactivity, distance traveled, sleep quality, heart rate, step counter and more."
The Lenovo Smart-band also can show third-party notifications, calls, and messages.
Overall it seems to be powerful enough to compete with other brands out there. At a price tag of Rs 1,999; it competes with the Mi Band 2.
Supported functions Lenovo HW01
0.9 inch 128 x 32 pixels, 147ppi 

Sleep pattern analysis 

Dynamic Heart Rate Monitor
Pedometer, Calories & Sleep Monitoring
Liquid Splash & Dustproof

1 yr warranty. 

Compatible with Android and iOS. 

5-6 days of battery life
6. Fastrack Reflex Health Band (New)
Fastrack Reflex is one of the most stylish dual-colored fitness band on the list. The fitness band looks futuristic as well more premium than its price tag of Rs. 2000. 
The Reflex is aesthetically modern and attractive compared to other same looking devices. The dual tone colors and attention to the texture of the bands makes it a great combo.
It has a monochrome OLED display with a blue illumination gives it a cool splash of color.
Unfortunately, for a smart-band, it misses out on significant feature aka IP rating. Unlike the Mi band which is IP67 rated; the Reflex is only IPX6 rated and cannot be used while swimming or other water activities.
Fortunately, the Reflex has a pretty long battery life 15-16 days max.
It can easily track your sleep, steps and can also notify the alerts, messages, alarms, third-party Apps, calls with the Caller ID feature as well. Although there's no heart rate scanner available.
At a price tag of Rs 1,995; it's competing with the more spec loaded Mi Band 2, and the availability issue by Xiaomi can help and boost the sales of Reflex.
Supported functions of Reflex
Great Build 

1yr warranty
Compatible with Android and iOS

15-16 days of battery life
6). ENRG Acti-Wear Fitness Band
Number 6 on the list the newly launched ENRG ActiWear fitness band priced at Rs, 2,999.  Unlike the cheaper ENRG fitness band, the  Activewear comes with a 0.9 inch OLED display. ENRG is an Indian startup and plans to expand in the field of fitness and wearable technology.
The ENRG Actiwear band comes in black, blue and red colors and is available for purchase from Shopclues and Amazon India.
The Activewear can track your activities like walking, distance traveled, sleep pattern analysis, calorie intake count.  The Fitness band can show smartphone notifications such as incoming calls and messages.
The ENRG Actiwear is compatible with both Android as well as iOS devices.  The fitness band comes with IP67 certification and can be used in water. The Smart band comes with 75 mAH battery capacity and can work for 5 days on a single charge.
Key Specs for ENRG Actiwear
Supports Android and IOS Phones
IP67 Certified Water resistant
Sleep tracking
Calorie and activity tracking
5 days of battery life
LED display
7).

GOQII Premium JC-039
GOQII Premium is one of the popular fitness band in the affordable segment and comes with standard features like activity and sleep tracking.  Also, it has a GOQ app which lets you track and measure your fitness activity level.
The GOQII Premium has good accuracy and also comes with support from personal Fitness experts for 3 months period who can guide you with any fitness issue and help you plan your diet and fitness regime to stay fit.
The band can store data for 3 days, and you can sync the band with the mobile whenever you wish to.
The fitness band is available on Flipkart and is currently priced at Rs. 2399.
Key Specs for GOQII Premium JC-039
Calorie and activity tracking.
5 days of battery life.
Fitness Expert support.
LED display.
IP67 Certified Water resistant
Sleep tracking
8).

Moov Now
Moov Now is a mid-range fitness band is priced cheaper compared to Fitbit or Garmin bands. It is one of the bands which offers many more features compared to the cheaper fitness bands we have recorded above.
Moov Now is ideal for men and women and is compatible with IOS and Android smartphones. It is made up of silicon material which is much better compared to some of the cheaper plastic bands.
The battery life is great, up to 180 days. The fitness band is available in blue and red colors. The best feature for the band is talk-back which helps to guide you and provide useful inputs during exercise utilizing a speaker. It is a good Smart band in Rs. 5000 to Rs. 6000 price range.
Key Specs and Features for Moov Now
Tracks Run and Walk, Cycling, Swimming, and Cardio.
Even can track boxing, but you will need two bands.
Water Resistant
180 days of battery life
Talkback feature
Coaches and guides you on fitness.
6 grams weight
1-year warranty
9).

Garmin Vivofit Wireless Fitness Wrist Band and Activity Tracker
Garmin is a well-known name in fitness tracking and health gadgets. The Garmin Vivofit is a starting range fitness band from Garmin priced at Rs. 5999. The fitness band don't offer too many features but comes with great quality, accuracy, and well-built silicon band.
Garmin Vivofit comes with very long battery life and works almost a year.  It has a display which shows time as well as fitness stats and activity bar. The Activity bar is a unique and best feature which shows a red bar when you have been sitting for an hour and encourage you to take few steps, so the bar disappears.
Vivofit learns about your activity levels daily and assigns fitness goals after analyzing your movement levels every day. The band can sync with other fitness devices from Garmin like the heart rate monitor to track your heart activity if you wish to buy that separately.
Vivofit also monitors your sleep patterns and analyze the quality of sleep. Overall it offers a good user experience and is a premium product.
Key Features of Garmin Vivofit
Long Battery life
Good Design and User Experience
Move Bar
Compatible with Android and IOS
Can sync with Garmin Heart rate monitor
10)

Fitbit Flex Activity Tracker Fitness Band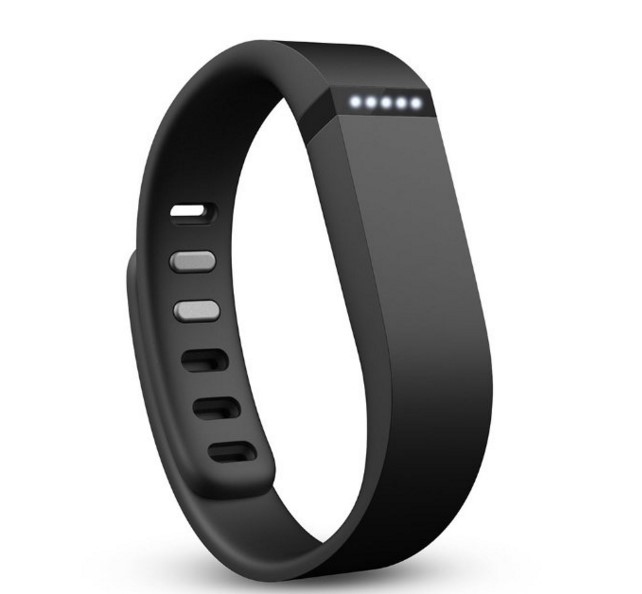 Fitbit Flex is quite similar to the Garmin Vivofit costs Rs 6999.  The Fitbit Flex comes with basic activity tracking sensors and can monitor sleep as well as walking/running. Further, the activity tracker comes with an LED display to show the level of activity but does not display time or any other information.
The Fitbit website UI and user experience is one of the best when compared to the competition and offers easy information which helps you measure your goals and achievement.
The Fitbit Flex is waterproof and you can wear it all the time without the worry of getting damaged.
Key Features of Fitbit Flex Activity Tracker 
Good User Interface and User Experience
Mostly Accurate
Better Build Quality
Basic Fitness tracking
Sleep Analysis
Dormant notification.
11. Goqii Vital Fitness Band (July 2018 Launch)
The Goqii Vital fitness band is launched in India and is available on Amazon India starting 16th July 2018 and it costs Rs. 3499. The band comes with features such as steps counter, calories burnt, distance traveled and sleep details.
Also, the health band can measure blood pressure and heart rate.
Additionally, the Goqii Vital users have access to the Goqii play features App that they can use on their smartphone. The App offers great features such as live video streaming from Health Experts, Fitness trainers, dieticians and doctors who can help them achieve their fitness goals.
The service is free for the first three months from the time of purchase of the fitness tracker. Lastly, it comes with an OLED Display, a micro-USB port for charging and has up to 7 days of Battery life.
Key Features of Goqii Vital Fitness Band
Good User Interface and User Experience
Mostly Accurate.
Excellent Support from Health Experts.
Heart rate monitoring, Steps Counter, the Blood Pressure monitor.
Waterproof
Sleep Pattern tracking
Calories burnt.
Notifications to mobile.
Here is an initial list of best Smart bands which you can choose from based on your need and the features you want. We will add more Fitness bands to the list post some more careful analysis. If you wish to add your experience in the comments below, please feel free to do so.
Also recently Xiaomi has launched the HRX Edition Fitness Band in India which I will soon add to this list. Also, can read about the 10 Best Earphones to purchase in India.
Get Similar Articles in MailBox