OnePlus SmartWatch – Top Features, Specs, and Price Details
Oneplus introduced the new Series 9 smartphones at an event on 23rd March and launched the brand's premium smartwatch.
Notably, Oneplus has already forayed into wearables with the launch of its Fitness band a couple of months back.
Now the company is moving ahead and launching a more advanced watch.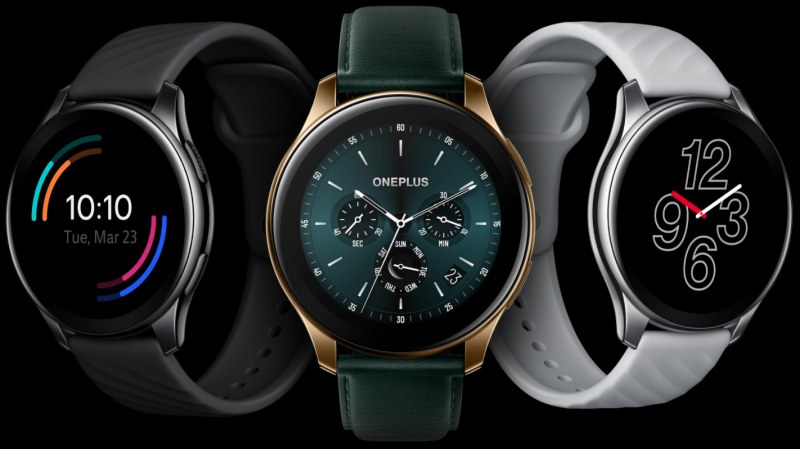 Design and Display
Starting with its design, the smartwatch comes with a compact and stylish design that has a circular dial and somewhat resembles Samsung Galaxy Watch Active 2.
There are three color choices – the Moonlight Silver, the Midnight Black, and deep green color. The White and Black Color watches have a flexible Silicon strap, whereas the Green color variant seems to have a more traditional leather strap.
Oneplus will be selling the White and the Black color initially and will later launch the green version. I think both the Black and White colors look good and the choice depends on personal preference.
Boys may want to go with the black version whereas girls may want the white one more. However, these are unisex colors and you can pick the one you like.
For starters, the Oneplus Watch has a premium build and comes with a 316L stainless steel, making it durable.
The watch is not so heavy and weighs just 67 grams
Talking about its dial, it comes with a 1.39 inch AMOLED round dial display along with a resolution of 454*450 pixels and 326ppi pixels density.
The display looks sharp and has enough pixels to have clear text based on the specs.
Fitness Tracking & Other Features
To track your health, it has a blood oxygen level monitor ( commonly called SPO2 tracking) that is becoming more popular in smart wearables due to the Corona Virus Pandemic.
The watch also comes with a breathing mode and even monitors your stress level. These are pretty common features that you will find in other watches too.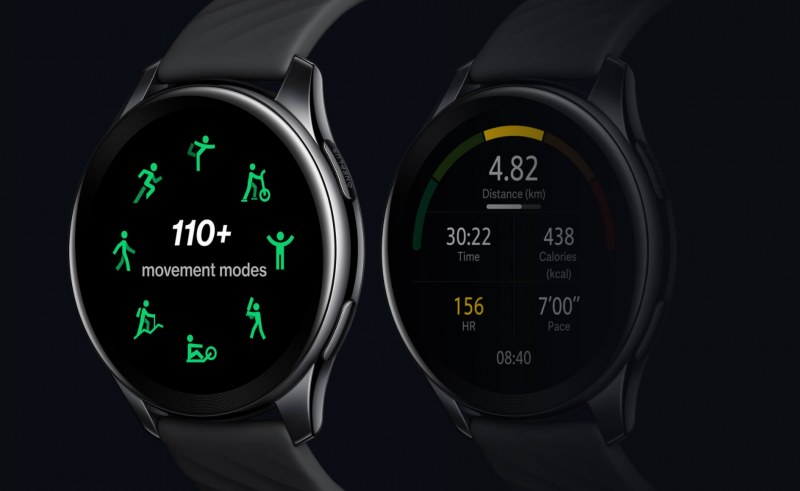 It provides you seamless connectivity with the support of Bluetooth 5.0 and a powerful call feature that keeps you notified of incoming calls.
You can also do voice calls because of built-in micriophone. Most affordable watches lack call feature but since this is a premium watch Oneplus has included it.
You can also connect this smartwatch with your OnePlus T.V and can do volume control, power off, and by chance, while connecting with T.V you get a voice call then it automatically lowers the volume of T.V.
While watching T.V. with connecting a OnePlus watch, if you fall asleep then after 30 minutes of your sleep, watch will instruct the T.V to turn OFF.
These are the deeper integrations that Oneplus Watch has if you have other Oneplus devices.
Additionally, it also has an inbuilt GPS support for navigation.
The smartwatch comes with 110+ dedicated workout types that can track your progress. So, that you can power ahead toward your fitness goals.
Additionally, the Watch comes with 4 GB of internal storage space where you can store tons of music tracks that you can listen to using Bluetooth earphones or if you have the OnePlus earbuds without using your phone.
A lot of runners don't want to carry their phone with them while going out for a run or jog, the watch has the capability to play your favorite music without the smartphone.
The Watch can also measure your pulse, distance traveled, calories burnt, speed, and SWOLF efficiency.
The In-built GPS can track the cycling and running routes and can give advanced stats such as speed with better accuracy.
Furthermore, you can take the watch for swimming as it comes with 5ATM + IP68 water resistance, and you don't have to worry about water damage.
Its battery has a 402mAH battery capacity that will offer 14 days of battery backup on standard use and up to 7 days of backup on intense use.
The Oneplus Watch comes with Warp charging support that the company claims offers 1-week of backup on just 20 minutes of charging.
Price and Availability
The price of this smartwatch in India is INR 16,999. There is a launch offer, and you can get the Watch for Rs. 14,999. So, the Oneplus Watch looks promising, and if you own a Oneplus phone or Audio gear, you may be interested in checking this one out.