There are several things that you must consider before investing in a new iPhone. Should you wait for Apple to reduce the extremely high prices or get an Android phone.
Before we get to the specifics of the above question let's have a look at how Apple is doing currently in the global as well as Indian market.
Also, Read about the latest iPhone 11 and 11 Pro.
iPhone Shipments Decline to 50% in India – Thanks to Absurdly Expensive iPhones
Update – 14/01/2019 – Based on the recent report from Cybermedia Research, Apple shipments in India has reduced by 50% in 2018, in comparison to 2017.
In a letter to Apple investors by Tim Cook (published on 2nd Jan 2019) Apple has shared the challenge in the emerging markets. Apple is facing a drop in global shipments and the impact is severe in many markets including India and China.
Huawei recently became the No. 2 brand in terms of global smartphone shipments overtaking Apple. The Indian smartphone market has doubled from 80 Million in 2014 to 150 Million in 2018.
However, Apple shipments are nearly the same in 2018 as was in 2014. Apple has failed miserably to understand the Indian market and Indian consumers and is still using the one size fit all approach.
When the original iPhone was launched in 2007, the market was different and it was an innovative product.
Now smartphones are becoming a commodity and everything we can think off is supplied by the Chinese rivals at one-third the price. Had Apple released a $500 iPhone for developing markets they would have made a killing.
But Apple is Apple and they would not dilute the brand name by launching a great affordable product. There idea of affordable – iPhone XR is more expensive than even than most flagships in India.
Undoubtedly, a huge number of iPhone users are jumping ship in India and switching to Android.
Apple's stock price is tumbling from a peak of USD 232 in October to USD 142 currently. It is a massive decline in stock value and the market capitalization has come down by more than 380 billion US dollars.
Apple initially planned and understood that they may not be able to sell as many iPhones as they have done in the previous years. The sales offset was likely to be mitigated with an increase in the price of each iPhone.
However, the above strategy is failing miserably and overall revenues for the brand are dipping globally.
There are several factors at play, the topmost are:
Absurdly high prices, people are still holding on to older iPhones.
Affordable and great Android Phones like OnePlus 6T.
More aggression from Chinese players like Huawei, Oppo, Xiaomi and Vivo.
Older iPhone Models like iPhone 8, 8 Plus, 7, 7 plus are outdated.
Affordable replacement of iPhone batteries.
Read a bit about the new affordable iPhone XR before we answer the key question of switching to Android from iPhone.
Update-26-Oct-2018
Apple iPhone XR Goes on Sale Today
The new iPhone XR goes on sale today (27/Oct/2018) and will be available for purchase across Apple stores at 6:00 PM. Also, you can order it from Flipkart for a price of Rs. 76,900 for the 64 GB model and the 128 GB version costs Rs. 81,000.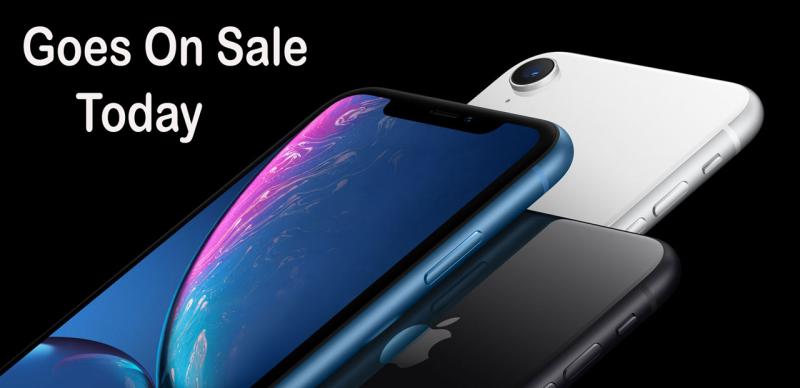 Good news is, you can get a 10% discount when buying the new iPhone XR from Flipkart if you make the purchase using the Axis bank debit/credit card.
As per the terms and conditions, the maximum discount is Rs. 4000, so you will have to pay Rs. 72,900 for the new iPhone XR.
Apple today ran a full front page AD in numerous daily newspapers to promote the new iPhone.
Update -26th-Sept-2018
Should You Upgrade to New Expensive iPhones Or Wait Or Switch to Android?
The new iPhones are already out, and recently I came across a fascinating Poll on Facebook in one of the Indian Apple Groups.
Considering the Indian price is insanely high for the new iPhones, a considerable number of Apple Fans in India are wondering should they upgrade to the new iPhones, or continue with the existing models that they have or maybe switch to the dark side (Android).
People in the US are calling the new iPhones expensive, but if we consider India price these cost nearly 40% higher than the US. And surely out of reach for many middle-class buyers.
With the cheapest iPhone XR costing Rs. 76,900 it is much higher in comparison to any base model of iPhone launched in the previous years.
Let's have a look at the Poll on the New iPhones.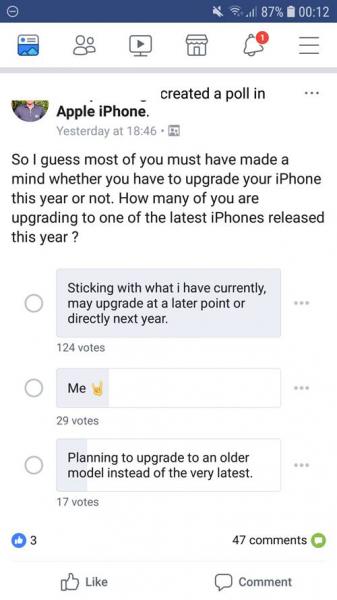 Below is the graph which just makes thing a little bit more clear. About, 73% of people have voted that they are happy with their current iPhones and they don't want to upgrade to the latest models.
About 17% have clearly stated that they will upgrade to the latest iPhones and about 10% say they will buy the previous generation of iPhones.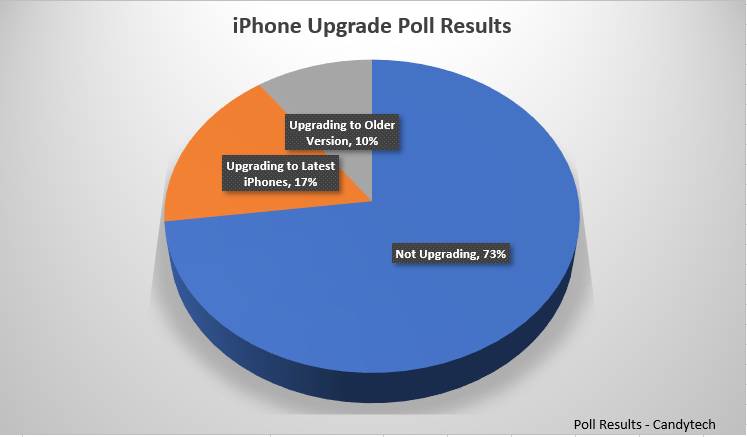 Please note this is just a sample survey and may not be 100% accurate. But one thing we can say is that it gives us a sentiment representation of iPhone users in India.
Price Comparison India and the US
| | | | | |
| --- | --- | --- | --- | --- |
| | US Price $ | Equivalent India Price | Actual India Price (With Taxes) | % Mark Up |
| iPhone XR | 749 | 50932 | 76900 | 51% |
| iPhone XS | 999 | 67932 | 99,990 | 47% |
| iPhone XS Max | 1099 | 74732 | 109,900 | 47% |
*Equivalent Price in India – Price in US*68
So the price in India is high even in comparison to the US which has a per capita GDP of around 58,000 dollars in contrast to India which has a per capita GDP of just 1800 dollars.
I think the prices are fair and reasonable if we have to buy the new iPhones in the US but unfortunately too expensive in India.
Back when iPhone X was launched I wrote an article which is so far read 1000s of times – iPhone X Is A Significant Upgrade But at 89K Is Beyond My Reach, you can have look.
Let's move ahead and try to answer the most critical question.
Why Are the new iPhones So Expensive in India?
Apple imports the iPhones in India and has to pay a huge custom duty on the imports. Apples pay 20% import duty when they bring iPhones in India.
Moreover, the import duty on new phones was increased from 15% to 20% in the 2018 budget.
Actually, there was no import duty before July 2017 and government first announced a 10% import duty, and after just six months they revised it to 15% and then to 20% this year. This has lead to increase in the price of iPhones.
There are more taxes added to the iPhone price such as GST, and these become much more expensive than the price in the US.
Other manufacturers like Xiaomi and Samsung are making or assembling mobiles in India save money on taxes and can offer the phones much cheaper.
For example, the POCO F1 which is recently launched, is a made in India mobile, and hence costs way less.
Pricing aside, So, let's have a look at some of the key features and upgrades that we are getting in the new shiny iPhone X series models.
iPhone XR Vs. iPhone XS Vs. XS Max
The iPhone XR will start shipping from 28th October in India while the iPhone Xs and Xs Max will start shipping from 28th September 2018.
The iPhone XR comes with a Liquid Retina HD Display with 6.1 Inch Display having a 1792×828-pixel resolution at 326 ppi which is not that great in comparison to the more expensive iPhones offering 458 PPI and a higher resolution.
However, the new iPhone XR comes with the super fast Apple A12 Bionic chipset which is far ahead of the current generation of fast Qualcomm chipset (SD 845) and offers blazingly fast performance.
So we don't have to worry about the performance for the next 2-3 years if we go ahead and buy this iPhone. Also, the XR comes with a single 12 MP camera with f/1.8 aperture lens and has 4K video support, and we can expect it to click great images despite missing on the Dual camera setup available on the other 2 higher end models.
The front camera is the same on all the new iPhones and comes with a 7 Megapixel F/2.2 aperture lens with a portrait mode with advanced bokeh and depth control.
Also, another exciting thing this year is that we are getting the new iPhones with Dual Sim Support but the second sim is an e-sim which you need to get configured from your telecom operator (Airtel or JIO).
I think Idea and Vodafone will also offer the service for E-Sim as a considerable number of their customers will be using the new iPhones and Apple Watch Series 4.
The Xs and Xs Max come with 5.8 inches and 6.5 inches true retina displays with 458 Pixel density. Also, both the devices come with Dual Rear cameras with one lens as a telephoto lens and the other as a wide angle camera.
Apart from the excellent display, both the phones come with steel construction which looks much more superior to the XR aluminum build.
Also, there are noticeable bezels around the XR IPS LCD display which is not present on the superior OLED panels on the more expensive Xs and Xs Max.
Which iPhone is Ideal for you in the X Series?
If you want the latest and the greatest from Apple I would recommend going for the Xs or the Xs Max both are fantastic. The Xs is more manageable and pocketable in comparison to the Xs Max.
But with the Xs Max, you get a lot bigger display and battery capacity which makes it ideal for people who love larger screens to watch Netflix or Youtube or even read the text.
XR is a bit of a compromise mostly due to the IPS display otherwise is a great option if you want the snappy iOS experience and an iPhone which will easily last three years. Also, according to Apple, the XR has a better battery life, so that is an added advantage of buying it.
Should You Upgrade to the New iPhones?
Apple products have been as expensive as the property in Mumbai. It doesn't matter which year we are talking about, they always seem to be more expensive than what people think they should be.
Also, hopes of prices going down next year for iPhones are same as dreams of buying a less expensive flat in Mumbai.
Every year the prices keep rising.
But if you are an Apple user, I don't need to tell you how great is the after sales service and ease of use for the Apple products.
The most impressive thing about buying Apple hardware is Apple care. As per my experience; really there is no comparison of Apple service to Samsung or even other brands.
Should You Switch to Android?
I know this is not a good option for Apple users. But in case you are thinking to jump the ship, there are several good options on the Android side like the Samsung Note 9, S9 Plus or the Google Pixel 3 or the OnePlus 6T.
Let me know in the comments below what do you think of the new iPhones and which one are you planning to buy…
I am working on a video on the actual case of how helpful has been Apple care in comparison to others based on my experience; you can subscribe to me on Youtube to watch that video.
Video – Why Are the New iPhones So Expensive in India? Should You Upgrade?