Xiaomi is Now the Top Smartphone brand in India
Back in July 2014, Xiaomi's global head Lei Jun came to India and launched the Xiaomi Mi3, the first Xiaomi mobile.
Lei Jun is an avid follower of Steve Jobs and love to dress in blue jeans /black T-Shirt. In fact, Lei Jun, Hugo Barra (Ex-Global Head) and Manu Kumar Jain (Indian CEO) are three key people behind Xiaomi India success.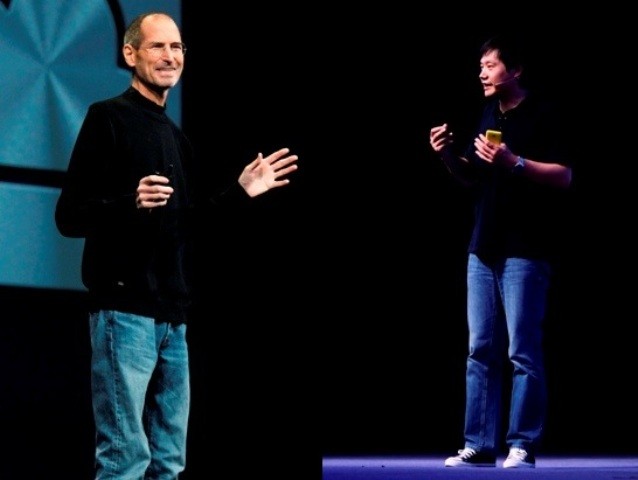 It is a classic case study of a brand which was not present in the market three years back, is now the Number 1 brand in India. As per the latest data shared by counterpoint research, Xiaomi has 25% share followed by Samsung with 23% market share. Lenovo, Oppo, and Vivo have lost share in the market in the Q4 2017.
Xiaomi Topples Samsung To Become Number 1 in India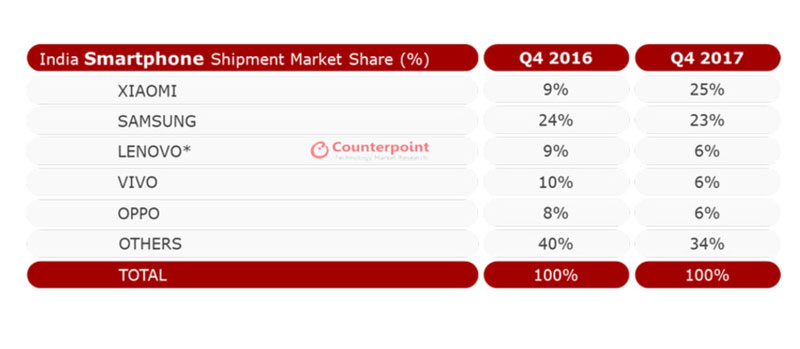 Also, Here is the latest Market Share numbers from IDC for Q4 2017.
But How it started and What Xiaomi did right? let's find out. 
Let's recall, some of the top phones that pivoted the way to success for the Chinese mobile maker.
The Xiaomi Mi3 was a revolutionary product that came with top of the line Snapdragon 800 series processor (SD 800). It was available for Rs 14999. Almost half of the Google Nexus 5 and Samsung Galaxy S4.
Xiaomi Mi3 Which set the path for a successful launch.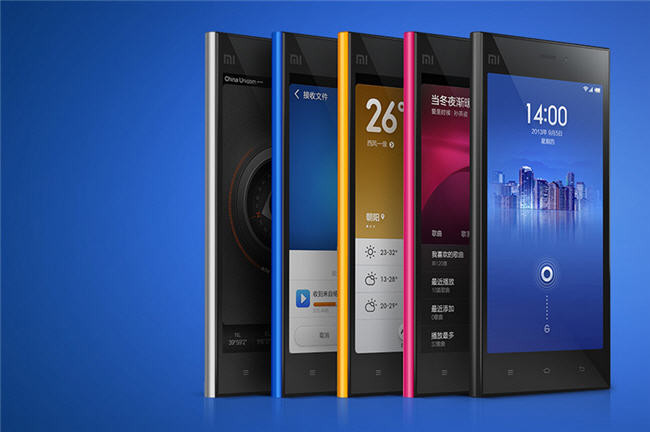 Xiaomi partnered with Flipkart for the Mi3 and started the concept of Flash sales. People were really excited to get the new Mi3. It used to vanish in seconds in the flash sales. Indian buyers loved the low price and exceptional specs offered by Xiaomi.
Moreover, Indians perceived Chinese brands as cheap and low quality, Xiaomi changed that perception. It is cheap but not low quality. In fact, the quality is much higher in comparison to the local brands that are slaughtered in this victory.
Xiaomi Mi4
Further, Xiaomi continued and launched many more successful mobiles like the Xiaomi Mi4 (powered by Snapdragon 801) for Rs. 19,999 in 2015. Around the same time Oneplus launched the Oneplus One at Rs. 21999 in the Indian market with the infamous invite system.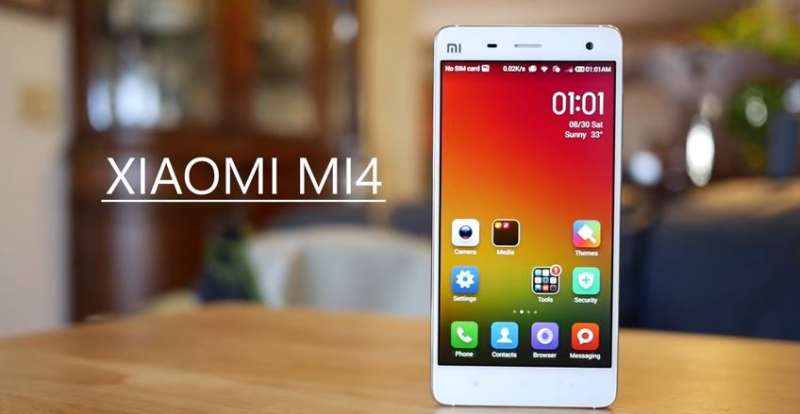 Xiaomi Mi4 was highly affordable and was very well received in the market. It competed with the Samsung Galaxy S5 that was launched at an exorbitant price of Rs. 50,500 in 2015.
Xiaomi Mi 4i
Later on, Xiaomi launched many budget mobiles in the Indian market which were really successful. Xiaomi understood that Indian market has a huge potential and demand for budget phones in the sub 15k price range.
Budget offerings helped the brand to expand the footprint and established an image of value for money products.
Redmi Note 4G
Some of the Top Budget Mobiles Xiaomi Launched:
Xiaomi Mi 4i
Xiaomi Mi 4C
The Xiaomi Redmi 2.
Xiaomi Redmi Note 4G
The Xiaomi Redmi Note 3
Xiaomi Redmi 3S
The Xiaomi Redmi 3S Prime.
Redmi Mi 4.
The Mi4i, Redmi 2, Redmi Note, Redmi Note 3, Redmi 3S and many more models made Xiaomi a popular brand in India. The recent models like the Redmi 4, Redmi Note 4 are the top-selling phones in Indian market.
Xiaomi's Share of troubles
Nevertheless, Xiaomi had its own share of issues in India. To recall, Ericcson filed a case not allowing Xiaomi to launch models like Redmi Note 3G,  using MediaTek processor due to patent issues.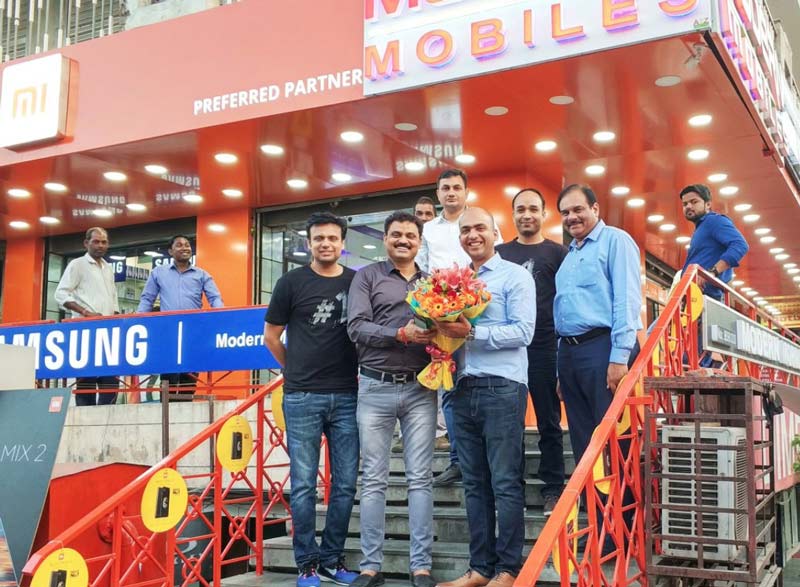 Recently, the man behind the massive expansion of Xiaomi in India and other markets left the company. Hugo Barra's contribution to Xiaomi is unequivocal. Kudos to Xiaomi's Indian CEO, Manu Kumar Jain who has kept the momentum going and is a reckoning force behind the Xiaomi India success.
Here is How Xiaomi Became Number 1 In India
Xiomi has really nailed the 4P's of marketing, the  first marketing lesson we learn in B-School. In fact, they have gone way ahead of basic 4Ps.
1. Firstly, Xiaomi makes great products, like the Redmi Note 4 or the latest Xiaomi Mi A1 (Android One), and sell them at really affordable prices.
2. The products are made according to consumer needs. Keeping performance, battery life and other features in mind to ensure they don't have anything missing. I recently observed Xiaomi was doing a survey even on Twitter to find out what are the priority features for budget phone buyers.
3. Excellent marketing and Hype creation by brand – They don't advertise much but they have made it a great brand by using viral campaigns and involving many influencers called Mi Fans. They create great build-up ahead of the product launches leveraging social media. Also, Xiaomi doesn't launch too many products, but the new offerings come with a well-thought plan.
4. Xiaomi is the first one to leverage the online model of sales partnering with Flipkart and Amazon.  They even use their own website that gets more than 100 million monthly visitors to increase sales. The flash sales model was revolutionary it creates a scarcity of the product and make people more curious and wanting.
5. Lastly, the Retail expansion is another major milestone in the Xiaomi's success and is going to reach new summits.
Let's Check Out Some More Cool Facts & Way Forward for Xiaomi
Xiaomi Global Market Share – No.5 in the world.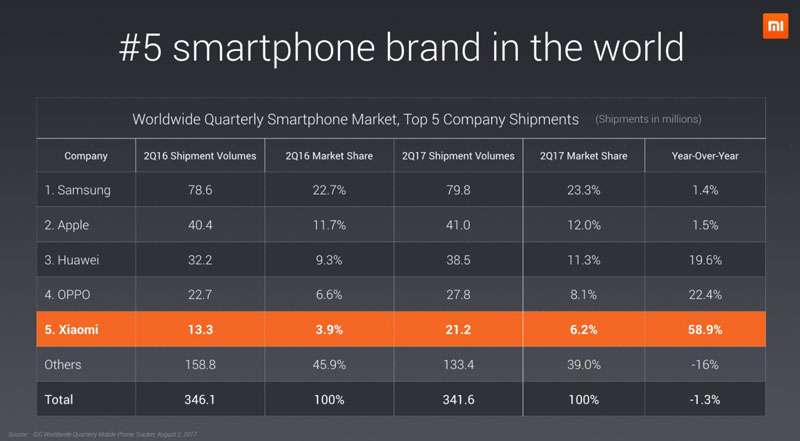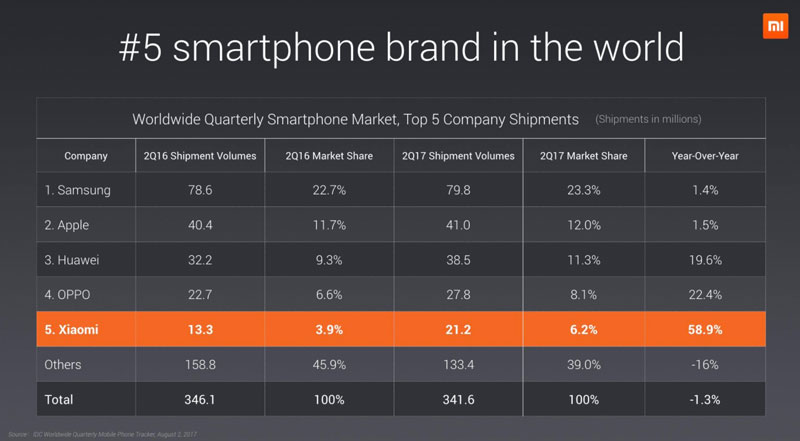 Samsung, Apple, Huawei and Oppo are the global brands that are ahead of Xiaomi but Xiaomi is growing much faster, (58.9%) growth last year. It is catching up fast with Oppo.
Back in September 2017, Samsung was the market leader in India with 24% market share while Xiaomi was at 17%. Vivo at 13% market share, followed by Oppo with 8 and Lenovo at 7%. None of the Indian brands (Micromax, Intex, Lava) now feature in the top 5, a sad story to be told some other day.
Also, Xiaomi in September 2017 shared that they have sold more than 25 million (2.5 Crore) smartphones in India since launch in 2014. We think this number would have reached close to 30 Million at the end of December 2017.  A big milestone for the company.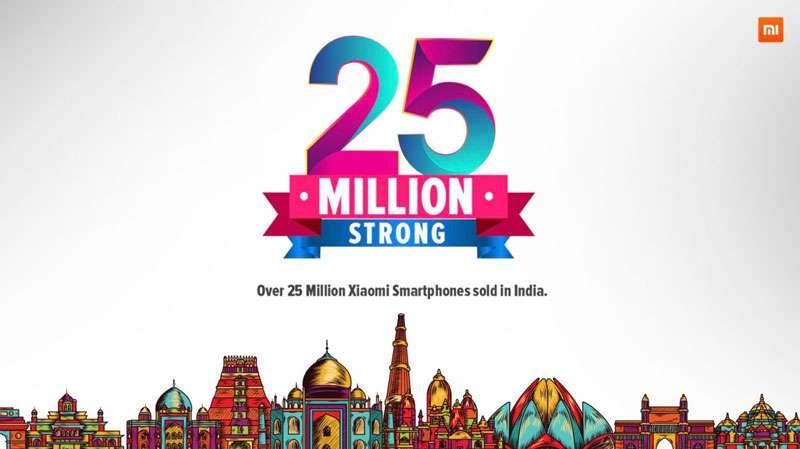 The success story stars are Redmi Note 4 and the Redmi 4 which are top mobiles in the Indian market.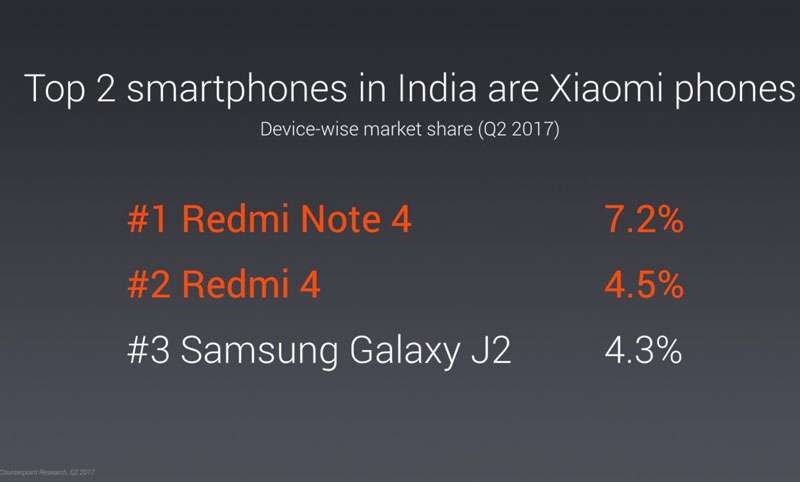 Xiaomi Enters Retail Market.
Notably, Xiaomi in last 1 year has shifted focus from an online-only player to a retails + online model like the rival Samsung to make sure it doesn't miss out on the growth from the Retail channel and can increase the reach in small towns.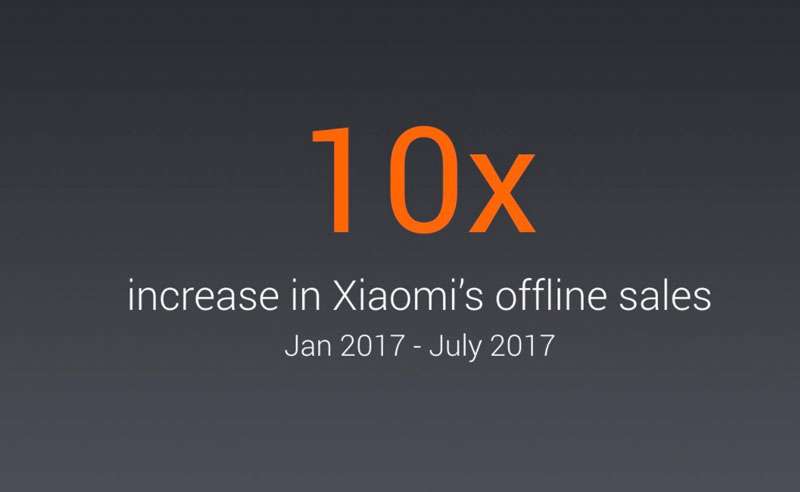 Xiaomi also plans to open 200 Mi stores across the country to ensure that buyers can experience the Xiaomi devices before buying and can be better served.
Xiaomi is the King of Online Mobile Sales
If we consider the online sale Xiaomi is way ahead of the competition. Xiaomi has 46.9% share in the online sales Vs 31.7% share of 2nd, 3rd, 4th and 5th brand put together.
So Samsung, Lenovo + Motorola, and other 2 top brands all put together are smaller in comparison to Xiaomi.
Fall of Samsung
The rise of Xiaomi and the fall of Samsung is related, when Xiaomi is looking to provide the best technology to the buyers at an affordable rate Samsung is still not seeing the picture clearly.
Also, Samsung is not doing much in the Sub 25k price segment in the last 1 year. Most budget phones from the brand are dated in comparison to Xiaomi which introduces and then after a period replaces phone models way faster.
It is quite possible that Xaiomi may cross 30% market share in India, a position once held by Nokia and Samsung.
You May Like to Read: Top Chinese Mobile Brands to Invade in India
Also, Read Story of First Xiaomi Mi Phone Launch in India – Click Next Below
You May Like
Related Articles