Asus recently launched many new laptops in the Indian market, and some of them are available with the new Ryzen 4000 series processors.
This is the first year when we have really good laptops powered by the new AMD Ryzen 4000 series processors apart from the usual Intel machines.
The Asus VivoBook S14 (S14 M433IA) is one such laptop, and it comes with the latest 8 Core Ryzen 4700U processor and a very low TDP of just 15 watts.
I have been using the laptop for more than two weeks and here is an honest account of the pros and cons that I have found on this machine during my testing.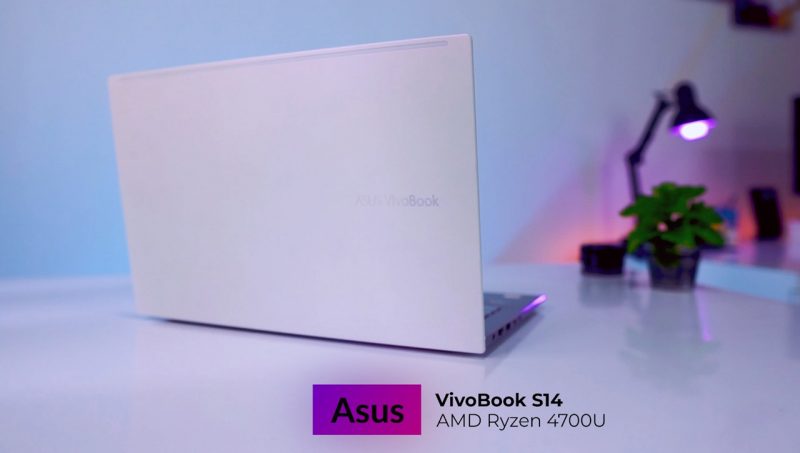 Asus VivoBook S14 is the latest Ryzen 4700U powered laptop and is one of the most powerful machines you can purchase for normal school, college, or office work.
Also, there is a new model that is recently launched with the new AMD Ryzen 5500U processor that comes with 6 Cores and 6 Threads with 4.0 GHz max clock speed.
The new laptop has 8 GB Ram and 1 TB NVMe SSD and the rest of the design and specs are the same.
You can buy the AMD Ryzen 5500U model for Rs. 68,990. The AMD Ryzen 4700U model is available for Rs. 72,990 on Amazon India.
It is a high-performance machine, so you will not need to upgrade it even after many years.
Check Our Video Review for the Asus VivoBook
S14 M433IA.
Display and Design
The notebook display is decent. It's an FHD panel with 1920*1080 pixels resolution, 60 Hz, 16:9 panel. It has a max brightness of 250 nits which is more than sufficient to work indoors even in well-lit rooms.
Due to the thinner bezels and 85% (screen body ratio), the laptop is not bigger than most 13.3-inch machines. In fact, when I started using it I thought it is a 13.3-inch laptop instead of 14 Inches.
For daily use and watching videos, the display is fine but you may not find it very color accurate (45% NTSC color gamut) for certain tasks that require precise colors.
Most people will find the display good for reading text. I am used to Quad-HD display on MacBook Pro so this seems a little less sharp to me.
The display is not too glossy, so you won't have too many reflections when working on it.
The laptop is not very heavy, it weighs just 1.4 Kg and also is very thin – 16 mm. It is easy to carry and work even if you are keeping it in your lap.
Hinge
I really emphasize the hinge design as one of my older laptops had a bad hinge that lead to an expensive repair.
The hinge is solid on this one and seems like it will not have issues down the line.
Also, the laptop screen doesn't wobble when you type on it even when keeping it in your lap.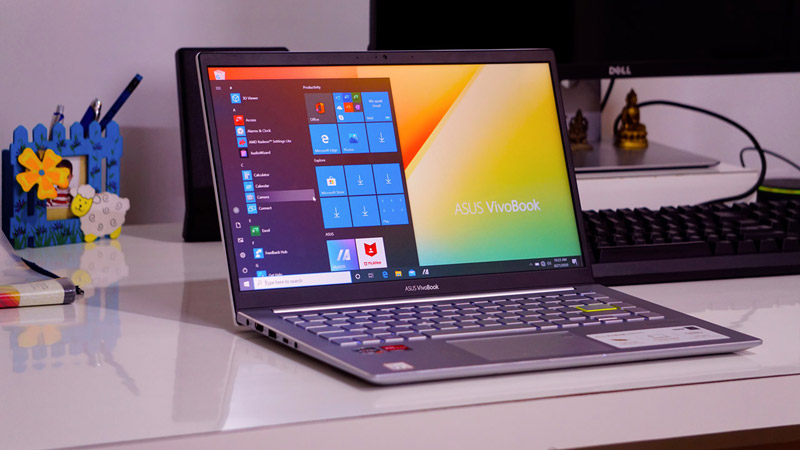 You can't open the laptop with one hand as it lifts from the surface, due to the stiff hinge and lightweight.
Performance
Ryzen 4700U blows away most productivity tasks. It is an 8-core and 8 threads processor with a 12 MB cache with a maximum boost clock speed of 4.1 GHz.
It is insane that AMD has been able to offer so much power in processors with just 15 Watts TDP.
It is mindboggling fast and a massive step up from the Intel Core i5 on my MacBook Pro.
Windows 10 feels as smooth as OSX, thanks to the Ryzen 4000 series processor.
This thin 14-inch notebook is very cool while working on general tasks like office, excel, chrome, or even watching videos.
With this laptop, you get amazing performance without the obvious heating issues that we get on high-performance machines, thanks to the new 7 Nm manufacturing process that is far superior to the Intel 10th gen processors.
My VivoBook came with 8 GB, Dual Channel, DDR4 Ram with 3200 MHZ clock speed. (Ryzen processor works well with 3200 Mhz or higher clock speed ram).
SSD Benchmark
We tested the Read and Write Speeds on the AS SSD Benchmark – Speeds are above average for the machine as it uses the NVMe SSD.
Read Speed – 1305 MB/s
Write Speed – 518 MB/s
Just for fun, I tested some of the benchmarks on my Editing and gaming PC to compare with the VivoBook S14.
The PC specs are – Intel Core i7 6700k (4.4 GHz), 16 GB, 3200 MHz G.Skill Tridentz Ram, GTX 1060 (GB Founders Edition), and Gigabyte Z170 Gaming 7 Motherboard, Samsung 860 Evo SSD.
Compression and Decompression of Zip Files
UnZipping – PC – 31 sec, Vivobook S14 took 42 sec
Zipping – PC – 54 sec, Vivobook S14 – 1 min and 23 seconds
Impressive performance for a thin and lightweight ultra-book.
Cinebench R20 Score
Cinebench – PC – 2210, Vivobook – 2575 – PC had a lower score due to just 4 Cores in comparison to the 8 Cores on the notebook.
Geekbench Score for VivoBook S14 Vs PC
Geekbench Single-Core – PC – 1189, Vivobook – 965
Geekbench Multi-Core – PC – 4750, Vivobook – 4197
Copying Data Using USB 3.2 Port from external Drive to PC and VivoBook S14
Tried to Copy large data from an external hard drive to the machine and it is crazy fast using the USB 3.2 port.
Copying 7.5 GB Data – PC 1 – 1.37 m – VivoBook – 1.35 seconds
Adobe Premiere Pro Export Timings
Adobe Premiere Pro is my other most used software as I love to edit videos, color grade them, and add fancy titles. I prefer a PC for video editing with more Ram and resources but the VivoBook is a decent option if you want an ultra-book for some edits.
Playback was not too choppy, but the export took some time – most likely due to the lack of optimization for Adobe Premiere Pro for the Ryzen 4000 series at the moment. I think with future updates there will be an improvement in performance.
Exporting a 5 minute, 30 seconds – Full HD (1080P) Footage with color grading and text effects, and some transitions –
Time taken by PC – 51 seconds
Time taken by Vivobook – 3 minutes and 3 seconds.
Gaming Performance
Why not try to push this thin machine with some mean games with heavy graphics? Yup, I tried some of my favorite titles that I like to use when doing the gaming torture test.
FPS on Demanding AAA Titles for Games
Crysis 3 – Average 27 FPS (Low and Medium settings)
Battlefield 3 – Over 50 FPS on Medium Settings
CSGO – Over 60 FPS on Medium Settings
It runs cool and stays silent during the gaming, and the keyboard deck gets mildly hot after 30 minutes of gameplay.
Temperatures were not high, barely crossing 70 degrees celsius, and also the noise levels were minimal.
In fact, you can't hear the fans on this machine even when under load.
Impressive for a thin machine!
Connectivity
The VivoBook S14 comes with a WIFI 6 and it is very fast to connect to the WIFI router.
Typically I see connectivity issues when switching between routers in my home but with this notebook, it was not an issue.
Trackpad and Fingerprint Scanner
There is a glass trackpad that is easy to work and the accidental touches are minimal.
The trackpad is not large but it comes with the Windows precision drivers making it responsive and accurate.
Also, we have multiple touch support with upto 4 fingers support for gestures.
There is a fingerprint scanner on the top right-hand side and it is really fast (comes with Windows Hello support).
Keyboard Experience
I am a blogger and write for a living. The keyboard is a make or breaks factor for me when buying a laptop.
The keyboard on this notebook meets my expectations of a good keyboard. The keys have decent spacing, good travel, and are easy to type on.
The keys layout is a bit different as there is a row of keys on the right side (Home, page up/down, End, and Fn) that took me two days to get used to.
But once I was used to the keyboard I could maintain as good speed as I am able to do with the MacBook Pro.
One of the quirks is that the arrow keys are smaller in size and the keys on the top row are also smaller which takes some time to get used to.
Having said that, overall it is a decent keyboard.
I run a speed typing test and I usually get over 50 Words per minute with this machine also I was easily able to do that.
The backlight is also not great, not terrible, during the day I prefer it turned off and at night it works as intended with a little bit of bleed.
Web Camera & Sound Quality
Unlike some of the laptops (Mi Notebook or the Asus G14), the Vivobook comes with a Web camera that is located at the top side of the machine. The camera quality is average.
If you do Zoom meetings all day, investing in a high-quality webcamera will be wise.
The sound from the speakers is not very loud. There was a BIOS update which I think improved the volume significantly.
The speakers are tuned by Harmon/Kardon and have decent quality.
Ports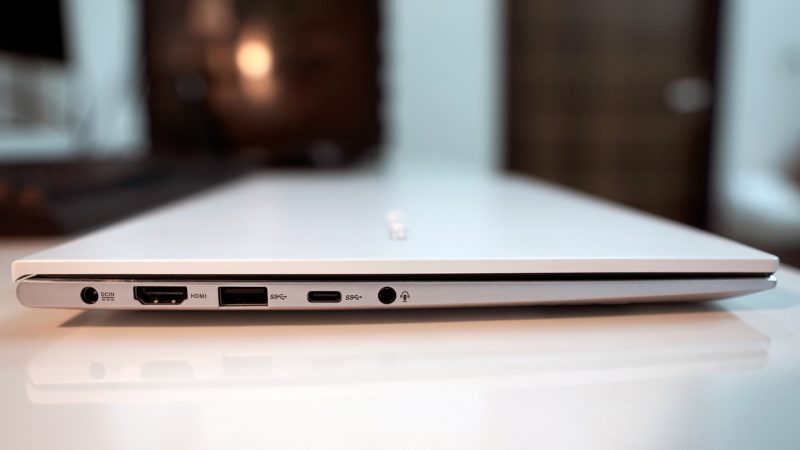 You get all the standard ports on this one – 2 USB A 2.0, 1 USB Type C, 1 USB A 3.2, a headphone jack, and an HDMI port.
The two USB 2 .0 ports limit data transfer speeds to 40 MB/s whereas you can use the port on the left to transfer files at speeds over 100 MB/s.
Temperature & Noise
The laptop runs very coolly in the day-to-day tasks. The internal temperature is around 31 degrees Celcius as measured using the HW monitor.
Fans don't kick in when you are running chrome or general office tasks and it is dead silent. Impressive!!!
Running Benchmarks the highest recorded temperature was 76 degrees celsius and after nearly 30 minutes of gaming, the recorded temperature was 72 degrees.
Overall it is a very quiet and cool customer when it comes to day-to-day work and even under load, it is neither loud nor hot.
Battery Life
The laptop comes with a 50 Whr battery and has fast charging support.
You can charge it up to 60% in just 50 minutes with the 45 Watts Power adapter that comes with it.
In normal usage, you can easily get between 6 to 8 hours of battery life, which is amazing considering the thin design and the powerful 8-core processor.
I liked the power adapter as it is small-sized and very easy to carry.
Concluding Thoughts
Overall the Asus Vivobook S14 is an impressive machine for the price. It ticks a lot of right boxes and I was impressed with the lightweight design, comfortable keyboard, and incredible performance sans heat or noise.
There are a few things that can be better like the ability to add more ram, and web camera.
If you are looking for a high-performance machine that you can rely on for many years, without the need to upgrade the VivoBook is an ideal choice.
It is a better deal when it comes to performance even in comparison to expensive thin options like the Dell XPS 13 or the MacBook Pro 13.
You may not find the build or materials as refined as those two laptops that nearly cost twice the Vivobook but performance is better and down the line, it will still feel snappy.
Go ahead, Buy it if you have a budget close to 70k. Or if you have a slightly higher budget go with my favorite laptop of 2020 – the Asus Zephyrus G14.
Thanks for Reading the Review – Share with your friends and You can also subscribe to our Youtube Channel or follow us on Twitter for More Latest Tech News.
Disclosure – Thanks to Asus Team for sending the laptop to us. Asus has not sponsored this review. Nor there is any impact on our findings or stating of Pros and Cons of this machine.
Source – Asus Official Website