Dell has launched the new gaming laptops in its affordable G Series. The Dell G3 and the G7 are the latest addition to the mid-range lineup apart from the Alienware laptops that the company has.
The Dell G7 is launched in the US for now; Dell has not shared when they will launch it globally or will bring it to India. However, Dell is launching the new XPS 13 and XPS 15 in India on 8th July 2020.
All the Dell G Series laptops come with Windows 10 Home, but you always have an option to upgrade to the Windows 10 Pro when buying the machine.
Dell G7
The new Dell G7 is launched in two versions with either 15 Inch  (Dell G7 15) or 17 Inch (Dell G7 17) display panels. The G7 series is launched with the new Intel 10th Gen processors and comes with the GTX and RTX series of graphics cards.
There were lots of fans expecting to get G7 with AMD Ryzen 4000 series processors. However, that is not happening for now.
Key Specs and Details for the Dell G7 15(7000) 
The Dell G7 15(7000) comes with the 10th Gen Intel Core i9-10885H, 8 Core processor that is a monster when it comes to gaming or content creation. The processor comes with 2.4 GHz as base frequency and has a turbo boost clock up to 5.3 GHz. The processor comes with up to 45 Watts TDP and is excellent for heavy workloads and gaming at high settings.
Additionally, we get Nvidia RTX 2070 Max-Q that comes with 8 GB of GDDR6 VRAM.
The Dell G7 is available with 15.6-inch FHD (1920*1080) display with narrow bezels and has a 144Hz/300Hz refresh rate. Also, you can buy it with an OLED, 4K UHD (3,840×2,160 pixels) panel with a 60 Hz refresh rate.
But for most gamers, it is better to stick with the higher refresh rate display. You can get up to 32 GB of DDR4 Ram with 2933 Mhz clock speed based on your needs. There is PCI M.2 SSD support up to 1 TB from Dell.
For connectivity – it offers Bluetooth 5.0, WIFI 6, Gigabit Ethernet port, an HDMI port, three USB 3.2 Gen ports, and a USB Type C port. Two speakers offer crisp audio and come with the Nahimic 3D Audio.
There is 86Whr battery capacity, which is incredible and can easily make it last for hours when not gaming.
Further, there is a spill-resistant keyboard that comes with 4-zone RGB backlighting for a fantastic gaming experience.
The laptop is not very thick – measures 18.3 mm and weighs just 2.1 kg.
The Dell G7 (older model) in India is available for Rs. 94,999 with Intel Core i7 (8th Gen) and GTX 1060 with 6 GB VRAM. – Check Latest Price.
Also, another model with Intel Corei9 (8th gen) and GTX 1060 is available for Rs. 1,46,000 – Check the latest Price. 
Price for Dell G7 15(7000)
The Dell G7, starting price in the US, is $ 1429 that translates to roughly Rs. 107,800 for India, The top models with higher graphics card options and ram, are more expensive.
Key Specs and Details for the Dell G7 17(7700)
The Dell G7 17 comes with similar design and specs as the G7 15 but has some upgrades.
It can offer Nvidia RTX 2070 Super with up to 8 GB of GDDR6 VRam.
Notably, this GPU is more powerful than the Max-Q version on the 15-inch model.
The Dell G7 17 comes with only up to Intel Core i7-10750H with 6 Cores and 5.0 GHz max clock speed.
Also, since there is more space in the casing, you get slightly better cooling and even can add a second M.2 SSD. Further, Dell is not offering the 4K UHD display option with the 17 Inch Model.
The laptop comes with 96 Whr battery that is larger than the 15-inch model, and it weighs 2.9 Kg.
Price for Dell G7 17(7700)
The Price for the Dell G7 17(7700) is $1729 for the configuration using Intel Core i7-10750H and RTX 2070 Max-Q along with 16 GB of DDR4 memory and 1 TB SSD. The higher model with Nvidia RTX 2070 Super and 32 GB of Ram can cost $ 2029.
Dell G3
The Dell G3 is affordable and comes with basic configuration to offer gamers a value for money product. The Dell G3 price starts at $729 in the US and can cost Rs. 60,000 in India. The new Dell G3 is powered by the latest 10th Generation Intel Core i5-10300H Quad-Core processor that comes with 8MB Cache and has a clock speed of up to 4.5 GHz.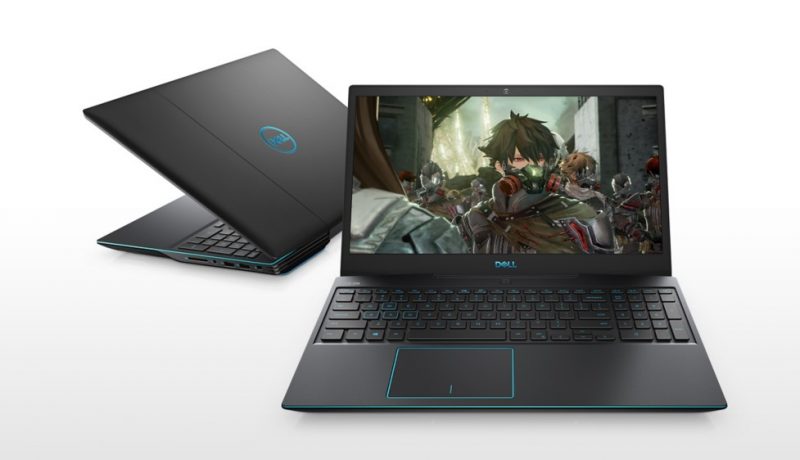 Also, you can choose to buy it with a more powerful Intel Core i7 10750H with 6 Cores and 5.0 GHz clock speed.
Further, there is Nvidia GTX 1650 Ti with 4 gigs of VRAM to take care of graphics and gaming. Also, we have got 8 GB of DDR4 Ram with 2933 MHz clock speed.
The laptop comes with 256 GB of PCIe NVMe M.2 SSD. The display size is 15.6-inch FHD(1920×1080) with 300nits of maximum brightness and comes with an Anti-Glare LED-Backlit panel(non-touch) with 60Hz refresh rate. Sadly, there is no option to upgrade the display to either 120 Hz or 144 Hz.
The G3 comes with a backlit keyboard and also has 802.11ac 1×1 WiFi and Bluetooth support along with an HD WebCam. The battery life is going to be average as it comes with a 51Whr battery life.
There is a higher config available for the G3 ($1153) that comes with Nvidia GTX 1660Ti (6 GB GDDR6) and also has 16 GB Ram and 512 GB SSD.
Also, Read:
Latest Dell XPS Laptops – 13, 15,17, Specs, Price, Features, Buying Advice
Asus TUF Gaming Laptops – A15 and A17 Ryzen, Specs, Price, Buying Guide
Latest Acer Laptops – Swift 3, Swift 5 (Ryzen 4000, Intel 10th Gen) Fast, Thin, Lightweight
Related Articles
Related Articles