In this post, we will compare three Apple Notebooks – Apple Macbook Air M2 Vs Air M1 Vs Pro M2. I am always super excited when Apple unveils new hardware, and the Macs are my favorite. I am writing this article on my Apple MacBook Air M1 that I have used for more than a year.
Let's first look at the latest MacBook Air M2, and then we will compare it with the MacBook Air M1 and the MacBook Pro M2 and try to see which could be the best fit for your workflow.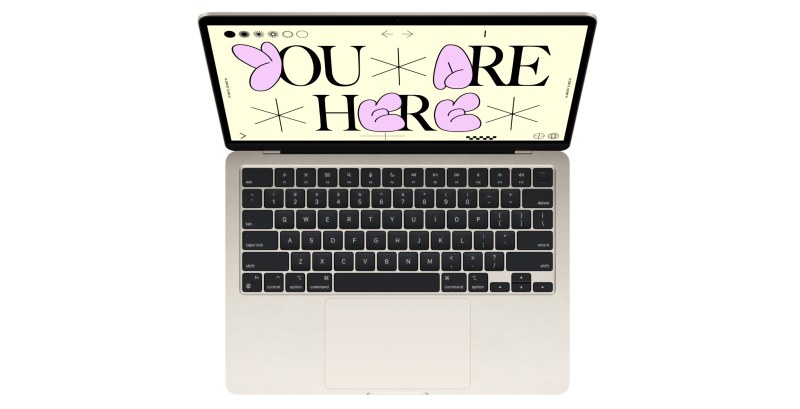 Apple MacBook Air M2 – Launch
Apple unveiled the latest Apple MacBook Air M2 on 6th June 2022, and it is an entirely new laptop, not a minor iteration, not the old wine in a new bottle.
It is a complete revamp with a unique design and new internal hardware. The Notebook costs $1199 or Rs 119,900, the Indian pricing is premium, and Apple has also increased the MBA M1 and MBP price.
However, you can quickly get Rs. 10,000 or $100 discount if you buy it for education by simply sharing the ID card of a student or a teacher.
Design – No More Wedge Shape for MacBook Air
The significant design change is moving away from the wedge-shaped design that Steven Jobs introduced in 2008.
The MacBook Air M2 comes with a new design, there is a notch at the top, but the bezels around the display have become minimal, something I wish my MacBook Air had.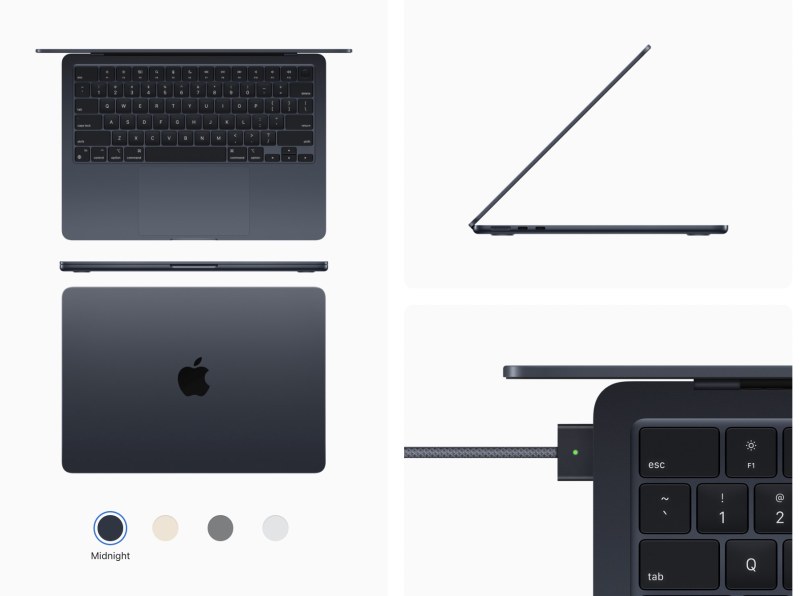 The wedge shape helped to rest your hand and type comfortably. Now, the Macbook Air comes with a rectangular design, and it measures 11.3 mm in thickness and weighs 1.24 kg.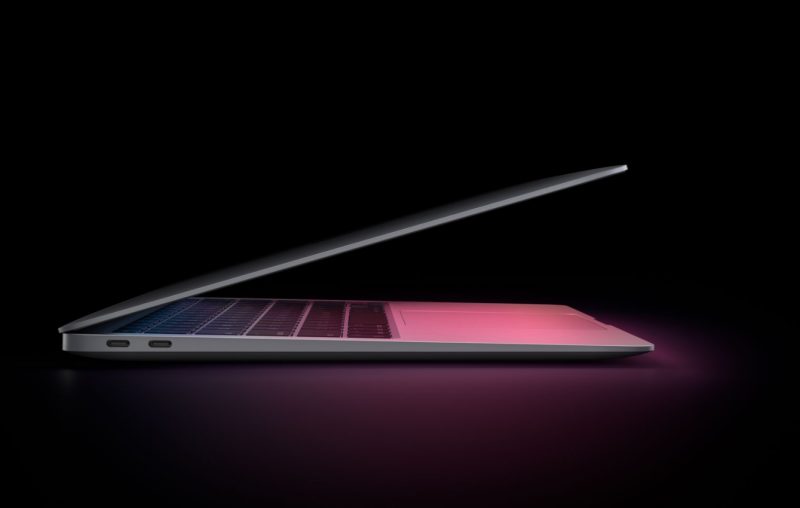 The M1 MBA comes with 11 mm thickness and weighs 1.29 kg. The M2 MacBook Air comes in 4 color options – Silver, starlight (light golden), Space Grey, and Mid-night (sort of dark blue). I like the new Mid-Night color; the dark vibes look classy.
Display – Larger 13.6 Inch, 500 Nits Panel
The MacBook Air M2 comes with a slightly bigger 13.6-inch display instead of the 13.3-inch display on the older Macbook.
Also, the bezels have shrunk significantly(Check the below image for comparison). However, a notch at the top carries a 1080P webcam, far superior to the existing HD camera on the M1 MacBook Air or Pro.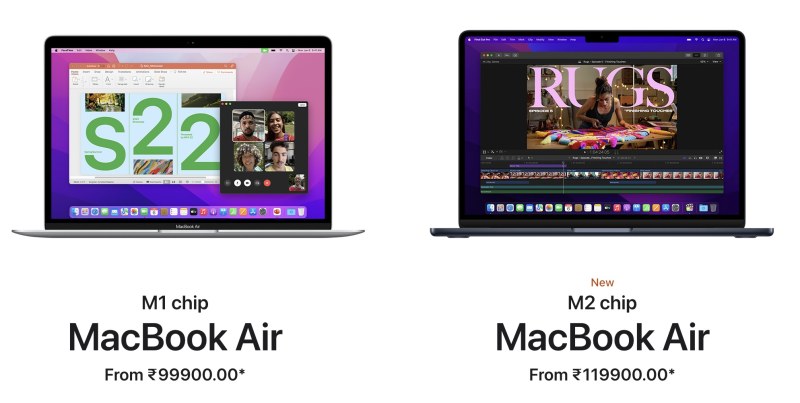 The display is 25% brighter on the new NoteBook and offers 500 nits of peak brightness. It is LED-backlit and offers a 2560×1664 native resolution at 224 PPI and a Wide Color Gamut with true tone colors.
The display is one reason that makes Macbook superior to most Windows Notebooks that ship with 1080P displays with poor color accuracy.
However, it is not an OLED or Micro-led panel available on some other Notebooks.
Audio – Stereo Speakers and Headphone Jack
Speakers are shifted from the sides (older models) to the top, near the display in the new MBA M2. I will have to hear them and find out if they are as good as the old ones.
The MBA has the best speakers on a thin and light Notebook that I have listened to. The new MacBook Air M2 comes with Spatial Audio and Dolby Atmos support.
Also, there is a 3.5 mm headphone jack that Apple is still using in the Macbooks, unlike their iPhones.
Performance – How Fast is Apple M2 Processor?
Another big update for the new Macbook Air is the M2 Silicon. The new Apple M2 processor comes with Octa-Core architecture with four performance cores and four efficiency cores; there is an 8 Core or 10 Core GPU, depending on the model you are buying.
Here is a snapshot of the Apple M2 Processor key highlights.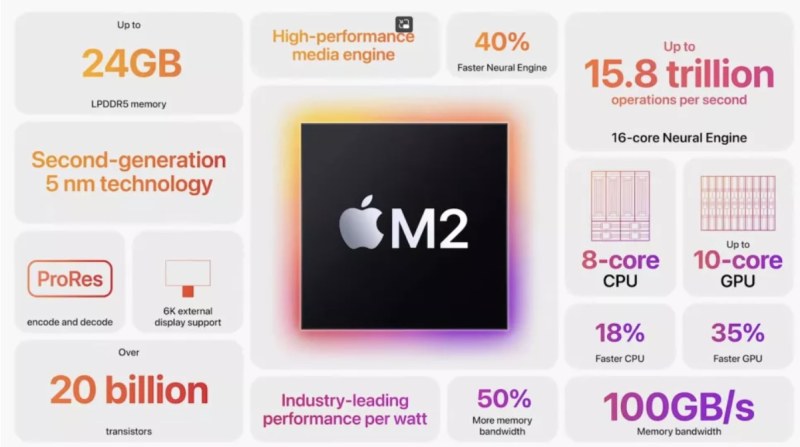 Also, there is a 16 Core Neural Engine for AI-related tasks. The memory bandwidth is increased to 100 GB/s from 68 GB/s.
The new Apple M2 supports up to 24 GB of unified memory, whereas the M1 supports only 16 GB. The Apple M2 is based on the second-generation 5 Nm manufacturing process; also, we will see more M2 iterations down the line.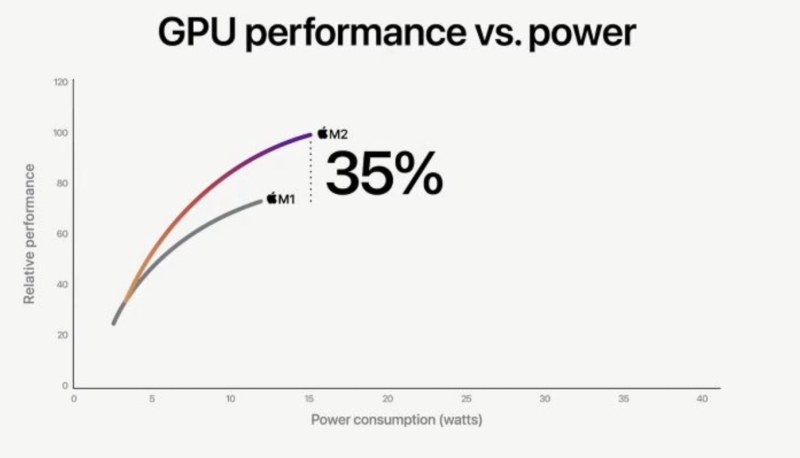 Apple M2 offers up to a 35% increase in the GPU performance over the Apple M1 and consumes 15 Watts of power Vs. 10 Watts by Apple M1. This added power may be handy for graphics and design professionals.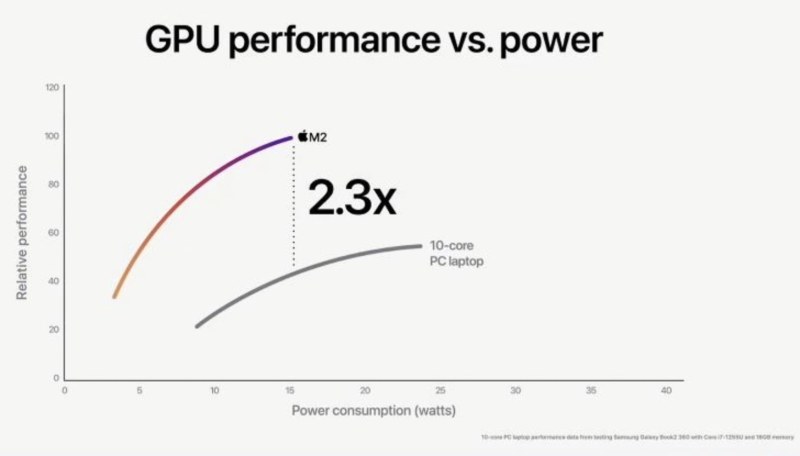 Apple has compared the GPU performance with the 10 Core Intel Chip, and M2 seems impressive considering the power efficiency. At 15 Watts, the M2 offers 230% performance to the Intel Iris Xe.
However, most higher-end Windows laptops are powered by the dedicated Nvidia GPUs like an RTX 3050 or RTX 3060 that offer far more performance and consume a lot more energy.
Notably, the Apple M2 is not just about raw power or adding more cores; it is the most energy-efficient processor and has incredible performance per watt. It is far ahead of both Intel and AMD offerings.
The Apple M2 has 20 billion transistors, a 25% increase over M1 (16 Bn). There will be M2 Max and M2 Ultra processors for the Pro series of Notebooks and Macs. Probably, Apple will launch them by the end of the year.
Comparison Table – Apple M2 Vs. Apple M1 (Processor)
| | | |
| --- | --- | --- |
| | Apple M2 Processor | Apple M1 Processor |
| Number of Cores | 8 (4P + 4E) | 8 (4P + 4E) |
| Transistor Count | 20 Billion | 16 Billion |
| Memory | 24 GB of LPDDR5 | 16GB of LPDDR4X (4266 Clock Speed) |
| Memory Band Width | 100 GB/Sec | 68 GB/ s |
| L2 Cache | 16 MB / 4 MB | 12MB / 4 MB |
| Neural Engine | 15.8 TFLOPS | 11 TFLOPS |
| GPU | Up to 10 Cores | Up to 8 Cores |
| CPU Performance | 118% | 100% |
| GPU Performance | 135% | 100% |
Also, it is worth noting that the Apple M2 MacBook Air comes with a fan-less design and is passively cooled, unlike any high-performance Notebooks by Intel or AMD. The fanless design means no moving parts and likely very long life.
It is worth noting here that the CPU performance for M2 is 118% of the M1, and most of the gains are likely due to multi-core enhancements. There will be a slight increase in IPC (Instructions Per Cycle) for the Apple M2 over M1.
Nevertheless, the new Apple M2 offers up to a 35% increase in performance over M1 GPU-related workloads like Final Cut Pro X or the Logic Pro, thanks to the new 10 Core GPU.
Connectivity – MagSafe Returns
One of the sour points for me with the M1 Macbook Air is the limited ports. The situation remains similar with the Apple M2 Macbook Air but with slight improvement.
The MacBook Air M2 comes with a MagSafe port, and there are two thunderbolt USB type C ports and a 3.5 mm headphone jack port.
The only benefit is that the two Type C ports will remain free when charging using the MagSafe. On the M1 MB Air, if you are charging the Notebook using one of the ports, you only have one port left for I/O.
The return of the MagSafe charger is a positive change; I miss it from my older 2015 MB Pro.
Also, there is a touch id that you can use to unlock the machine quickly or when you need to key the passwords for Apps and websites.
Keyboard And Trackpad – It's the Same
The Macbook Air M2 comes with a similar keyboard as the older version, and there are no upgrades to the trackpad.
The best keyboard I have ever used was on the MB Pro 2015. These new keyboards are good, but the keys are shallow (1 mm travel). Apple should have increased the key travel to 1.4 mm for the perfect typing experience.
Yup! I love typing, and sometimes I type more than 2000 words on a good day!
Battery Life – 18 Hours Sounds Good
The new Macbook Air M2 also claims to have an 18 Hours battery life similar to the older model, and it is 2 hours less than the 13-inch Macbook Pro.
On practical usage, I get close to 10-12 hours of battery life when using the Notebook with Chrome and even about 14 hours if I work only in Safari.
There is hardly anything on the Windows market that can even come closer to this kind of battery efficiency and performance.
Comparison Table – Apple Macbook Air M2 Vs Air M1 Vs Pro M2
| | | | |
| --- | --- | --- | --- |
| | Apple MacBook Air M1 | Apple MacBook Air M2 | Apple MacBook Pro M2 |
| Processor | Apple M1 | Apple M2 | Apple M2 |
| GPU | Up to 8 Cores GPU | Up to 10 Cores GPU | Up to 10 Cores GPU |
| Memory (Ram) | Up to 16 GB Unified Ram | Up to 24 GB Unified Ram | Up to 24 GB Unified Ram |
| Display | 13.3-inch Retina Display | 13.6-inch Retina Display | 13.3-inch Retina Display |
| Display Brightness | 400 nits | 500 nits | 500 nits |
| Bezels | Thick Bezels, No Notch | Thin Bezels, Notch | Thick Bezels, No Notch |
| Battery | up to 18 Hours (49 WHr) | up to 18 Hours (52 Whr) | Up to 20 Hours (58.2 Whr) |
| Cooling Type | Passive Cooling, No Fan | Passive Cooling, No Fan | Active Cooling With Fan |
| Weight | 1.29 kg | 1.24 kg | 1.38 kg |
| Thickness | 11 mm | 11.3 mm | 15.3 mm |
| Starting Price | Rs. 99,999 ($ 999) | Rs. 119,990($ 1199) | Rs. 129,990 ($ 1299) |
Why Should You Buy the Apple MacBook Air M2?
One of the significant reasons to buy the Apple Macbook Air M2 is the new design. The 13.6-inch display with thinner bezels is way better than the older panel that looks dated. Also, you are getting a brighter display with more screens to work on complex tasks.
The second reason is the added performance from the Apple M2 that will stay relevant for many years.
You can even upgrade the ram to 24 GB when buying the M2 MacBook Air. Lastly, if you do a lot of video calls, the new web camera is way better than the older version and will enhance your call quality.
Why Should You Buy the Apple MacBook Air M2?
The price is attractive. However, Apple has sneakingly increased it from Rs. 92,000 to Rs. 99,000 in India; I will have to check if they have done so in the US or other countries.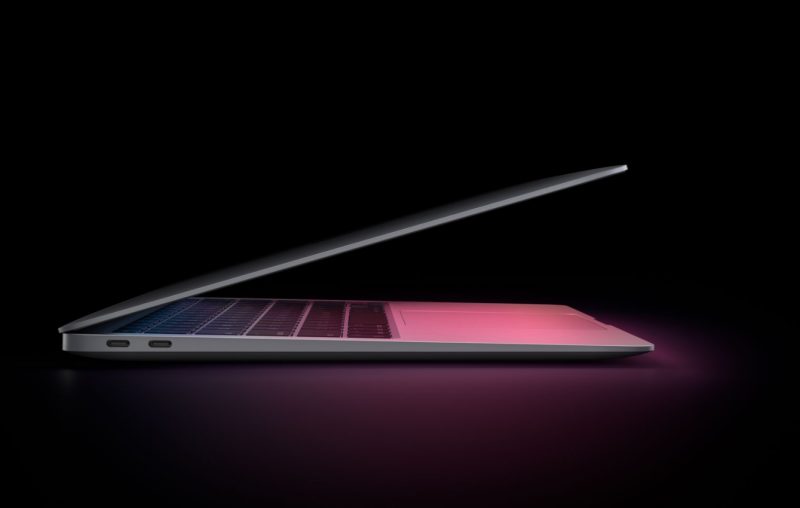 I think the added performance is not helpful for most people who are not into video-editing or complex coding workflows that require tremendous crunching power.
The base model of MBA with 8 GB ram is more than sufficient for nearly everyone. There is no need to spend money on the performance as you won't be able to find any difference in day-to-day tasks.
However, you will miss the new design and a bezel-free display if you go with the older model.
Why Should You Buy the Apple MacBook Pro M2?
I can't justify the MacBook Pro M2 purchase for anyone, as it still comes with the older design with thick bezels. You are getting the performance, and active cooling could be advantageous for video editors in some scenarios.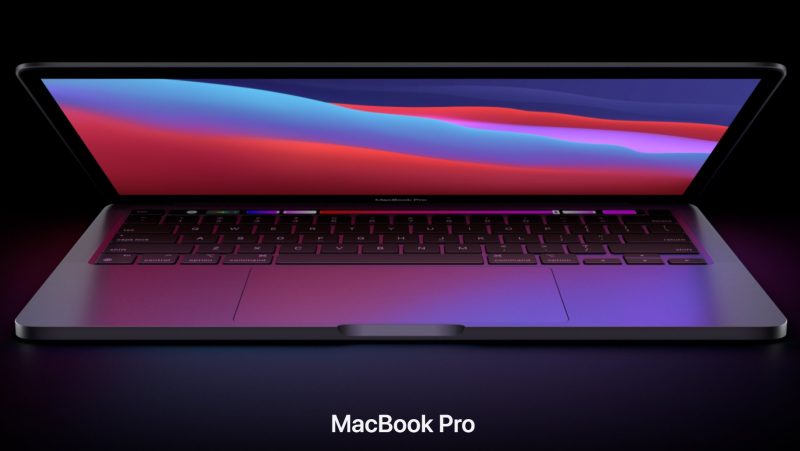 However, don't expect a considerable performance differential between the MBA and MBP models because of active cooling.
The battery capacity on the MBP M2 is 58 WHr, higher than 49 Whr on MBA M1 and 52 WHr on the MBA M2. Also, the MBP M2 comes with a 67 Watts Charger instead of the 30 Watts Charger supplied with the MBA, so you can charge the device faster. You can roughly get 10% more battery life with the MBP and faster charging.
If you like the touch bar or, for some reason, want the active cooling, then the MBP is probably right for you. However, it makes sense for most people to get the new MBA M2.