Let's check out the key differences, pros, and cons for NVMe (SSD) Vs. SATA (SSD) Vs. HDD. We have done thorough testing and benchmarks for different SSD's for better insights.
Also, in the end, I am sharing a simple guide to install SSD on your Windows 10 or Windows 11 PC.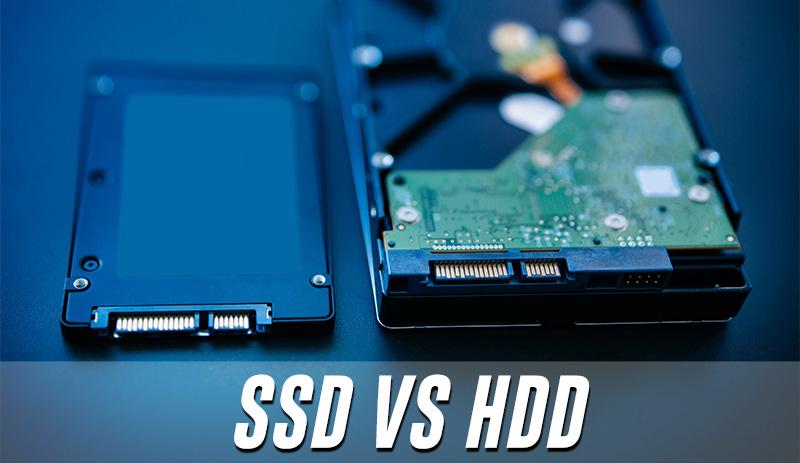 Hard Disk Drive (HDD) – 5400 RPM and 7200 RPM
HDD stands for Hard Disk Drive. It is a non-volatile memory device that manages the data's reading, writing, and positioning. Though, it is the primary storage of any computer system.
Moreover, the critical function of the HDD is to store operating system and software files.
Mostly, HDD comes internally with computer systems or laptops. However, you can add it externally via USB 2.0 or SATA ports.
The HDD architecture includes platters around a sealed chamber with read and write heads and motors.
The performance of any HDD is measured in the speed with which it can transfer data from platters storing the bits.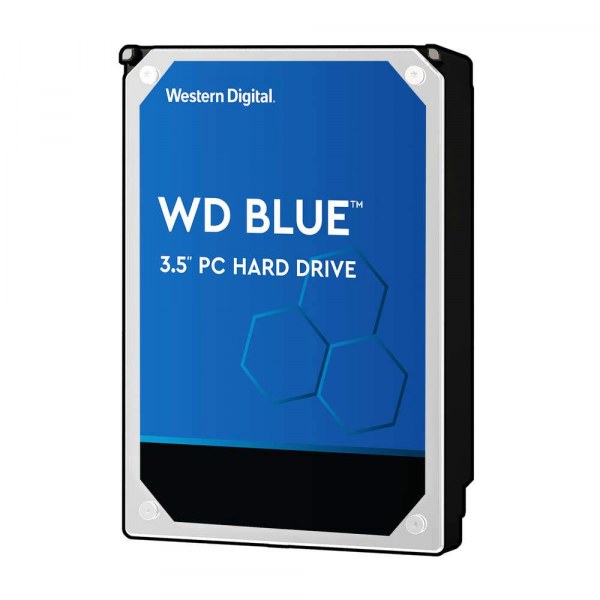 Nowadays, the most popular HDD are between 5400 and 7200 rpm (Rotation per minute). Interestingly, you can get hard drives that can spin up to 15000 rpm.
The fastest one is the 7200 rpm HDD which transfers data quicker than 5400. They have fast read and write frequency. So, yes, they are most suitable to run an operating system, execute a program, and transfer data.
Notably, the 7200 rpm provides the read and write speed with an average of 120 MB/s. It is 20% faster than the 5400.
Nonetheless, they produce more heat, and more heat consumes more power. Also, it is a bit costly.
Next is the 5400 rpm. These HDDs are slower than the 7200 rpm HDD. It offers an average of 100 MB/s reads and writes speed.
Despite this, it is an excellent choice to store large files. It consumes less power and has more lifespan than the first one.
Solid State Drive SATA and NVMe SSD
SSD stands for Solid State Drive (read more on Wiki). This drive is the alternative to the HDD. It is the new generation storage device widely used nowadays. Also, this storage drive uses flash-based memory that is faster than HDDs.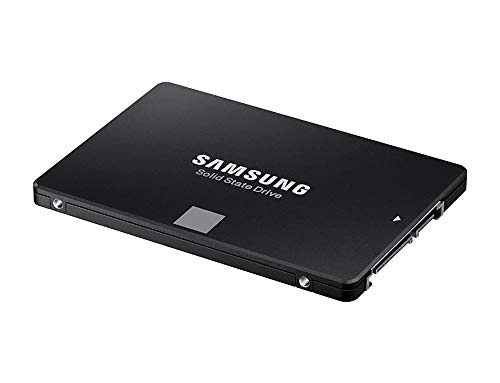 In addition, instead of a magnetic platter and moving parts(used in HDD), SSD uses NAND flash cells where files are saved on the grid. The access time of SSD is measured in nanoseconds.
SSDs have lower latency than HDD.
It is mainly used to store critical data that requires access quickly. It has a compact design.
The SSD does not store data magnetically, and the read performance is steady wherever the data is stored on the disk. It delivers a high read and write speed for sequential and random data requests.
Therefore, it is comparable to RAM.
The lifespan of SSD is roughly ten years, whereas HDD can have a longer life. SSDs are costlier than HDD. Solid State Drives are primarily available in size, starting from 32 GB to 5 TB.
SSDs are already the primary source for mobiles and tablets. It can be used as a memory cache and HDD to speed up the computer system.
Further, the SSD's are divided into two types:
NVMe SSD:
NVMe stands for Non-Volatile Memory express. This interface protocol works with the PCIe (PCI Express) to transfer data to/from SSD.
This interface is the fastest among all storage.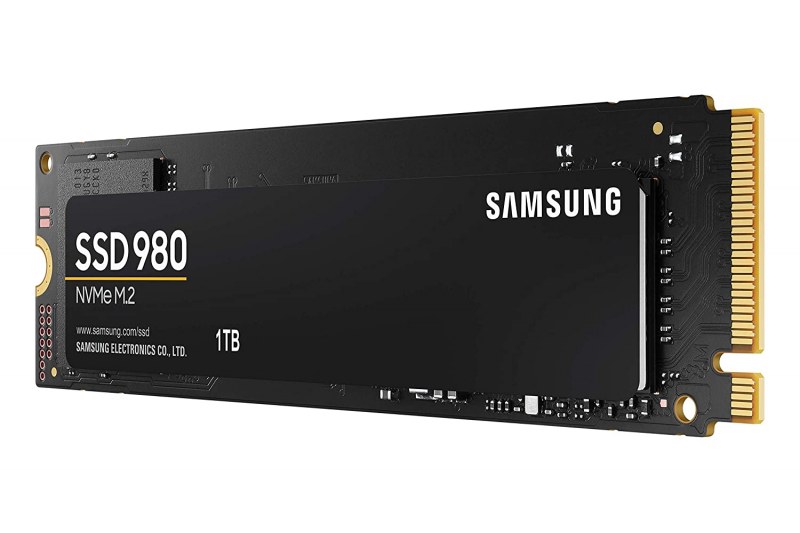 Indeed, NVMe is designed for enterprise data, data centers, and client systems for quick transfer data rates. It has high bandwidth and low latency that offers fast communication between SSD and CPU/RAM.
Furthermore, NVMe has a higher input/output rate per second and lower latency than even a SATA drive. It has up to 16 gigabits of raw throughput. The multiple channels of NVMe run at up to 4,000 MB/sec.
SATA SSD:
SATA (Serial Advanced Technology Attachment) drive has the same interface as hard disk and is the lowest grade SSD. They are cheaper than the NVMe-PCIe SSD.
SATA drive was introduced in 2000 as the successor of the ATA drive with lots of improvements.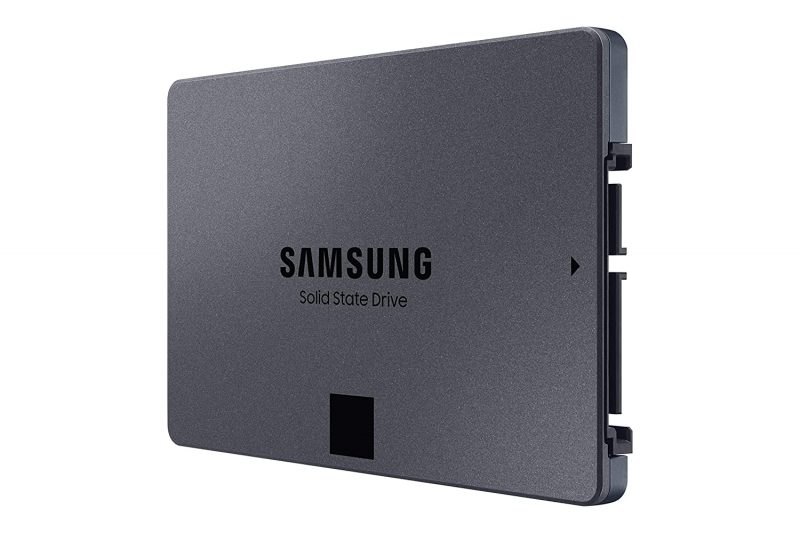 Notably, it has a speed of up to 600 MB/s. SATA uses the AHCI (Advanced Host Controller Interface) drivers designed for the HDD with spinning technology.
Moreover, most laptops and PCs come in combination with the SATA SSD and HDD. SATA SSD can dramatically speed up the data transfer rate.
How to choose among – HDD Vs. NVMe Vs. SATA:
When choosing the storage drives, you also need to think about your requirements, capacity, and budget. Here, we have some considerations to help you select the drive best suitable to your demands.
When to go for HDD:
A large amount of storage
General-purpose
Tight on budget
When to go for NVMe SSD:
High-end work station or Gaming
Storage intensive application
No budget constraint
When to go for SATA SSD:
Need fast storage
Basic Gaming
Slightly lower budget
Performance Benchmarks and Speed Comparison: NVMe SSD Vs. SATA SSD Vs. HDD (HardDisk)
Based on our testing, the Windows Shut Down Time reduced from almost 20 seconds on the 5400 RPM Drive to 8 seconds on the SATA drive and to 6 seconds on NVMe.
Windows Shut Down Time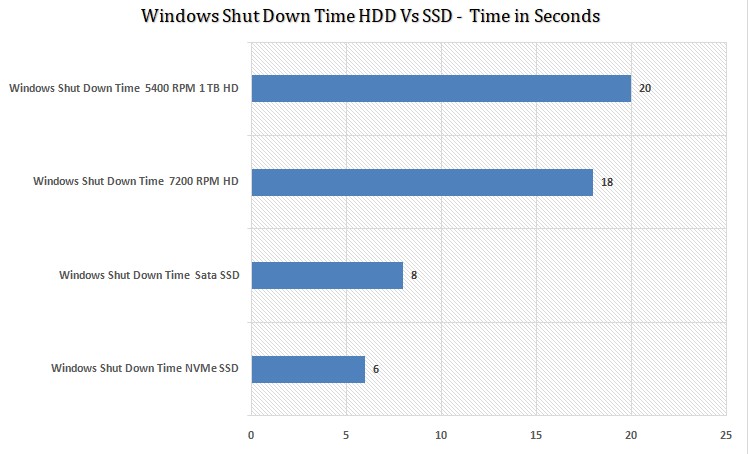 Windows Boot-Time
Further, we saw a significant improvement in the Windows Boot/Start Time. It was reduced from almost 55 seconds on the 5400 RPM Drive to 18 seconds with SATA and 16 seconds with NVMe drive.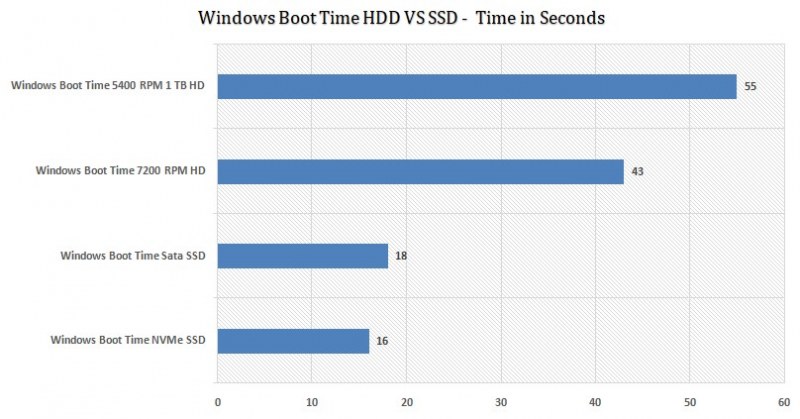 File Compression
1 GB Data File Compression test we did took 578 seconds on the 5400 RPM Drive, 530 seconds on the 7200 RPM Drive compared to only 209 seconds with SATA and 188 seconds with NVMe SSD.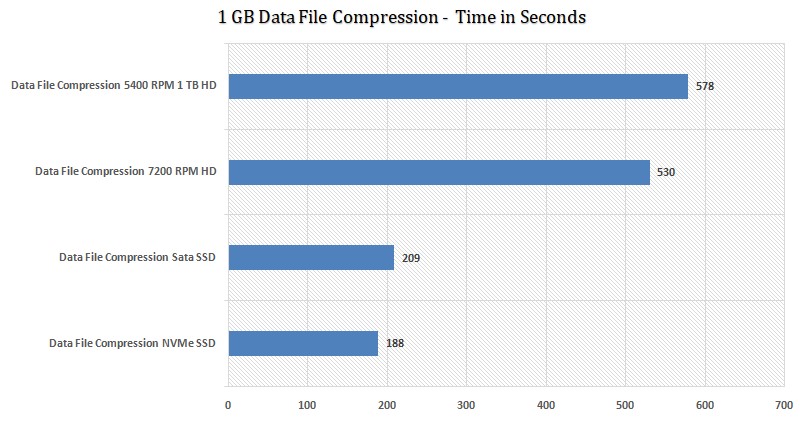 File Decompression
1 GB Data File Decompression test we did took 92 seconds on the 5400 RPM Drive, 75 seconds on the 7200 RPM Drive compared to 33 seconds with SATA, and only 27 seconds with NVMe SSD.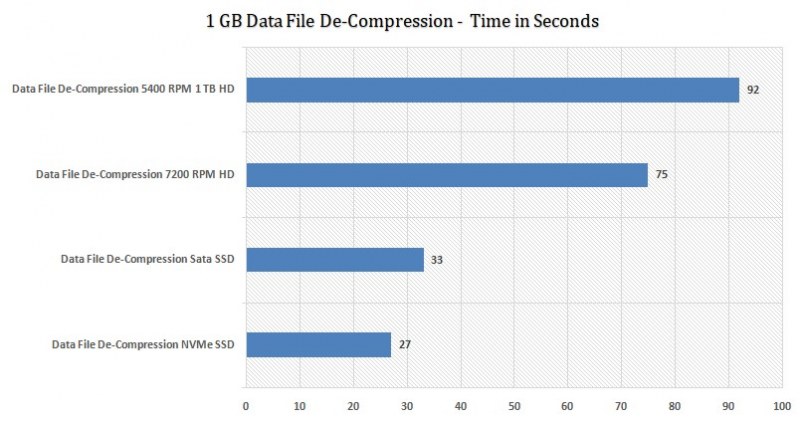 Read Speed Test
1 GB Data File Read speed sequential test we did took 198 MB/s on the Seagate 5400 RPM Drive, 243 MB/s on the Seagate 7200 RPM Drive compared to 509 MB/s with Samsung SATA, and a massive 3140 MB/s with Samsung NVMe SSD.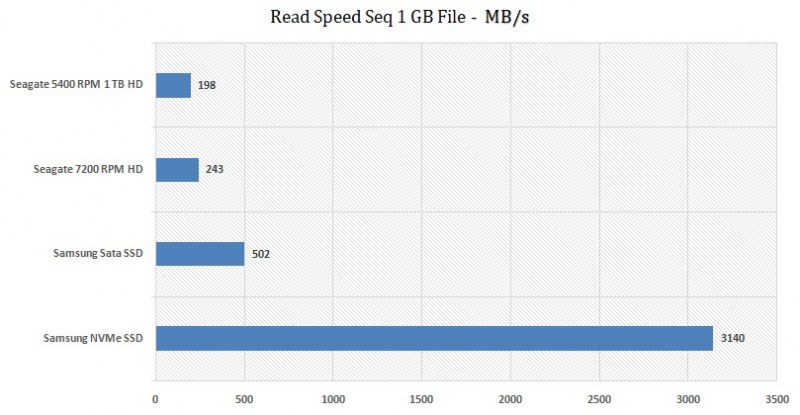 Write Speed Test
1 GB Data File Write speed sequential test we did took 62 MB/s on the Seagate 5400 RPM Drive, 78 MB/s on the Seagate 7200 RPM Drive compared to 469 MB/s with Samsung SATA, and 2650 MB/s with Samsung NVMe SSD.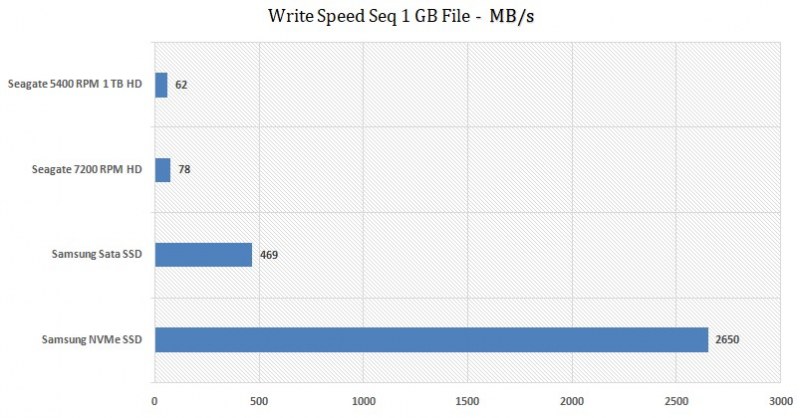 Game Load Time – Benchmarks
We Tested the Game Load Times for the Tomb Raider, Divison 2, and the Horizon Zero Dawn using different storage solutions.
Both 5400 and 7200 RPM HDD are way slower, and you can benefit by upgrading to a good SATA SSD. However, there is not too much gain when upgrading from a SATA SSD to an NVMe SSD for Gaming.
| | | | |
| --- | --- | --- | --- |
| Game Load Time in Seconds | Horizon Zero Dawn | Tomb Raider | Division 2 |
| HDD 5400 RPM | 38 | 36 | 35 |
| HDD 7200 RPM | 35 | 33 | 30 |
| SATA SSD | 22 | 16 | 24 |
| NVMe SSD | 17 | 15 | 19 |
Also, there is no benefit in terms of FPS if you upgrade your SSD storage or more from HDD to an SSD.
Conclusion: NVMe Vs. Sata Vs. HDD Performance Comparison
If you are a content creator, we advise upgrading your computer system with the SSD, so running rendering applications like Adobe Premiere becomes quick and time-saving. Also, if you are coding that is resource-intensive, you should get the NVMe drive to save time.
Everyone should have an SSD, at least for the operating system, browser, and some critical applications, so that they run faster.
For Gaming, there is not too much need for SSD but
However, if your only aim is to use the storage to save large files, then definitely you can choose HDD, and to speed up the transfer, you can combine it with SATA SSD. It would be affordable for budget constraints.
Notably, SSDs are highly efficient than HDDs. Though SSDs are highly-priced, many are still stuck to the HDD as it gives large storage in terms of price/GB.
To sum up, we can say that NVMe is the fastest among all the storage drives, thanks to the latest and advanced technology used with this SSD.
If you need speed, upgrade your PC now with any of the SDD drives and enjoy the transition.

Bonus – How to Install an SSD on Your PC – Guide
Adding an SSD is something you must look at if you are obsessed with a faster PC or Laptop. I usually like the PC or Laptop to be responsive and SSD is the best way to make that happen.
Even if you are running your PC on top-of-the-line Intel Core i7 and 16 GB RAM, you will still gain a lot of speed if you add up an SSD.
The SSD we added to our PC is one of the best available in the market without breaking the bank. The Samsung 850 EVO 120 GB costs close to Rs. 3,000 or $50.
Related – 7 Best Internal SSD To Buy for PC or Laptop
The SSD is fast and offers great performance to the users looking forward to upgrading from a 5400 RPM or even a 7200 RPM Hard Drive.
The SSD Design and Form Factor: It is quite tiny with a 2.5-inch frame and very light in weight. You can have a look at the form factor and design below.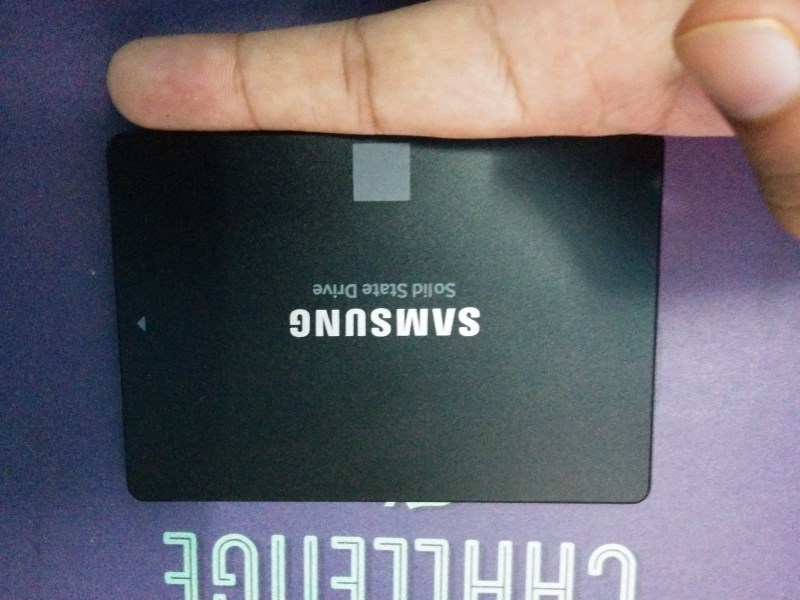 Key Specs For The Samsung 850 EVO
Samsung's 3D V-NAND flash memory architecture, faster compared to the traditional Nand Architecture.
Max Speed – sequential read (540MB/s) and write (520MB/s) speed.
Capacity – 120 GB
Usable Storage – 111 GB
Size – 2.5 inches
Compatible – SATA 6Gb/s Interface, compatible with SATA 3Gb/s & SATA 1.5Gb/s interface
Samsung's Magician software enables RAPID Mode for up to 1.9x faster performance.
Installation & Setup of Windows On SSD Drive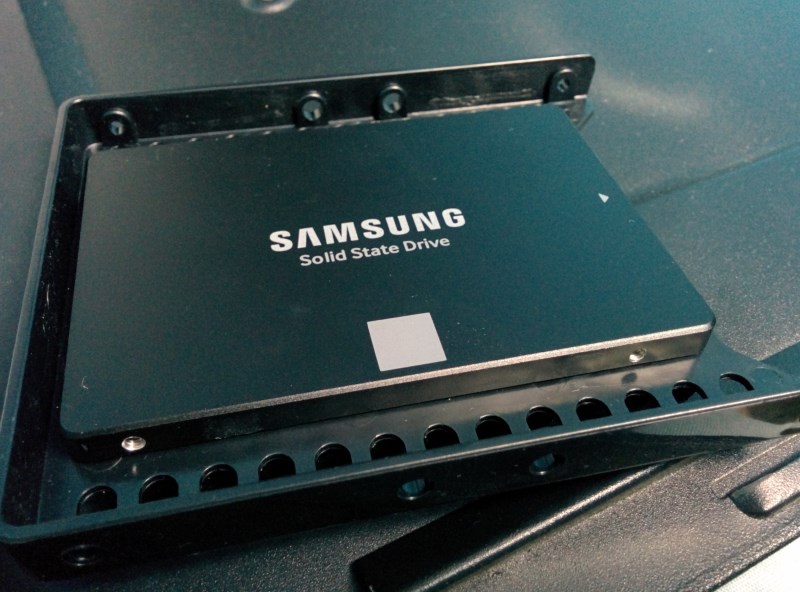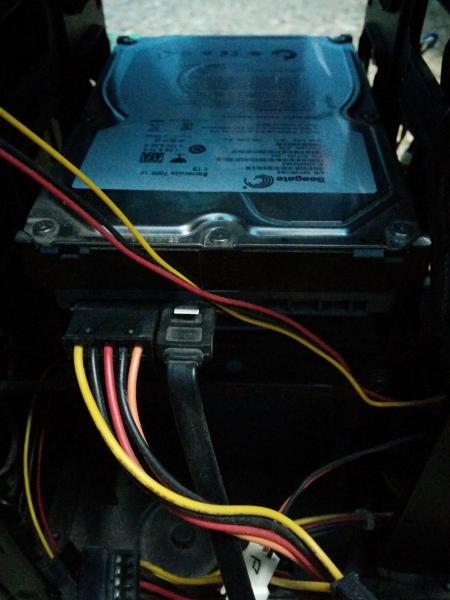 We had our Windows 10 running on the Hard drive before we integrated the SSD into the system. There is a lot of software that helps you clone the Hard Disk content to the SSD and then you can boot from the SSD.
Physical installation is pretty easy comes with an SSD bay which you can easily fit in your PC cabinet and fasten with two small screws.
First, you will need to fit the SSD to the bay which comes along with the SSD or your cabinet.
We took a more traditional approach, and, in my experience, it is a more trouble-free solution. We removed the OS from the hard drive partition and reinstalled it on the SSD.
Simple Steps to Do A Clean Install of Windows 10 or 11 When Adding New SSD
Back-Up All data from C drive on HDD (windows Installation).
Copy My Documents, Downloads, and Games, etc from the C Drive.
Create a bootable USB Drive Using ROOFUS software.
Open PC Cabinet and Remove the HDD.
Add the SSD in place of HDD.
From BIOS boot from the USB Drive having Windows.
Install Windows on the SSD.
Change Primary Boot Device to SSD in BIOS.
Check Windows is Loading Fine with SSD.
Connect HDD and Remove SSD.
Boot from HDD now from BIOS.
Format only the C Drive on HDD where u had Windows Installed.
Connect SSD in SATA 6 GB/s port and also connect HDD to a different Port.
Boot Up the PC Using SSD – You are Done!
Samsung Magician Software offers good insight to Drive Health Status and optimization.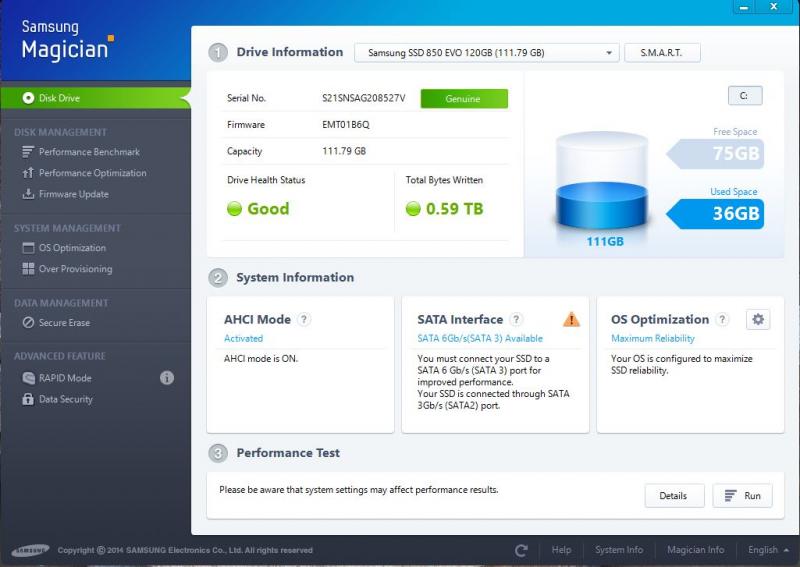 Our 7200 RPM Hard Drive Performance as measured by the Samsung Magician Software.
Read Speed is – 102 MB/Sec
Write Speed is – 67 MB/Sec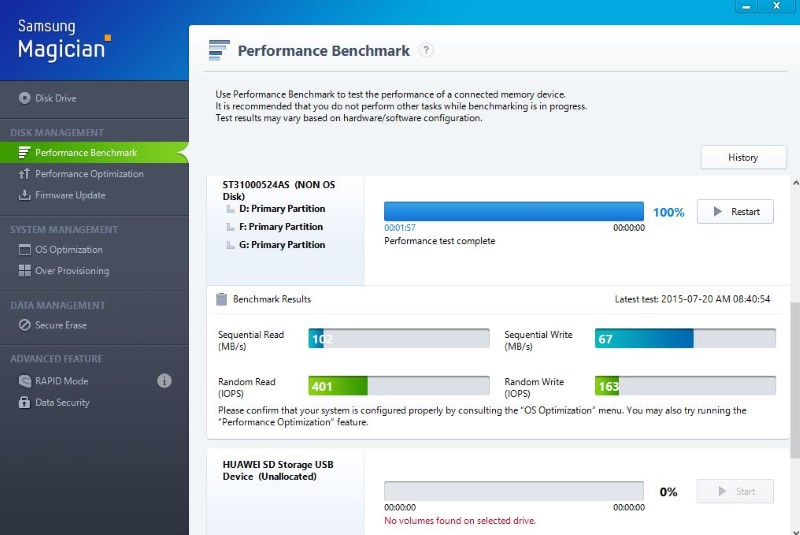 Samsung EVO 850 120 GB SSD Benchmark Results:
The Read Speed – 499 MB/second
The Write Speed – 262 MB/second
For any queries, please comment. We are always happy to help our readers.
Written By Heena Makwana and Edited By Kanuj Sharma
Note – Data Used in this article is by Candytech.in and in case you are using the Data please cite us as the source of original data.