Nvidia launched the Nvidia GTX 1050 Ti on 18th October 2016.  The graphics card is based on the Nvidia Pascal architecture, which brings in great performance upgrade as well as energy efficiency, to these new generation of cards.
The Nvidia GTX 1050 Ti is priced between Rs. 12,500 to Rs. 15,500,in India,depending on the manufacturer and brand.
The Nvidia GTX 1050 Ti was launched along with sligltly less powerful Nvidia GTX 1050. For the Nvidia GTX 1050 price starts at Rs. 10,000.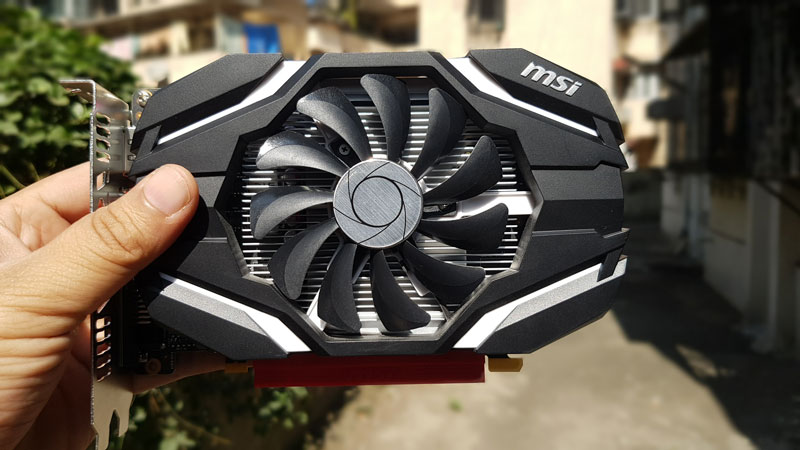 The Nvidia GTX 1050 Ti replaces the most popular Nvidia card – the "GTX 750 Ti". The GTX 750 Ti was launched in Feb 2014,  almost 3 years back. One main reason for the popularity of GTX 750 Ti is great performance and at the same time it works on low power, without a power connector.
The GTX 1050 Ti also don't require a power connector, and could be a great option for PC gamers, who don't want to spend extra money on upgrading that old power supply.
While the MSI GTX 1050 Ti comes with 4 GB of GDDR5 VRAM, Nvidia also has the higher priced Nvidia GTX 1060 available with 3 GB VRAM. If you have extra budget, than going with the GTX 1060 can be a good choice, as it offers much faster gaming performance on 1080P compared to the 1050 Ti. Don't bother much about the 1 GB lesser VRAM.
We have got the MSI Nvidia GTX 1050 Ti OC edition or more commonly called as the MSI afterburner edition for the review.
In this review – we will test if this graphics card is capable of gaming on 1080P, and find out is it worth buying for a Gaming PC Build, meant to play modern games at 1080P.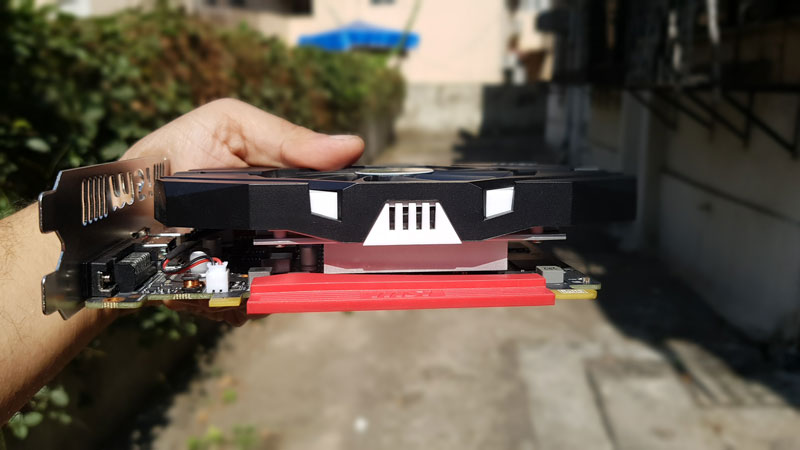 Also we will try to do some benchmarks for Photoshop and Adobe Premier PRO video editing to understand how well the graphics card do compared to some of the worthy rivals.
We earlier reviewed the Nvidia GTX 1070 Founders Edition and the Nvidia GTX 1060 Galax OC edition in detail.
Also we will throw in some performance benchmarks in comparison to our old and faithful AMD R9 280, which is twice the size of the GTX 1050 Ti.
Can This Tiny Card beat the Monster AMD R9 280 ?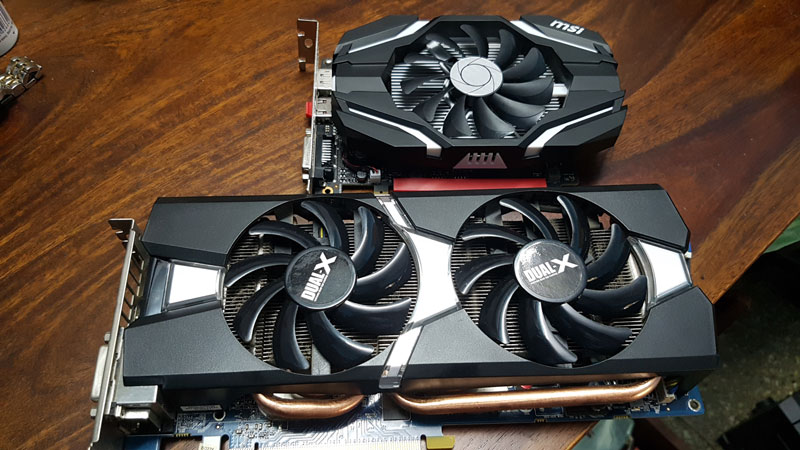 Intro, Unboxing & Design
The MSI Nvidia GTX 1050 Ti is light weight and very small, comes with a single Fan. The PCB has a neat layout, adds to the look of the graphics card. Though the circuitry is visible at the rear side, and there is no cover back plate to hide it.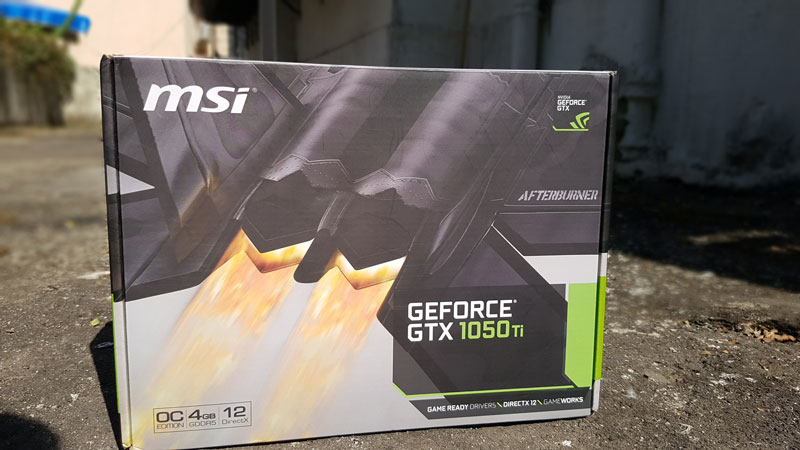 Compared to our old AMD R9 280 it is almost half the size, and can easily fit in any cabinet. The Tiny monster from MSI has 4 GB of GDDR5 memory and doesn't need any power connector to run.
The MSI card comes with military grade MIL-STD-810G certified components which can withstand overclocking and high Gaming temperatures for a prolonged period of time.
The Nvidia GTX 1050 Ti comes with 3.3 Billion transistors and a small PCB board. Nvidia has shifted from the 16 Nm FinFET TSMC manufacturing process to the 14 Nm Samsung Manufacturing process for the Nvidia GTX 1050 Ti.
Un-Boxing
All tiny and powerful things come in large boxes. When you open the green box, you will be surprised to see the relatively small MSI GTX 1050 Ti.
Lets Have Close Look at the Graphics Card
The Graphics card has black and white casing and it goes well with my Gigabyte white color motherboard. The PCI-E slot was covered with a red plastic cover, never seen before on any card, but a good thing to do in order to protect from accidental damages.
There is a DVI and HDMI port at the back to connect to your monitor, we used the HDMI. There is a single Fan in the centre which provides sufficient cooling.
The graphics card come with the latest GP107 Nvidia Architecture and has 768 Cuda Cores along with 128 Bit memory buswidth.
Key Specs For the MSI Nvidia GTX 1050 TI
Base Clock – 1341 Mhz
Boost Clock –
Architecture – GP107-400
Cuda Cores – 768 Units
Memory Clock Speed 7008 MHz
Memory – 4GB GDDR5
Memory Bus Width – (128-bit)
Power Consumption – 75 Watts
Recommended PSU Power – 300 Watts
Card Dimensions – 177 x 118 x 34 mm
Weight – 330 grams ( twice your smartphone weight)
DX -12 Support – Yes
G-Sync & V-Sync Support – Yes
Maximum Displays – 3
Ports – HDMI x 1
Dual-link DVI-D x 1
Price – Rs. 14,000 $ 190 (Approx)
The MSI afterburner software is bundled on a DVD along with the drivers. It is a renowned software for OC and most easy to use for overclocking if you wish to do that to a new graphics card. Personally I like the cards to be dead silent and on stock, as long as they deliver exhilarating performance.
Installation – Super Easy – You simply have to insert the card in the PCI –E slot and it just works. As a next step you will have to install the GeForce Experience software from Nvidia Website and the latest Nvidia Drivers.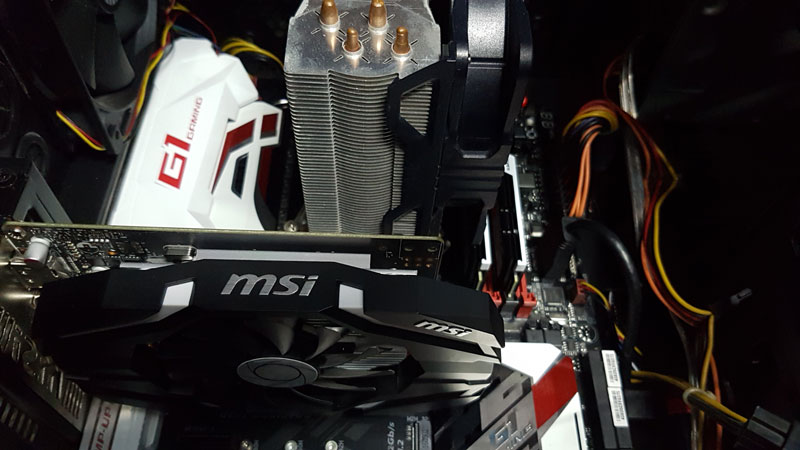 Review MSI GTX 1050 Ti OC Edition – Good For 1080P Gaming
Lets first do a quick comparison between GTX 1050, GTX 1050 Ti and the GTX 1060. The Nvidia GTX 1050 comes with 128 lesser Cuda Cores when compared to the GTX 1050 Ti, however if you observe the below table carefully it does have a higher clock speed.
KEY SPECS COMPARED NVIDIA GTX 1050 TI VS GTX 1060 VS GTX 1050
| | | | | |
| --- | --- | --- | --- | --- |
|  Nvidia GPU | GTX 1050 | GTX 1050 Ti | GTX 1060 3GB | GTX 1060 6GB |
| CUDA Cores | 640 | 768 | 1152 | 1280 |
| Boost Clock | 1460 Mhz | 1390 MHz | 1700 MHz | 1700 MHz |
| Memory Interface | 128-bit | 128-bit | 192-bit | 192-bit |
| VRAM Size | 2GB GDDR5 | 4GB GDDR5 | 3GB GDDR5 | 6GB GDDR5 |
| Memory Clock | 3.5GHz | 3.5GHz | 8GHz | 8GHz |
| TDP | 75W | 75W | 120W | 120W |
| Process | 14 Nm | 14 Nm | 16 Nm | 16 Nm |
| Price | Rs. 10,000 | Rs. 12,500 | Rs. 17,000 | Rs. 23,000 |
Next Let's first check our test system Specs, we have some of the latest shiny hardware to pair with the GTX 1050 Ti.
Keys System Specs Used for Benchmarks
Intel Core i7 Skylake 6th Gen 6700 K Clocked @ 4.2 GHz
16 GB G.Skill 3200 MHz DDR4 RAM
Cooler Master Hyper 212 X Processor Cooler
Gigabyte Z170 Gaming X Series 7 Motherboard
Samsung Evo SSD 256 GB and 2 TB HDD Seagate
Haf 912 Cabinet
Dell FHD Monitor 1080P
Cooler master 650 Watts Bronze PSU
GPU – MSI Nvidia GTX 1050 Ti OC Edition
The GTX 1050 Ti  will work easily with the Intel Core i3 or higher. If you have the AMD 6300 or higher processor you will not face any bottleneck issues.
For this review we are using Intel Core i7 6700K clocked at 4.2 GHz and the latest DDR4 Ram clocked at 3200 MHz in Dual Channel configuration. Your gaming and benchmark results may vary a little, based on the configuration you are using.
Lets begin our testing and see if the MSI Nvidia GTX 1050 Ti can do 60 FPS in most of the gaming titles at 1080P.
Gaming Benchmarks Nvidia GTX 1050 Ti
Crysis 3 – My personal favorite to torture new graphics cards. Crysis 3 has been one of the most punishing games of all time and it was easily playable at very high settings on 1080P. Nvidia GTX 1050 Ti scored an average of 43 FPS which is significantly higher compared to 36 from R9 280.  The Nvidia GTX 1060 on the other hand manages 60 FPS in this game.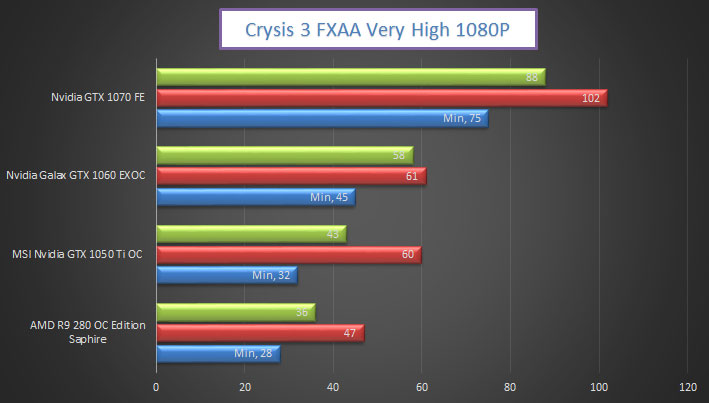 Battlefied 3 – If you are interested in the Shooting games the BF3 and BF4 are excellent games. In BF3 the Nvidia GTX 1050 Ti performed superbly, easily hitting over 150 FPS on an average and much faster than the R9 280.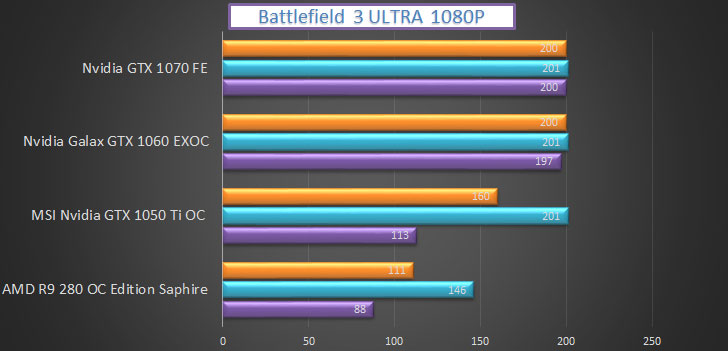 Battlefield 4 – It is slightly more demanding than the Battlefield 3 but the MSI GTX 1050 Ti easily managed to run over 100 FPS on an average.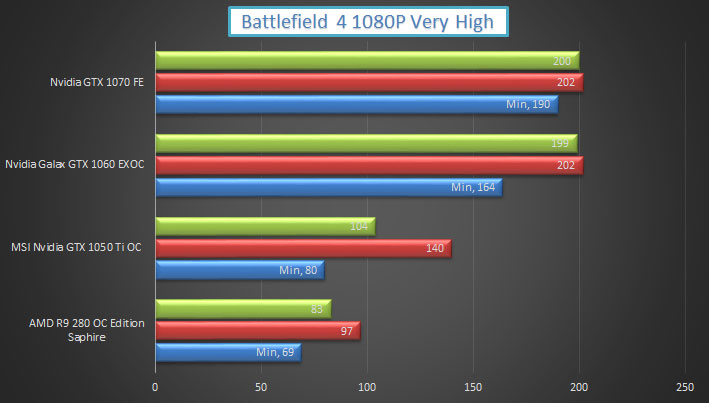 FarCry 4 – It is another highly graphics intensive title and our GTX 1050 Ti sailed over 60 FPS easily in this game too.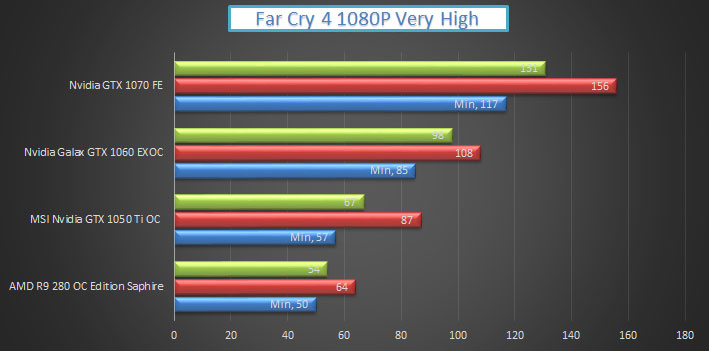 Fallout 4 – FallOut 4 is one of the most popular titles of 2016 and the GTX 1050 Ti performed to my expectations here, Avg FPS was close to 64 in this title.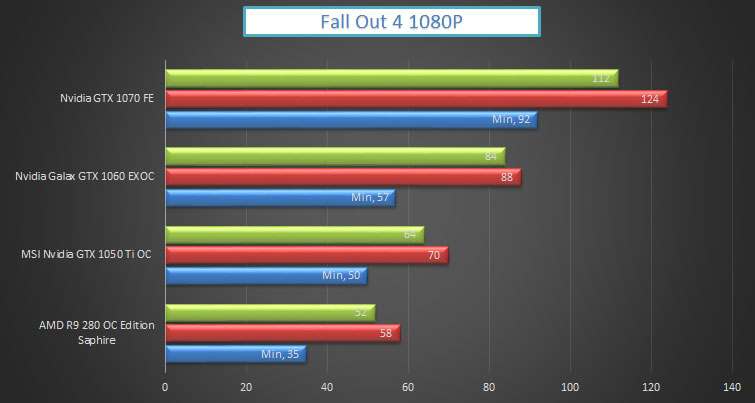 GTA V – GTA V was no exception and we were able to do over 50 FPS in the game with the Nvidia GTX 1050 Ti.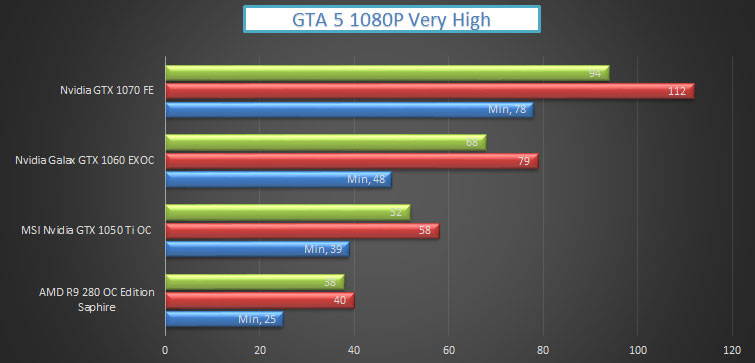 Witcher 3 – Last Game in the list is Witcher 3,  The Nvidia GTX 1050 Ti closed the Gap between the GTX 1060 in this title with Avg 43 FPS on very High Settings.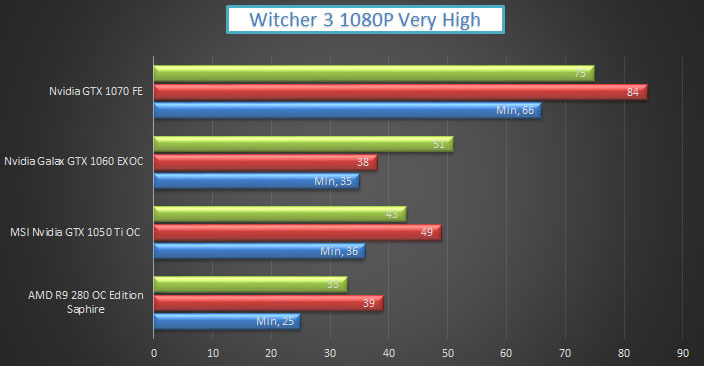 Click Next Below for Synthetic , Adobe PS, Pro and Concluding Thoughts….
Related Posts From Candytech