Experience With Top 3 Indian E-Commerce Sellers – Which is Better?
You can read the entire article that shares a lot of insights about the three brands and their service.
However, as of 2021, Amazon is a clear winner when it comes to customer satisfaction and service. Flipkart has gone downhill after the acquisition by Walmart and has more issues with returns and customer satisfaction in comparison to Amazon India.
Snapdeal has retreated and is not a big player in the market as it was once. The customer satisfaction, support, and service are even sub-par at Flipkart. We also wrote an evaluation of Paytm and its after-sales service, you can read that too.
There are thousands of vendors who have tied up with these internet marketplaces, to reach potential customers. In the last 3-4 years, India has seen tremendous growth in e-commerce shopping. We can attribute the success of growing online sales to some extent to the increasing number of smartphone users and increasing internet penetration in India.
E-retailers – Flipkart and Amazon have taken many steps like Cash on Delivery, Next Day/Same Day Delivery, multiple payment options, exclusive online tie-up, excellent customer support, returns, and supply chain management to make the internet model in India a success story.
Was it the passion of entrepreneurs like Sachin and Binny Bansal? Was it Jeff Bezos's commitment, to make India a key market for Amazon global? The entry of Chinese Crusaders Xiaomi and Motorola or OnePlus launching amazing products at ridiculously low prices creates hype for online purchase, vanquishing the mom and pop stores.
We all feel delighted watching the wonderful bubble wrap-packed products, brought by the well-dressed delivery boys, from Flipkart, Amazon, and Snapdeal.
The success of Any Organization depends upon how Satisfied are the consumers – Would they recommend the brand to a friend?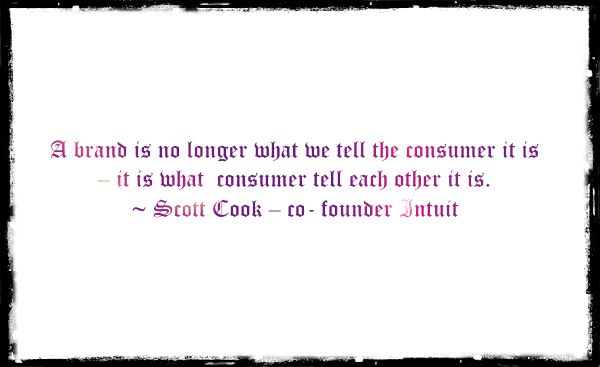 Some Key Questions?
Do you feel confident and relaxed about returns or money back policy when you buy a product online?
Does the service Centre executive listen to you? Solve your problems on the first call?
Do they keep you waiting for long when you call customer support?
Do they accept returns with ease?
All of these questions are important & relevant to making a good e-commerce company, Great!
Why was E-bay not able to capture the Indian E-Commerce Market in a way Amazon, Flipkart, and Snapdeal have done it? E-Bay missed the bus, they were in India for years but what made Amazon and Flipkart so Successful?
They pioneered the online model understood the consumer need and satisfied it with an affordable solution.
Cash on Delivery
It was the masterstroke, 75% of online shopping happens through cash on delivery in India.(source Wikipedia).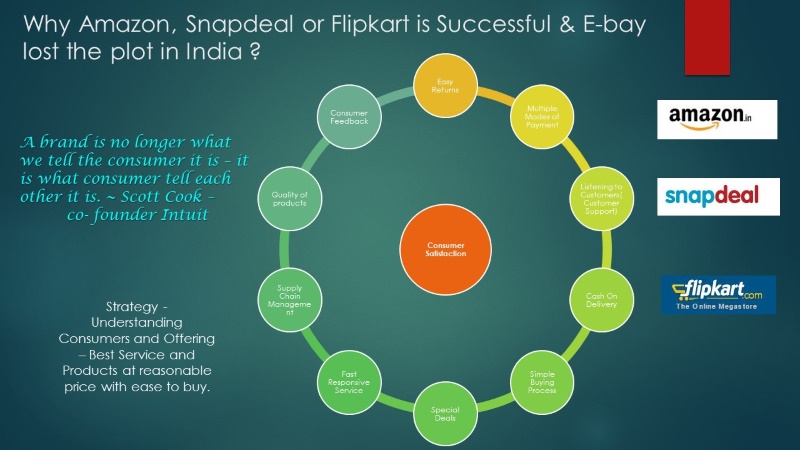 Flipkart Story
Flipkart was founded by Sachin and Binny Bansal in the year 2007. Both are IIT alumni and worked with Amazon.com for the initial years of their careers. The first product sold by Flipkart was the book Leaving Microsoft To Change The World it was bought by VVK Chandra from Andhra Pradesh. Now Flipkart has 16,000 employees and recently raised 1 Billion dollars from institutional investors for expansion.
Amazon India Story
Amazon arrived late to the Indian E-commerce domain, it started operation in India on 5th June 2013, offering books movies, and television shows as only products. The founder of the company is Jeff Bezos, a cracker of a person and insanely passionate about the business, customer service, and innovation.
Snapdeal Story
Snapdeal was started by Kunal Bahl, a Wharton alumnus, and Rohit Bansal an alumnus of IIT Delhi in February 2010. The company began as a daily deals portal and later in September 2011 expanded and became an online marketplace.
The opinion of Various Quora Users About – Flipkart, Amazon, and Snapdeal.
The Question asked on Quora was – Among Snapdeal, Flipkart, and Amazon, which company has the edge in which sector? How long before the eventual showdown?
Users replied with their own opinions and thoughts about the brand perception and which brands they prefer! Here are some of the exciting viewpoints shared on Quora!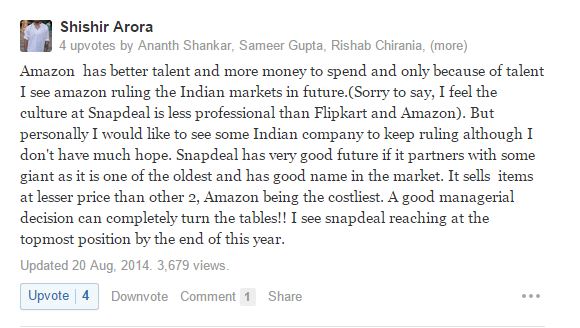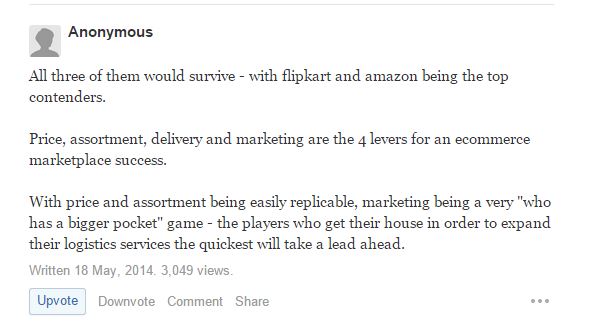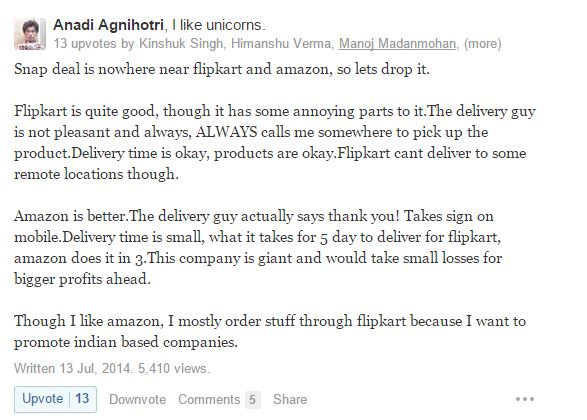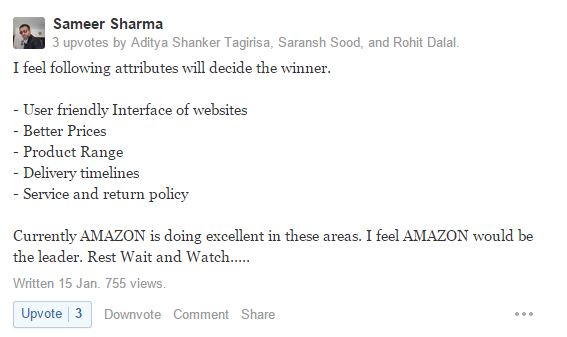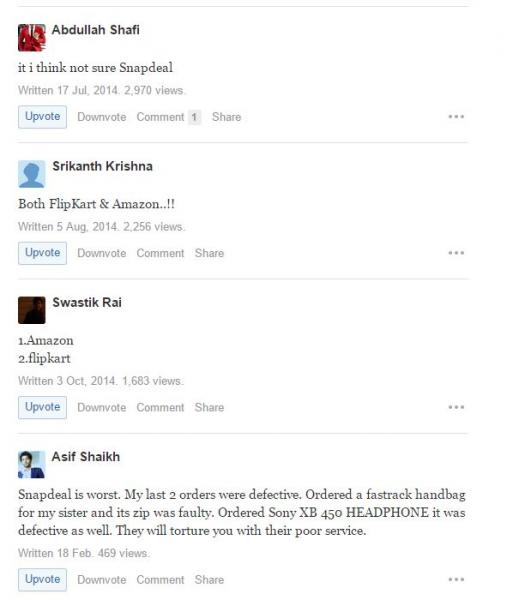 You can read more on Quora about Flipkart, Amazon, and Snapdeal the Opinions shared by the Buyers.
Case Study and Personal Experience
I am sharing with you some of my personal experiences and experience of friends, family, Candytech readers, and the good and bad experiences of people from Quora the excellent website for sharing opinions.
I do about 50% of my monthly purchases online, which include books, electronic gadgets (for Candytech review and family, friends), and other household stuff. With every alternate day, something gets delivered to my address and mostly the products have no issues.
For me sometimes delivery times matter and based on the last 2-3 months' of experience in Mumbai Amazon is faster in delivery, followed by Flipkart and then Snapdeal.
These are the free delivery products which take 2-3 days to 7-10 days for delivery. I found Amazon shipping and sending the products faster.
Flipkart First
It is a great program, and you can try it if you have a lot of orders from Flipkart alone. In my case, I purchase from all top e-commerce websites.
I also tried the Flipkart First Service, but most products I bought were either from other sellers(not from WS-Retail) due to which Flipkart never delivered them the next day, or at times they charged courier charges for the products. Didn't find it relevant and pre-closed the service. It also was binding me to order from Flipkart as I have paid for it so chose to keep options open.
When I closed the Flipkart First service, Flipkart refunded the money without any hassles, but they never inquired why a premium customer is abandoning their service. These are the small touchpoints that form opinions and differentiate a good company from a Great company.
I recently bought a Hitachi Air Conditioner from Flipkart they delivered it in 4-5 days and got it installed in the next 2 days, was a good buying experience.
But the trouble happens when the product you buy has a fault or is not working as per your liking.
Experience With Amazon, Flipkart, and Snapdeal
Can be different for All users (I am sharing mine, you can share yours in the comments below). All these faulty product issues keep happening with all of us, your story can be the same, but your experience with different brands can be different. The point is How a good and bad service by a company, shapes buyers' perceptions.
My experience can be different than yours so kindly take it as an individual buying experience.
Snapdeal Experience
I purchased JBL speakers from Snapdeal almost a year back, one of the speakers stopped working after 2 months. Then I called up JBL. However, they declined to replace it stating that it is not bought from an authorized JBL re-seller.
After that, I contacted Snapdeal and told them, they took details of the service center and after 2 weeks of follow up finally decided to pay back the money instead of replacing the speakers. I agreed and got the money back. This incident happened a year back; you can read the details here about the JBL warranty process. While I recommend buying JBL speakers but you should check the warranty policy before buying.

Flipkart Experience
Flipkart's Website and App are much more refined easy to use and in my experience best in user experience. I always have a good experience, while shopping at Flipkart and they usually cancel or return the Items without much hassle. But something strange happened when I purchased an expensive Zotac Nvidia GTX 970 Graphics card from them.
The graphics card was available for Rs. 27,500 very few people buy that kind of expensive hardware in India. The graphics card was overheating beyond 83 degrees C. This was unusual, and I didn't like it.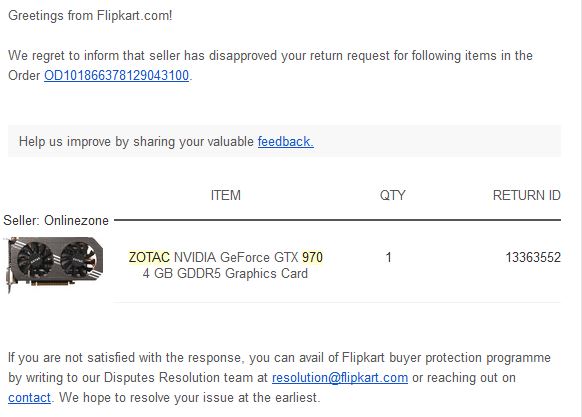 I contacted Flipkart about the issue, they arranged a call back from tech support team. However, it took them almost 1 week to do that. Tragically, I was forced to call more than 20 times and explain the whole issue to different agents. However, nothing happened, they declined to do a refund. Maybe it was a seller issue.
15 days passed and I was becoming anxious as it is a high-value product. Then I contacted Zotac the OEM for the Graphics card and they agreed to replace it.
But they asked me to visit the service center that was 25 Km away from my home. First, I was required to submit the card and collect the replacement card after a few days.
I decided not to go.
It was almost 20 days, and I have done many calls and emails to Flipkart. I felt a bit frustrated with the service and the promise of a hassle-free return.
All promises looked false.
Difficult to Return Products to Flipkart
I, fortunately, have a friend working in a senior position in Flipkart. I asked for the CEO's email id and wrote a complaint email to Sachin Bansal. He immediately action-ed on it. Flipkart accepted the return in 1 day and refunded the money, end of the story.
Notably, the CEO understood the lifetime value of a customer and made sure nothing wrong happens. It was a grand gesture, and I am his fan for acting promptly. A few CEOs care about customer complaints.
From a customer service point of view, this was one of the unfortunate customer service experiences, which outweighs 10 previous positive experiences. However, I continue to buy products from Flipkart as usual as this can be one of the unlucky incidents. Moreover, after the acquisition of Flipkart by Walmart the customer experience has gone south.
They are not really concerned about the returns or in case people face issues. You always have the brand to sort out the issues but the returns and refunds have become harder in recent years for Flipkart.
Amazon Experience
Amazon has a superb user experience and efficient supply chain management to deliver your products fast and mostly without the shipping charges. I have never had an issue with Amazon regarding service or returns.
The Amazon User Experience Story – I will just share a small incident about how good Amazon is with their customers. I bought the Micromax Yu Yureka in one of the flash sales for review purpose on Candytech and later planned to give it to a family member as a gift.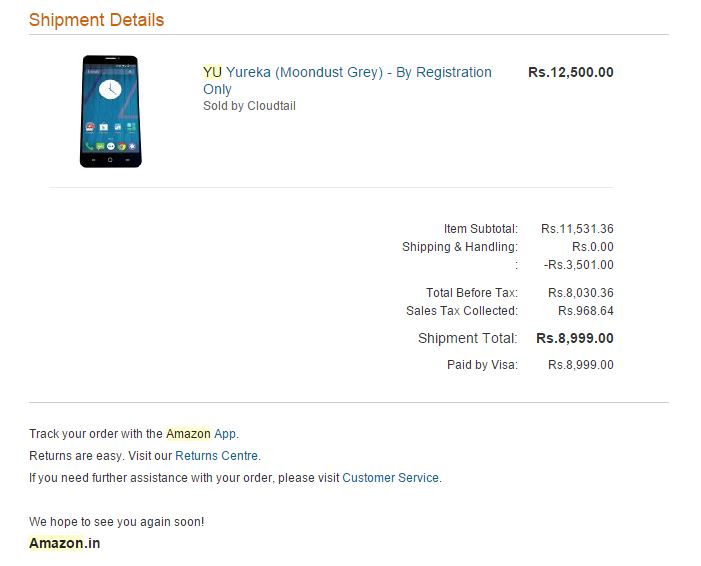 Notably, it had some issues with the antenna or microphone. The other person on call was not able to hear voice properly. We used the phone for a month and tried different locations and even different service provides. Initially, we thought it was a network issue but later discovered that the phone was faulty.
Meanwhile, I contacted Micromax Yureka about the issue. They asked me to record the voice from the mic and email them, which I did. Next, I called them several times to explain the problem every time to a different executive. A new person would listen for 10 minutes and understand the issue. (I think most of you would have faced this, with many companies).
Micromax Customer Experience Was Bad
After many calls, Micromax accepted there is an issue in the voice quality. However, they declined to send a replacement mobile, they only know Why?
Further, the solution they gave me was this. Once Android Lollipop rolls out the issue will be fixed in 30 days. You will have to wait. If the problem does not get solved, we will change it after that. When I have paid full money why I will accept a faulty product – They had no answer.
Anyways I contacted Amazon, my last hope. Explained to the executive that Micromax has declined to provide the replacement for a faulty product. First, she said that it is 45 days now and we can't help you. But after a little more explaining, they arranged a call back to discuss the matter.
Also, the call back happened on the same day, and not too many questions were asked. Amazon refunded the money and took back the faulty mobile. This is an extraordinary example of customer service. I was delighted to get world-class service that I was not even expecting.
Our vision, at Amazon, is to be Earth's most customer-centric company.
This is the vision statement for Amazon, to build a place where people can come to find and discover virtually anything they want to buy online.
Findings and Thoughts
Now if there is not too much of price difference you can make a wild guess from where I will order the next Apple iPhone 7 or Google Pixel.
Why Apple or Dell are great brands?
Because they treat their customers well, customers make these brands uber-popular and talk about them. They even motivate friends and family to buy their products. Especially, if brands don't treat the enthusiasts, and the early adopters well. Besides, they will make these influencers talk negatively about the service or product, which in turn impacts the brand image.
I can sum up What Customers Expect from Companies, in the words of Donald Porter – VP of British Airways.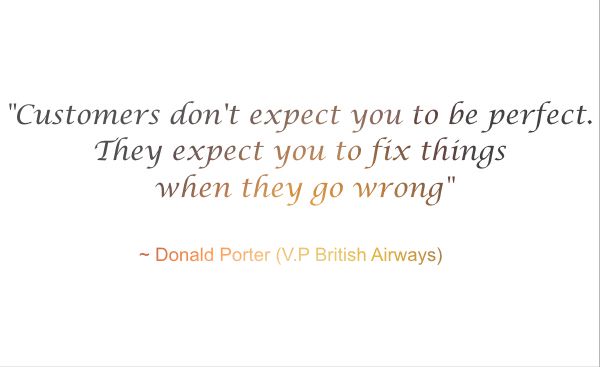 I admire Flipkart, Amazon, and Snapdeal for the millions of possibilities they have created for Indian Buyers. Also, for the exceptional work they have done in the E-Commerce space.
However, based on the experience, and parameters such as pricing, delivery time, after-sales support, here is our rating:
Amazon (Scores 90%).
Flipkart (Scores 85%).
Snapdeal (Scores 78%).
In the end, all these companies will do great in the near future and will continue to expand their operations and volumes. However, the winner will be the one that takes care of its customers and offer incredible service with the highest standards and commitment.
These are some of my and other users' experiences. I would request you guys to share your experiences in the comments sections so that others can benefit from them. In case Sachin / Binny Bansal or Jeff Bezos gets a copy of this article, they can discuss it in their next review meeting 🙂
Share your experience(Positive or Negative) with Flipkart, Amazon, or Snapdealin the comments below.