Sony WF-XB700 Extra Bass Earbuds
MRP Rs. 11,999, Current Price – ₹6,949 The Sony wireless earbuds feature an extra bass system to deliver punchy and deep bass, ideal for bass junkies.
These come with 9 hours of battery life, which is longer than most other True wireless headphones.
The charging case increases the battery life up to 9 hours more, which means 18 hours in total. You can use the left or right earbud independently. They offer IPX4 water resistivity, so there is no need to worry about wearing it on rainy days.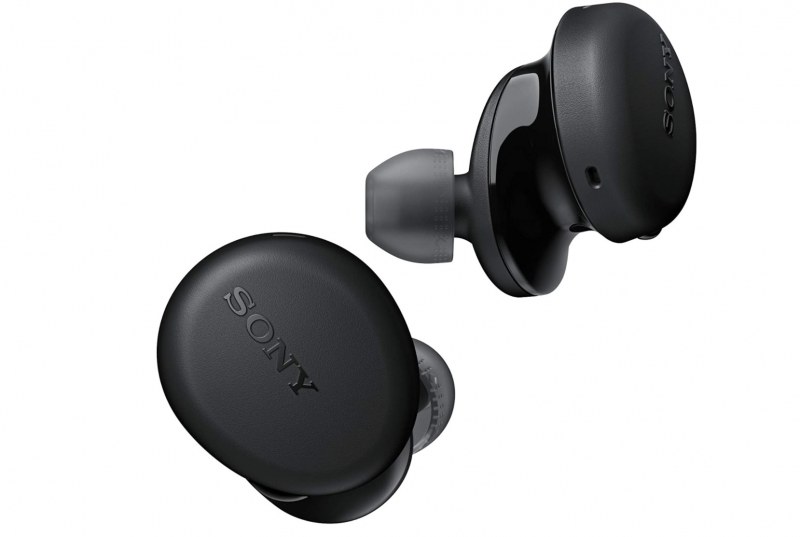 A simple button press will enable a voice assistant which allows communication, playing music, and getting directions. The buds have handy controls which permit you to play, stop, skip, and adjust the volume. The headphones fit snuggly in the ears, ideal for long hours of music or calls without any discomfort.
Key Specification
Weight – 45.36 grams
Connector type – wireless
Bluetooth 5.0 connectivity
Ergonomic Tri-hold design
Low latency
Features extra bass
9 hours battery backup on a single charge
IPX4 water resistivity
Pros
Punchy bass
Good sound quality
Great battery backup
Comfortable wearing
Cons
No ANC support
Case Lid looks weak.
Jabra Elite 75t: Absolute bliss – Price rs. 8499
Jabra is a notable great manufacturer of the best audio gadgets. It has launched its new earbuds as the successor of Elite 65t.
The buds are smaller and lighter than 65t and are comfortable to wear. Though the case and earbuds are plastic built, they look good. It comes with three pairs of ear tips of different size that allows choosing a perfect fit for you. It is available in Black, Gold Beige, and Titanium Black colors.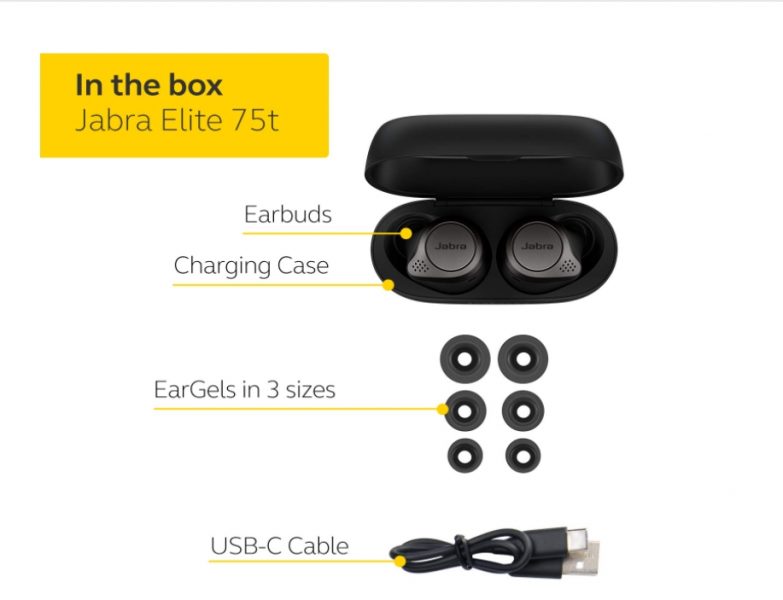 They are rated IP55, so you don't have to worry about exposure to sweat, water, or dust for everyday use. The buds have a physical button, an indicator light, and a motion sensor, and it stops working when one of the buds is removed.
The buttons control volume, playback, hear through mode, and voice assistant on the paired device. The BlueTooth codec supported by Jabra Elite 75t is AAC and uses Bluetooth 5 for connectivity. It has a small black charging case.
The case has a magnetic lid, USB-C Type port, and indicator light at the back. It allows connecting two devices concurrently. The earphones have four microphones for call and noise cancellations. Moreover, to feel the pleasantest experience of an audio update to Jabra Sound+ App. The battery stays for more than 7.5 hours and about 28 hours with a charging case.
Key Specifications
Weight: 45g
Dimension: 6.19 * 3.69 *2.69cm
Connectivity: Bluetooth 5
Battery-life: Approx. 7.5 hours
Number of Microphones: 4
Microphone form factor: built-in
Price: Rs. 8499
Warranty: 2 years
Pros:
Comfortable fit.
Good passive noise cancellation.
Amazing sound quality.
Cons:
Left and right earbuds get isolated with lagging issues.
OnePlus Buds Pro(New Addition) – Price Rs. 9,990
OnePlus Buds Pro arrives with 11 mm dynamic drivers tuned for rich bass. Also, it supports high-definition audio.
Additionally, the OnePlus Audio ID allows you to personalize your audio through a simple listening test during the initial setup.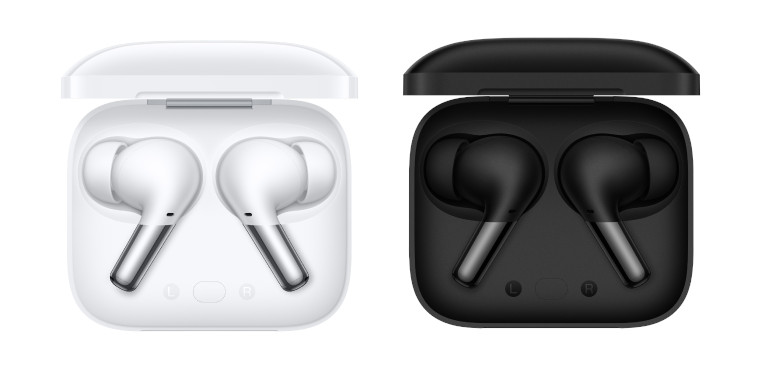 The Zen mode Air includes five presets to play alongside the adaptive noise cancellation. For instance – meditation, summer, seashore, night-time camping, etc., to keep yourself calm, relaxed, and focused.
Further, the buds come with worry-free battery life. It allows enjoying the music for up to 38 hours as it supports warp charging.
A 10 minutes warp charging gives you a playtime of up to 10 hours. The buds offer up to 7 hours of playtime with ANC disabled and up to 5 hours when ANC is ON.
Overall these are pretty good in the sub 10k price range and compete with the Oppo Enco X and the Jabra Elite 75T in the segment.
Key Specification
Smart Adaptive Noise cancellation
11 mm dynamic drivers
Weight – 4 grams
Connector type – wireless
Bluetooth 5.2 connectivity
10m range
7 hours playtime on a single charge
Supports Warp charging
3-mic ENC
IP55 Water-resistant
Pros
Stylish, Comfort-Fit, and Lightweight
Clear and crisp vocals
Good noise cancellation
Water and dust resistant
Cons
All-New Echo TWS Buds (2nd Gen from Amazon) – Price: Rs. 10,999
The made by Amazon Echo buds come with 5.7 mm dynamic drivers with Active Noise cancellation technology. Also, it has built-in Alexa and supports Google Assistant and Siri. The buds have an elegant, compact, and comfortable design.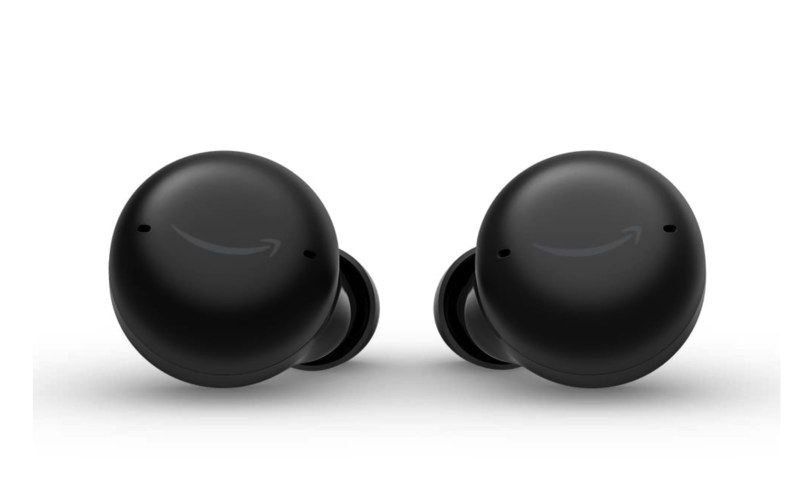 Moreover, the dynamic drivers offer an immersive sound with crispiness and balance. The buds allow you to have total control over bass and treble. Also, it is compatible with both Android and iOS.
Notably, the multiple privacy layers allow mute mic using the Alexa application.
The Echo buds have Passthrough Mode to hear the surrounding noise. This mode can activate with touch and hold on either of the buds. It has IPX4 water and sweat resistivity. On the battery side, each bud provides a battery backup of 5 hours and up to 15 hours with the charging case. Also, the buds support fast charging through which the buds get charged for up to 2 hours within 15 minutes.
Key Specification:
5.7 mm dynamic drivers
Active Noise Cancallation
Up to 15 hours of battery with charging case
15 minutes quick charge (for 2 hours)
4-sizes eartips and 2-size wingtips
IPX4 water resistivity
3-microphones per earbud
Supports Alexa, Google Assistant, and Siri
Weight – 5.7 grams
PROS
Excellent active noise cancallation
Decent battery backup
Great sound quality
Samsung Galaxy Buds Pro (With ANC)
The Samsung Galaxy Buds Pro was launched in India on 14th January and offers premium features and pricing. These are available in three color options – Phantom Black, Phantom Silver, and Phantom Violet.
The Samsung buds sports multiple levels of noise cancellation with Ambient Sound mode- to stay conscious of surrounding sounds.
This mode captures the environmental sound and amplifies it to more than 20 decibels. The buds carry three microphones.
It switches automatically from ANC to Ambient mode as soon as the user talks. The dedicated Voice Pickup Unit (VPU) – delivers a great calling experience with Wind Shield Technology that reduces the wind noise.
The 61 mAh battery claims to last up to five hours with ANC and 8 hours without ANC. The charging case holds a battery life of 28 hours and supports wireless charging.
Key Specifications:
ANC with multiple noise cancellation modes
Co-axial dual drivers – 6.5 mm tweeter and 11 mm bass
61 mAh battery on buds
IPX7 Water-resistant
3D Spatial audio
Price – Rs. 9,990
Pros – Basic noise cancellation.+Easy touch controls
Cons – No Google Assistant or Siri support.
Samsung Galaxy Buds 2 (New Addition) – Price – ₹ 11,999
Samsung has recently launched the Galaxy Buds 2 that features Active Noice Cancellation. It has two dedicated microphones to identify the ambient noise, and the ANC blocks it.
Moreover, the two-way dynamic speakers make you enjoy the powerful and deep bass along with a clear treble.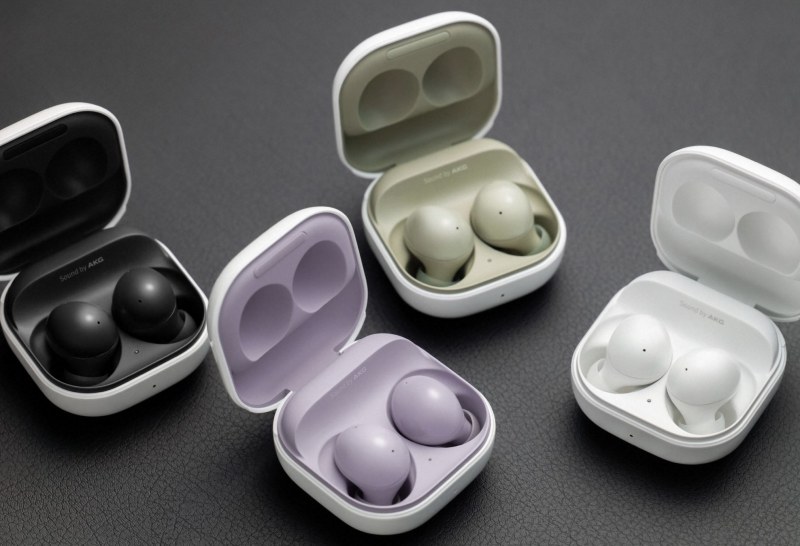 The buds have up to 5 hours of playtime, and in total, it offers up to 20 hours of playtime with the charging case. Furthermore, the six different equalizer settings allow you to find your vibrant sound and keep you immersed.
The compact design makes it lightweight and a comfortable fit for all-day-long usage. It supports smooth synchronizing and seamless connectivity.
Key Specification
Active Noise cancellation
Dynamic two-way speakers
11 mm dynamic drivers
Built-in voice pickups for call
Weight – 41 grams
Connector type – wireless
Bluetooth 5.2 connectivity
10m range
5 hours playtime on a single charge
Smooth synchronizing
Pros
Stylish and comfortable design
Great active noise cancellation
Crystal clear calls
Allows Equalizer settings
Cons
Sony WF-1000XM3 True Wireless Earbuds (Top Recommendation)
The earbuds have already left many users impressed with their inconspicuous appearance. The earbuds' noise-canceling capabilities entice listeners.
You will not experience any discomfort wearing the earbuds for long hours.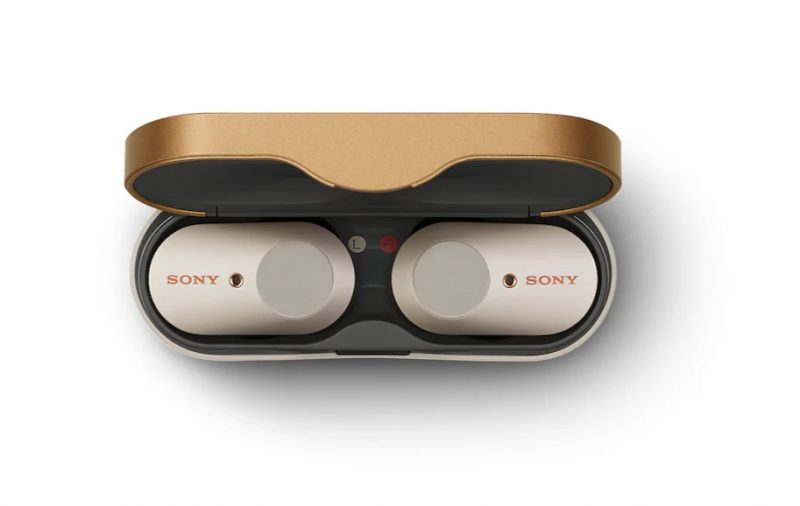 The touch controls are present on both earbuds. It also allows you to access Google Assistant by saying, "Ok, Google." The earbuds rely on the dual-microphone array to combat any external noise.
Key specifications
Item weight: 3.53 ounces
Price: $198 or Rs. 12,990
Digital Noise Cancelation With QN1e and Dual Noise Sensor
Frequency Response – 20 Hz–20,000 Hz
Battery Life – Max. 6 hrs (With ANC ON) Up to 8 hrs (With ANC OFF)
Bluetooth connectivity: 5.0
USB Type C Cable
Pros
It offers you extended battery life along with quick charging
Offers effective noise-cancellation
You will get USB-C charging with a quick charging feature
It gives you auto play/pause
It comes with intuitive touch controls and Google Assistant integration
You will like the earbuds modern design
Cons
Apple AirPods 2nd Gen (Best For iPhone) – Price Rs. 16,990 or $230
Best Premium True Wireless Earphones – Apple AirPods are the original true wireless headphones blatantly copied by Chinese companies.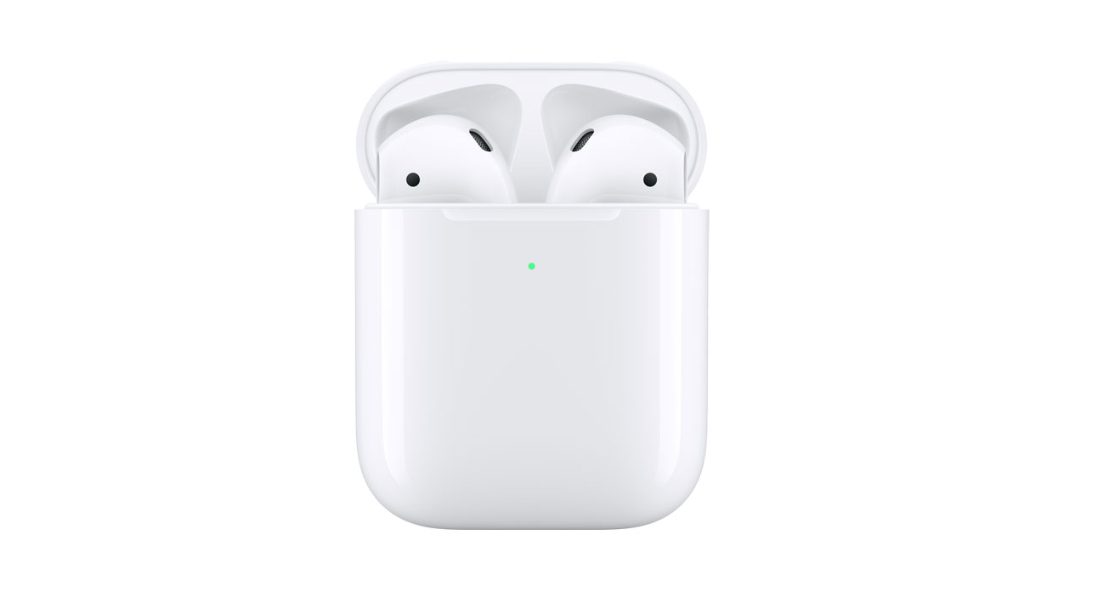 The earphones provide unbeatable Bluetooth usability to users and stunning sound quality.
The AirPods offer a great degree of sophistication and subtleness that competition missed. The case can swiftly charge the earphones.
You will find the initial pairing and switching connections hassle-free. Also, you will notice a significant improvement in sound quality.
You also get a "Hey Siri" always-on feature that allows you to use the personal assistant by saying the keyword.
Notably, these come with a wireless charging case.
Key Specifications
Battery life: More than 5 hours of listening time
Warranty: 1 year
Dual beamforming microphones, Dual optical sensors
Weight: Airpods each: 4 grams, charging case: 38 grams
Functioning: Automatically on and automatically connected
Pros
Siri Access.
Touch Controls.
Best for iPhone.
Wireless and Wired Charging.
Excellent Audio Quality.
Cons
It lacks ambient listening mode and active noise cancellation
Jabra Elite 85t True Wireless Earbuds
Zabra Elite 85t is the newly added TWS earbuds that offer uninterrupted calls and music with the Advanced Active Noise Cancellation. The 12 mm speakers deliver crystal clear sound.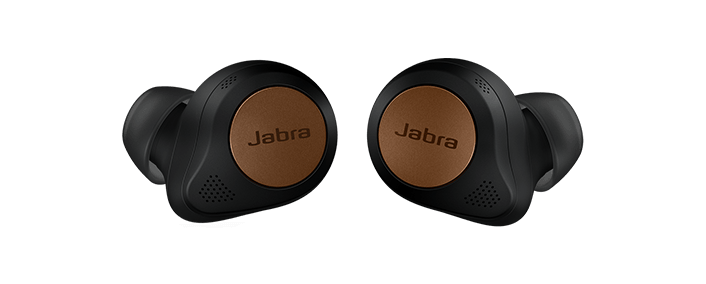 Moreover, the earbuds deliver up to 5.5 hours of battery backup, and the case offers up to 25 hours. Without ANC, the battery provides up to 31 hours of battery life.
The oval EarGels gives you a pleasant all-day pain-free fit. It has pressure relief vents so that you don't get tired of wearing the buds all day.
Further, it has powerful bass, a customizable equalizer, AAC, and SBC codecs so that you can hear a stable and detailed sound in a compact design.
Key specifications
Weight: 52.1 grams
Battery average life: 5.5 hours, with case up to 25 hours
Bluetooth version: 5.0
Advanced Active Noise Cancellation
12 mm dynamic driver
6 built-in microphones
Supports Siri and Google Assistant
Color – Copper Black
2-year warranty
Price: Rs 13,999
Pros
Excellent sound quality
Great ANC functionality
Decent battery backup
Comfortable long day wear
Cons
New Apple AirPods (3rdGeneration)
The new Apple Airpods Generation 3 comes with Spatial audio with dynamic head tracking. It has Adaptive EQ, a custom high-excursion Apple driver, and a high active range amplifier. Moreover, the company has enhanced the battery life.
The buds offer up to 6 hours of backup, and the case gives up to 30 hours of battery backup. It supports MagSafe charging.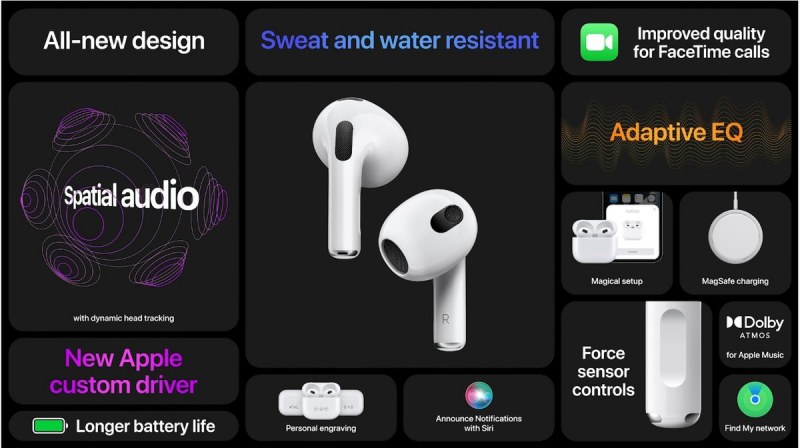 The buds are IPX4 rated with water and sweat resistivity so that you can use them during intense gym sessions. The dynamic drivers designed by Apple give an all-time high bass.
The unique acoustic mesh on the buds minimizes the wind noise so that you can hear the voice loud and clear when on call.
Key Specifications
Weight: 4 grams
Battery average life: 6 hours, with case up to 30 hours
Supports MagSafe charging
Adaptive EQ
IPX4 water and sweat proof
In-ear detection and automatic switching
Speech and motion detecting accelerometer
Color – Apple
1-year warranty
Price: Rs 18,500
Pros
All-new design
Great battery life
Always-On Siri
Force sensor for easy control
Excellent sound with Spatial Audio
Cons
Bose Sport Earbuds – Pure Sound – Price – ₹ 17,990
How can we even write an article about Audio gear without including Bose? We can't! The Bose sport TWS Bluetooth earbuds come with 6 mm high-efficiency dynamic drivers that reproduce high fidelity balanced sound.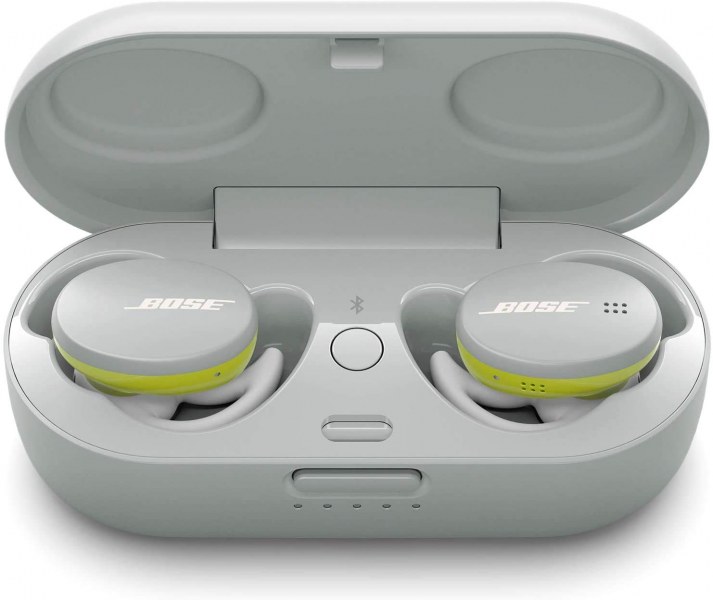 It has IPX4 water and sweat resistivity –ideal TWS for exercise and workouts.
The buds have up to 5 hours of battery life on a single charge, whereas 10 hours of battery backup with the charging case. It supports fast charging. Additionally, the buds have convenient and straightforward touch controls.
The right bud allows swipe up/down, volume control, double-tap for play/pause, and answering calls.
Double-tap on the left earbud enables shortcuts like checking battery level or track skipping.
Key Specification
6 mm High-efficiency drivers
Weight – 13.5 grams
Secure and comfortable fit
IPX4 water resistivity
Simple touch controls
Features Shortcut functions
5 hours of buds battery backup
Pros
Great sound quality
Comfortable all-day wear
Decent battery backup
Cons
No noise cancellation functionality, Expensive.
Apple Airpods Pro(Best For iPhone) – Price Rs. 24,990 or $299
Best TWS With ANC and Good Call Quality – The wireless earbuds can be an ideal purchase if you desire noise cancellation without wearing heavy cans.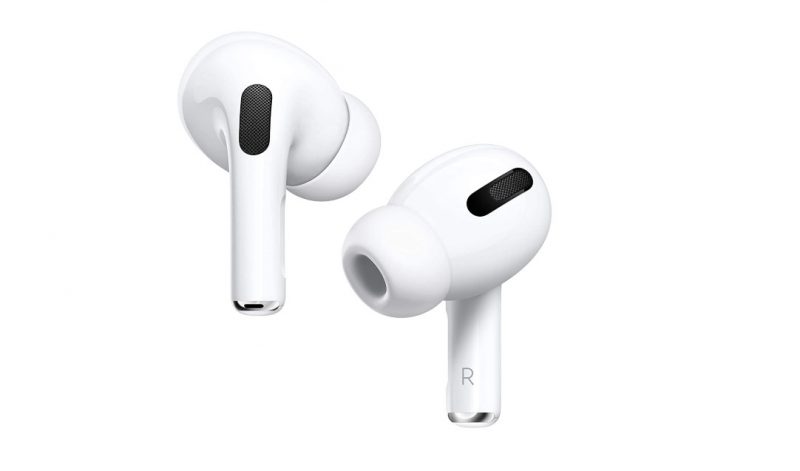 You will get several stunning features when you buy wireless earbuds.
Apple has reduced the stems on these earbuds and added helpful gesture controls.
Apple Airpods Pro offers a much better fit and better design to attract more buyers.
Key Specifications
Warranty: 1 year
Listening time – 4.5 hours
High Dynamic Range Amplifier and Apple H1 Chip
Components included: AirPods Pro, wireless charging case, silicone ear tips (three sizes), Lightning to USB-C Cable
Batteries: 3 Lithium-ion batteries needed
Price: $299 or Rs. 24,990
Pros
Offers effective noise cancellation
Users get a much better fit with three ear tip options
Ideal for Music and calls
Hey Siri – Always On
Transparency mode to hear outside world noise
The pressure-sensitive stem is great
Offers super portable charging case
Overall an amazing product from Apple
Cons
Sony WF-1000XM4 True Wireless Earbuds – Price – Rs 19,990
The Sony WF-1000XM4 TWS earbuds are the latest buds launched in 2022 by Sony. These have 6 mm dynamic drivers that offer immersive audio. Also, the high compliance diaphragm reproduces the broad range of the bass while the V1 processor improves the sound quality by reducing the surrounding disturbances.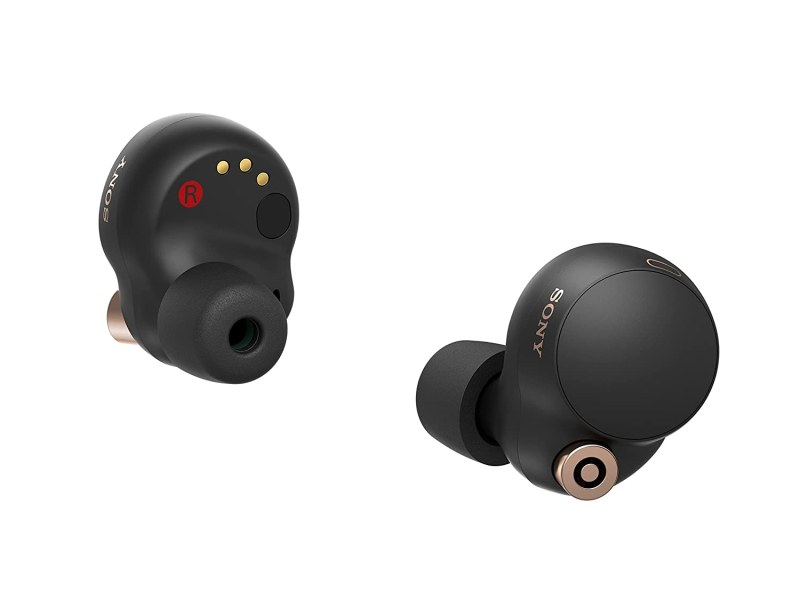 Moreover, the Precise Voice Pickup Technology controls four built-in microphones and provides advanced audio signal processing. The buds have industry-leading noise cancellation technology that gives you a clear hearing during calls.
The battery allows you to enjoy a full day working with Sony earbuds. It delivers up to 8 hours with each bud, whereas 16 hours with the case. Also, it has an IPX4 water resistivity.
Key Specifications:
Weight: 41 grams
6 mm dynamic driver
Battery average life: 8 hours, with case up to 16 hours
Ergonomic design with comfortable fit
Supports Active Noice Cancellation technology
Bluetooth version: 5.2
IPX4 water resistivity
Alexa voice control
Convenient controls
Pros
Sturdy build with premium finishing
Good ANC technology
Comfortable fit for long day wear
Conclusion
Buy the True Wireless headphone from the above list after considering the price tag, battery life, design, and Pros and Cons. Don't buy the cheapest or most expensive buds. Look for the design and features you want and then only purchase. You will use it for many years and so invest in something you would love to use. If you have any queries, please ask me in the comments, and I will be glad to answer.