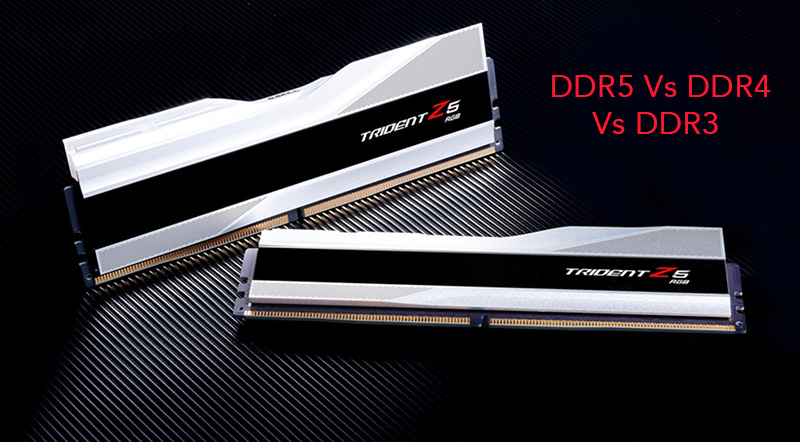 Let's make a comparison of DDR5 Vs. DDR4 Vs. DDR3 and find out key differences and look at different benchmarks and upgrade advantages.
The DDR5 was recently announced for PC and is compatible with the new Intel Alder Lake 12th Gen Processors.
The Ram promises faster speeds and performance and low latency.
Over the years, Ram clock speed and memory bandwidth have increased, and the power consumption has gone down. Thanks to the more advanced manufacturing processes and die shrinkage.
Let's see whether we should upgrade to the DDR5 Ram for our gaming PC or should we hold on to the DDR4 RAM.
Comparing Key Specs – DDR5 Vs. DDR4 Vs. DDR3
| | | | |
| --- | --- | --- | --- |
| Ram Comparison | DDR3 | DDR4 | DDR5 |
| Launch Date | 2007 | 2014 | 2021 |
| Voltage | 1.3/1.5V | 1.2V | 1.1V |
| Max Data Rate | 1.6 GB/s | 3.2 GB/s | 6.4 GB/s |
| Bandwidth | 17 GB/s | 25.6 GB/s | 32 GB/s |
| Max Die Density | 4 GB | 16 GB | 64 GB |
| Max Size | 8 GB | 32 GB | 128 GB |
| Channels | 1 | 1 | 2 |
| Burst Length | BL8 | BL8 | BL16 |
What is DDR5?
DDR5 is the next-generation RAM and is the successor to the DDR4. The key highlights for DDR5 are higher transistor density and bandwidth, alongside a decrease in power consumption.
Along with the Intels' Alder Lake processor and Z690 motherboards, DDR5 was launched on 4th November 2021.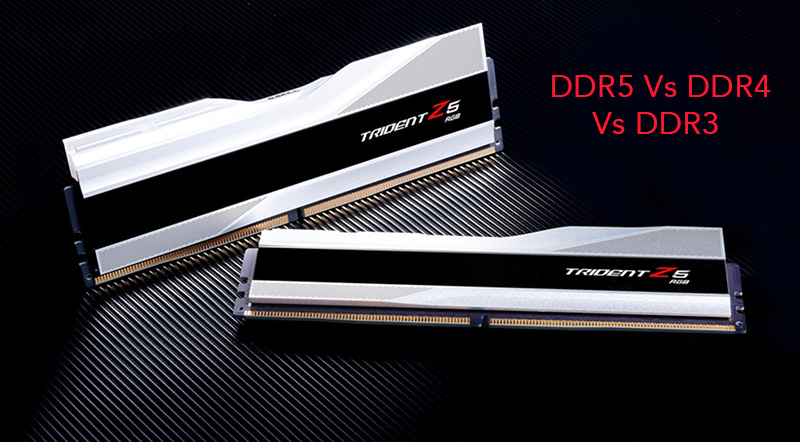 The DDR5 supports a significantly higher frequency range of 3200 MHz up to 8400 MHz. It has 288 pin counts. Impressively fast!
It is available with a density of up to 64 GB. It has an on-die ECC.
Another factor worth considering is the Cas Latency (CL). The DDR5 Ram comes with a higher CAS Latency and a Higher frequency.
Overall latency is measured by – latency (ns) = clock cycle time (ns) x number of clock cycles.
Latency for a DDR4 Ram 3200 MHz with CL 22 is only 13.75 ns whereas for the DDR5 Ram running at 4800 MHz with CL 40 is 16.67.
Despite your DDR5 Ram running faster than the DDR4 Ram, the overall latency for the DDR5 Ram may be higher, which may not translate to real-world gains in some apps.
When it comes to pricing, of course, the DDR5 is expensive.
For instance, a 16 GB module will cost you $150 (approx. INR 11,150 ), and 32 GB comes with a price tag of around $300 (approx. INR 22,000).
What is DDR4?
The DDR4 stands for Double Data rate fourth-generation synchronous dynamic random-access memory. That's a lot of technical jargons:).
The DDR4 was first released in Q2 2014 and is the successor to the DDR3 RAM.
Notably, the DDR4 memory operates at 1.2 V voltage with a frequency between 1600 and 3200 MHz, compared to frequencies between 800 and 2400 MHz and voltage requirements of 1.5 or 1.65 V of DDR3.
The 8 GB DDR4 Ram with 3200 MHZ speed is available for Rs. 3700 ($43) on the market, and you can easily find rams up to 4600 MHz clock speed.
What is DDR3?
DDR3 stands for Double Data Rate 3, and it's a Dynamic random access memory (DRAM). It is the successor of DDR2 RAM.
Notably, the RAM was launched in 2007, and it has a base clock speed of 400 MHz up to 1066 MHz. Ram has an overclocking ability, and you can find DDR3 Ram with a max clock speed of 2400 MHz.
It is available starting from 1 GB to 24 GB.
You can find a DDR3 ram with 1600 MHz and up to 2400 MHz in the market, and the price is close to Rs: 3400 or $40.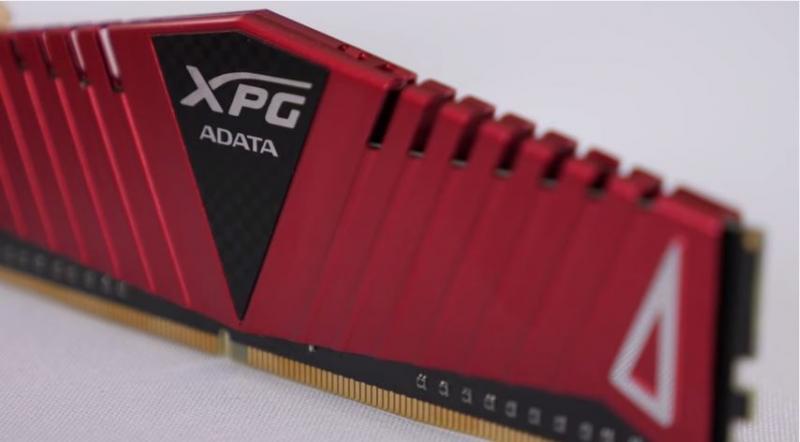 Further, it has 240 pins for desktop whereas 204 pins for laptop. It has both DIMM and SO-DIMM form factors.
Moreover, it is almost similar to DDR2 and consumes 30% less power. It can transfer data faster than its predecessor.
The Ram supports maximum data transfer rates of up to 6400 Mbps.
Notably, DDR3 is compatible with old motherboards and sockets.
Older Intel processors (Before 5th Gen) can work with DDR3. AMD AM3 socket is compatible with memory sticks.
However, since 2017, all manufacturers have moved to the faster DDR4 RAM. Currently, there is no need to buy the DDR3 Ram as it is not compatible with most modern motherboards and processors.
It only makes sense to buy DDR3 if you purchase an older PC.
DDR3 Vs. DDR4 Gaming Benchmarks and Performance
The DDR4 has speeds up to 4000 Mhz which is significantly faster than the DDR3.
The RAM enables higher DDR4 frequencies, lower latencies, and enhanced stability, but does it translate to increased FPS in games?
The answer is very subjective and based on the games tested. Also, the gains are not huge from the below benchmarks.
Beyond the Intel Haswell-E or Broad-Well (Intel 5th generation desktop processor), most of the new motherboards support only the DDR4 RAM so testing both rams using the same processor is a hassle.
Gaming Benchmarks DDR3 Vs. DDR4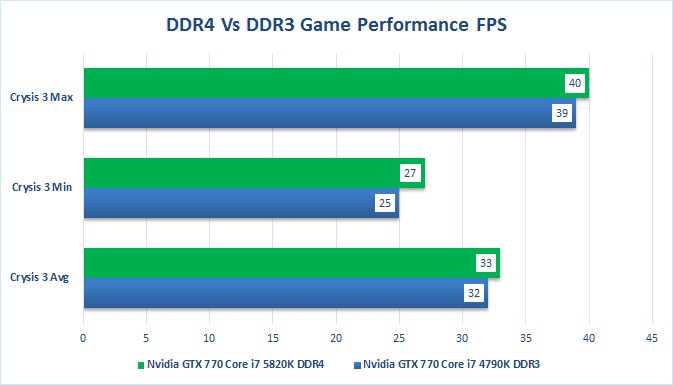 DDR4 VS DDR5 Benchmarks and Performance
The highest capacity on a single stick for DDR4 is 32GB, but DDR5 can quadruple this capacity.
Notably, the cutting-edge latest PC builds can use four slots of DDR5 for a total capacity of 512 GB. With the same slot configuration, DDR4 reaches a maximum capacity of 128 GB.
Furthermore, when it comes to the bandwidth comparison, DDR5 has a 36% improved bandwidth at 3200 Mbps than DDR4 with the same data transfer rate.
As per the Corsair officials, despite the improvements, the DDR5 latency is almost the same as that of the DDR4 with the 14 ns-15 ns range.
The essential advantage of using DDR5 over DDR4 is the additional memory bandwidth and the higher frequency.
Notably, the voltage regulation for DDR5 will move directly into the module, whereas, for DDR4, its located on the motherboard.
Unfortunately, to run DDR5, you need a new processor and motherboards like the latest Intel Alder Lake 12th Gen processor and the Z690 motherboard.
Also, AMD Ryzen 5000 series processors are incompatible with the DDR5 Ram and all previous-gen processors from Intel and AMD.
Also, another hurdle is the higher price for the DDR5 Ram and scarce availability.
AMD may use the new RAM with Zen 4 processors in 2022.
Also, read our Ultimate Overclocking Guide to get the best performance.
Gaming Benchmarks DDR4 Vs. DDR5
The performance varies from game to game, and you can get a 1% to 5% gain when using DDR5 Vs. DDR4 ram.
The gain will be less if you use a high-speed DDR4 like a 4200 MHz ram Vs. a 5400 or even higher-speed DDR5.
You will see better gains if you upgrade from a 3000 MHz or lower DDR4 to a 6000 MHz DDR5, but still, gains are not too much.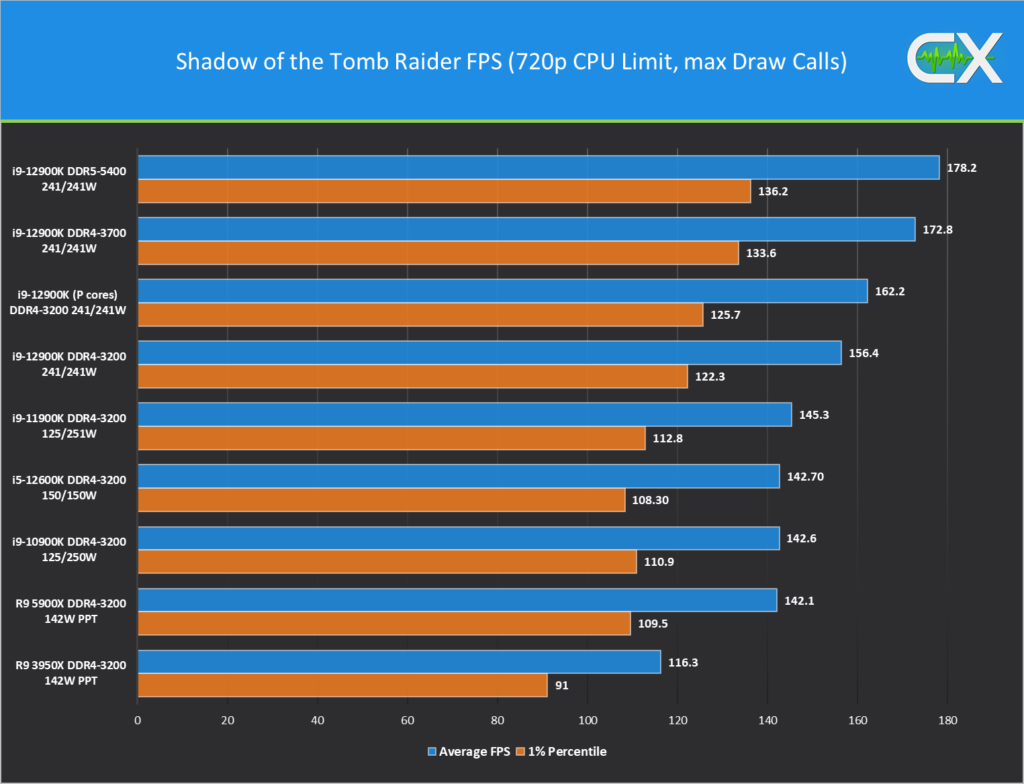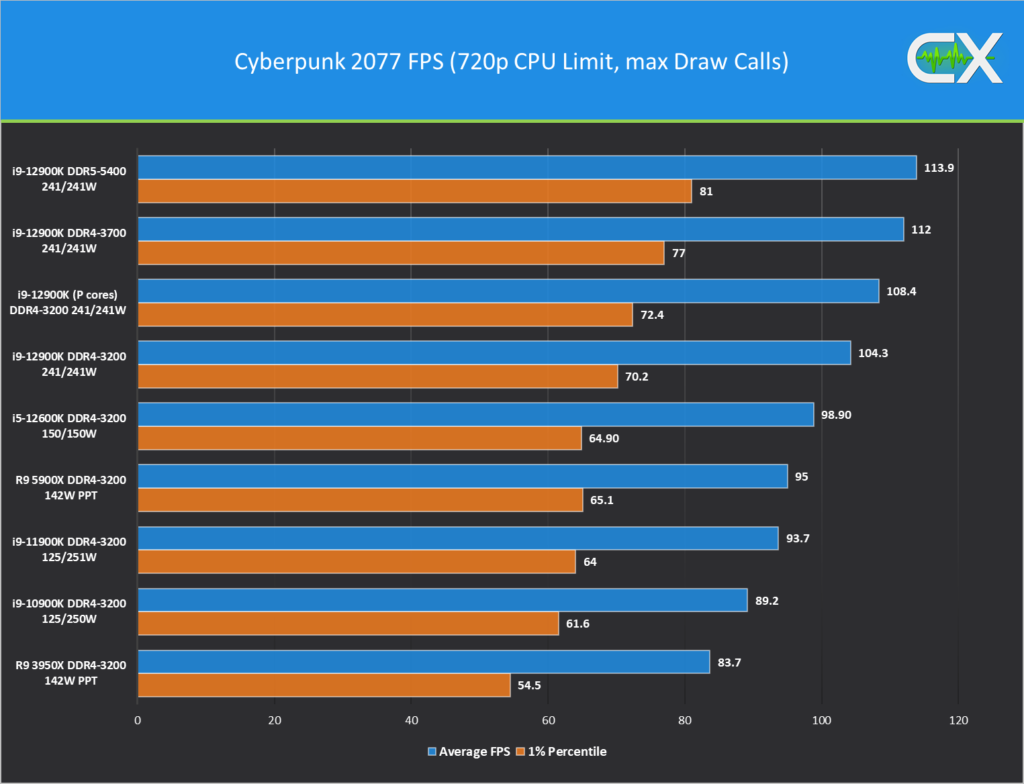 Productivity and Other Benchmarks – DDR5 Vs. DDR4
Folks at Anandtech have done some in-depth testing, and here are the findings for some of the popular benchmarks comparing DDR5 with DDR4.
They have used 32 Gigs of ram DDR5 (4800 Mhz, 40 CL) and DDR4 (3200 MHz, 22 CL) with the new 12th Gen 12900K and the Z690 Motherboard.
The processor and motherboard support both DDR4 and DDR5.
| | | | |
| --- | --- | --- | --- |
| Benchmark Test | Intel Core i9 -12900K + DDR5 | Intel Core i9 -12900K + DDR4 | % Gain |
| Cinebench R23 Single Core | 2008 | 1973 | 1.77% |
| Cinebench R23 Multi Core | 27397 | 26766 | 2.36% |
| Handbrake | 392 | 356 | 10.11% |
| 7-Zip | 131800 | 108000 | 22.04% |
| Win Rar Test | 33 | 40 | 17.50% |
| GeekBench Single | 1969 | 1937 | 1.65% |
| Geekbench Multi Thread | 18508 | 14778 | 25.24% |
| Google Octane Web | 84157 | 84003 | 0.18% |
There is hardly any difference in performance for some of the benchmarks such as Cinebench23, Google Octane Web, and even the Geekbench Single-Core.
The handbrake, WinRar, 7-Zip, and GeekBench Multi-Core test show significant gains between the DDR5 and DDR4 performance.
Concluding Thoughts – Upgrading to DDR5 Or Get DDR4
The DDR5 comes with lots of exciting and new features, and the most attractive trait is the higher speeds, and it is future-proof.
If you are getting a new Intel 12th Gen system, you should go for the DDR5 Ram. Nevertheless, DDR5 is expensive but will be compatible with future Intel and AMD processors.
On the other hand, DDR4 is compatible with almost all the current motherboards and CPUs by Intel and AMD.
If you are building an AMD Ryzen PC, you can only use DDR4, as DDR5 is incompatible.
A high-speed, low latency DDR4 is also an excellent choice as it can save some money that you can invest in the CPU or Graphics card.
Written By Heena Makwana, Edited By Kanuj Sharma