According to the Jon Peddie Research one of the most renowned researchers, Nvidia market share increased in the Q3 2014 by 9.5% and reached to 71.5% market share.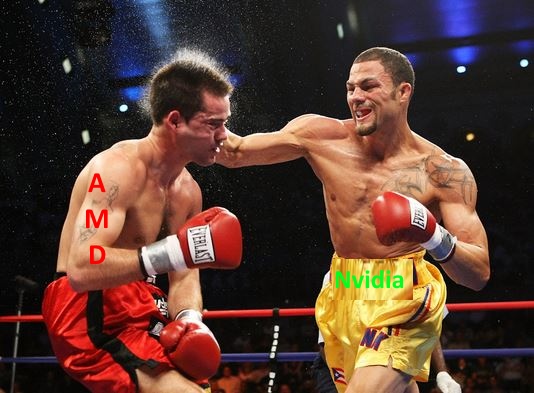 Total discrete Desktop graphics card market in Q3 2014 was 12.4 million units.  The AMD share is 28.5% and declined heavily in the Q3 2014. The trend is likely to continue in Q4 2014 (Jan-Feb-Mar 2015) and AMD may lose more share as the new Maxwell based Nvidia GTX 980, GTX 970 and GTX 960 has taken away huge share from AMD. AMD current generation cards R9 290X, 290 and 280X are not as much energy efficient and powerful as the Maxwell based Nvidia Graphics cards.
The Estimated Size of Discrete Graphics card Market is 12.4 million in Q3 2014 based on the Jon Peddie Research, Approx 8.8 Million Graphics cards were sold by Nvidia and 3.5 million graphics cards by AMD.
While some months back in October 2014 AMD also announced budget cuts for sales, marketing and distribution for AMD GPU business unit and also job cuts by 700 employees. The concerns are even severe as reduced funding and no new products in market will make Nvidia gain even more market share.
AMD has been holding the new product launches to clear the current inventory and also there is a larger issue is that if Nvidia controls even larger share of already declining market it will not be a good story for gamers. The discrete graphics card market is declining and if Nvidia increases the prices of Graphics cards to increase it's profits, market may shrink more towards the consoles and mobile gaming.
AMD is expected to launch the AMD R9 380X in coming months. The new Graphics card will have 4096 stream processors and will also have 4 GB of stacked high bandwidth memory (HBM). It is interesting to note that the current generation of flagship Nvidia graphics card both GTX 980 and GTX Titan struggle to get great frame rates on 4K monitors.
Where AMD can benefit in 2015 with AMD R9 380X (HBM) graphics cards by offering superior gaming experience on 4K monitors. But the major challenge is again the number of gamers using 4K monitors and cost such monitors. As per data from Steam it is less than 1% gamers worldwide who have access to 4K monitors.
We want AMD to keep up the GPU war and fight Nvidia with all vigour so that the industry create great new products for the gamers. The coming months are going to see some interesting events in the GPU market.
Thanks for reading the Article – Graphics Card Market Share Nvidia Gains More.
Source – KitGuru GPU Market Share
Related Articles – Impact of Drivers on Graphics Card Performance, Overclocking Guide for Gamers,