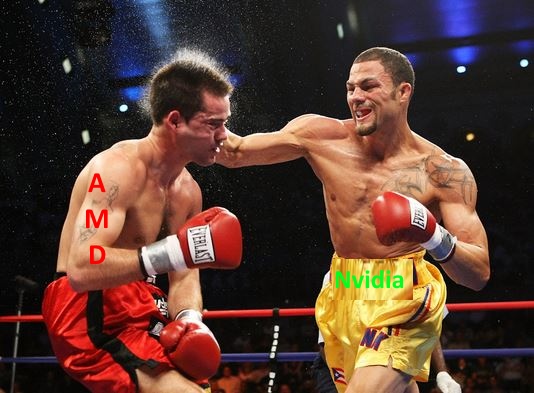 As per, Jon Peddie Research Nvidia has a peak market share of 83%. Nvidia has steadily increased the market share and in both Q3'21 and Q2'21 the company has an 83% graphics card market share. Team Red (AMD) has a meager 17% market share in the discrete GPU market.
According to Jon Peddy Research, the GPU market has grown by 11% over the last year (2020).
In the last 5 years, AMD has not been able to match Nvidia in terms of performance, especially for the high-end and enthusiast GPUs.
The Nvidia RTX 20/30 series is superior in terms of performance and has lower energy consumption in comparison to the Radeon 6600/6700/6800 series.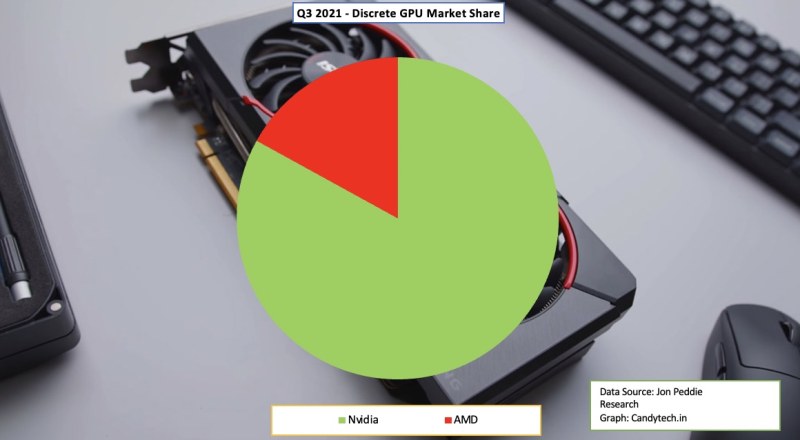 Also, thanks to graphics cards like RTX 3060, 3070, 3080, and RTX 3090, Nvidia was able to outclass AMD in recent quarters.
Back in H2 2018, Nvidia launched the RTX line of graphics cards with Ray tracing capability. Nvidia was already ruling the top end of the market with the GTX 1080 and 1080 Ti, the new RTX 2080 and 2080 Ti was just unmatchable.
AMD also released the Radeon RX 6800, 6900, 6700, and 6600 but these are not as good as the Nvidia cards in terms of performance, driver support, and energy efficiency.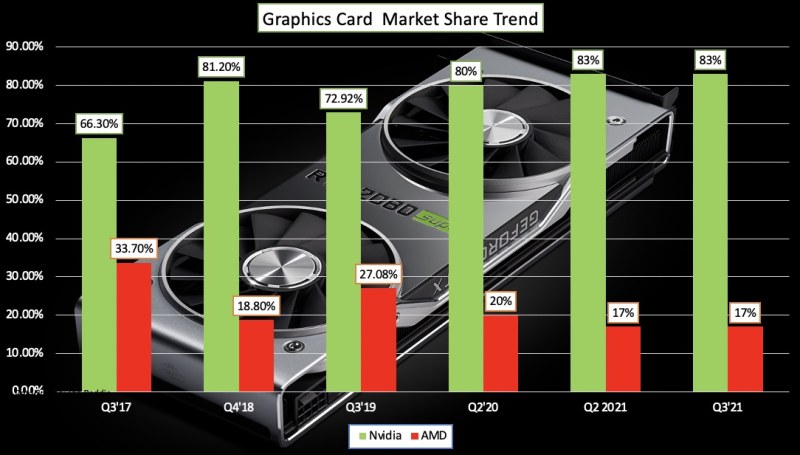 The majority of gamers buy cards in the $150 to $300 price range however, these new graphics cards are rarely available for gamers as most of the stock is sold to miners and the rest is taken up by scrapers.
GPU Market Share Trend from 2017 to 2021
| | | | | | | |
| --- | --- | --- | --- | --- | --- | --- |
| | Q3'17 | Q4'18 | Q3'19 | Q2'20 | Q2'21 | Q3'21 |
| Nvidia | 66.3% | 81.2% | 72.92% | 80% | 83% | 83% |
| AMD | 33.7% | 18.8% | 27.08% | 20% | 17% | 17% |
Considering Q3 2017 Vs Q3 2021 Nvidia has gained about 27% market share from AMD.
There are no audited numbers available for the Indian Graphics card market, but as per my experience and understanding, the situation is nearly the same as the rest of the world.
Crypto Boom – and Graphics Card Demand and Prices
The crypto boom has led to the rise in demand for graphics cards and the primary buyers for both Nvidia and AMD are miners and large mining farm owners. The windfall gains have led to a sharp increase in prices in the last 5-6 years.
You could have bought a GTX 970 for less than Rs. 30,000 ($300) but now the equivalent RTX 3070 retails for close to Rs. 80,000 ($700) or even more. The demand is far more than the supply and the Graphics card companies are happy selling GPUs at a higher price to whomsoever is ready to pay the higher price.
I have been a PC gamer for more than 20 years and never have seen the prices of Graphics cards so high nor the depleting interest in PC gaming.
In fact, Nvidia and AMD's lack of initiative is destroying the PC gaming market and will have repercussions for these idiots when the crypto boom is over.
Share your thoughts in the comments below.
Data Source Via JohnPeeddy Research
---
AMD VS Nvidia Market Share in 2014
According to Jon Peddie Research one of the most renowned researchers, Nvidia's market share increased in Q3 2014 by 9.5% and reached 71.5% market share.
The total discrete Desktop graphics card market in Q3 2014 was 12.4 million units.
The AMD share is 28.5% and declined heavily in Q3 2014.
The trend is likely to continue in Q4 2014 (Jan-Feb-Mar 2015) and AMD may lose more share as the new Maxwell-based Nvidia GTX 980, GTX 970, and GTX 960 have taken away huge share from AMD.
AMD current generation cards R9 290X, 290, and 280X are not as energy-efficient and powerful as the Maxwell-based Nvidia Graphics cards.
The Estimated Size of the Discrete Graphics card Market is 12.4 million in Q3 2014 based on the Jon Peddie Research, Approx 8.8 Million Graphics cards were sold by Nvidia, and 3.5 million graphics cards by AMD.
Thanks for reading the Article -Graphics Card Market Share Nvidia Gains More.
Source – KitGuru GPU Market Share