In this article, we will compare the latest Intel 11th Gen Laptop Processors Vs AMD Ryzen 4000 Vs 10th Gen Intel to find out which is a better choice for you.
A couple of days back, Intel has officially announced the first 11th Generation Processors codenamed 'Tiger Lake'. The processors will come with the company's cutting-edge integrated Intel Xe Graphics cards that offer twice the performance vs the last-gen Intel processors.
Also, these new processors will support Wifi 6, Thunderbolt 4, and will offer improved battery life. 
Intel has so far shared the details of the G series models only that the company uses for ultrabooks and thin laptops.
Notably, the 11th Gen H-Series processors will be launched at a later date.
Also, during the launch presentation, Intel boasted that the new processors are up to 2.7 times faster than other competitive products in video editing and have lasting battery life even in comparison to the Ice Lake processors.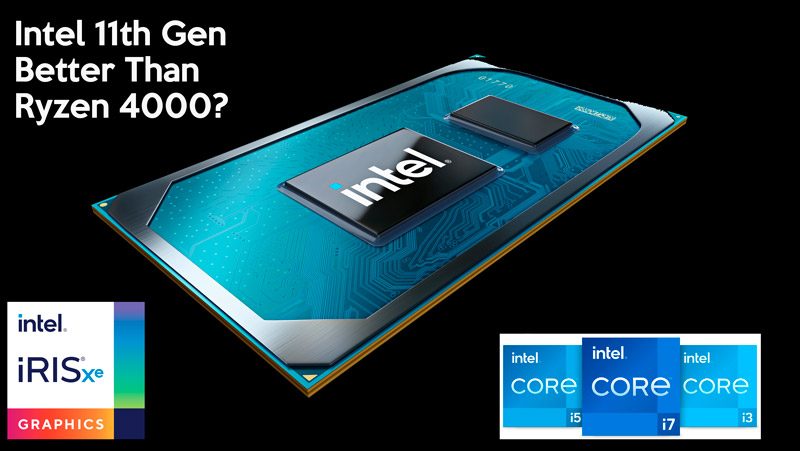 Further, the new Intel 11th Gen chips are manufactured using the 10Nm manufacturing process whereas rival AMD is using the 7 Nm manufacturing process for its Ryzen 4000 laptop processors.
Intel has also started sending Test laptops to some of the media partners and based on several benchmarks we will try to establish if the new Intel 11th gen processors are as fast as Intel claims.
Intel has announced that several OEMs such as Asus, Acer, Samsung, HP, Lenovo, Dell, MSI, Razer, and others will make more than 150 designs based on the latest chipsets. 
Intel's 11th Generation ' Tiger Lake ' Chipsets
Model
Cores /

Threads

Graphics
Graphics Frequency (GHz)
EU
Watts (TDP)
Memory
Base frequency

(GHz)

Single-Core Turbo (GHz)
All-Core Turbo (GHz)
Cache

UP3

Core i7-1185G7

4/8

Intel Iris Xe

1.35

96

12-28W

DDR4-3200 LPDDR4x-4266

3.0

4.8

4.3

12 MB

Core i7- 1165G7

4/8

Intel Iris Xe

1.30

96

12-28W

DDR4-3200 LPDDR4x-4266

2.8

4.7

4.1

12 MB

Core i5 -1135G7

4/8

Intel Iris Xe

1.30

80

12-28W

DDR4-3200 LPDDR4x-4266

2.4

4.2

3.8

8 MB

Core i3- 1125G4

4/8

Intel UHD

1.25

48

12-28W

DDR4-3200 LPDDR4x-3733

2.0

3.7

3.3

8 MB

Core i3-1115G4

2/4

Intel UHD

1.25

48

12-28W

DDR4-3200 LPDDR4x-3733

3.0

4.1

4.1

6 MB

UP4

Core i7- 1160G7

4/8

Intel Iris Xe

1.1

96

7-15W

LPDDR4x-4266

1.2

4.4

3.6

12 MB

Core i5- 1130G7

4/8

Intel Iris Xe

1.1

80

7-15W

LPDDR4x-4266

1.1

4.0

3.4

8 MB

Core i3-1120G4

4/8

Intel UHD

1.1

48

7-15W

LPDDR4x-4266

1.1

3.5

3.0

8 MB

Core i3- 1110G4

2/4

Intel UHD

1.1

48

7-15W

LPDDR4x-4266

1.8

3.9

3.9

6 MB
Intel launched nine new Tiger Lake processors for both its U-Series (now referred to as UP3) and Y-Series (presently UP4) chips, from which the five will have integrated Xe Graphics whereas the remaining will come with the Intel UHD graphics. 
The top of the line processor is Intel Core i7-1185G7, which offers a base clock speed of 3.0 GHz, a maximum single-core Turbo Boost up to 4.8 GHz, and all-core Turbo Boost up to 4.3 GHz.
The base clock speed is really impressive and around 800 Mhz faster than the last-gen.
The UP3 (U-Series) chips include five processors ranging from the dual-core, 3 GHz Core i3-1115G4 up to Quad-core 3 GHz Core i7-1185G7.
Notably, there are no 6 or 8 Core processors in this series as Intel will likely have that in the H-Series processors.
The UP4 (Y-Series) comprises four-processor, ranging from 1.8 GHz dual-core i3-1110G4 up to 1.2 GHz quad-core i7-1160G7.
Intel is not only looking at pushing the benchmark numbers and competing with AMD. But they are also serious about the end-user experience that will get better with the Intel Evo Notebooks and Project Athena.
Also Check Out – Top 7 Intel Core i3 11th Gen Laptops, Top 7 Intel Core i5, i7 11th Gen Laptops.
Introduction To Intel Evo Notebooks:
Along with this, the company declares 'Intel Evo Notebooks' under Intel's Project Athena, which will have even higher requirements. These laptops possess designs to get things done correctly, no matter where you are.
It will have Intel Iris Integrated Xe Graphic card and 11th Gen processor chipset with verified 2nd Edition Specifications.
According to the company, the high-quality device will offer some fabulous features including, enhanced battery life of about nine or more hours on the system with an FHD display, fast charging up to 4-hour charge in just 30 minutes, Wifi 6, Thunderbolt 4, and a system wakeup in less than 1 second.
The new 11th Gen lineup is built on the unique 10nm SuperFin Design node with upgraded Willow Core Architecture which will consume less power with better speed, according to the company. Intel ensures that the Tiger Lake will be 20% faster for day-to-day office works.
Specifications For Intel 11th Generation Tiger Lake:
Willow Cove Core – Quad Core and Dual Core

Intel Iris Integrated Xe Graphics

10 nm Manufacturing Process

Industries first PCIe 4.0 for laptops

Support for up to LPDDR4x memory

WIFI 6

Thunderbolt 4

Price varies based on laptop
The Intel Iris Integrated Xe Graphics Cards:
However, the Graphic card used is Intel's Iris Xe for which Intel promises to offer up to twice the graphics performance with extra tangible advantages than that of the raw core count increases.
The Intel Iris Integrated Xe graphics comes with 96 CUs and has a clock speed of 1.3 GHz.
Notably, the Intel Iris Xe is faster than the Nvidia MX 350 (dedicated graphics card) that we have seen in several notebooks such as the Mi NoteBook 14 Horizon Edition.
Intel says it comes with a  generational leap in performance with enhanced AI  and the best experience in productivity, creation, gaming, and entertainment.
Only the new i5 and i7 chips will have this graphic card, while i3 models will still come with the old Intel's UHD graphics. 
Benchmarks for  Intel 11th  Generation Processor
The Intel 11th Generation Processor is tested along with the Lenovo Yoga Slim 7 (AMD Ryzen 7 4800U) and Razer Blade Stealth (Intel Core i7-1065G7) to check the performance.
The results are quite interesting.
The Intel Tiger Lake shines in gaming performance. It has nearly double the prowess of the 10th Gen processors and is also faster than the AMD Ryzen 4000 marginally.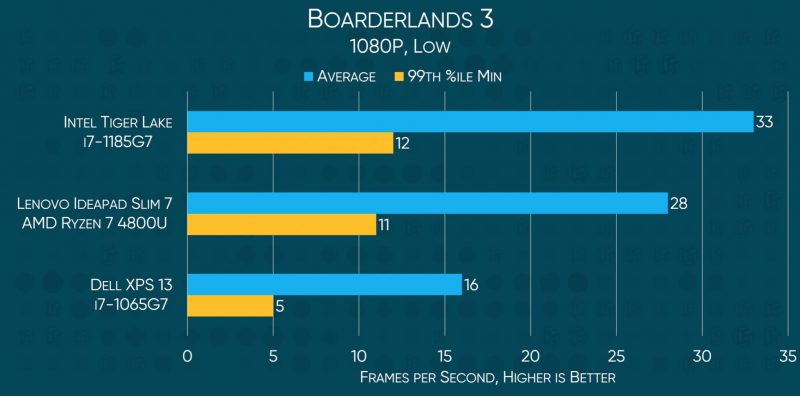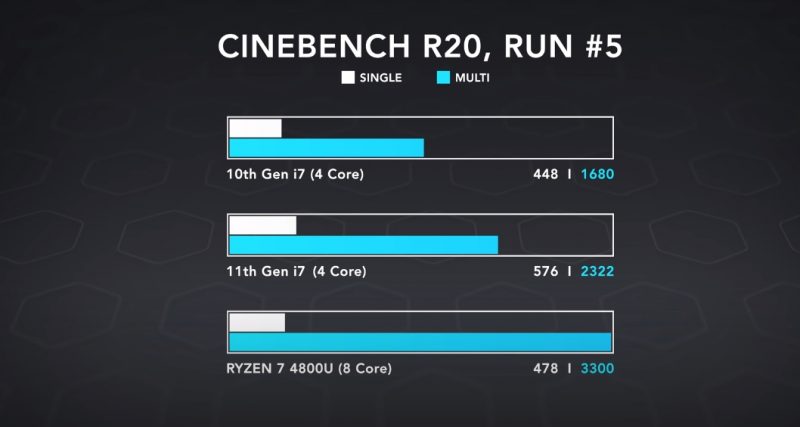 Intel 11th Gen is very fast when it comes to Single-Core Performance and several Apps that still are not optimized for multiple cores will see a faster performance in the Intel Laptops.
AMD has destroyed even the Intel Core i7-1185G7 with the AMD Ryzen 7 4800U on Cinebench R20 that utilizes the full power of its 8  Core / 16 threads architecture.
GeekBench 5.2 Benchmark:
Higher is Better – AMD Rules for the Multi-Core performance whereas the Intel 11th Gen is significantly faster on the single-core score in comparison to both the Ryzen 4000 and the Intel 10th Gen – 1065G7.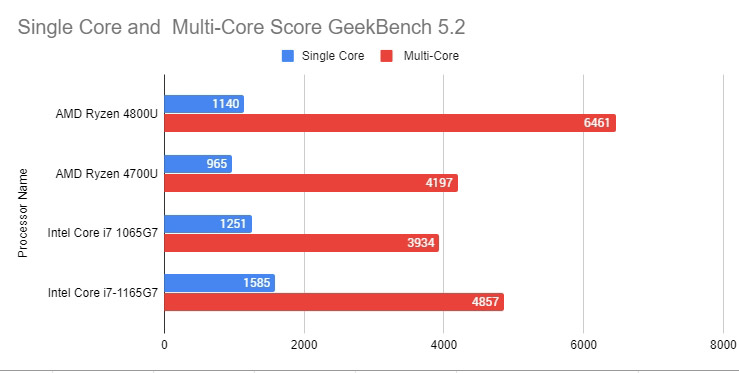 HandBrake Video Transcoding Benchmark:
In the Handbrake Video test, the AMD Ryzen 4000 series processor lead out the new Intel 11th Gen Tiger Lake Processor by completing tasks in just 8 minutes and 55 seconds.
Ryzen 4800 U – 8.55 min
Intel 11th Gen 1187G7 – 12.41 min (28 Watts)
11th Gen 1187G7 – 17.18 min (15 Watts)
Intel 10th Gen 1065G7 – 20 min
Is Intel 11th Generation Tiger Lake better than AMD Ryzen 4000?
The Ryzen 4000 is based on the Zen 2 line of microprocessors with a 7 nm chip and 8 Cores. This is capable to deliver higher performance at lower power consumption.
Temperature and Heat
Raw performance is of no use if the laptops are overheating.  Intel has said that the Tiger Lake will reach close to 5.0 GHz with Willow Cove Cores Turbo Boost. The higher clock speed and bigger die size may lead to more heating in the Intel processors than AMD.
We have also seen that several AMD notebooks with 6 and 8 core processors are also struggling with thermal performance.
Based on the early benchmarks – the 11th Gen Intel processors are touching close to 90-degree celsius under load which may impact the user experience and longevity of the products.
However, these are early samples and early benchmarks – we will add more details as more details are available.
Concluding Thoughts
As far as the multi-thread performance is concerned, the AMD Ryzen 4000 series is still the King and even the Intel 11th Gen may not be able to match the performance even for the H series of processors. 
Furthermore, for the Integrated Graphics, the Tiger Lake will lead both in games as well as some of the programs like the Adobe premiere pro that are better optimized for Intel chips or can utilize the higher clock speeds to deliver superior performance. 
But most of the high-end laptops come with dedicated graphics cards from Nvidia and will not get any benefit from the faster Intel Xe graphics.
For high productivity laptops, AMD can still have an advantage over Intel in 2021 due to better multi-thread performance.
If I have to sum up the whole discussion and oversimplify some of the things:
| | | | |
| --- | --- | --- | --- |
| | Single Core | Multi-Core | Graphics |
| Intel 11th Gen | Best | Not Good | Best |
| Ryzen 4000 | Good | Best | Great |
| Intel 10th Gen | Good | Bad | Bad |
Also, I find it surprising that on one side there are several new Intel 10th Gen processor-based laptops that are launching worldwide and on the other side, Intel itself is claiming that the new 11th Gen is significantly better than the 10th Gen processors.
Expensive laptops are not something that people would like to buy every year. Most people buy these and use it for 5-7 years. There is hardly any difference in the performance of the Intel 9th and 10th Gen processors.
What's the point of pushing 10th Gen-based products in the market and making people buy these?
Intel could have easily skipped the 10th Gen processors and gone with the 11th Gen. I am sure those who are buying the 10th Gen processor-based laptops will have some regret once they see the superior performance of the 11th Gen machines in the coming months.
The only reason Intel is hurrying the 11th Gen launch is to stop AMD from selling more Ryzen 4000 series processors and gain back the lost market share from AMD.
Written By – Heena Makwana, Edited By – Kanuj Sharma
Also, Read: 
6 Best AMD Ryzen Laptops For Gaming Or Work (2021)
5 Best Gaming Laptop for Rs 75000 India (2021 Update)
Ultimate and Best Asus Gaming Laptops For Pro Gamers 2021
Sources:
Intel Official Release 11th Gen Processors