Mi Notebook Ultra And Pro With Intel 11th Gen Processor And Stunning Display Launches In India
Xiaomi has hosted a "Smarter Living 2022" Event recently where it unveiled the two premium laptops for Indian buyers - Mi Notebook Ultra and Mi Notebook Pro.
These are the first set of premium laptops Xiaomi has launched in India. The laptops come with a high-resolution display, metallic sturdy built, and a fingerprint sensor.
Let's dive into the specification and features offered by Mi's Premium Laptops.
Except for the display size, weight, both the laptops share identical specs.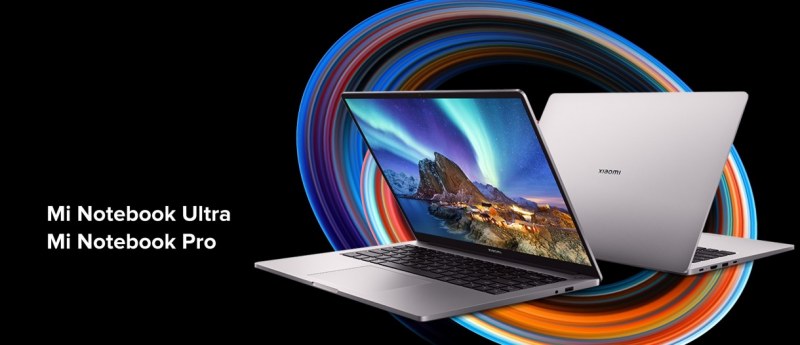 Mi Notebook Ultra: Price Starts at Rs. 59,990
The Mi Notebook Ultra is the company's first-ever laptop in India with a 15.6 inches IPS display. Earlier machines came with a 14-inch display.
It has 3.2K resolution (3200*2000p), 300 nits brightness, 22 PPI, 16:10 aspect ratio, 100% sRGB coverage, and 89% screen-to-body ratio. Also, the panel supports TUV certification and DC diming.
Also, the panel offers a 90Hz refresh rate. As far as the display goes it is the best in this price range and even better than most sub 1 lakh Notebooks.
Furthermore, the device packs a massive 70 WHr battery which claims to deliver a battery life of up to 12 hours.
It supports rapid charging as it charges from 0 to 50% within 45 minutes. The beautiful Mi Notebook Ultra weighs 1.7 kg and measures 17.9 mm in thickness.
Mi Notebook Pro: Price Starts at Rs. 56,990
The Mi Notebook Pro comes with 14 inches 2.5 K resolution (2560*1600p) or QHD display. It has a 60 Hz refresh rate, 215 PPI, 16:10 aspect ratio, 100% sRGB, and 88% screen-to-body ratio.
The machine packs a 66 WHr battery that has claimed to run up to 11 hours on a single charge. It supports fast charging, which fuels up the battery up to 50% in just 35 minutes.
Moreover, the premium Notebook Pro measures 1.4 kg weight and 17.3 mm thickness.
Now let's Check out the similar specification:
Performance And Price:
Both the newly launched Mi Notebooks are powered by the latest 11th Gen Intel H series processor. They arrive in Core i5 (11300H) and Core i7 (11370H) variants. Both the chipset has 4 cores and 8 thread.
The Intel 11th gen H-series processors are pretty fast and offer incredible performance.
However, these are still Quad-Core and someone looking for higher multi-tasking performance may still want to go for Ryzen 7 or Ryzen 9 series processor.
Pricing Table:
| | | | |
| --- | --- | --- | --- |
| Processor | RAM | Mi Notebook Ultra | Mi Notebook Pro |
| i5 | 8 GB | ₹ 59,999 | ₹ 56,999 |
| i5 | 16 GB | ₹ 63,999 | ₹ 59,999 |
| i7 | 16 GB | ₹ 76,999 | ₹ 72,999 |
The laptops will go on sale from August 31 on Amazon India and Mi Homes.
As for the launch offer, will get an INR 4,500 instant discount on the i7 model and INR 3,000 on the i5 model. However, these offers are valid for HDFC credit card users only.
Design:
The Mi laptop lineup is made up of the series 6 aerospace-grade aluminum alloy. They both have grey finishing.
To give a minimalist and modern look to the notebooks, it has a precision metal cut design. The hinges are sturdy and well-built.
Memory, Storage, And Keyboard:
Both the devices come with up to 16 GB DDR4 RAM with 3200 MHz memory frequency.
For storage, they have a 512 GB PCIe NVMe SSD.
Furthermore, the machines house a backlit full-size keyboard.
The keyboard comes with three levels of illumination, i.e. off, dim, and bright. It has a macro key that can be customized. It has a large trackpad. However, there is no Numpad.
Connectivity:
The Mi Noteeboks support WiFi 6 and Bluetooth 5.1 for wireless connectivity.
The port section includes - Thunderbolt 4, USB Type-C, HDMI 1.4, USB 3.2 Gen1, 3.5 mm audio jack, and USB 2.0.
The Thunderbolt 4 will deliver up to 40 Gbps bandwidth and supports two 4K displays.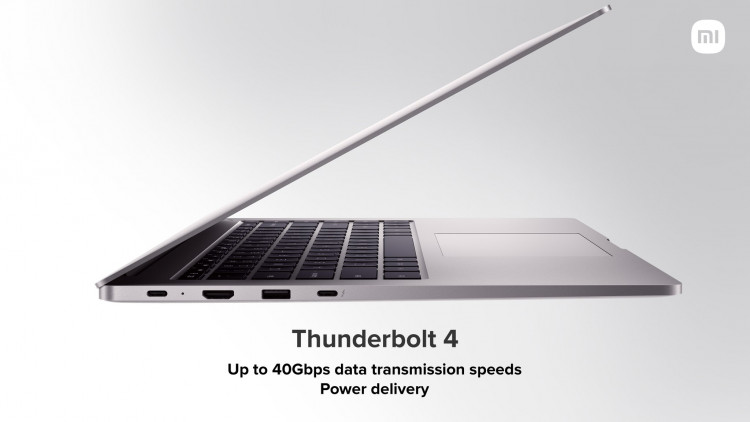 Other Notable Features:
The beautifully designed laptops have dual 2W stereo speakers for immersive audio.
They comprise a 720p HD web camera with a microphone.
The laptops have a fingerprint scanner implanted on the power button, which supports Windows Hello.
As per the company, the Notebooks have passed through the one-finger opening test.
Both the Notebooks run Windows 10 Home OS. on the software side, they comprise MS Office 2019 suite.

Xiaomi has so far launched 4 laptops in India apart from the above mentioned 2 Notebooks
Mi NoteBook 14 (IC) (Mid-Range)
Mi Note 14 E-learning (starting range)
Mi NoteBook 14 (mid-range)
Mi Notebook 14 Horizon Edition (Premium)
The E-learning edition notebook is the most affordable in the series whereas the Mi Notebook 14 Horizon edition is the most expensive and powerful machine that you can purchase from Xiaomi.
Mi Notebook 14 (IC)
The latest laptop launched by Xiaomi In India on 19 Jan 2021 in India is called - Mi Notebook 14 (IC).
The starting price of the Notebook 14 (IC) in India is Rs 43,999.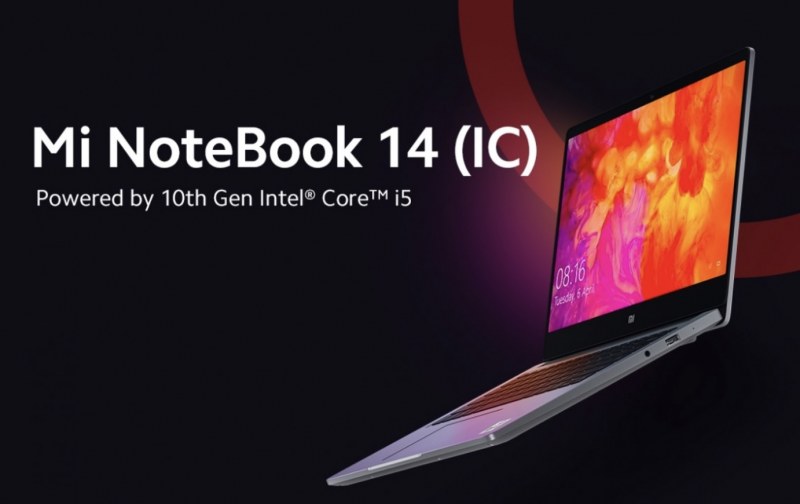 Let's Have A Look At Its Features
Design
The Mi Notebook 14 (IC) is lightweight weighing just 1.5kg and it also comes with a sleek design. The body of the laptop is made from Aluminum and magnesium alloy making it study and feather-light.
The Notebook is easy to carry and is really portable.
Display
It comes with a 14-inch Anti-glare display with FHD (1920*1080) pixels resolution along with an 81.2% screen to body ratio and an inbuilt 720p HD webcam.
It comes with a 178-degree wide viewing angle.
Processor
The device is powered by a 10th Gen Intel core i5 Comet Lake processor which is clocked at 4.2GHz. It is odd that Xiaomi is not using the latest 11th Gen i5 processor.
But probably due to the budget constraint, they are sticking with the 10th Gen Intel processor.
One of the key highlights is the presence of a dedicated NVIDIA GeForce MX250 GPU that comes with 2GB of video RAM.
Also, the Mi NoteBook 14 (IC) comes with a Webcam support which was not present in the Mi NoteBook 14 and the Horizon Edition laptops that company launched earlier. The WebCam is absolutely necessary for online classes and meetings.
However, the MX 250 is available only in the top version the lower variants come with the standard Intel UHD graphics card.
Also, this is a thin lightweight ultra-book and is not meant for gaming, even the MX 250 is a very basic GPU that can help with low requirement games but can't play demanding AAA titles on high FPS and settings.
It comes with Windows 10 Home Edition Operating system.
Variants & Price
The Mi Notebook 14 (IC) is available in three variants:
Intel Core i5 10 Gen/8GB RAM/256GB SSD storage: Price Rs 43,999.
Intel Core i5 10 Gen/8GB RAM/512GB SSD storage: Price Rs 46,999.
Intel Core i5 10 Gen/NVIDIA MX250 Graphics/8GB RAM/512GB SSD storage: Price Rs 49,999.
Connectivity
There are some connectivity options that include 2xType -A USB 3.1 Port, 1xUSB 2.0 Port, 1xHDMI Port, 1x Combo Audio Jack, 1xDC-jack for charging.
Battery
For long usage, The Mi Notebook 14 (IC) comes with a 46Wh battery that provides 10 hours of battery backup after a fully charged as per the company.
But in practical use, I think it will last around 5 to 8 hours max, based on the workload.
The laptop comes with a 65 Watts power adapter that provides 1C fast charging.
Mr Raghu Reddy (Cheif Bussiness officer, Mi India) said that they are getting high demand from Mi users for Notebooks launched last year. So, we come with next notebook(Mi Notebook 14 (IC)) that fulfills the requirement of students and working proffesionals.
Also, Read - Apple MacBook M1 Pro and M1 Max Are Not For Everyone - Should You Buy?
Mi NoteBook 14 E-learning Edition Price Rs. 34,999
Xiaomi has announced its latest laptop with Intel's 10th Gen processor, Mi NoteBook 14 e-learning.
This laptop is a watered-down version of the previously launched Mi NoteBook 14.
Xiaomi is targeting students and even people who are working from Home with this new affordable machine.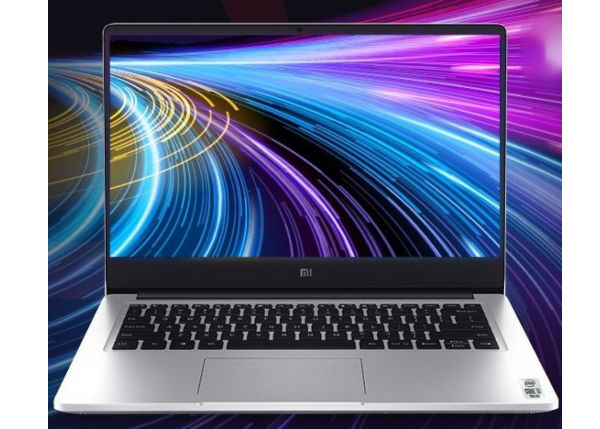 Let's Check Out The Specification For The Newly Launched Mi Notebook 14 E-Learning Laptop:
The laptop has an aluminum body that weighs 1.5 kg and has a thickness of 18 mm. The laptop is lightweight and easy to work with and carry in case you plan to take it to your college or office.
As the name suggests, the laptop comes with a 14 inches Full HD IPS anti-glare display. The resolution sets to be 1920 * 1080, and it has a 16:9 aspect ratio.
Unlike the previous laptops by the brand, this one comes with an in-built webcam with 720p resolution.
Powering the machine is the dual-core Intel 10th Gen i3-10110U processor clocked at 2.1 GHz (boost up to 4.1 GHz, 2 Cores, 4 Threads). It has integrated Intel UHD 620 Graphics that make your multi-tasking effortless.
This is no the most powerful processor, but you will not have any issues running Microsoft office or tasks in Google Chrome.
Also, since the laptop lacks a dedicated graphics card, it is not suitable for heavy gaming.
However, Xiaomi has done an amazing job by adding 8 GB of DDR4 RAM (2666 MHz) and a super-fast 256 GB SSD storage (SATA).
Typically we get 4 GB of Ram, but this laptop from MI offers 8 GB, which is not user expandable. It comes with 256 GB of SSD storage, which may seem low to many users; however, you can change the SSD at a later stage if you have a higher requirement.
If you are not storing games or large video files, 256 GB storage is more than enough. I still work on a Macbook Pro from 2015 that comes with just 128 GB of internal storage and have never felt any need for more storage thanks to the Video streaming Apps (Netflix, Hotstar, and Amazon Prime).
The laptop runs on the Windows 10 Home OS and comes with a trial version of Microsoft Office 365. I wish Xiaomi could have bundled with a lifetime office license, but there are ways to get the MS office cheap.
The laptop packs a 46 Whr battery with up to 10 hours and 65 W super fast charging.
It claims to charge 50% in just 35 minutes. Pretty Impressive!
Further, the port section includes HDMI 1.4b, 2 * USB 3.1, USB 2.0, and a 3.5 mm audio jack. It supports Bluetooth 5.0 and Wifi 802.11ac.
The scissor keyboard offers 1.3 mm key travel and has a touchpad for easy swipe, scroll, selection, and zoom in-out. Unfortunately, the keyboard is nonbacklit.
The notebook has stereo speakers with DTS audio technology.
The introductory price for the latest Mi Notebook 14 e-learning laptop is INR 34,999 in India, which is valid from 5 to 11th November on Amazon India. Xiaomi may increase the price later for this notebook.
Overall for the price, you are getting a decent machine with ample ram and fast storage. The display is also decent, and you can use it for work and entertainment.
Mi NoteBook 14 and Mi Notebook 14 Horizon Edition Launch, Specs, Price, Pros, and Cons
12-June-2020 - Xiaomi has launched two new Laptop Series in India for working professionals (business users) or students looking for high productivity machines. The new MI Note 14 and Note 14 Horizon come with the latest Intel Processors, Nvidia Graphics Cards, and with fast SSDs.
The laptop market is dominated by HP, Dell, and Lenovo which do a significant chunk of business (have more than 75% market share). These brands are seeing a surge in sales due to the current lockdown.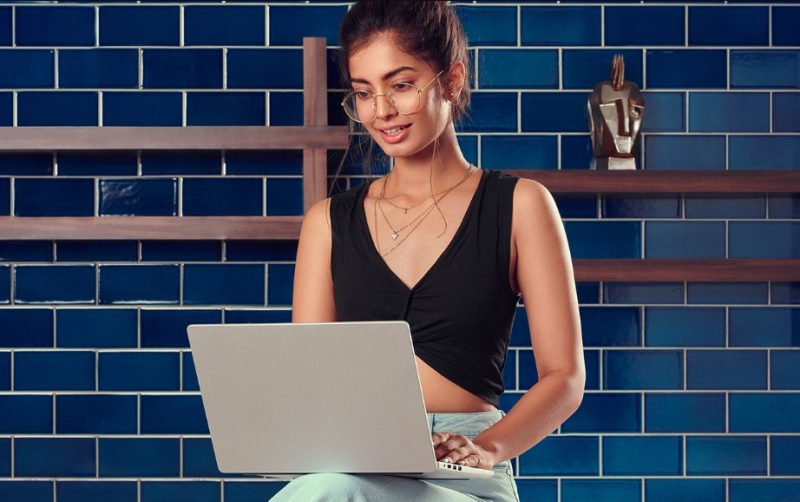 Due to the lockdown and more people are opting to work from home, and the demand for laptops and personal computers is increasing in India. Contrastingly, the negative impact of the economic slowdown is there, which is hampering institutional sales.
Raghu Reddy, the chief business officer at Xiaomi, said that the company is not going to Target the affordable segment. Instead, the company plans to Cater to the premium segment - creators, developers, gamers, and students.
He has also said that the company is not planning to launch too many models in the first year. Xiaomi will be importing the laptops from China initially, and later, when they can build a higher volume will look at assembling them in India.
Also, we at Candytech believe it is an opportune time for the company to bank on the demand. The second significant benefit for the company is to make a profit. Considering Realme is not allowing any breather to Xiaomi in other product categories; laptops can be a good money-spinner for the brand.
The laptop market size in India is close to 6-7 million units annually, with equal demand from the commercial and consumer segments. The market is stagnant for years, and only a few subcategories like "Thin and Gaming" are witnessing growth.
We were hoping that Xiaomi will launch an AMD Ryzen powered laptop but they have instead launched using Intel 10th Gen.
Latest Mi NoteBook 14 and Horizon Edition
Aforementioned, the company has launched two new Notebook series in India - the affordable Notebook 14 and a slightly premium NoteBook 14 Horizon Edition. These are thin machines which are ideal to carry to office or work or even college.
I will suggest considering these if you mostly work in Microsoft Office, Chrome, lightweight applications or want to enjoy multi-media. You can even do some photoshop work with it.
The laptops are lightweight and weigh 1.35 Kg to 1.5 Kg, and offer decent battery life.
Design And Display
Both laptops come with a metallic design and have a plain back cover without any logos or branding. The looks are minimalist but overall better than most plastic laptops that are available in this price range.
Both the Notebooks come with 14 Inch Displays with 250 Nits of maximum brightness and matt finish. The display has very thin bezels and doesn't reflect too much ambiance light.
However, Xiaomi has not specified the sRGB or Adobe RGB for the panel (I don't think so it is very color accurate based on initial reviews). Also, as Geeky Ranjit pointed out that it comes with a poor viewing angle and there is a color shift when viewed from sides. Also, the panel comes with a 60 Hz refresh rate, 16:9 aspect ratio but it is a Full HD (1920*1080) pixels screen. It is not a bad display considering the price of the laptop.
Trackpad And Keyboard
The trackpad is average and is not the premium glass trackpad that you will get with high-end machines but does the job. Also, it comes with Windows Precision drivers to make it accurate.
The keyboard is also good for typing and comes with a layout that is similar to the MacBook Air. There are no dedicated numeric keys. The key travel is decent - 1.3mm. Overall the keyboard is good but the biggest con is that it doesn't come with backlighting.
For many people including me, it is really an important feature so my wife can sleep and I can work on blog posts like this one at night.
Missing WebCam
There is no inbuilt webcam on the new Mi Notebooks. This could be a letdown for people who want to do Zoom calls or Virtual meetings. However, the brand is supplying a USB-powered webcam with the device in the box to ensure you don't have to purchase a separate one.
Sale Date And Offers
Both the laptop series will go on sale starting 17th June from Mi.com, Mi Stores, and on Amazon India. Notably, the pricing is introductory and as per brand, they can increase it in the future. Also, there is an HDFC discount offer of Rs. 2000 when you buy it using an HDFC credit/debit card.
Let's check the Mi Notebook 14 and then the more expensive Mi NoteBook 14 Horizon Edition.
Mi NoteBook 14
The Mi NoteBook 14 comes in three variants: Two variants come with Intel HD graphics and 1 version has an Nvidia MX250 graphics card.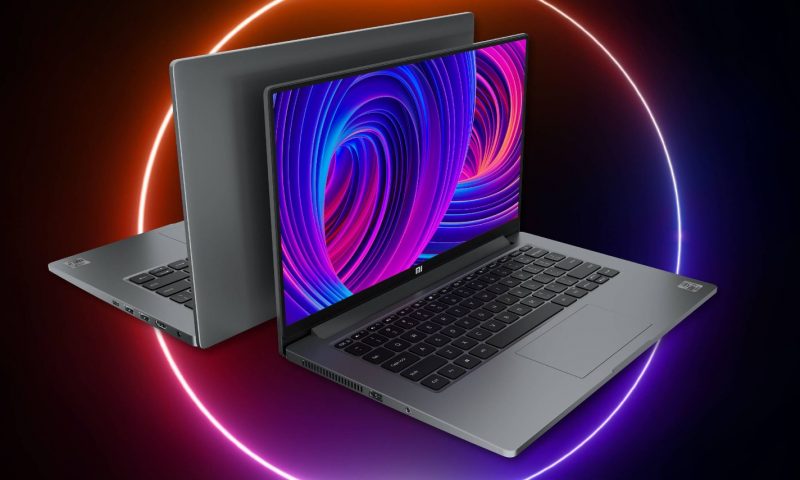 Mi NoteBook 14 Variants, Price And Specs:
Intel Core i5 10th gen/8 GB RAM /256GB SSD Storage: Price Rs. 41,999
Intel Core 10th Gen i5/8 GB Ram /512GB SSD: Price Rs. 44,999
Intel Core 10th Gen i5/ Nvidia MX250 GPU / 8 GB Ram / 512GB SSD Storage Price Rs. 47,999
The Mi NoteBook 14 is the more affordable and comes with a crazy good price of Rs. 41999. All three variants are good and you can get the Nvidia MX 250 version if you want to have slightly better graphics performance for day-to-day tasks.
Powering the laptop is the Comet Lake Intel Core i5-10210U Processor Quad-core with a base clock speed of 1.6GHz and a boost clock speed of up to 4.2GHz. Also, there is either Intel UHD 620 graphics or the Nvidia MX 250 graphics card that comes with 2 GB GDDR5 VRAM.
Additionally, there is SATA SSD with 256 GB storage or 512 GB storage (600 MB/s speed) and 8 GB DDR4 Ram with 2666 MHz clock speed.
Connectivity Ports include - 2 x Type-A USB 3.1 Gen 1, 1 x USB 2.0, 1 x HDMI, 1 x Combo Audio Jack, 1 x DC-jack. The laptop comes with a USB Type C port but you can't use that for charging.
There is Dual Band Wifi 5, Bluetooth 5.0 support. The laptop runs on the Windows 10 Home edition and comes with a 46 Whr battery that is sufficient to make it last for 7 hours of mixed usage. (Xiaomi claims 10 Hours of Battery life).
Lastly, the laptop weighs 1.5 Kg and has an 18 mm thickness.
Mi NoteBook 14 Horizon Edition
The Mi Notebook 14 Horizon Edition comes with a visually similar design, ports, display, and keyboard/trackpad. However, it has upgraded internals and offers superior performance than the Notebook 14.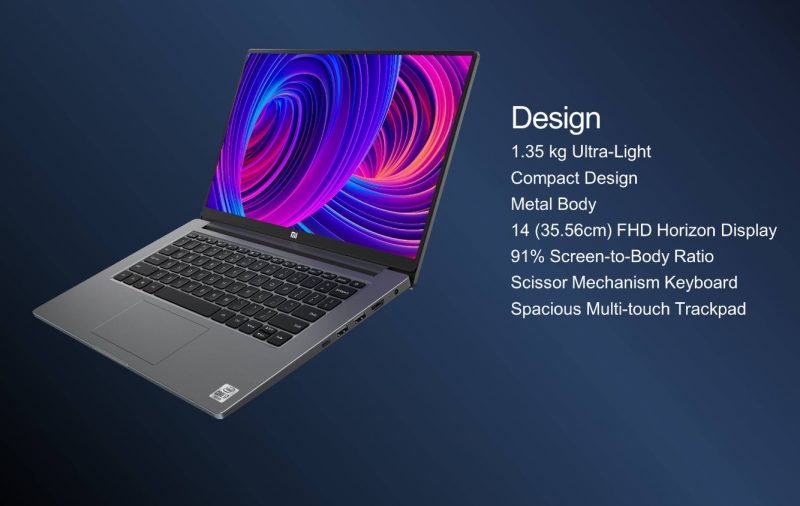 Mi NoteBook 14 Horizon Edition Variants, Price And Specs:
Intel Core i5 10th Gen / Nvidia MX350/8 GB ram / 512GB SSD - Price Rs. 54,999
Intel Core i7 10th Gen / Nvidia MX350 / 8 GB ram / 512GB:Price Rs. 59,999
First, the SSD used in the Horizon Edition is faster and is NVMe. These are up to 3X faster than the SATA SSD used in the Notebook 14. The read and write speeds are 3000 MB/s (read) and 1800 MB/s write speeds.
The second upgrade is the presence of Intel Core i7 on the higher variant - Intel® Core i7-10510U Processor with 1.8 GHz base clock speed and with a boost clock speed of up to 4.9 GHz.
The processor on the lower variant of the Horizon edition is the same Intel Core i5 that is available on the standard Redmibook. If you are looking for higher performance it is better to get the Intel Core i7 Vs the Core i5 version.
Both the laptops come with the new Nvidia MX 350 Graphics card that has 2 GB of GDDR5 VRAM. It is slower than a GTX 1050 and much slower than the GTX 1650 that you will get with most laptops in the 50 to 60k price range.
Lastly, the ram is capped to 8 GB and is soldered on the motherboard. So, you can't upgrade Ram to 16 GB on any of these laptops. Also, you can't add more storage. However, you can take out the SSD and add a 1 TB SSD in case you need more storage in the future.
Since the Ram is capped, the future upgrade for the laptop is not possible.
Intel Comet Lake Vs Intel Ice Lake Processor
Another thing to note here is that the Intel U series processors that Xiaomi is using on these laptops are based on the old 14 Nm manufacturing process. However, Intel has just released the new Ice Lake Processors with a 10 Nm manufacturing process that is more energy-efficient. The performance difference is not too much.
Mi Notebooks Are Not For Gaming Or Video Editing - MX 250 Or MX 350
No matter what reviewers or Xiaomi may want you to believe, I am telling you these are not gaming laptops from my 20 years of PC gaming experience. The MX 350 is about 20 to 30% faster than the MX 250 but is almost 50% slower than the most basic laptop GPU - Nvidia GTX 1650.
Also, these are U, series processors, with 15 Watts TDP not ideal for gaming or heavy workload like video editing (for Youtube) on Premiere Pro. Don't get it for Premiere Pro, Ram is also not upgradable and Premiere is a memory hog.
These are ultra-books and not performance machines required for gaming or video editing.
The Missing Ryzen 4000 Processor
If you live under a rock, you have probably not heard about the new Ryzen 4000 series processors better than the new 10th Gen Intel Processors. We were expecting Xiaomi to launch laptops with the new Ryzen processors as they have done in China but they are sticking to Intel for the moment.
On the other hand, Asus and Acer have recently launched new laptops using Ryzen processors.
To Sum Up and Conclude, Let me List down the Pros and Cons of the Mi Notebook
Pros - Mi Notebook
Robust Metallic Design.
Latest 10th Gen Intel Core i5 and Core i7 Processors
Bezel-less Display.
Fast SSD Storage.
8 GB RAM - Good for Most Tasks.
Fast Performance for General Work.
Light Weight and Portable.
Superb Pricing.
Cons - Mi Notebook 14
No Backlit Keyboard.
Missing Webcam.
Only 8 GB RAM, not upgradable.
No Slots to add more storage.
The display and trackpad are Average.
Good for Only Casual Gaming.
Since these are not Gaming laptops but are ultra-books, I am not listing a mediocre graphics card and missing Ryzen 4000 series not as a real con here.
Also, read about the Xiaomi Laptops Powered By Ryzen Processors.
Read Next - Asus TUF Gaming Laptops - A15 and A17 Ryzen, Specs, Price, Buying Guide
Also, Read:
5 Best Thin Configuration laptops Worth Buying
10 Ultimate Gaming Laptops to Buy In India
Top 3 Best AMD Ryzen Laptops To Buy in India