AMD is gearing to launch the new AMD Ryzen 5000 series of mobile (Laptop) processors in early 2021.
The new processors will have the Ryzen 5900H, 5800H, 5600H as ultimate performance processors for gaming and content creation with a TDP of up to 45 Watts.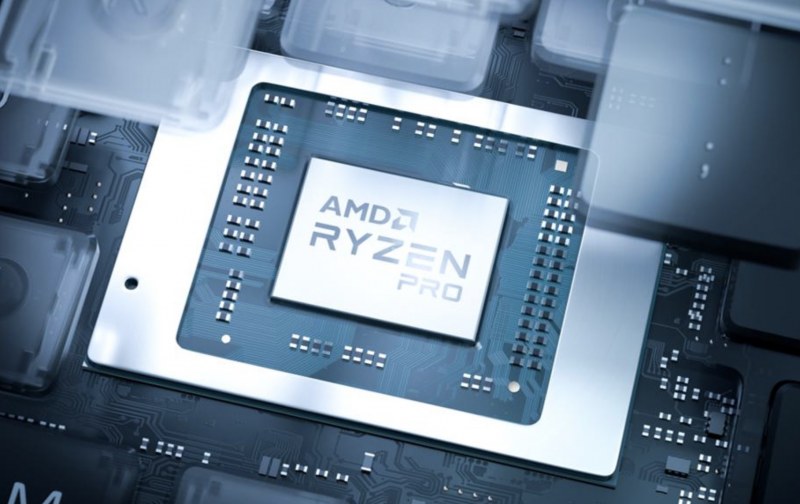 Also, there will be other processors like Ryzen 5800U, 5700U, 5500U meant for ultra-books and will come with a lower TDP of 15 to 25 Watts.
Last year AMD released the Ryzen 4000 series of Laptop processors that offer great multi-core performance and slightly slower single-core performance in comparison to the Intel 10th Gen laptop processors.
In 2020, one of the biggest achievements for AMD desktop processors is the superb single-core performance (better than Intel).
We expect that the new 5000 series Laptop processors from AMD will also have incredible Single-Core performance.
Notably, the recently launched Intel 11th Gen offers significant performance improvement over the 10th gen processors. The Ryzen 5000 series is expected to match that and will be better at multi-core performance.
There are some benchmark scores leaked for the Ryzen 5000 series.
Check out the below comparison between the AMD Ryzen 5900HX Vs. Ryzen 5600H Vs. Apple M1 and the Intel i7 11370H and the i5 11300H.
GeekBenchMark 5 – Intel 11th Gen Vs AMD Ryzen 5000 series Vs Apple M1.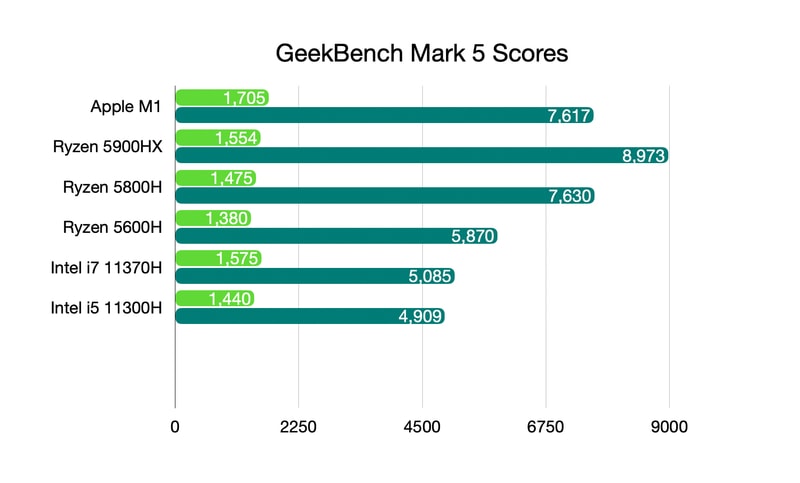 Note* – Apple M1 is already launched, the rest of the scores are based on leaks.
Based on the early benchmarks, Apple is best for Single-Core performance and has the lowest TDP.
AMD and Intel are caching fast when it comes to Single-Core performance. Still, the M1 has about a 10% lead over both X86 rivals.
AMD Ryzen 5900HX offers a crazy high score of 8973 when it comes to multi-core performance and leads the charts.
Both the Intel 11th Gen Core i7 and Core i5 trail AMD and Apple M1 chips when it comes to Multi-Core performance.
Laptop Processors Outlook 2021
Apple M1
Considering the optimizations for the ARM-based Apple M1, it will be hard to beat in terms of performance and energy efficiency.
Also, Apple will launch more powerful processors in 2021 with larger Notebooks and a higher 12 Core count, with a TDP of 15 to 25 watts.
However, Apple has its own software (Mac OS), and not everyone is kept on jumping the ship from Windows to the OSX.
Also, the gaming community will stick with Windows-based laptops no matter how fast are the new Macs.
AMD Ryzen 5000 Series Laptop Processors
It is going to be the best choice for nearly everyone using Windows.
For gaming and content creation, the 5000 H series of Ryzen processors will be incredible, with superb single-core and multi-core performance.
For Ultra-books, we are looking forward to the new Ryzen 5800U and the Ryzen 5700U processors.
Considering these will offer blazing fast Single Core and Multi-Core performance, we are going to see a huge jump in performance for day-to-day tasks as well as heavy applications.
The clear challenge for AMD is going to be to make sure these processors are available. Secondly, Laptop manufacturers are using these in the best machines they are bringing to the market.
AMD could have done so much better with the Ryzen 4000 series had Laptop manufactures used these processors instead of poor Intel 10th gen.
Intel 11th Gen Laptop Processor
Intel's biggest advantage is that all the premium laptop makers still have a strong tie-up with them.
All top models like Dell XPS 13, XPS 15, 17, Inspiron, and several models from Asus, Dell, HP, Lenovo offer only an Intel option.
Also, several gaming laptops in 2020 came with Intel processors and faster Nvidia Graphics cards that forced many buyers to opt for these machines rather than going for the AMD processor-based laptops.
We hope brands and manufacturers start offering the superior offering from AMD rather than favoring Intel and forcing buyers to opt for Intel machines.
I wanted to buy a good ultrabook using the Ryzen 4800U processor last year, but there was not even a single laptop available in India.
Also, in other countries too one or two models launched with Ryzen 4800U that too had a very limited stock. Secondly, several AMD Ryzen laptops' price was rigged by the retailers for months, and available for a premium like the Asus G14, making it unaffordable.
On the other hand, Apple ensured that the new M1 Macbooks are available for the MRP they have set. Despite a waiting period, these are delivered to buyers at the set price.
I was looking for a good AMD Ryzen Windows laptop as I am in the Windows and Android ecosystem, but due to these issues, I opted for the new MacBook Air M1.
Intel is likely to see a tougher year ahead if AMD is able to make some in-roads by better tie-ups and inventory management for their SKUs.
Intel 11th Gen H Series Processors
Intel has launched new 11th Gen laptop processors for high-end gaming, creative workflows, and commercial vPro enabled laptop models.
These new chipsets are part of the high-performance H-series and are based on the 'Tiger Lake' architecture.
They are built on the 10 nm SuperFin manufacturing process.
The new series has 5 consumer and 5 commercial use processors with six to eight cores.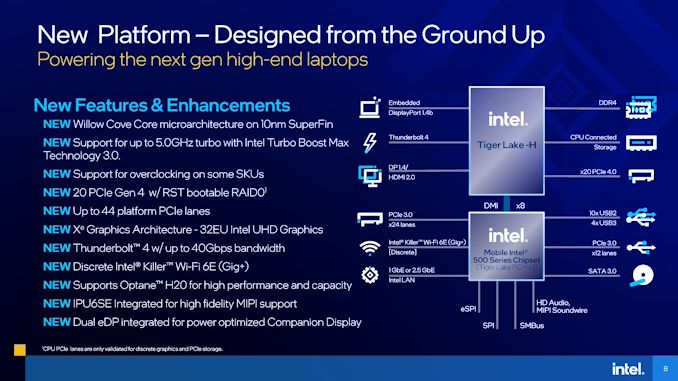 As per the company, these CPUs offer 12% improvement in single-core, whereas 19% in multi-core performance – in comparison to 10th Gen processors (Comet Lake).
According to Intel, about 80 new laptops with H-series processors will be available in the market in 2021.
Moreover, several brand partners like Asus, Dell, and Lenovo have already unveiled new laptops with the Intel H-series processors.
These CPUs have up to 65 W TDP and platform-level improvements through PCIe 4.0 support.
The chipsets are aimed at thin and light-weighted laptops that offer incredible performance.
Moreover, Intel states that about 30 upcoming laptops with Tiger Lake H-series processors will have less than 20 mm of thickness.
The newly revealed CPUs have new integrated UHD Graphics – based on Intel's Xe-LP architecture.
It has 32 execution units which are less than the last-gen. Intel is banking on the fact that most of these processors will be used in laptops that come with a dedicated Nvidia Graphics card.
The other notable features are Thunderbolt 4 and WiFi 6E.
It has USB 3 support, though it is not clear whether it is USB 3.2 Gen1 or Gen2.
The CPUs use the 'Willow Cove' core architecture that is fabricated with a 10 nm SuperFin process. It includes 20 PCIe 4.0 lanes for high-bandwidth connectivity to discrete GPU and NVMe SSD.
The memory supports up to DDR4 (3200 MHz), however does not support LPDDR4. The Dual eDP graphics pathway enables laptops with built-in secondary displays.
The new Intel family will include Core i9 and Core i7 models with 8 Cores, whereas the Core i5 models with 6 Cores.
The commercial laptop processor comprises two Xeon W-series that support Intels' vPro business platform. This platform includes new Thread Detection Technology and Control-flow Enforcement Technology that can defend ransomware and crypto-mining attacks.
Below is the table giving the initial view of the Intel 11th Gen Tiger Lake CPUs:
Intel 11th Gen H-series Processor (Consumer)
CPU
Cores/Threads
35W
45W
2C/4C/nT Turbo
L3 Cache
Xe GPU
Core i9-11980HK
8/16
–
2.6
5.0/ 4.9/ 4.5
24 MB
32
Core i9-11900H
8/16
2.1
2.5
4.9/ 4.8/ 4.4
24 MB
32
Core i7-11800H
8/16
1.9
2.3
4.6/ 4.5/ 4.2
24 MB
32
Core i5-11400H
6/12
2.2
2.7
4.5/ 4.3/ 4.1
12 MB
32
Core i5-11260H
6/12
2.1
2.6
4.4/ 4.2/ 4.0
12 MB
32
Intel 11th Gen H-series Processor (Commercial)
W-11955M
8/16
2.1
2.6
5.0/ 4.9/ 4.5
24 MB
32
Core i9-11950H
8/16
2.1
2.6
5.0/ 4.9/ 4.5
24 MB
32
Core i7-11850H
8/16
2.1
2.5
4.8/ 4.8/ 4.3
24 MB
32
W-11855M
6/12
2.6
3.2
4.8/ 4.7/ 4.4
18 MB
32
Core i5-11500H
6/12
2.4
2.9
4.6/ 4.4/ 4.2
12 MB
32
The top of the line Intel Core i9-11980HK is claimed to be the world's best mobile gaming processor, which will be seen in Intels' 'halo enthusiast' laptops.
It is unclocked and overclockable. The processor comes with 8 Cores with Hyperthreading and has a base clock of 2.6 GHz and can be boosted up to 3.3 GHz with a 65W TDP. It has a 24 MB L3 cache memory.
According to Intel – More than 80 designs will be announced by OEMs which include gaming machines and could comprise NVIDIA GeForce RTX 3050 and RTX 3050 Ti discrete Graphics cards.
It would be no wonder if we see more 17 inches gaming laptops in near future with 1440p and 1080p displays with up to 360 Hz refresh rate.