Everything to Know About Latest Acer Laptops – Swift 3, Swift 5 Series Powered By Ryzen 4000 or Intel 10th Gen Processors
If you are looking for a high-performance laptop with SSD and a fast processor, to work from home, the new Swift-3 can be an ideal option for you.
Acer has launched the first AMD Ryzen powered laptop in India, and it is the Swift 3 – SF314-42.
Price and Availability
The laptop is available in a single configuration to purchase from Acer's official website for a price tag of Rs. 59,990.
The company is also offering a 2 years extended warranty for Rs. 1120 that I think you must take to ensure trouble-free use.
Specs and Features of Swift 3 (Model – SF314-42)
The Swift 3 is powered by the 6 Core Ryzen 5 4500U processor based on the 7 Nm manufacturing process.
The laptop is thin, sleek, and gorgeous. It is plastic build but has a comfy keyboard and measures just 16 mm in thickness and weighs 1.2 Kg.
The processor is ultra-energy efficient and comes with 15 Watts TDP. The base clock speed is 2.3 GHz, and boost core clock speed is up to 4.0 GHz.

Further, it comes with AMD Radeon Graphics and has 3 MB of L2 cache and 8 MB of L3 cache.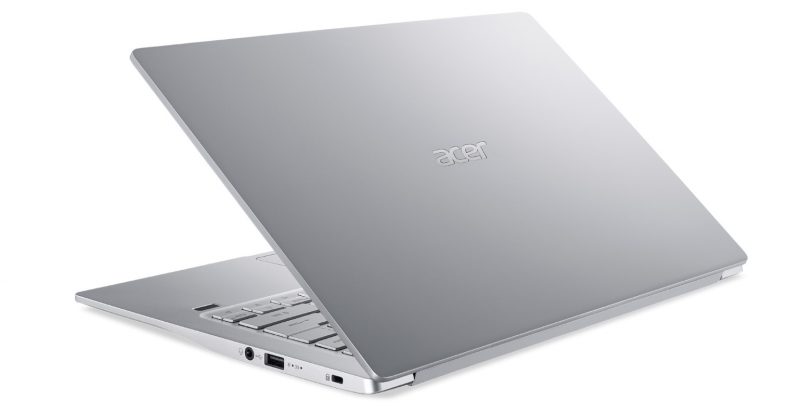 The Ryzen 4500U is a fast processor and can easily handle multiple tasks with ease. You can use software like Photoshop or Microsoft Office and several chrome tabs at the same time without breaking a sweat.
Swift 3 comes with 8 GB of LPDDR4 Ram, and the official website doesn't clarify if it is user expandable. (have written to them for clarification)
For storage, there is a 512 GB, PCIe Gen3 8 Gb/s NVMe SSD that blazes fast and helps boost the machine/opening programs quickly.
The laptop comes with a 14 Inch Screen size and has got a TFT LCD panel with Full HD resolution (1920*1080) pixels.
On the software front, the laptop comes with Windows 10 Home (64-Bit) and also has Microsoft Office 2019 – Home and student version pre-installed.
Lastly, Swift 3 is made in Taiwan and is imported in India.
Overall for the price, it is a superb machine, and new Ryzen processors make it more powerful and efficient than the older rivals.
The downside can be the display that will not be as bright or color accurate as you will get in high-end machines.
Acer Swift 3 – Best Suited For Professionals and Students
Considering the specs and price, it is a good laptop if you are looking to work from home and want a blazing fast laptop.
The fast Ryzen processor ensures that you can work on multiple tasks simultaneously and run heavy applications with ease.
Even for coding or light photoshop work, this is a good machine. For routine office work in Microsoft office or Chrome, it is the right choice. It is not ideal for gaming, you can get much better gaming laptops in this price range.
Acer Swift 5 (Model Number – SF514-54T-54DM)
This laptop is ideal for those who do not want to carry heavy machines around. The ultra-thin laptop weighs just 0.98 kg and is an extremely portable machine that you can easily carry anywhere with ease.
Also, it is one of the thinnest laptops that you can buy, measures 21 mm. You can seize the deal for just Rs 69,999 for the base model.
The latest Acer Swift 5 offers a 14-inch display. It carries an ultra-slim body design along with thinner bezels and a robust processor.
The overall design of the stunning laptop makes it resistant to dust and unnecessary fingerprints. It offers a 14 inch Full HD 1920 x 1080 resolution with an IPS panel and comes with the Acer CineCrystalTM LED-backlit LCD technology. Acer has not specified the sRGB or the maximum brightness of the panel on the official website.
Powering the laptops is the 10th Gen Intel® CoreTM i5-1035G1 processor that comes with a base clock speed of 1.0 Ghz and a boost clock speed of 3.6 GHz. It is a Quad-Core processor with 15 Watts TDP. There is an Intel UHD graphics card that is sufficient to run basic tasks.
The battery life is quite stunning with a maximum battery run time of 12 hours. It is available in blue color. The standard memory is 8GB DDR4 Ram and when it comes to storage, the total solid-state drive capacity is 512 GB (PCIe Gen 3 with 8 Gb/s data transfer speed, NVMe).
Considering the thin design SSD and Ram are not upgradable.
The laptop comes with Dual Stereo Speakers and also has the next-gen Intel® Wireless Wi-Fi 6 support. There is a 720p HD webcam, USB port, Type C port and it also comes with the Bluetooth 5.0 support.
Acer says that it comes with up to 12 hours of battery life and has
Furthermore, there is Windows 10 Home operating system.
Acer Swift 5 – (Model Number – SF514-54T-75RV)
16 GB RAM
Intel Core i7 10th Gen Ice Lake
This is the higher-end version of the Swift 5 and comes with some improvements. The laptop has an MRP of Rs. 109,999 but you may be able to buy it under 90k with some discounts.
It comes with the same design as the previous Swift 5 model that I have detailed but the internals is upgraded.
Firstly, there is 16 GB of onboard LPDDR4X Ram instead of the 8 GB on the lower variant. Notably, as the Ram is soldered you can't increase it on any of the Acer Swift 5 models.
Also, It is equipped with an Acer Bio-Protection fingerprint solution. It has the same Os and storage but comes with a more powerful Intel Core i7 processor. The Intel Core i7-1065G7 is a Quad-Core Processor with hyperthreading – 4C and 4 Threads.
Also, the base clock is 1.3 GHz and the Boost clock is 3.9 GHz.
The rest of the features and specs are the same and you will have to the device if the additional cost of Rs. 20,000 justified.
Since the Ram and other parts are not upgradable even if you decide to do it after 2-3 years of usage, you should think carefully before buying if you will want to have some more muscle in a couple of years.
Acer Swift 3 Model – SF314-57-58V7
The laptop has been affordably priced at Rs 69999.00 and you can capture the deal in just Rs 62,490. The Acer Swift 3 is slighting heavy in comparison to the Swift 3 as it weighs 1.18 kg (still very lightweight).
Powering the laptop is the 10th Gen Intel Core i5-1035G1 processor, similar to the Swift 5 base model.
It comes with 8 GB DDR4 Ram and it is not user-upgradable. The laptop offers a solid-state drive capacity of 512GB.
The laptop comes with a 14-inch display with Full HD resolution (1920*1080 Pixels) and has an IPS panel.
Also, the laptop comes with 2 speakers for audio. It comes with a High Definition webcam containing a resolution of 1280×720.
You will be amazed by its battery life with a maximum battery run time of 13 hours. It is available in iron color and weighs 1.18 kg. It offers 10th Gen Intel® CoreTM i5-1035G1 processor.
The operating system of the laptop is Windows 10 Home and the Microsoft Office 2019.
Most of the features are similar on both Swift 3 and Swift 5 and even the design is more or less the same. The key difference is the weight and thickness.
Swift 5 is extremely thin and you can even buy it in the higher configuration with 16 Gigs of Ram and Intel Core i7 Processor. The Swift 3 has slightly more space inside it and can have better thermals.
Therefore, we may conclude here that you can buy a laptop that suits your budget and requirements in the best way possible.
All the above laptops promise to deliver top-notch performance with varying specifications.
Also, Read:
Top 5 Latest Acer Gaming Laptops
Asus Launches the A15 and A17 Gaming Laptops Powered By Ryzen 4000 Processors.
Dell XPS 13, 15, and 17 – Everything You Want to Know About Most Amazing Windows laptops.
You May Like