Oppo has launched a new upper mid-range mobile in the Indian market with a Bezel-less waterdrop notch display. The Oppo F9 Pro is available in the retail market as well as online stores and comes with a price tag of Rs. 17,990.
Originally, the phone was launched at Rs. 23,990 back in September 2018.
You may be able to buy the Oppo F9 Pro even cheaper with credit card discount or on special sale days on Flipkart or Amazon.
The Oppo F9 Pro was launched at a very competitive time when we have several new phones like the Honor Play, Poco F1 or the Xiaomi Mi A2 in the market.
First Waterdrop display design mobile.
Excellent Display and Attractive Design
Super Fast VOOC Charging.
Dual Rear Cameras and 25 MP Selfie Camera
Full Specifications – Oppo F9 Pro
| | |
| --- | --- |
| Specifications | Oppo F9 Pro |
| Processor / GPU | MediaTek Helio P60 Octa-Core Procesor,&Mali-G72 MP3 |
| Ram | 6 GB |
| Storage | 64 GB |
| Expandable Storage | Yes, up to 256 GB, Dedicated Slot |
| OS | Android Oreo 8.1 |
| Rear Camera | 16 MP(f/1.8 Aperture) + 2 MP Dual |
| Front Camera | 25 MP Camera |
| Design | Polycarbonate |
| Display | 6.3 Inch, TFT LTPS 2340*1080 pixels, FHD+, 19.5:9 ratio (~409 ppi density) |
| Thickness | 8 mm |
| Weight | 169 grams |
| Battery | 3500 mAH, With Fast Charging |
| Connectivity | Micro-USB, Dual 4G VolTE, Dual Sim |
| Price (Value for Money) | Rs. 17,990 |
| Launch Date | End August |
| Candytech Rating | 7.5/10 |
| Availability | Online and offline |
Unboxing
Oppo F9 Pro comes in a cardboard box like all other phones but once you open the box you will be surprised to see the Oppo F9 Pro. it looks premium and really amazing, it is nothing like other phones in this price range.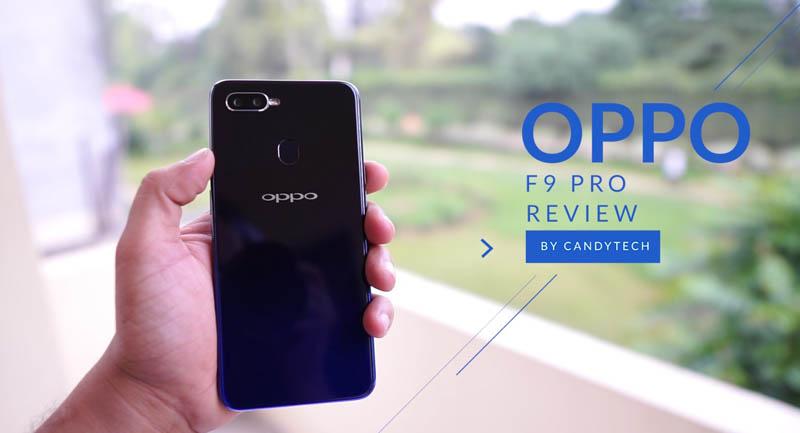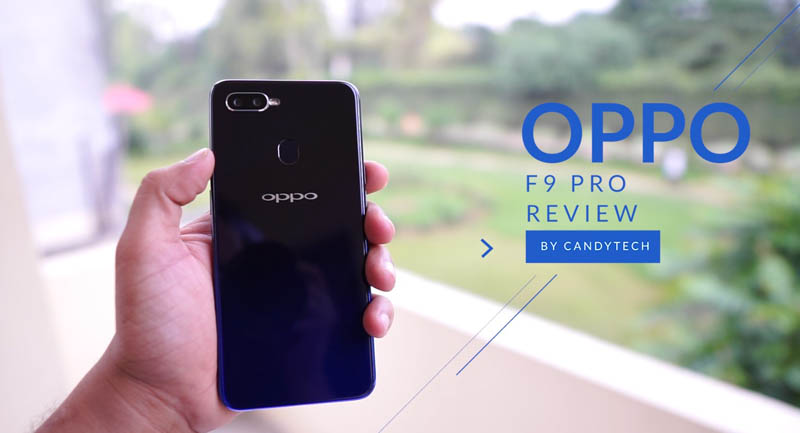 The full display is so distinctive and covers the whole the front side that it makes my existing phone looks so pale. Additionally, we get a transparent case in the box to keep it protected.
Also, there is a 20 Watts Charger with the Oppo VOOC technology that claims to charge the phone super fast. Also, we can a nice pair of earphones in the box which looks like Apple earpods and even sounds good.
Lastly, there is a micro-USB cable, no folks, it is 2018 and we still don't get a USB Type C port on this premium Oppo mobile.
You Can Check the Detailed Video Review for Oppo F9 Pro Below:
Design and Build Quality
The phone feels great in hand and has the polycarbonate build but it doesn't feel cheap like the POCO F1. The material used for construction is premium and the glossy back looks elegant.
I have the blue color variant as it goes more with my personality you can also pick the starry purple or the red variant, depending on your preference.
The backside has dual-tone colors black and blue and there is even a diamond pattern visible when you have seen the phone from a certain angle.
There is a chrome ring around the rear cameras which improves the look of the rear design. At the back, there is a fingerprint scanner.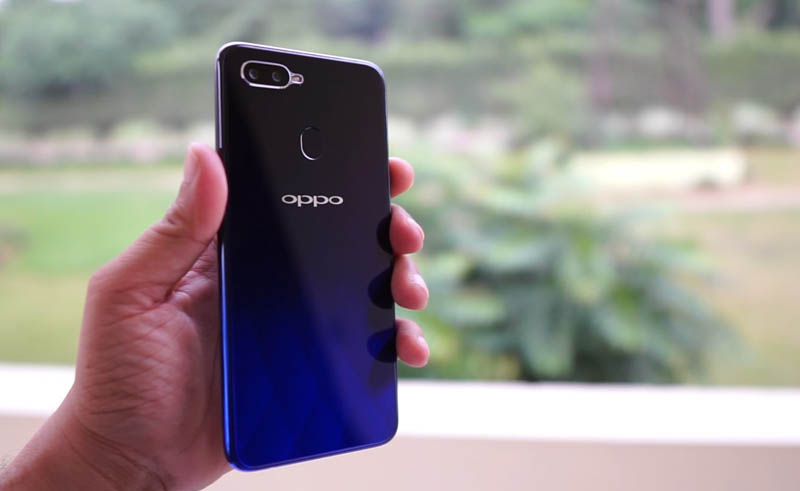 The front side is what makes this phone super awesome, (offers 90.8% screen to body ratio). The display quality is good. In fact, better than the Poco F1 if you are wondering.
The display comes with a tiny notch at the top like the essential phone from last year, but it is smaller and more curved to not look as bad as other notches.
The LTPS TFT display comes with 19.5:9 aspect ratio and has a 6.3 inch screen size. The resolution is 2340*1080 and it offers 450 nits maximum brightness which is acceptable even outdoors.
To sum it up I like the display and love the design on this Oppo phone. Yes despite being plastic.
User Experience & Features
The Oppo F9 Pro runs on the Color OS 5.2 and also has the Android Oreo 8.1 OS installed, out of the box. The user experience is not the worse, in fact, you get so many options to play with which is probably better than having none.
It boils down to again personal preferences whether you want too many options or just like to keep things simple and straightforward like the stock Android UI or iOS.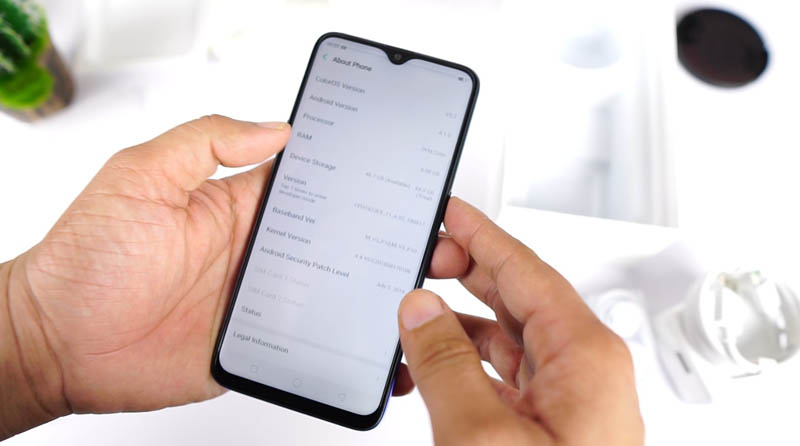 But those who want more options Oppo F9 has many such as power saving, Oppo Share, radio, compass, recorders, gestures and motion support, Dual Apps, Clone Phone, advanced security and privacy features, a smart sidebar, assistive ball, just to name a few.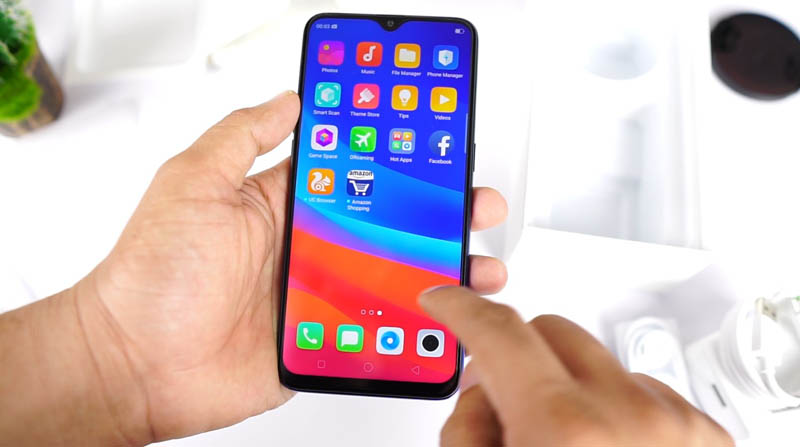 Probably, it will take a separate article to explain these, but I am not going to bore you with these details. Also, the user experience is the same as the Oppo RealMe 1 that I reviewed a couple of months back, you can check the below video to get a feel.
Performance, Gaming, and Benchmarks
Coming to the interesting part, Gaming and performance. The overall user experience and multi-tasking on this mobile are fluid and thanks to the Octa-Core Helio P60 processor the phone can easily handle all day-to-day tasks with ease.
Notably, it is the same processor that Oppo has used in Realme 1 that costs as little as Rs. 10,999. Ohh, no it is not Rs.8999, they discontinued the 3 GB model several weeks before the launch of RealMe 2.
But Why? Who would buy the Realme 2 (running SD 450) for Rs. 9,000 when you can get the P60, which is nearly twice as fast as the SD 450.
Sorry for digressing, but the P60 is fast and offers decent performance, the 6 GB ram also helps to keep things snappy.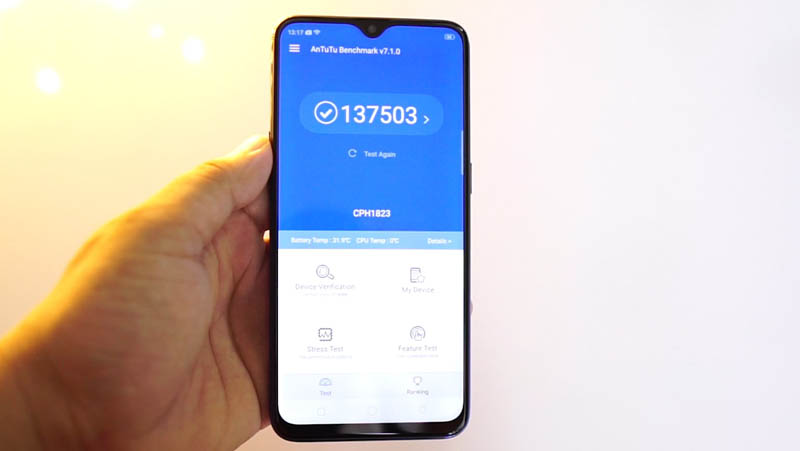 Benchmark Scores – Oppo F9 Pro
Antutu Score – 137,503
GeekBench Single-Core – 1453
GeekBench Multi-Core – 4921
The scores are pretty good and are comparable to the Qualcomm Snapdragon 660 or the SD 636 used in popular phones like the Mi A2, Redmi Note 5 Pro, or the Zenfone Max Pro M1.
Gaming – Pubg and Asphalt 9
I played PUBG, and you can play the game at medium settings without any issues or major frame drops. The heating is also not too much and it stays below 38-degree Celsius even after playing for 15-20 minutes.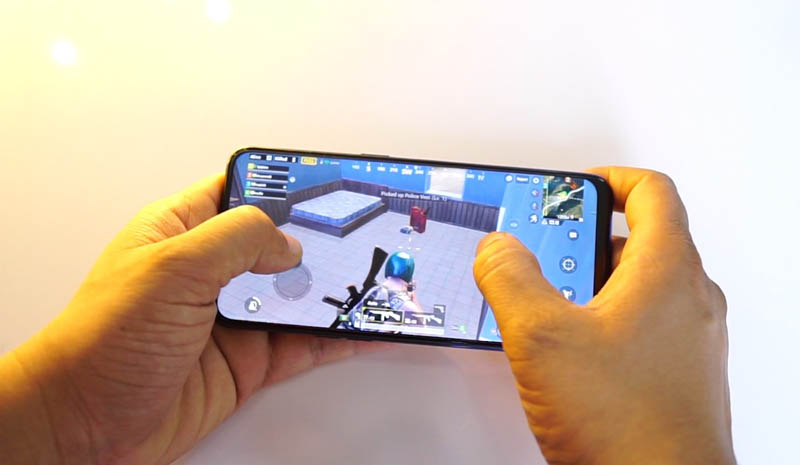 Also, I tried the latest racing game Asphalt 9 which also runs smoothly on the device.
Helio P60 is a mid-range processor and it is no match for the Snapdragon 845 in the POCO F1 or the Kirin 970 in the Honor play. If your priority is gaming get the POCO or Honor Play.
FaceUnlock and Fingerprint
Super Fast. Both the fingerprint scanner and the face unlock is awesome on this phone and there are no complaints from my side. Moreover. the face-unlock works well in the dark.
It uses the screen brightness compensation to improve face recognition in low light conditions.
Camera Quality
I was not expecting much from the camera on this Oppo phone but to my surprise, the camera is actually decent. The rear camera has a 16MP+2 MP lens which comes with f/1.8 aperture and f/2.4 aperture.
At the front, there is a 25 Megapixel front-facing camera that can also click detailed selfies. The camera App is quite rich and there are several options such as Panorama, Slow Motion, Videos, Portrait mode, stickers which you can use to enhance your photography.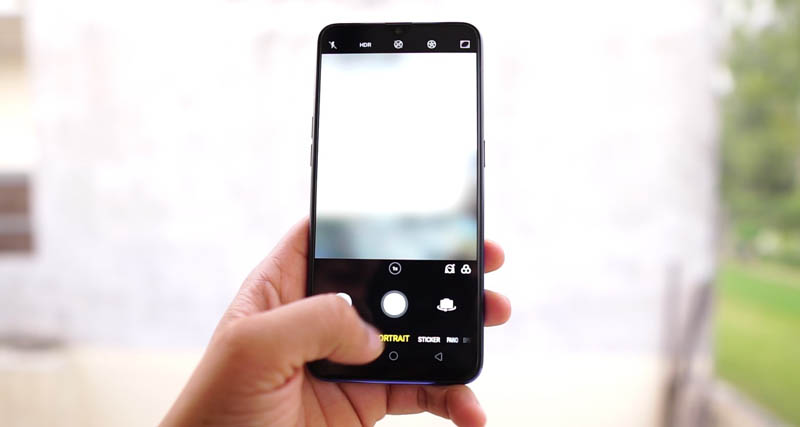 Also, there is an expert or manual mode which allows you to capture images using manual controls.
There is also a super vivid mode that makes your images more vibrant with higher color saturation and contrasts. Here are some of the camera samples I have taken with the Oppo F9 Pro.
Click On the Images Below to View them in the Full Resolution Mode
Battery Life
The battery capacity on the F9 Pro is 3500 mAH which is not huge but it can easily work all day without any issues. Moreover, the Helio P60 is very power efficient and is built using the 12 Nm process that makes it less taxing on the battery.
The VOOC charging is superb and I ran a little experiment to test the charging speed on the Oppo F9 Pro. Oppo claims 2 hours of battery life in 5 minutes of charging, in real-world testing the phone gets 8-9% charged in just 5 minutes and takes about 1 hour and 20 minutes to charge 100%.
Connectivity
The cellular connectivity is also not bad on the Oppo F9 PRO and I am using it with the Reliance JIO Sim. Also, we get a triple tray, to add two sim cards and a micro-sd card which is a good thing.
There is no USB type C port which is a bummer, but it comes with the 3.5 mm headphone jack which offers decent sound output.
Sound and Audio Quality
The sound output from the bottom speaker is not very loud but it is above average and you can easily listen to music or watch videos on Youtube.
The supplied earphones are also not bad and can be used with the phone for music and calls.
Pro & Cons for Xiaomi Mi A2
Concluding Thoughts – Should You Buy?
The Oppo F9 Pro is not a bad phone by any stretch of the imagination. In fact, it is a good option for many people, but not for those who are looking for an extreme performance device, they need to get the POCO F1 or the Honor Play.
The F9 Pro shines when it comes to looks and design and is the most beautiful phone I have used in this price range. The user experience is also good and you will love watching videos and reading text on it.
The camera quality is also above average and you are not missing much apart from the lack of 4K videos support. If your primary usage is social media, watching videos or doing daily tasks such as emails, clicking pictures occasionally and listening to music Oppo F9 Pro is a decent option for you.
Those who want better cameras/performance can look at the Asus Zenfone 5Z or even the POCO F1.
So thanks for reading the review follow me on Twitter or Youtube for more such reviews.
Oppo F9 India Launch
Oppo has also launched the new Oppo F9 in India which is similar to the F9 Pro but comes with few changes. Firstly, Oppo F9 is a bit cheaper and is now available for Rs. 13,999. The original launch price was Rs. 19,990.
The changes are 4 GB ram instead of 6 GB, also there is no VOOC Fast Charging support and the front camera resolution is reduced to 16 MP.
Rest of the things are similar in the Oppo F9 and the F9 Pro. If you are not willing to spend Rs. 24,000 for the F9 Pro the Oppo F9 is also a good choice considering you are getting nearly everything that the F9 Pro promises.